The city of Graz in Austria is full of natural beauty, impressive architecture and history. A great destination recommendation for families and solo travelers looking for an off-the-beaten-path city to include in their itinerary.
Graz is the capital of the Styria region in Austria and is the second largest city in the country. Despite this, it is not a huge city, with less than 300 thousand inhabitants. But many are students, as it is a university city, which is home to six universities and more than 60 students.
The city where Arnold Schwarzenegger grew up (he was born 3 kilometers from Graz, in a village called Thal!) is a great option for those who like culture and architecture.
The historic center of the city, as well as the hill that houses a castle (Schlossberg), are UNESCO World Heritage Sites. In addition, the city was elected European Capital of Culture in 2003.
Travel insurance is mandatory in Austria!
Won't forget to hire yours, huh? use the coupon FORTRAVELOVERS and get 5% off.
Click here and buy it now!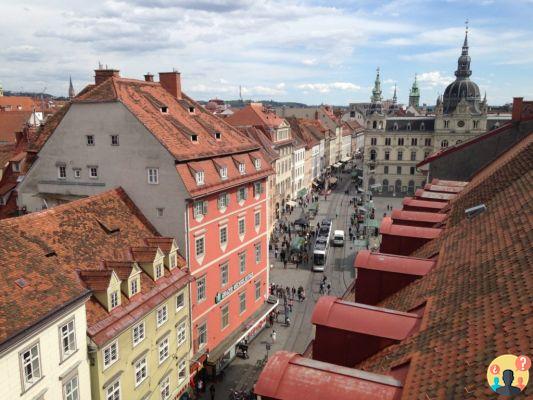 You will read in this post:
If you want to skip any part, just click on the link below to go straight to the topic ?
About the city
Directions
how many days stay
what to do in the city
What to do on the outskirts of the city
what to do at night
Where to stay – Hotels in the city
Tips – Currency, visa and information to plan your trip
Austria itinerary
Plan your trip
The city of Graz Austria
Graz is an ancient city. There are records of human settlements there since the Copper Age, but the place became a city even in the Middle Ages. The good news is that many of the buildings from centuries past are super well preserved.
The region underwent strong Slavic influence, but also Italian. Thus, you can see in the architecture the typical Renaissance style of cities in Italy.
The city has always been closely linked to its universities, the oldest of which, University of Graz, was founded in 1585. Astronomer Johannes Kepler was a professor there. Inventor Nikola Tesla studied electrical engineering in Graz, which was also home to other famous scholars such as Erwin Schrödinger.
All this history, combined with the fact that the city is located in a naturally beautiful region, makes Graz a spectacular city to visit, but also to live in.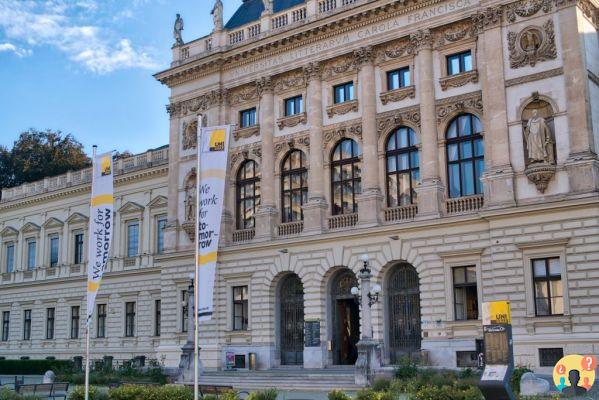 How to get to Graz Austria
The city is less than 200 km from Vienna and is super well connected. In addition to the airport with direct flights to cities like Berlin, Frankfurt, Zurich, Rome and Glasgow, there are great options by land.
The bus terminal offers daily and hourly departures to various destinations within and outside Austria. The same can be said for trains. To Vienna, for example, there are trains every hour and a ticket costs around 40 euros. Other options are Salzburg, Zagreb, Ljubljana and Budapest.
How many days to stay in Graz Austria
It is always difficult to indicate how many days to stay in a city. After all, sometimes we spend a lifetime in one place and still have that feeling that we don't know everything.
But as time is a finite resource for a traveler, it is possible to visit the main tourist attractions of the city in a day. The ideal is to spend at least one night there, but many tourists end up making a quick day trip.
For those who also want to visit a place close to Graz, such as the city of Admont, it is certainly necessary to spend at least a weekend there.
Things to do in Graz Austria
Map of attractions and hotels in Graz
The city itself is very beautiful and strolling through the historic center is always a good option. Graz is full of historic buildings, with pastel colors and reddish roofs, restaurants and cafes with tables on the street.
In addition, the banks of the River Mur make for an incredible ride for both pedestrians and cyclists. Each time of year brings an entirely different city. In other words, you can enjoy Graz in slightly different ways in every season.
Schloss Eggenberg
A super luxurious palace in Baroque and Rococo style, right in the center of the city. You can take tours of the 17th century building and admire the painted panels on the ceiling and the beautiful gardens.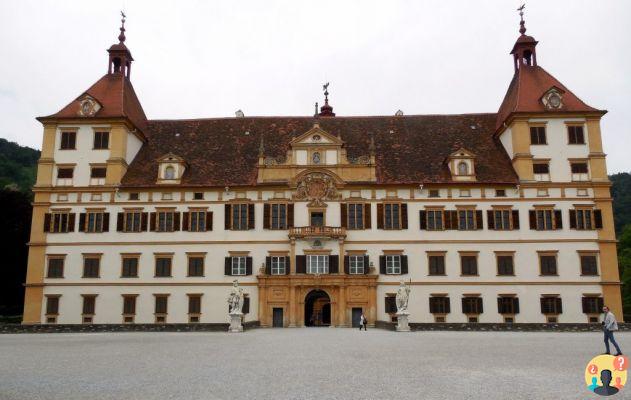 double spiral staircase from the Castle of Graz
A stone staircase that is one of the main attractions of the Castle of Graz, without a doubt. Built in 1499, it impresses with the way the steps blend together to form a spiral.
But of course the entire castle, built in the 15th century, is worth a visit. And it's free.
Kunsthaus Graz
On the banks of the river, a modern and amorphous blue building attracts attention. It's the city's home of modern art, featuring temporary exhibitions of the very best in modern art.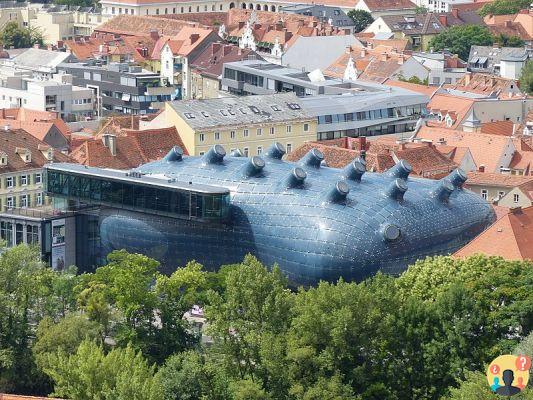 Hill of Castle Hill
It is likely to be the main tourist spot in Graz Austria. After all, castles in mountains always attract attention.
The public park is home to a forest and a thousand-year-old castle overlooking the city. You can go up on foot, pay just over two euros for a ticket to the funicular or use the panoramic elevator.
In addition to the castle, there are different museums and a garden. And, of course, the view of Graz and even a bar to enjoy the night.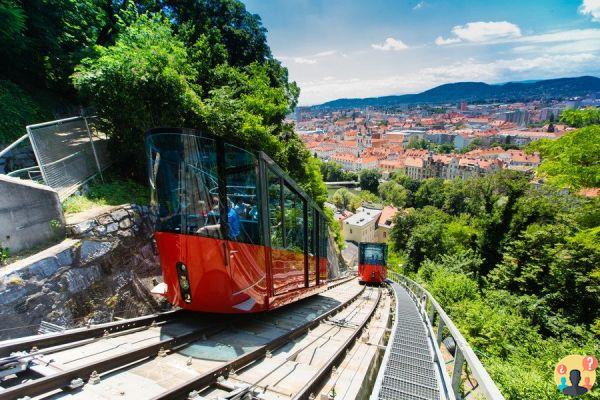 Clock tower – Clock Tower
On the castle hill you will find one of the city's postcards, the Uhrturm, or clock tower. There's been a clock there since the 13th century. Enjoy the views from this place so dear to the city's residents.
A curiosity: the tower is so loved that during the invasion of Napoleon's troops, the city's residents came together to pay a kind of ransom to spare it.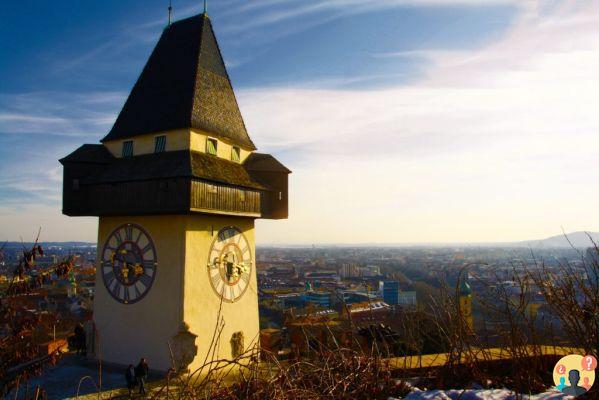 Murinsel
In the middle of the Mur River, the Austrians built an island that is home to an amphitheater and other impressive works of modern architecture. You can spend the afternoon strolling there, enjoying the day in one of the island's cafes or with the children on the playgrounds.
At night, the lights draw attention and are worth the photo and visit.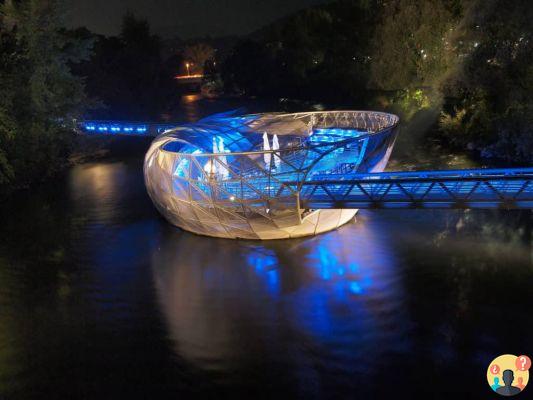 main square
Literally the main square of the city, it is the center that houses some of the most beautiful buildings in Graz, in addition to the central statue. A great place to walk around, have a coffee and admire the architecture of the city.
Graz Cathedral
Close to the Main Square, you will find the Cathedral church, or city cathedral.
The church that gave rise to the cathedral dates back to the 15th century. The interior combines Gothic and Baroque features, with admirable panels.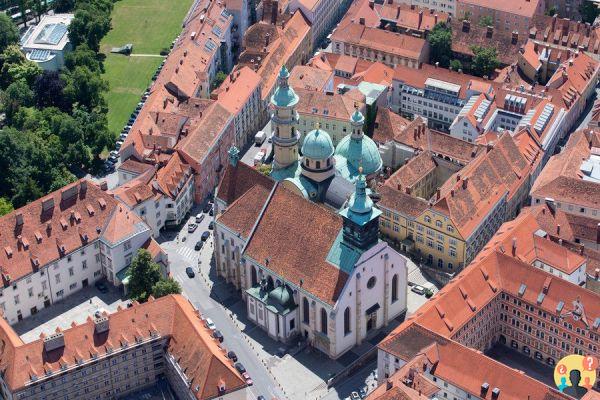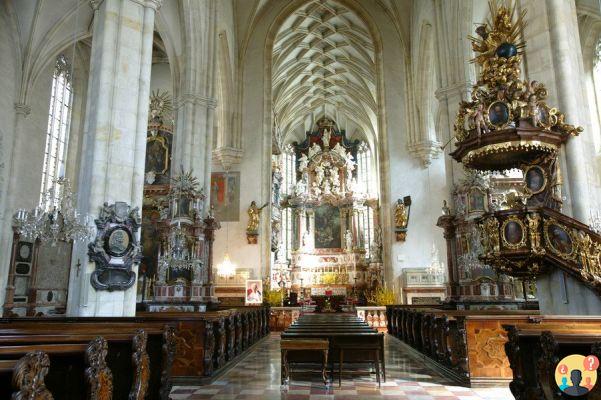 Things to do near Graz
Benedictine Abbey em Admont
A spectacular monastery and certainly the most impressive in Austria. It has museums, art exhibitions and jaw-dropping architecture. But what is really worth the visit is the Abbey library, the largest monastery library in the world.
The library of this monastery is a place where we can confuse reality with fairy tale. Very worthwhile during a visit to Graz Austria.
wine road
In the southeast of the Estria region are the famous "wine streets", known as the Austrian Tuscany. The roads with their curves cross vineyards and beautiful landscapes in the greatest Italian style.
At the end of September, the Weinlese Fest, a wine festival, animates the entire region with drinks and typical music.
Johnsbach
The small village, which was once a city but is now part of Admont, is perfect for those who enjoy mountaineering and trekking. The region is one of the oldest centers for mountain sports in Austria.
Even for those who don't enjoy adventure sports, there are easier trails to do walking and that pass through beautiful mountain landscapes.
Mariazell Basilica
Especially for the more religious, an unmissable point for anyone visiting the vicinity of the Austrian city of Graz is to visit the city of Mariazell.
The Mariazell Basilica is the main pilgrimage destination in Austria. Inside the imposing structure is a miraculous image of the Virgin Mary.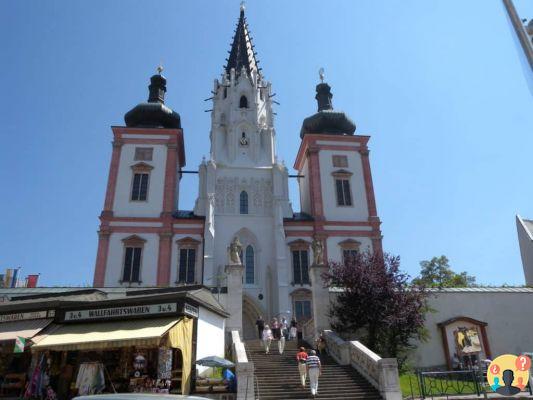 Arnold Schwarzenegger Museum in Thal
But of course the hometown of actor (and politician!) Arnold Schwarzenegger would have to be here.
Located a few kilometers from Graz, it is very easy to reach Thal, where the childhood home of the "Terminator" has become a museum with personal objects, images and tributes.
Things to do at night in Graz Austria
Even for being a very university city, Graz has several options of restaurants and clubs for those looking to enjoy the nightlife.
A tip for those who want typical food is the Gasthaus Stainzerbauer, which is located near the Schlossberg and offers dishes with local ingredients at an affordable price.
A fancier (and expensive) option is the Caylend Restaurant, which has a tasting menu to taste different dishes. It is close to the river, still has a beautiful decoration and is a perfect option for couples.
Want to dine with an unforgettable view? So the place is Aiola Upstairs, which serves international cuisine. It is worth a visit even in winter, as there is a glass-enclosed room that allows you to enjoy the view without freezing to death.
A great option for those who want to have a few drinks is the The Churchill Bar, a pub with an incredible range of beers and gins. or else the O'Sullivans Irish Pub, also one of the best pubs in town.
For a more Austrian and less British vibe, the recommendation is the Bar Ernst Fuchs.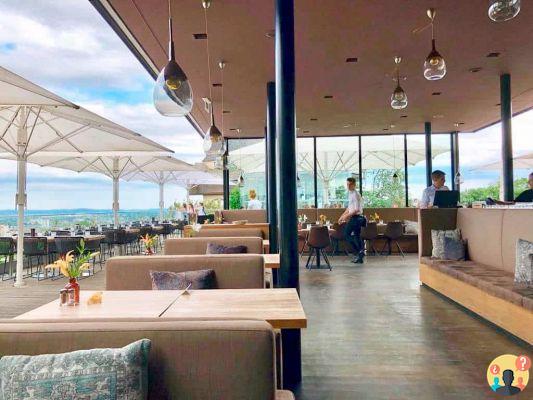 Hotels in Graz – Our Indications
We have selected some hotels where to stay in Graz, check them out!
*Changes may occur in daily rates depending on the time of year and availability. Always check the website Booking.com to check updated prices.
Grand Hotel Wiesler ($$)
The luxurious and stylish Grand Hotel Wiesler It has a perfect location, on the banks of the River Mur and in the historic center. The rooms are beautiful and comfortable, some have a bathtub in the window (including the baywindow), which is pure style.
The breakfast is one of the best in the area and the rooms have soundproof windows. It is a better option for solo travelers or couples.
Rates from 130 euros* with breakfast and paid parking separately.
Check prices and availability at Grnd Hotel Wiesler and make your reservation on Booking by clicking here!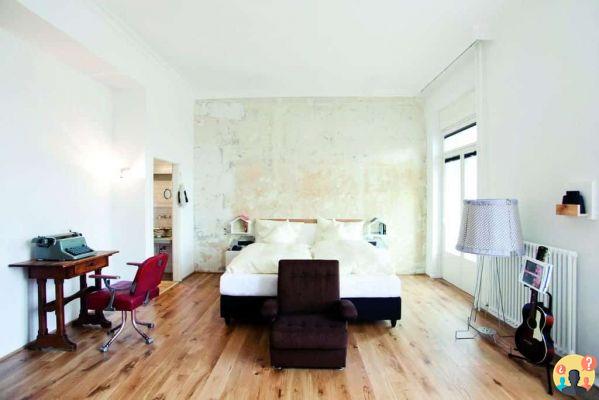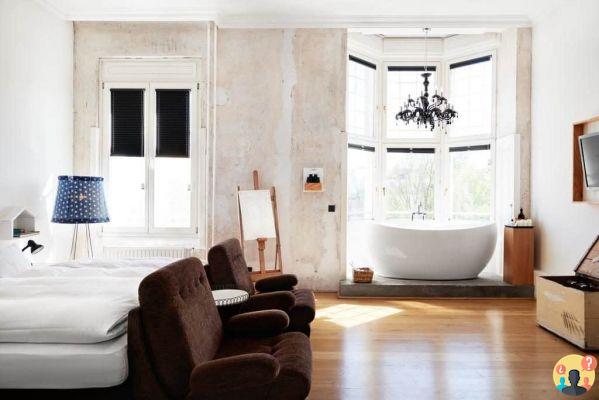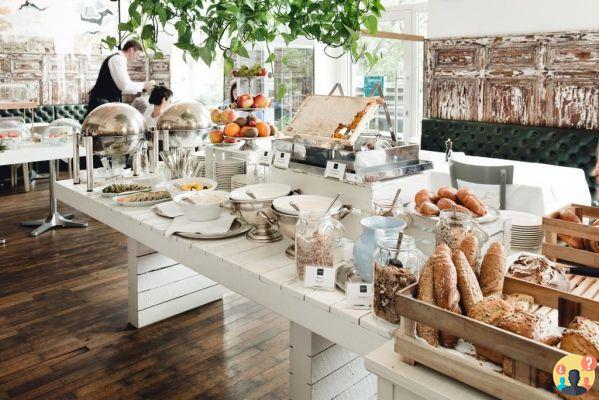 Star Inn Hotel Premium Graz, by Quality ($$)
A great option for those who want good value for money is the Star Inn Hotel Premium. The hotel is close to the city center, and in an area full of cafes and restaurants. Rooms are comfortable and breakfast can be enjoyed on the terrace.
There are options for family rooms with sofa beds. In addition, the hotel is pet-friendly and accepts dogs and cats at no extra cost.
Rates from 70 euros* with breakfast and paid parking separately.
Check the prices and availability of the Star Inn Hotel Premium and make your reservation on Booking by clicking here!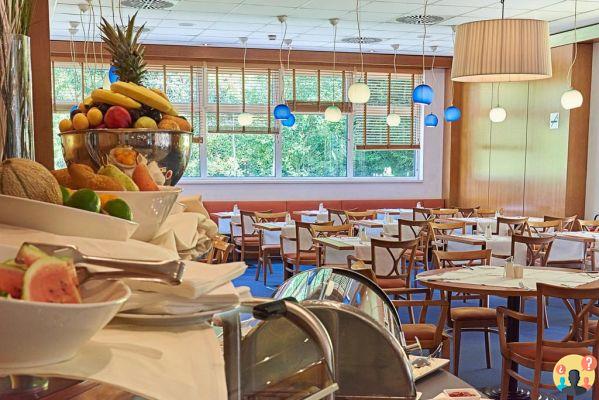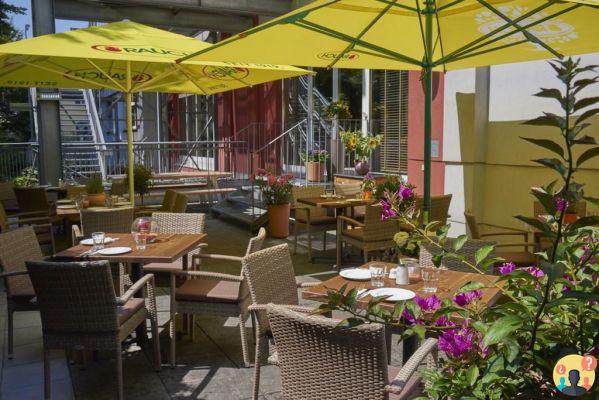 Minihotel Graz ($)
A super cute option with more affordable budget room offers is the Minihotel Graz. The hotel is certainly a great option for solo travelers who want to spend less but still have comfort.
In addition, it is located in the heart of Graz, has a garden, terrace and great rooms.
Rates from 40 euros for a single room, without breakfast and parking.
Check prices and availability at Minihotel Graz and make your reservation on Booking by clicking here!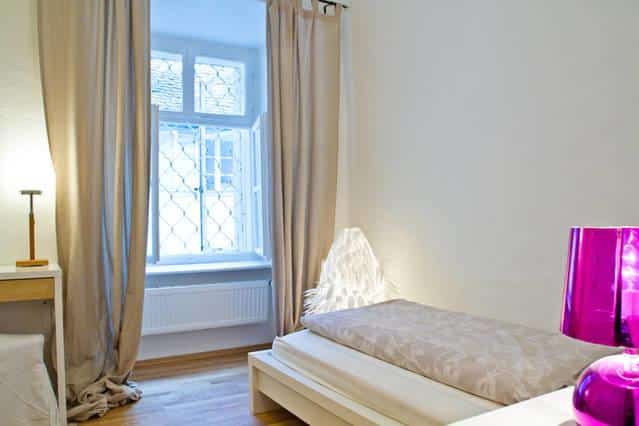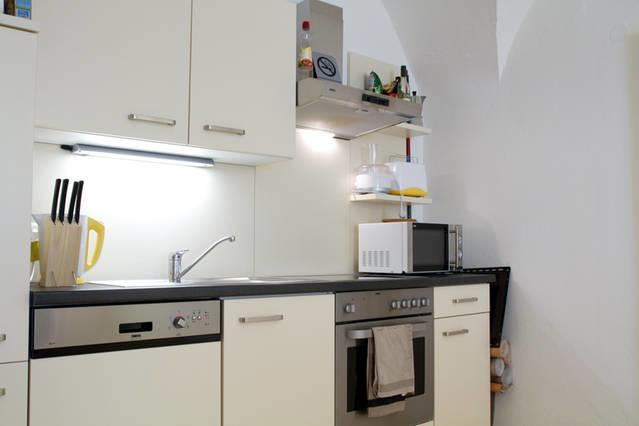 Currency, visa, language and information about Graz
Graz is a city in the country Austria which, in turn, is in the European Union and in the Schengen Zone. In other words, a visa is not required for visitors with a Brazilian passport. However, the travel insurance for Europe is mandatory, according to the Schengen Treaty.
To find good travel insurance, compare prices and coverage on Promo insurance.
#StayHip: Save 10% on your travel insurance. use the coupon FORTRAVELOVERS to get 5% off and pay with boleto to guarantee an additional 5% OFF.
German in Graz
The Austrian city is quite touristy, so you will find many people who speak fluent English. Many of the tourist attractions, in addition, also have information in other languages.
However, it is worth remembering that the official language of Austria is German. Therefore, many of the tourist attractions will have more options for timetables and tours in German. In addition, in restaurants and bars the menus usually come in that language as well. But is it worth trying an "Englisch, bitte?" to see if the crowd switches to English.
the austrian currency
Austria is part of the Eurozone, which makes it easier for those who have other destinations in the region. After all, the country's official currency is the euro. Austrians usually pay for things with cash and it's common for places not to accept even a debit card, let alone a credit card.
For this reason, and especially in smaller cities around Innsbruck, it is worth carrying a good amount of cash. Also, always check in establishments (including restaurants) if they accept cards.
Austria itinerary
Graz is Austria's second largest city, but it's not as famous as other Austrian destinations. The country certainly has several options for tourism and leisure. But Graz is great for families and solo travelers, it's not as crowded with tourists as other places and it's full of natural beauty, impressive architecture and history.
In addition, it is very well connected by train, bus, roads and planes with other tourist centers in the country.
Be sure to check out our comprehensive guide to Austria, with tips for Vienna, Salzburg, Innsbruck and more. Plus more information about Austria in general, top tourist tips and suggestions for the best hotels for different budgets.
Read more about Austria:
Austrian Landmarks – 27 Places to See
Itinerary in Vienna – 10 Tips You Need to Know
What to do in Vienna – 1 to 5 Day Itinerary
17 Sights in Vienna – Attractions You Need to Know
Where to Stay in Vienna – Best Neighborhoods and Hotels
Hotels in Vienna – 15 Options Worth Booking
25hours Hotel in Vienna – Our Review
Innsbruck, Austria – Travel Guide
Hallstatt, Austria – Everything You Need to Know
Salzburg, Austria – How to Plan Your Trip
Linz, Austria – Complete Travel Guide
Austria Travel Insurance – Is It Mandatory? Learn Everything Here
Plan your trip to Graz Austria
Are you full of things to think about and still have to plan your entire trip? Or you've seen it all, but you're feeling that familiar "Have I forgotten something?"
So calm down, we'll help you with some items you can't forget before boarding. Come on!
1) Have you already purchased your airline ticket?
Where to buy: PROMO TICKETS
Looking for a good deal and flight prices? When buying tickets to Vienna, it is worth taking a look at the website Promo Tickets. It is quite common to find cheaper and better flight options than on other sites. We always use it and it's worth it!
2) Have you already booked your accommodation in Graz?
Where to buy: BOOKING.COM
If you haven't booked your stay, the tip is to compare hotels, hostels and inns through Booking.com. This is the largest hotel booking platform in the world, ensuring a safe experience and great accommodation deals.
#StayHip: Keep an eye out for 'Smart Deals', which only last for one day. Some amazing hotels offer great discounts using this badge on the platform. If you find a good deal, it's worth closing.
3) Travel Insurance for Austria is required
Having travel insurance for Austria is a requirement to enter the country, which is part of the Schengen Treaty and requires medical and hospital coverage of at least €30 for travelers. In addition to being mandatory, insurance is a great way to ensure a smoother trip. Also enjoy our Insurance Promo discount coupon. - SEE PRICES
4) How to have unlimited internet while traveling
Where to Buy: AMERICA CHIP
Did you know that it's getting easier – and cheaper – to have unlimited internet throughout your trip?
Just ask for an international cell phone chip through AMERICA CHIP. We always use and love it! They send a SIM card to your address in España, you insert it in your cell phone when you arrive at your destination and you have unlimited internet throughout the trip.
#StayHip: Save on car GPS rental and use GoogleMaps and Waze with your unlimited internet ;).
5) Rent cars for Graz with the best prices
Where to rent: Rent Cars
We really like RentCars to find the cars we use on our travels. It is the only one in Spain that compares the best rental companies in the world, but lets you pay in reais, without IOF. In addition, it is also the only one that lets you pay in 12 interest-free installments. It is worth it!
#Here's a tip: Try to find cars with full car and third party insurance coverage. Thus, you avoid inopportune surprises when picking up the car.
Note: We highly value the credibility of our information. All the sites we recommend above are sites we already use, we have good experiences and feedback from readers!
Did you like our Graz Austria Guide? Leave your questions or comments here for us!