The classical music capital of the world has amazing places for you to discover! We have selected 17 main attractions in Vienna to include in your itinerary. Check out!
The capital of Austria is one of the most beautiful cities in all of Europe. Full of beautiful and old buildings, churches, parks. There are plenty of tourist attractions in Vienna to visit.
And the best thing is that there's a lot what to do in vienna for every type of visitor. For example, if you like art and music, the city has numerous museums on the subject. After all, it is known worldwide as the city of music.
Vienna It is also a good destination for those who like cathedrals, palaces and castles, or parks and outdoor walks. In summary, a great travel option! And so you don't get lost with so many choices, here are some of the main tourist attractions in Vienna.
Haven't taken out your travel insurance yet?
How about buying at a discount? use the coupon FORTRAVELOVERS and get 5% off.
Click here and check it out!
In this post you will see:
If you want to skip any part, just click on the link below to go straight to the topic ?
Palaces, churches and cathedrals

Hofburg
Schonbrunn Palace
Belvedere Palace
St. Stephen's Cathedral

museums and music

Vienna State Opera
MuseumsQuartier and Maria-Theresian Platz
Albertina Gallery
KunstHaus Wien and Hundertwasser House

parks and shopping

Prater and Donautur Park
City Park, Kahlenberg and Augarten
Mariahilferstrasse and Karntner Strasse

where to stay in town
WHAT YOU NEED TO KNOW BEFORE YOU GO
Vienna tourist attractions map
Vienna Sights – Palaces, Churches and Cathedrals
Vienna is wonderful for history buffs. The city was the capital of the Austro-Hungarian Empire and home to the mighty Habsburg dynasty.
Therefore, you will find beautiful and gigantic buildings. What is not lacking is opulence to show the power of emperors. And, after the Second World War, the city still gained modernity and many tourist attractions underwent renovations and restorations.
Hofburg
O Hofburg Imperial Palace it is one of the best tourist attractions in Vienna. It was built in the 13th century and was the official residence of the emperors and the power center of the empire.
In fact, it was there where Marie Antoinette and Empress Maria Theresa were born, among other famous Habsburgs. Currently, the palace is the official residence and workplace of the President of Austria. It is one of the main tourist attractions in Vienna.
Hofburg is actually a huge complex. This is where, for example, the Sisi Museum (as the Empress Elisabeth is known) is located, whose entrance is included in the general admission ticket. The palace complex also houses the beautiful Austrian National Library.
Unfortunately, taking pictures is prohibited in many of the rooms inside the Hofburg. There are guided tours in English and German and free audioguides in 13 languages, including Spanish – but not in Portuguese ;(
Prices and opening hours:
Visiting hours are from 9 am to 17:30 pm or until 18 pm, depending on the time of year. The adult ticket costs 15 euros.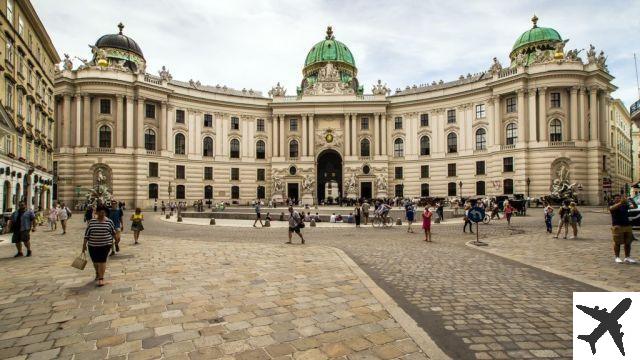 Schonbrunn Palace
The imperial family's summer residence is one of the most beautiful places in Vienna. Be sure to visit. The interior of the baroque palace is luxurious, in a rococo style, and the exterior leaves nothing to be desired.
The palace is surrounded by gardens, fountains, a labyrinth and numerous attractions. Climb up to Gloriette for an unmissable view of Vienna.
Inside the open area of ​​the palace you can also visit the Vienna Zoo, the oldest still in operation in the world. The zoo and other specific attractions, such as the labyrinth, are paid, but the open areas of the Schönbrunn gardens are free.
Prices and opening hours:
There are several different ticket types, depending on how much you want to see. For adults, you can buy tickets from 16 euros.
Visiting hours for the palace are from 8 am to 17 pm to 18:30 pm, depending on the time of year. But it is worth remembering that the park and gardens are free and open earlier, at 6:30 am, and close at 21 pm in the summer.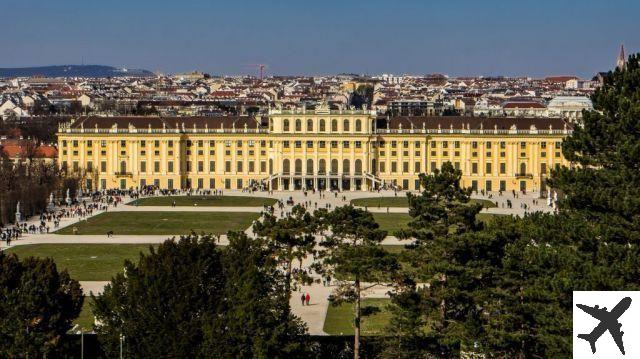 You have already booked your hotel in Vienna! At the Booking.com you guarantee the best prices always.
#StayHip: Keep an eye out for 'Smart Deals', which only last for one day. Some amazing hotels offer great discounts using this badge on the platform. If you find a good deal, is it worth closing?
Belvedere Palace
A beautiful historic complex in Baroque style, also with an impressive garden. The palace was built in the 17th century and it is there where you will find a museum with several works, including the work "The Kiss" by the Austrian Gustav Klimt.
Prices:
As with Schönbrunn, entrance to the open area of ​​the palace (gardens) is free. To enter the palace and go to the museum, tickets for adults start at 15 euros.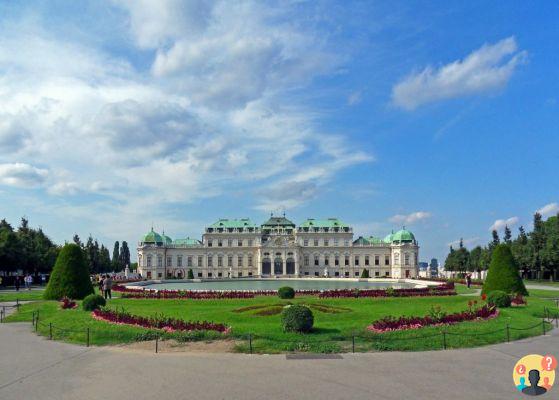 St. Stephen's Cathedral
Also known as Saint Stephen's Cathedral, Saint Stephen's, Stephansdom or simply Vienna cathedral. It is a tourist spot in Vienna that is a real postcard in the city. In a mixture of Romanesque and Gothic styles, it was built in the 14th century on the ruins of a first church from 1147.
In addition, you can visit the towers and, after 343 steps, enjoy the beautiful view of central Vienna or come face to face with the biggest bell in Austria.
Next to the cathedral, you can also visit the St. Peter's Church, one of the oldest in the city. There has been a church on that site since the early Middle Ages.
Prices:
Entrance to the church is free, but some areas, such as the towers and catacombs, require a paid ticket. An all-inclusive ticket costs 14.90 euros for adults. The ticket includes, for example, a visit to the catacombs with a guide telling some macabre details about the Habsburgs (in English or German).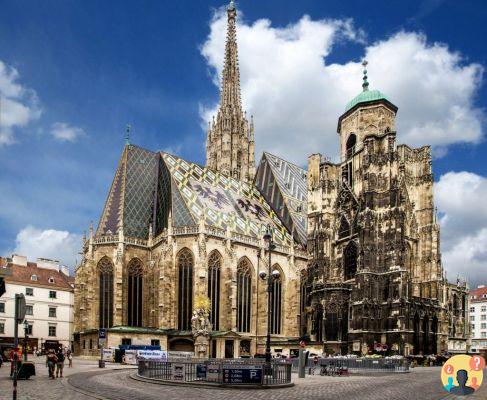 Vienna Sights – Museums and Music
Vienna is the city of music! And especially classical music. Many of the world's leading composers were either born here or at least spent a good part of their lives in Vienna. The Austrian capital also has excellent museums where you can find all kinds of art and artifacts, from dinosaur bones to modern and contemporary art.
Vienna State Opera
There is no shortage of beautiful sights in Vienna, but this is probably one of the most beautiful buildings in the city. Especially at night, all lit up.
The Vienna State Opera, or Vienna State Opera, was built at the end of the 19th century. The premiere was Don Giovanni, by Mozart, in May 1869 and it also had illustrious presences among the guests, such as Emperor Franz Josef and Empress Sissi.
To see a performance at the opera, you need to check it out well in advance. In this case, tickets can reach more than 200 euros.
However, it is possible to try your luck with a ticket on the day of the performance. The stehplätze, as they are called, are offered for around 10 euros starting 80 minutes before the performance starts. It's not glamorous, it can have a long line and you have to stand for the entire show, but it's worth it if you don't have tickets in advance or want to save a few (many!) euros.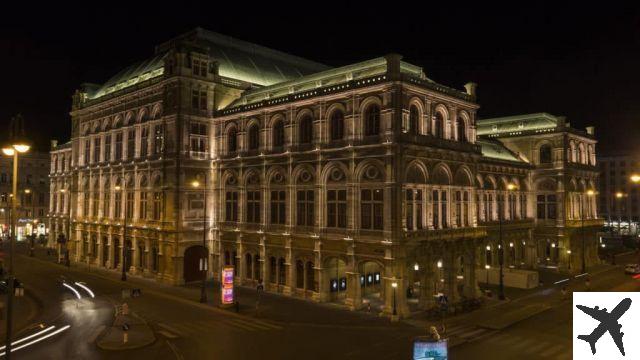 MuseumsQuartier (MQ) and Maria-Theresian Platz
Are you a fan of art and museums? Or buildings with impressive architecture? So the region of "Museum Quarter" it's your place. There, you will find no less than 60 different cultural institutions.
From modern architecture to contemporary design, nothing is off limits for MQ. And on spring and summer afternoons, there's even live music in the central courtyard.
It is in the MuseumsQuartier, for example, that you will find the Leopold Museum. This one is especially for fans of Austrian modern art, and features artists like Egon Schiele, Gustav Klimt and Oskar Kokoschka. It opens daily (during the summer) from 10 am to 18 pm and an adult ticket costs 14 euros.
There are so many options that it is not uncommon in Vienna to have tourist attractions next to each other. Very close to the MuseumsQuartier, for example, is the Maria Theresa Square. In the square, you will find the Art History Museum, with ancient or classic artifacts such as Velázquez. You will also find the Natural History Museum, facing each other.
In the middle of Maria-Theresien Platz, a large statue of Empress Maria Theresa stands out. The square also hosts cultural events and is home to one of Vienna's many Christmas markets. By the way, take advantage of the tour to pass by the building of the Austrian Parliament and Town hall, the municipal building made with more than 30 million bricks.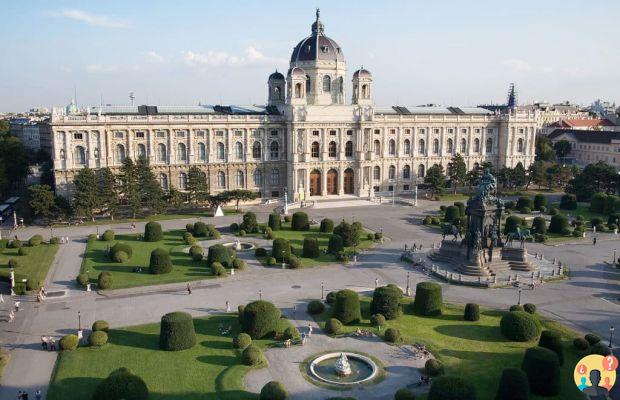 Albertina Gallery
The museum that was the palace of the Habsburgs is located in the first Viennese district. It is worth the visit or at least go up to the terrace (for free) and enjoy the beautiful view of the city center.
For art fans, the visit is a must. There you will find some classics by Monet, Picasso, Cézanne, Munch, Nolde, Miró and, of course, the Austrian Gustav Klimt.
Opening hours and prices:
The museum is open daily from 10 am to 18 pm, with extended hours on Wednesdays and Fridays to 21 pm. Entrance costs 16 euros for adults and 11 euros for young people under 26.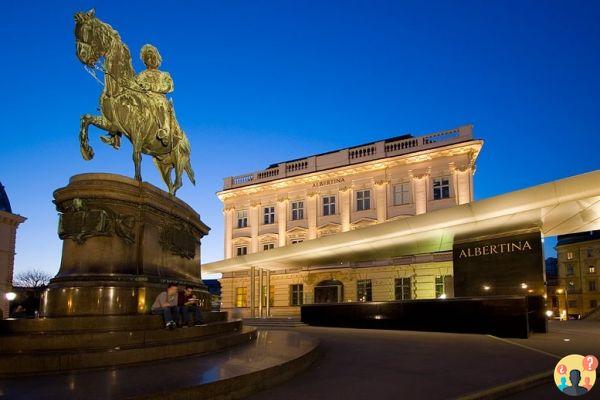 KunstHaus Wien and Hundertwasser House
A Hundertwasser house is an apartment building built with the style and concept of Austrian artist Friedensreich Hundertwasser. The architect had a unique style of expressionist architecture and this set of buildings is worth seeing. The visit (external) is free.
In the region is also the Art House Vienna, or house of art, with a permanent exhibition of works by the architect and artist. The museum is open every day from 10 am to 18 pm and tickets for the museum and the current exhibition are 12 euros for adults, but if you want to visit only the permanent collection, it is 11 euros.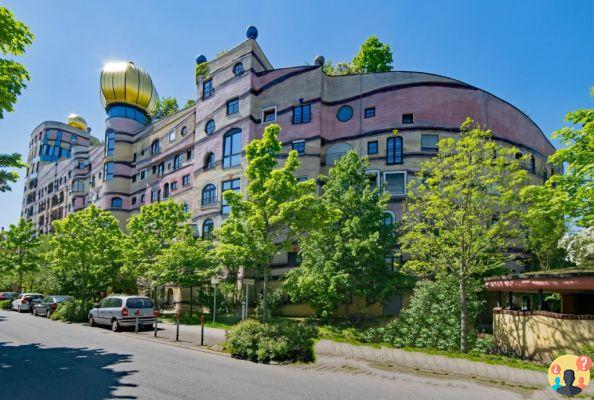 Have you already purchased your mandatory travel insurance for Europe? With Seguros Promo you have the peace of mind to travel safely and without spending too much! Check it out and make yours now!
parks and shopping in Vienna
Anyway, a little relax, right? Well, for those who enjoy outdoor areas or a little time to shop, of course there is a good option in Vienna!
Prater and Donautur Parkm
Write it down to put it on the list of tourist spots in Vienna to visit. That's because the Prater is a giant open park that has an amusement park. There is no admission charge to enter the park, but each attraction has a price.
That's where you'll find the Wiener Riesenrad, a Ferris wheel that was built in 1897 and is one of the city's postcards. Want some romance, or privacy? Because it is possible to book a "luxury car" in it.
For the Ferris wheel, for example, adults pay €12. In high season, it is worth buying online to avoid the queue at the cashiers.
Already Danube Tower is the tallest tower in Austria, at 252 meters high and located in the Donau Park. It is even possible to bungee jumping from there, for the bravest. For those who prefer to keep their feet on the ground, the tower also offers beautiful views of the city. The ticket to go up is 14,50 euros for adults.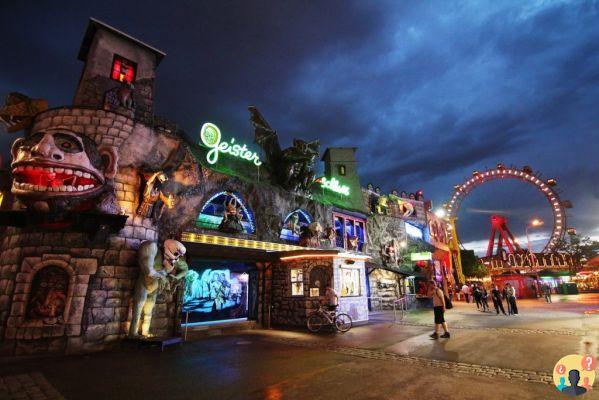 City Park, Kahlenberg and Augarten
Prefer nature in the middle of the city? Then the city ​​Park is the suggestion! The beautiful 19th-century public park is crossed by a river, has impeccable gardening and picture-worthy bridges. And, of course, all this for free.
Kahlenberg is a mountain in the woods of Vienna, the Vienna forest, famous for being a place where great composers, such as Beethoven, hang out. From the top of the hill it is possible to have a perfect view of the city. Also for free.
Finally, another public park that is worth a visit is the Augarten, the oldest baroque park in the city. There you will even be able to see Vienna's tourist attractions such as the Augarten Palace, where the Vienna Boys' Choir, the Vienna Boys Choir.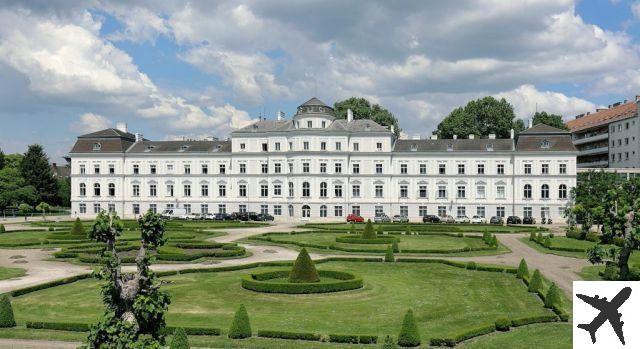 Mariahilferstrasse and Karntner Strasse
Finally, want to go shopping? So stroll through Mariahilferstrasse, a mostly pedestrian street full of popular shops and restaurants.
In other words, get ready to indulge in H&M, Peek&Cloppenburg, Lush and many other stores that are successful among Brazilians.
Do you want to combine tourist attractions and shopping in Vienna? So go to Karntner Strasse, where you will find an Apple Store in a wonderful old building and stores by Swarovski which, by the way, is an Austrian brand.
Where to stay close to Vienna's sights
Of course, one of the most important things about your trip is accommodation. After all, it is good to stay in a well-located hotel, but at the same time of good quality and at a good price. Here, three hotel suggestions are where to stay in vienna, with tourist attractions close by.
Vienna is divided into districts, located around District 1, known as Innere Stadt (the historic city center). There are 23 in all, and the best regions to stay are Districts 1, 2, 3, 4, 6, 7, 8, 9 and 13.
Find the best options where to stay in Vienna in District 1 on Booking!
We separate some options:
Wombat's City Hostels Vienna – Naschmarkt ($): One of the best locations, right in front of the U4 metro line (green). The hostel offers shared rooms for budget or private travelers.
Motel One Vienna State Opera ($$): Excellent option for those who want an affordable hotel in the first district. The hotel offers breakfast and is located just 100m from the Vienna State Opera.
Hotel Sacher Wien ($$$): Five stars and a tourist attraction in itself. The traditional hotel is located in the center of the city, offers the famous Sachertorte dessert and offers luxurious boutique-style rooms.
>> Check out more accommodation options in our guide with hotel recommendations in Vienna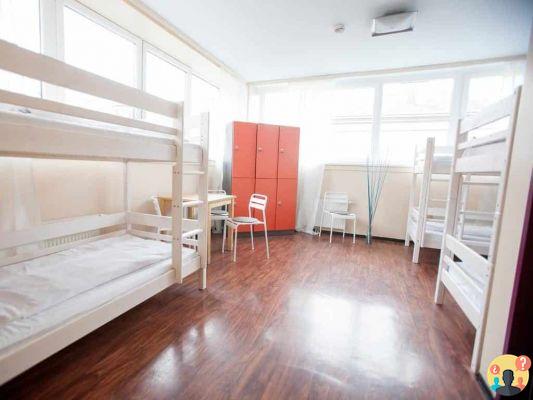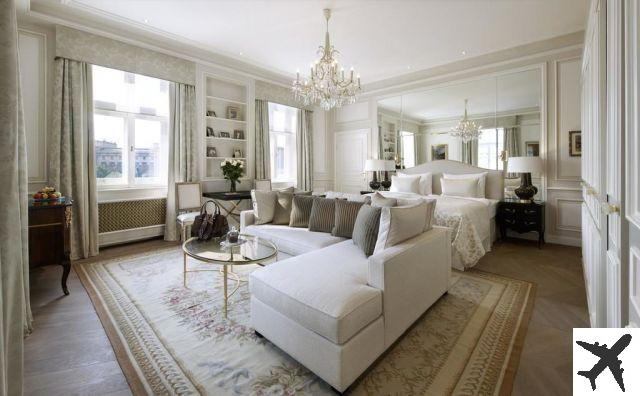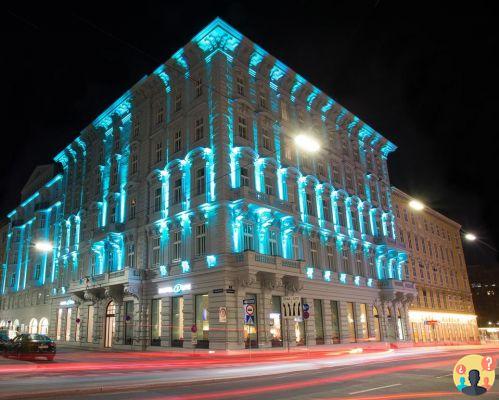 Did you like the tips from the Vienna Tourist Points guide? Comment here for us!!
What you NEED to know BEFORE going to Vienna
Are you full of things to think about and still have to plan your entire trip?
Or you've seen it all, but you're feeling that familiar "Have I forgotten something?" So calm down, we'll help you with some items you can't forget before boarding. Come on?
1) Have you already purchased your airline ticket?
Where to buy: PROMO TICKETS
Looking for a good deal and flight prices? When buying tickets to Vienna, it is worth taking a look at the website Promo Tickets. It is quite common to find cheaper and better flight options than on other sites. We always use and is it worth it?
2) Have you booked your hosting?
Where to buy: BOOKING.COM
If you haven't booked your stay, the tip is to compare hotels, hostels and inns through Booking.com. This is the largest hotel booking platform in the world, ensuring a safe experience and great accommodation deals.
#StayHip: Keep an eye out for 'Smart Deals', which only last for one day. Some amazing hotels offer great discounts using this badge on the platform. If you find a good deal, is it worth closing?
3) Vienna Travel Insurance is MANDATORY
Having a Vienna travel insurance is a requirement to enter the country, which is part of the Schengen Treaty and requires medical-hospital coverage of at least €30 for travelers. In addition to being mandatory, insurance is a great way to ensure a smoother trip. Also enjoy our Insurance Promo discount coupon. - SEE PRICES
4) How to have unlimited internet while traveling
Where to Buy: AMERICA CHIP
Did you know that it's getting easier – and cheaper – to have unlimited internet throughout your trip?
Just ask for an international cell phone chip through AMERICA CHIP. We always use and love it! They send a SIM card to your address in España, you insert it in your cell phone when you arrive at your destination and you have unlimited internet throughout the trip.
#StayHip: Save on car GPS rental and use GoogleMaps and Waze with your unlimited internet?
>> Find out more about which is the best internet chip in Europe by clicking here.
>> Learn everything you need to know about America Chip by clicking here.
5) Rent cars at the best prices
Where to rent: RENTCARS
We really like RentCars to find the cars we use on our travels. It is the only one in Spain that compares the best rental companies in the world, but lets you pay in reais, without IOF. In addition, it is also the only one that lets you pay in 12 interest-free installments. It is worth it!
#Here's a tip: Try to find cars with full car and third party insurance coverage. Thus, you avoid inopportune surprises when picking up the car.
Also, be very smart when closing with other car rental comparisons. That's because prices are usually charged in dollars and close with your card. If the dollar goes up, the price of your car rental goes up too.
Note: We highly value the credibility of our information. All the sites we recommend above are sites we already use, we have good experiences and feedback from readers!
Read more about Austria
Austrian Landmarks – 27 Places to See
Itinerary in Vienna – 10 Tips You Need to Know
What to do in Vienna – 1 to 5 Day Itinerary
Where to Stay in Vienna – Best Neighborhoods and Hotels
Hotels in Vienna – 15 Options Worth Booking
25hours Hotel in Vienna – Our Review
Austria Travel Insurance – Is It Mandatory? Learn Everything Here
Innsbruck, Austria – Travel Guide
Graz, Austria – Everything to Plan Your Trip
Hallstatt, Austria – Everything You Need to Know
Salzburg, Austria – How to Plan Your Trip
Linz, Austria – Complete Travel Guide
Plan your trip:
Get started now by booking your hotel in Vienna on Booking.com
Want to find cheap tickets? Find flights with discounts of up to 35% every day at Passages Promo!
Save time and money searching for the best Travel Insurance with the Seguros Promo comparator! Extra 5% off with coupon: FORTRAVELOVERS
Compare the best prices to rent a car from over 100 rental companies with Rentcars! (Pay in up to 12X! Pay in reais, without IOF)
Leave España with Unlimited 4G Internet!