Linz is the city in Austria that stands out for its modernity, technology industry and modern art, but still having that almost bucolic Austrian touch.
Located in the Upper Austria region, Linz is the third largest city in the country, with just over 200 inhabitants. In 2009, it was chosen as the European capital of culture, and its diversity of museums and installations shows this well.
Linz is excellent for those who enjoy culture and modern art. But it also attracts visitors for the beauty of its historic buildings, as well as being surrounded by nature (the Danube River also passes through Linz).
The city has a super strategic location, which facilitates the visit. After all, it is very close to Austria's borders with Germany and the Czech Republic. Furthermore, it is halfway between Vienna e Salzburg.
Buy travel insurance at a discount!
Nothing beats paying little to travel peacefully. use the coupon FORTRAVELOVERS and save when purchasing your plan. Click here!
About the city
Directions
When to go
what to do in the city
Where to stay – Hotel recommendations
Austria travel tips
Currency, visa and information to plan your trip
Plan your trip
The city of Linz Austria
Linz is a very ancient city and there are records of settlements in the region since 44 BC Linz's history shows that it was also part of the Roman Empire, when they built forts and buildings to ensure its connection on the Danube.
In the Middle Ages, the city grew in a projected way, and to this day there are traces of Celtic, Roman and past centuries settlements. Linz is famous for being where Johannes Kepler, the German astronomer and mathematician, discovered the so-called Kepler's Laws, the three laws that govern planetary motion.
Adolf Hitler was born in a town near Linz and spent part of his life there. During World War II, he encouraged the steel industry throughout the region.
In the 1990s, however, the city began to encourage studies and accounts of its Nazi past, being one of the first Austrian cities to closely examine this dark part of its history.
It is currently a cultural center, university and member of the UNESCO Creative Cities Network, with a lively music and arts scene.
It is worth taking the time just to stroll through the narrow and cute streets of the historic center of Linz, where you can see buildings and centuries-old remains.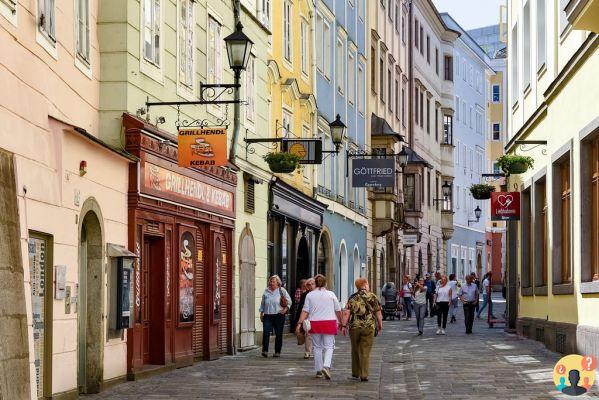 #ToDon'tForget: Travel insurance is mandatory in Austria
Immigration does not release visitors who arrive in Austria without travel insurance. use the coupon FORTRAVELOVERS for 5% OFF, compare prices and coverage on InsurancePromo.
How to get to Linz Austria
Linz is a big city and super well connected. There are buses that pass or arrive in the city of Vienna, Salzburg, Munich, Prague and other cities around. In fact, the bus terminal is next to the train terminal.
In addition, the city is on the route between Vienna and Salzburg, with express trains every half hour to both regions. By express train, you can reach both Vienna and Salzburg in about an hour and a half.
Another option is Linz-Prague as there are about six trains daily. The journey, however, takes almost five hours.
Linz also has its own airport, so especially if you're coming (or going) from another city in Europe, it's worth checking flights.
When to go to Linz in Austria
One of the coolest things about Linz is that there are always specific activities and beauties at each different time of year. That is, you can plan your trip for different months without fear of going in a "bad" time.
What happens at each time of year:
The summer months are excellent for those who enjoy being outdoors, want to enjoy the Danube and still enjoy the numerous festivals and parties in the city.
One of the coolest events in the warm months, without a doubt, is the Höhenrausch. Between May and October it is possible to stroll along the roofs of the city's historic buildings, passing through artistic installations and beautiful views of Linz.
On the other hand, Autumn has less demand, better prices and that beauty of yellow/orange leaves that you can see while strolling through the parks and riverbanks.
Anyone who wants to see snow will certainly not be disappointed by the winter months. There are even options for skiing, but those who prefer quieter rides will be in heaven with the city's Christmas markets.
Finally, Spring also brings options for festivals and parties, as well as the opportunity to see orchids and cherry blossoms. In other words, there's something for everyone!
Things to do in Linz Austria
Linz is a perfect city for those who like museums, modernity and diverse tourist attractions. After all, the city also has historic buildings, leisure in nature and all kinds of tourism that you can look for.
As in many other tourist destinations, in Linz you will also find the city card. In this case, the Linz Card, which can be purchased for a day or three. With it, you will be entitled to unlimited access to public transport, as well as tickets to the main museums in the city, including the Ars Electronica Center.
In addition, the card also gives discounts on various attractions and tours. It is worth checking.
A super cool thing about the city, which matches the modernity theme, is that there is an official free hotspot. That is, you can stay connected to Wi-Fi wherever you are.
We have separated some of the main attractions in Linz, write it down!
Map of tourist attractions in Linz and Surroundings
Ars Electronica Center
Certainly one of the main tourist attractions in the city, it is practically a museum of the future. In it, you can learn about the future of technology, interact with robots, print things on 3D printers and do countless other activities related to technology and engineering.
Undoubtedly a great option to visit with children. But also for solo travellers, there really is no age to get the most out of this fun museum.
Ars is open every day except Monday, and opening times depend on the day. On Saturdays and Sundays it opens from 10 am to 18 pm. Admission for adults costs 9,50 euros, and 7,50 for children.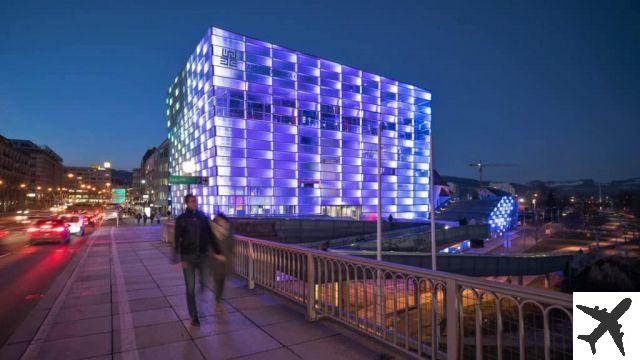 To New Cathedral – Mariendom
Also known as Neuer Dom, or Mariendom, the New Cathedral is in the center of the city. It is undoubtedly one of the most impressive in Austria, although it had to limit the height of its tower so as not to overshadow the Stephansdom in Vienna (!).
Even so, it is still the largest cathedral in Austria, with a beautiful Gothic exterior. And its interior is simply stunning. The cathedral has beautiful windows, in some you can see drawings telling the story of Linz Austria.
The Cathedral is open from Tuesday to Saturday, from 10 am to 13 pm and from 14 pm to 17 pm. Tickets cost 6 euros for adults and 4 euros for children, there are different types of tours. For more information see the website here.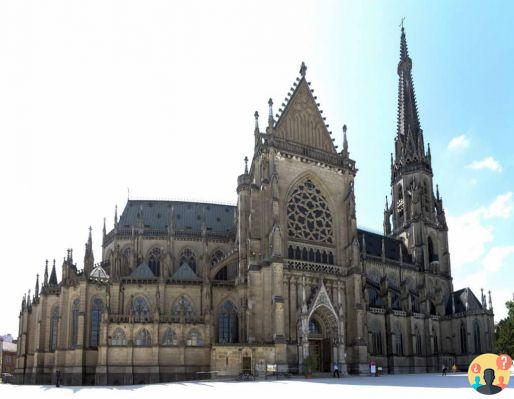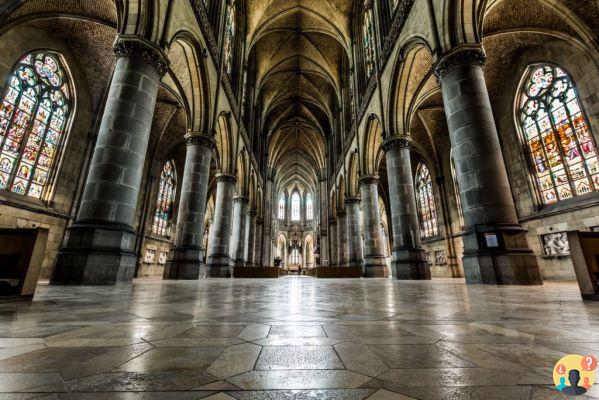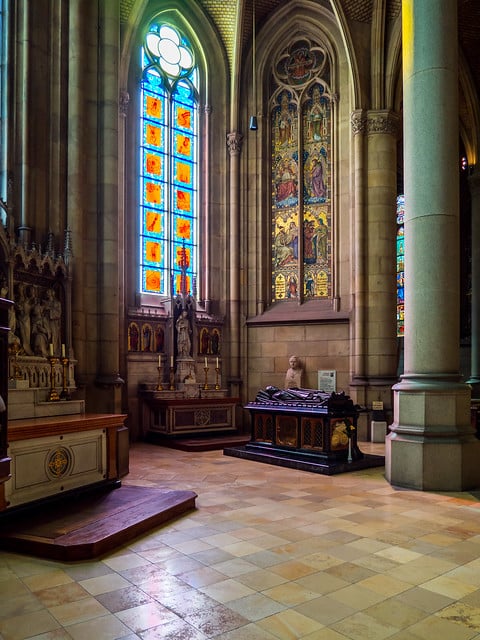 The Old Cathedral – Old Cathedral
If you have the new one, whose construction began in the 19th century, chances are we would have the old one, right? And the Old Cathedral, from the 17th century, has its towers as a highlight of the Linz skyline.
The cathedral is open every day from 7 am to 19 pm and the visit is free. For more information, see the official website here.
Lentos Art Museum Linz
Lentos Kunstmuseum Linz is one of the main galleries in Linz, home to important modern artists. The collection includes, of course, works by the Austrian Klimt, but we can also find pieces by Warhol, Schiele and others.
The building itself, modern in style and with impressive night lighting, is worth a visit.
Open from Tuesday to Sunday from 10 am to 18 pm. Thursdays from 10 am to 21 pm and closed on Mondays. Tickets cost 8 euros for adults and children under 7 are free. For more information see the website here.
Poestlingberg
A Poestlingberg it's a hill where you can get a really nice view of Linz.
It is worth the visit especially if you take the train tour, on the steepest accession train path in Austria. From the top, a postcard view.
What to do around Linz?
Leaving a little bit of the city itself, the region is incredible. The first tip is rent a car so you can visit your favorite sights at your leisure.
Mauthausen Memorial
Mauthausen is a town close to Linz, easily accessible by bus or train. In the city, the Nazis built a concentration camp. About 100 prisoners died or were executed at the site, which today has become a memorial.
Guided tours in English only take place in July and August, but in German throughout the year. Entrance to the memorial costs 5 euros for adults, an audio guide costs an additional 3 euros.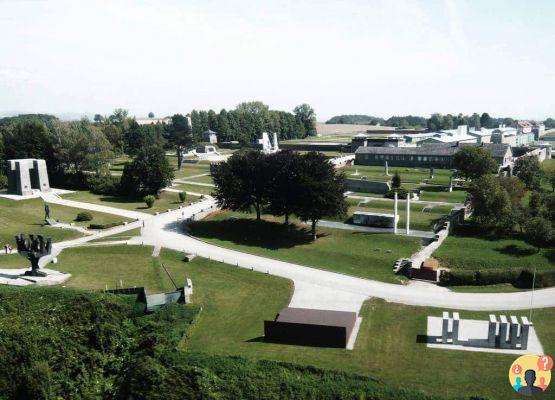 Steyr
Steyr is a beautiful little town about an hour from Linz by train and just over 30 minutes by car.
It is worth a visit because the combination of charming streets, on the banks of the rivers Enns and Steyr and the buildings in pastel tones is charming.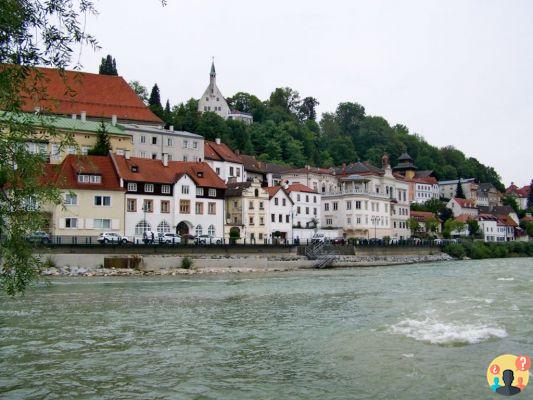 Baumkronenweg
This is a great option to enjoy with family, no doubt. Located in the city of Kopfing, a wooden walkway allows visitors to experience forests from high in the trees.
There are also playgrounds and treehouse-style hotels, from the most romantic to rooms that accommodate large families.
The place is open all year from 10 am to 18 pm. Tickets cost 11 euros for adults and children under 6 are free. There is also the possibility of a family ticket, see more details on the website here.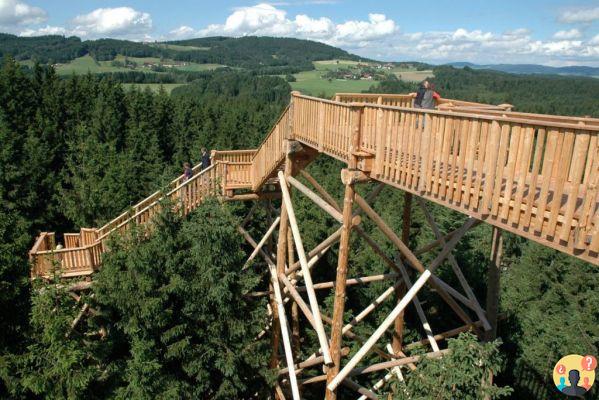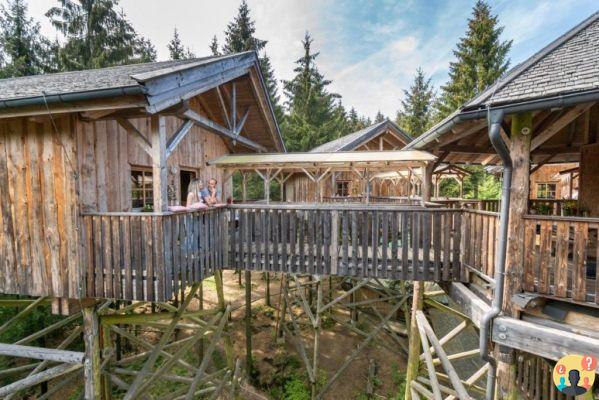 Augustinian monastery Reichersberg
O Augustinian monastery it is a monumental monastery close to the border with Germany, certainly a building that draws attention.
All visits need to be guided and pass through impressive rooms, including the marble hall and Roman crypts.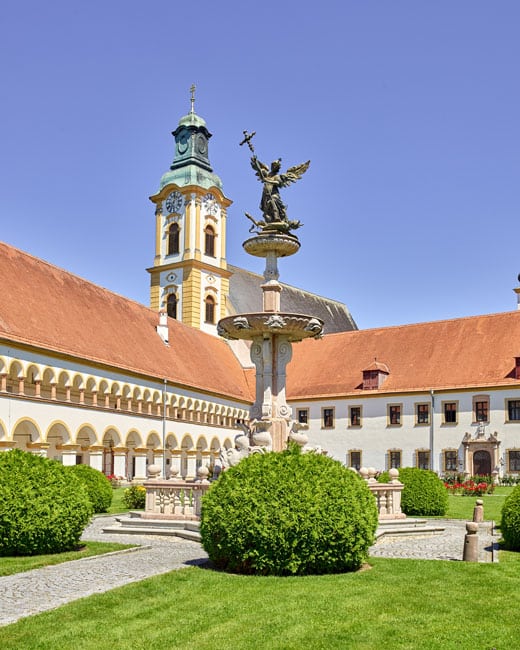 National Park Kalkalpen
Located a little further from Linz, about an hour and a half by car, but still in the Upper Austria region, Kalkalpen is the second largest national park in the country.
There you will find, rivers, waterfalls, mountains and caves. And, if you are VERY lucky, a lynx (feline) or a golden eagle.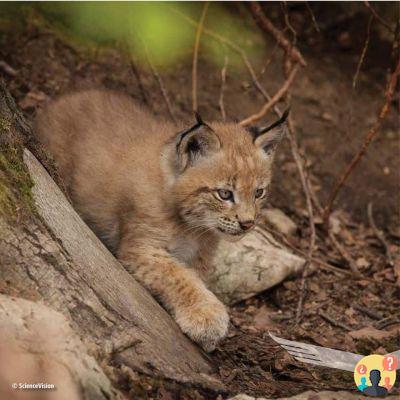 where to stay in Linz Austria – Indication of hotels
Linz Austria is a relatively large city (the third largest in Austria) and very touristy. So of course there are numerous hosting options.
Here are three of our favorites, perfect for different budgets.
*Changes may occur in daily rates depending on the time of year and availability. Always check the Booking.com website for up-to-date prices.
Hotel Am Domplatz ($$$)
O Hotel Am Domplatz it is perfect for couples who want comfort in an excellent location. The hotel is for adults only, has modern design and incredible views of the cathedral.
Check prices and availability and make your reservation by clicking here!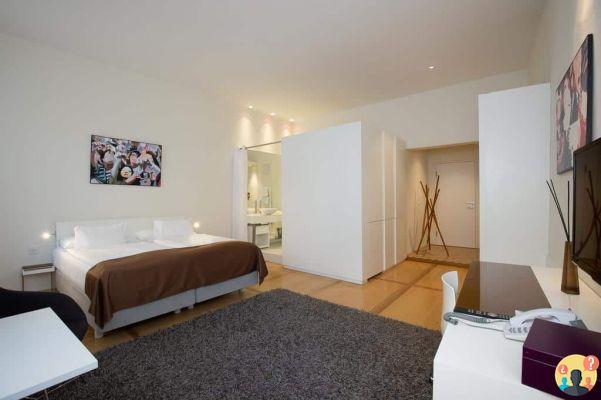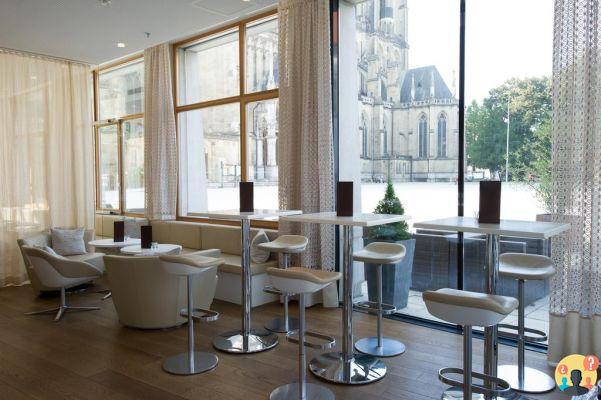 Star Inn Hotel Linz Promenade Galleries ($$)
O Star Inn Linz It is great value for money and one of the best rated hotels in Linz. The hotel is beautiful, comfortable and super well located. Some rooms overlook the old cathedral.
Rates from R$ 453 with breakfast included.
Check prices and availability and make your reservation by clicking here!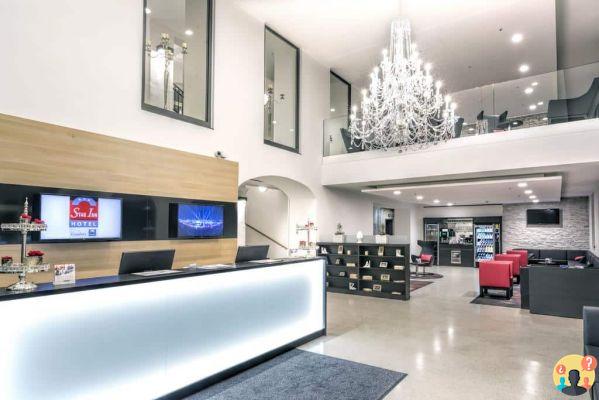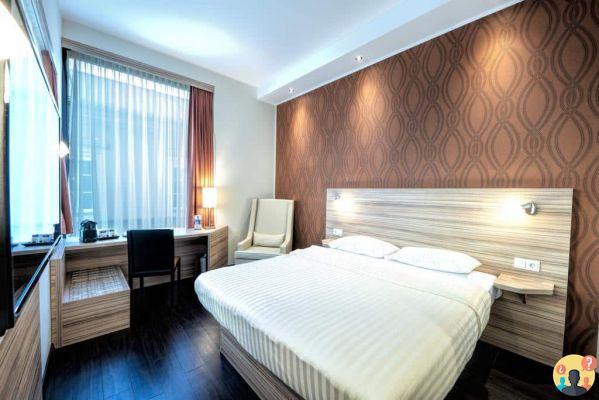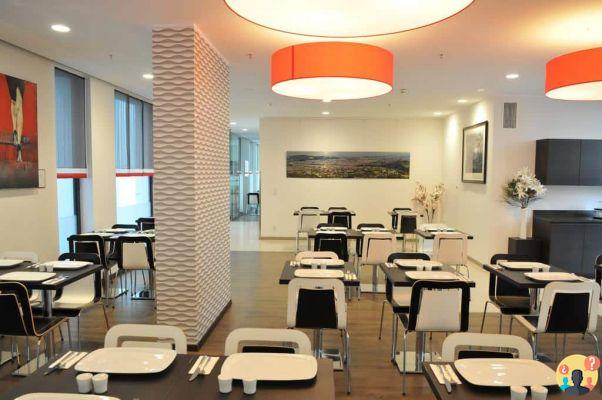 7 Days Premium Hotel Linz ($)
A little further from the center, The 7 Days Inn Premium has easy access to tourist attractions. This hotel is perfect for those who are on a tighter budget but still want comfort.
Rates from R$ 268 with breakfast included.
Check prices and availability and make your reservation by clicking here!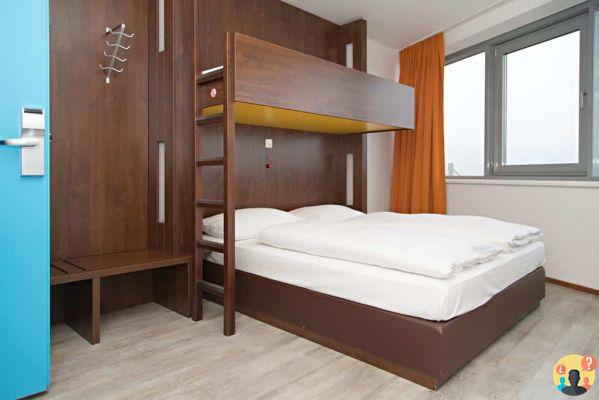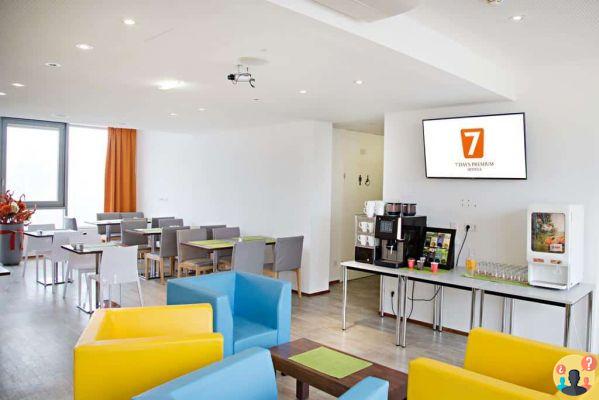 Find more options for where to stay in Linz, Austria and view today's deals on Booking.com
Currency, visa and information to plan
Linz is in Austria, relatively close to the border with Germany and also the border with the Czech Republic. The currency used in the city is the euro and it is always good to carry some cash in your wallet. This is because many establishments in Austria do not work with cards.
The language in Austria is German, with a slightly different accent than German in Germany and also with some local dialects. However, especially in more touristy places, you will easily find information also in English and other languages.
Finally, you don't need a visa to travel to Linz! But remember Austria is part of the Schengen Treaty and so the Austria travel insurance is required. Also see what others documents to enter Europe are necessary.
">Austria Sights – 27 Places to See
Itinerary in Vienna – 10 Tips You Need to Know
What to do in Vienna – 1 to 5 Day Itinerary
17 Sights in Vienna – Attractions You Need to Know
Where to Stay in Vienna – Best Neighborhoods and Hotels
Hotels in Vienna – 15 Options Worth Booking
25hours Hotel in Vienna – Our Review
Innsbruck, Austria – Travel Guide
Graz, Austria – Everything to Plan Your Trip
Hallstatt, Austria – Everything You Need to Know
Salzburg, Austria – How to Plan Your Trip
Austria Travel Insurance – Is It Mandatory? Learn Everything Here
Plan your trip to Linz Austria
Are you full of things to think about and still have to plan your entire trip? Or you've seen it all, but you're feeling that familiar "Have I forgotten something?"
So calm down, we'll help you with some items you can't forget before boarding. Come on!
1) Have you already purchased your airline ticket?
Where to buy: PROMO TICKETS
Looking for a good deal and flight prices? When buying tickets to Austria, it is worth taking a look at the website Promo Tickets. It is quite common to find cheaper and better flight options than on other sites. We always use it and it's worth it!
2) Have you booked your hosting?
Where to buy: BOOKING.COM
If you haven't booked your stay, the tip is to compare hotels, hostels and inns through Booking.com. This is the largest hotel booking platform in the world, ensuring a safe experience and great accommodation deals.
#StayHip: Keep an eye out for 'Smart Deals', which only last for one day. Some amazing hotels offer great discounts using this badge on the platform. If you find a good deal, it's worth closing.
3) Travel Insurance for Austria is required
Having travel insurance for Austria is a requirement to enter the country, which is part of the Schengen Treaty and requires medical and hospital coverage of at least €30 for travelers. In addition to being mandatory, insurance is a great way to ensure a smoother trip. Also enjoy our Insurance Promo discount coupon. - SEE PRICES
4) How to have unlimited internet while traveling
Where to Buy: AMERICA CHIP
Did you know that it's getting easier – and cheaper – to have unlimited internet throughout your trip?
Just ask for an international cell phone chip through America Chip. We always use and love it! They send a SIM card to your address in España, you insert it in your cell phone when you arrive at your destination and you have unlimited internet throughout the trip.
#StayHip: Save on car GPS rental and use GoogleMaps and Waze with your unlimited internet ;).
5) Rent cars at the best prices
Where to rent: Rent Cars
We really like RentCars to find the cars we use on our travels. It is the only one in Spain that compares the best rental companies in the world, but lets you pay in reais, without IOF. In addition, it is also the only one that lets you pay in 12 interest-free installments. It is worth it!
#Here's a tip: Try to find cars with full car and third party insurance coverage. Thus, you avoid inopportune surprises when picking up the car.
Note: We highly value the credibility of our information. All the sites we recommend above are sites we already use, we have good experiences and feedback from readers!
Did you like our tips from Linz Austria? Leave your comments and questions here…
Plan your trip:
Get started now by booking your hotel on Booking.com
Save time and money searching for the best Travel Insurance with the Seguros Promo comparator! Extra 5% off with coupon: FORTRAVELOVERS
Want to find cheap tickets? Find flights with discounts of up to 35% every day at Passages Promo!
Rent your car at Rentcars! Installment up to 12X, paying in reais and without IOF!
Leave España with unlimited 4G Internet!
Skip the lines for attractions, buy your tickets in advance here!