One of the most fascinating places in the world, Greece is the favorite destination of many tourists because of its white houses, transparent sea, culture and mythology.
Greece – discover fun facts about Greece and everything about this fascinating country in the post below. See stories from Ancient Greece to all the Greek Islands travel tips you need to know to enjoy your Greek vacation.
Travel insurance is mandatory in Greece!
Won't forget to hire yours, huh? use the coupon FORTRAVELOVERS and get 5% off.
Click here and buy it now!
Ancient Greece
Greece, known to the Greeks as Hellas, is considered the birthplace of music, philosophy and also theater. The Olympic Games were also born there and were held in the city of Olympia in 776 BC It was in Ancient Greece, in the Classical Period, that the Greeks cultivated beauty, architecture, democracy and sculptures.
Athens is the country's capital and an open-air spectacle, especially when walking close to Acropolis and we visualize the Parthenon, the biggest postcard of the site and a UNESCO World Heritage Site.
Read all the tips in the post Athens – Complete City Guide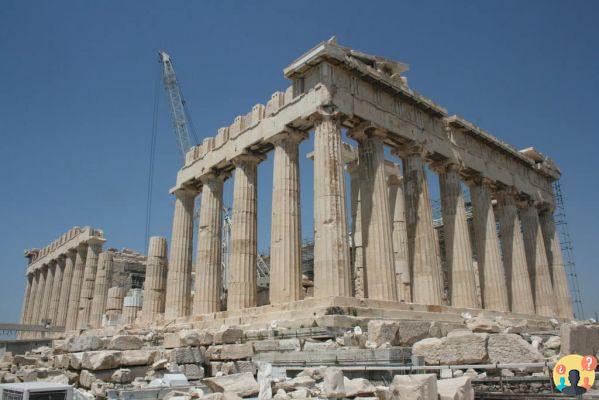 When is the best time to visit Greece?
A High season takes place between the months of June to September. This is the best time for tourism, as the European summer takes place in these months.
For those looking for a milder weather, the months of October and April are ideal, with less hot days.
Getting around Athens and the Islands
In Athens you can visit all the tourist attractions by metro or bus. On the islands, it is possible rent cars or motorcycles.
Click Here and rent your car with Rent Cars. It compares the best rental companies in the world, lets you pay in reais, without IOF and up to 12 times. It is worth it!
To get to know the Greek Islands, departing from Athens, there are many ferry boats leaving from the Port of Piraeus. The port is 12 km from the center of Athens, in a small town that bears the same name as the port.
To get to the Port of Piraeus is easy, access can be by car (with easy parking space), by metro and even by train.
There are several companies, just choose the time and where you want to go: Go Ferry, Greece Ferries, Greek Ferries, Paleologos S.A, Seajet, Hellenic Seaways, Flying Dolphins among others.
Important Tips BEFORE going to Greece
Are you full of things to think about and still have to plan your entire trip? Or you've seen it all, but you're feeling that familiar "Have I forgotten something?"
So calm down, we'll help you with some tips you can't forget before boarding. Annotate you!
1) Travel Insurance Greece
Having travel insurance for Greece is a requirement to enter the country, which is part of the Schengen Treaty and requires medical and hospital coverage of at least €30 for travelers. In addition to being mandatory, insurance is a great way to ensure a smoother trip. Also enjoy our Insurance Promo discount coupon. - SEE PRICES
#StayHip: Save 10% on your travel insurance. use the coupon FORTRAVELOVERS to get 5% off and pay with boleto to guarantee an additional 5% OFF.
Travel Insurance: Europe
UA 40 SPECIAL WORLD Medical assistance USD 40.000 Lost luggage USD 1.200 (SUPPLEMENTARY) R$ 21/is*
AC 35 EUROPE Medical assistance EUR 35.000 Lost luggage EUR 1.200 (SUPPLEMENTARY) R$ 25/is*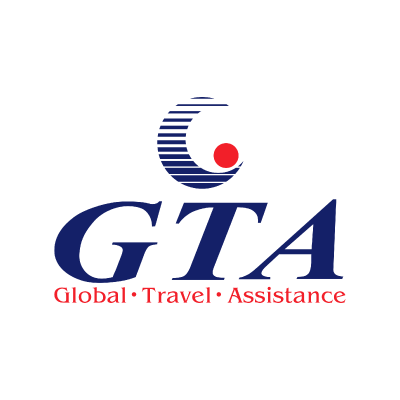 GTA 60 SLIM EUROPE Medical assistance USD 60.000 Lost luggage USD 1.200 (SUPPLEMENTARY) R$ 17/is*
*Value for 7 days of travel. Select the desired plan!
2) Do you need a Visa to visit Greece?
Not. For Brazilian citizens, a visa is not required for tourist or work stays of up to 90 days.
***Information from the Consular Portal of Itamaraty
>> Read more details in our post Documents to enter Europe – everything you NEED to know
3) Passport and Vaccination
The passport must be valid for more than 3 months. No specific vaccine is required.
***Information from the Consular Portal of Itamaraty
Greece – Tips for the Best Islands
Some of the main sights in Greece – besides the Parthenon in Antennae – are the Greek islands. There are more than 200 inhabited islands, each with a special and unique feature. It will take time to get to know them all. I wish!
>> Also read the post with many tips from our columnist Bruna in a Greek Islands Tour – The 5 Best Islands to Visit
We have separated for you the main islands and which ones I am most passionate about. I'll tell you a little about each:
Santorini
Mykonos
Zakynthos
Kefalonia
Lefkada
Milos
Aegina
Poros
Hidra
Santorini island
Santorini it is the best known and most visited Greek island. Ideal for a walk for two, super romantic. The beaches are not as beautiful as on other islands, but the view of the white houses is beautiful.
To finish off the romantic scene, and keep it in memory, the sunset is one of the most famous in the world. It is worth it!
>> Want to know more about Santorini? Read everything in our post Santorini Greece – Your Complete Guide for Travelers
Want to know and understand better what Santorini is like! Take a look at the video.
Santorini – What to do
One of the most famous Greek islands, Santorini It is ideal for those looking to see the white houses with blue roofs and the most famous sunset in Greece. It is possible to get to know the island by taking a ferry boat from the port of Piraeus, in Athens.
By plane, the trip takes approximately nine hours from España. By plane, also leaving the capital, the flight takes approximately 50 minutes.
To stay on the island, the best places are the villages of Oia e Fira. Fira is the island's capital and a great spot to see the Aegean Sea. Fira sits on top of the cliff and is packed with souvenir shops, restaurants and cafes.
Oia is the most charming place in Santorini, it is approximately 11 km away from Fira, it is a right place in the itinerary in Santorini. It is there that tourists gather to admire the famous sunset.
>> Our columnist Bárbara also got to know the island and created a 4-Day Santorini Itinerary, click on the link and read more
hotels in Santorini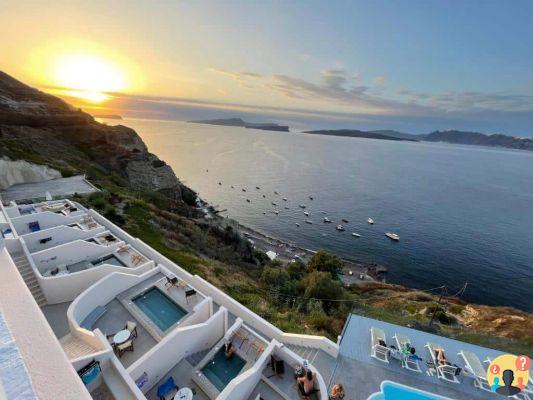 Know which are the best hotels in Santorini can make planning your trip even easier. Therefore, below we separate indications of the best evaluated, in the most diverse prices, for you to know where to stay in Santorini. Check out:
White Pearl Knights – Daily rates from € 569 – Note 9,9
Kokkinos Villas – Daily rates from € 179 – Note 9,2
Luxury Resort Santorini Sky – Daily rates from € 432 – Note 9,8
Absolute Bliss – Daily rates from € 315 – Note 9,7
See all Santorini hotel options.
Mykonos Island
Mykonos it is also one of the most popular islands in the country. In addition to the great cuisine, the place is known for the parties and beach clubs, which are the main attractions. The beaches are crowded with foreigners in the summer.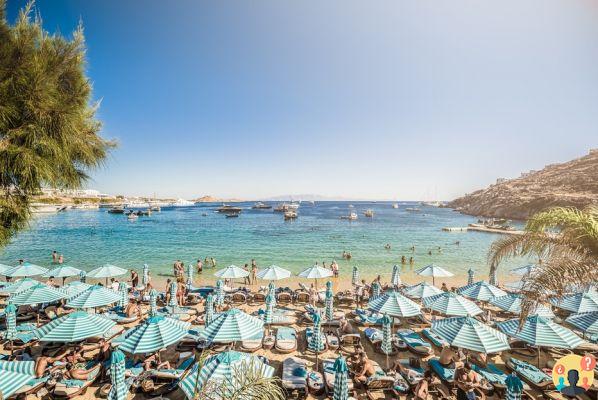 Hotels in Mykonos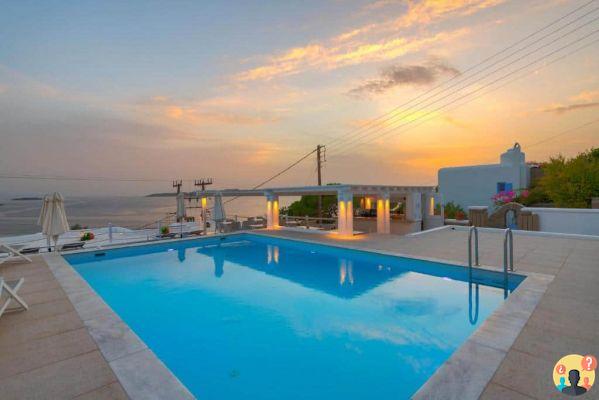 If you are going to pass through Mykonos during your trip to Greece, check out the best hotels in Mykonos for you to have a perfect stay at the destination.
Mykonos Riviera Hotel & Spa – Daily rates from € 332 – Note 9,5
Lithos by Spyros & Flora – Daily rates from € 157 – Note 9,9
Palladium Hotel – Daily rates from € 360 – Note 9,6
Corfos Hotel – Daily rates from € 141 – Note 9,1
See all Mykonos hotel options.
See also:
Mykonos travel insurance is mandatory! See how to buy yours
Ionian Sea Islands
As Ionian Sea Islands are also another popular destination, and it's no wonder! The islands have a very different look from the famous Santorini and Mykonos.
One of the islands is Zakynthos, there is one of the most famous and beautiful beaches in the world, Praia do Shipwreck ou Navagio Beach. The different look is because of a Scottish ship stranded on the sand, in addition to the water that is from a surreal blue. I'm sure they'll yield a lot of pictures!
Kefalonia or Cefalonia, is the largest island in the Ionian Sea. There is also no lack of paradisiacal beaches there, every turn is a discovery. The view from the road is beautiful, rent a car and enjoy your stay there.
>> See our tip where to stay in Kefalonia – Petani Bay Hotel in Kefalonia, Greece
>> Zakynthos travel insurance - All tips to buy yours
In addition, there are several villages – Assos, Agia Efimia, Sami e Skala – with many restaurants with typical foods and souvenir shops.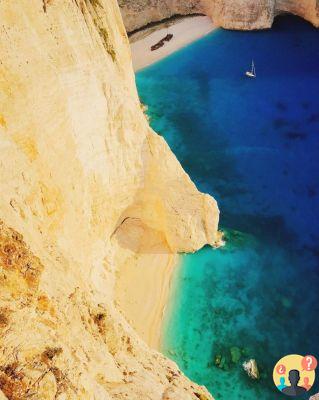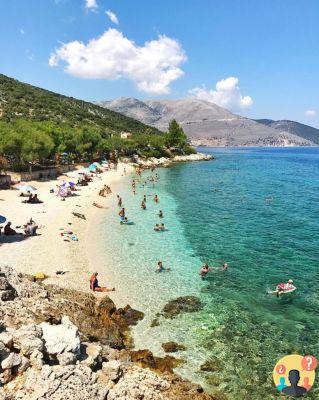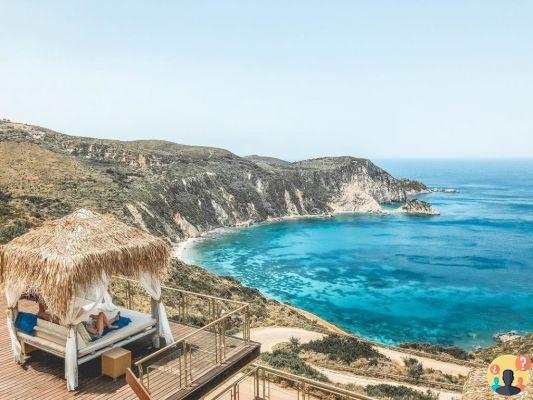 When I visited Greece, the place was going through a boat strike and we ended up choosing to visit Lefkada – which is also part of the Ionian Sea, west side of Greece – an island that can be visited by car!
However, whichever island you choose, you will not regret it. All the islands on the west side of Greece have an incredible sea.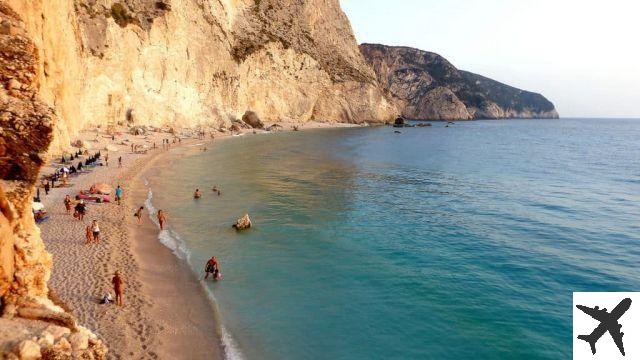 Hotels in Zakynthos
Zakynthos is another little piece of Greece that every traveler dreams of discovering during a trip to the Greek islands. If you are going to pass through this region, also know the best hotels in Zakynthos which we list below:
Lesante Blue – Daily rates from € 404 – Note 9,3
White Canvas Boutique Studios – Daily rates from € 130 – Note 10
Olea All Suite Hotel – Daily rates from € 360 – Note 9,3
Balcony Hotel – Daily rates from € 110 – Note 9,4
See all hotel options in Zakynthos.
island of Milos
Milos it is also a great option to visit, with a more rustic charm than neighboring Santorini and Mykonos. Milos is a very worthwhile stop for those who love nature.
The Greek island has stunning landscapes and super quiet beaches and "out of this world" tours.
>> We tell you all the tips about Milos Island in the post What to do on Milos Island in 2 days
>>See our Accommodation tip Where to stay on Milos Island, Greece: Perla Rooms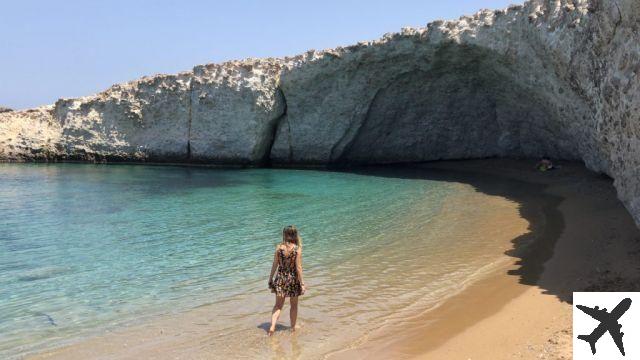 Other Greek Islands
For travelers who don't have much time and want to know the Greek islands, a good option is to visit Aegina (also known as Aegina), Poros e Hydra. There are day cruises departing from the port of Piraeus in the morning and returning in the evening.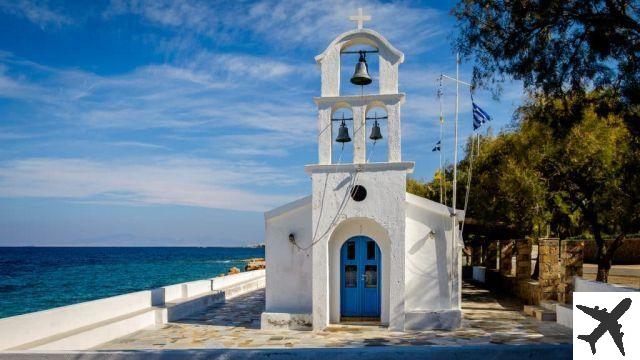 Athens Greece – What to do
One of the most beautiful places I've ever visited, Acropolis is a journey in human history. O Parthenon, temple of the goddess Athena, was built between 447 and 438 BC
Because it receives many people, the marble floor ends up being very slippery. It is worth taking extra care with your shoes.
O Temple of Erechtheion it is one of the most peculiar and was built during the Peloponnesian War. On account of the War, it was completed in 406 BC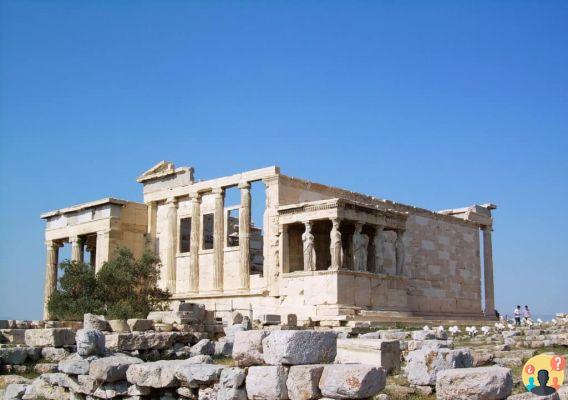 O Acropolis Museum, founded in 1863, is also a mandatory stop and gained a special location in June 2009, it is approximately 300 meters from the Acropolis. On the third and last floor of the exhibition, it is possible to see all the decoration of the Parthenon and the view is also breathtaking.
# A great tip: cBuy a ticket of 30 euros which is valid to visit the archaeological sites. It is valid for Acropolis, Agora of Athens, Temple of Zeus, Roman Agora, Archaeological Site of Lykeion, Archaeological Museum of Kerameikos, Library of Hadrian, Kerameikos, Agora Museum of Athens.
O Temple of Zeus, known as Olympian, is approximately 100 meters from the Acropolis and is also worth putting on the itinerary. In the past, the monument had 104 columns, today only 15 remain.
Athens hotels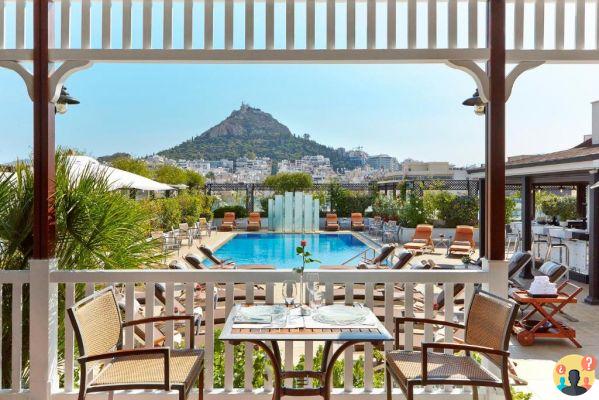 Many travelers pass through the capital before departing for the Greek islands. Knowing this, we are going to leave you some indications of hotels in Athens, in case you are going to spend a few days in one of the oldest cities in the world.
Four Seasons Astir Palace Hotel – Daily rates from € 971 – Note 9,3
Elia Ermou Athens Hotel – Daily rates from € 191 – Note 9,2
Ergon House – Daily rates from € 211 – Note 9,2
Nlh Fix Hotel – Daily rates from € 118 – Note 9,2
See all hotel options in Athens.
>> See our Accommodation tip in Athens The Margi Hotel: your 5 star hotel in Athens Greece
Athens neighborhoods
In addition to Acropolis, Plate it is one of the coolest neighborhoods for tourists. In addition to the various restaurants, there is the place to buy souvenirs for much cheaper prices. A good tip is: it's worth haggling for cheaper prices.
the neighborhood of Monastiraki it is very lively and the square is crowded at night. There it is also possible to stroll through the Flea Market, Hadrian's Library and Roman Agora.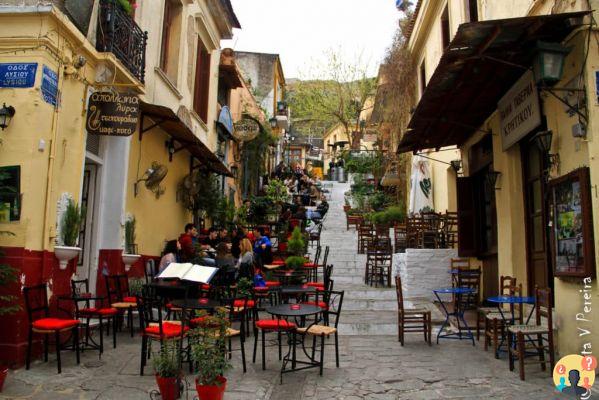 gastronomy in greece
Greece is a gastronomic paradise. Being of Greek descent, it is my favorite cuisine. The most famous dish is moussaka, a kind of lasagna with eggplant, bolognese sauce and béchamel cream.
For those looking not to spend a lot of money, the ideal is to invest in souvlaki or gyros. It is the famous Greek barbecue served on a bun (pita), tomato, onion, tsatsiki (a kind of Greek pâté with dry curd, cucumber and garlic), spices and fries (optional).
For seafood lovers, the oven-baked octopus with pasta it is also one of the most typical dishes.
Greek people are very welcoming, fun, and love to discover new cultures. Every time I visit the country, they love España and always want to know everything from here.
>> Our columnist Luis Del Mare gives the best tips left, check it out in our post Restaurants in Athens: must-see places to dine in the city
Did you like our tips from Grecia Turismo? Comment here!
WHAT YOU NEED TO KNOW BEFORE GOING TO GREECE
1) How to have unlimited internet while traveling
Where to buy: AMERICA CHIP
Did you know that it's getting easier – and cheaper – to have unlimited internet throughout your trip?
Just ask for an international cell phone chip through America Chip.. We always use and love it! They send a SIM card to your address in España, you insert it in your cell phone when you arrive at your destination and you have unlimited internet throughout the trip.

#StayHip: Save on car GPS rental and use GoogleMaps and Waze with your unlimited internet?

2) Have you booked your hosting?
Where to buy: BOOKING.COM
If you haven't booked your stay, the tip is to compare hotels, hostels and inns through Booking.com. This is the largest hotel booking platform in the world, ensuring a safe experience and great accommodation deals.
#StayHip: Keep an eye out for 'Smart Deals', which only last for one day. Some amazing hotels offer great discounts using this badge on the platform. If you find a good deal, is it worth closing?
3) Rent cars at the best prices
Where to buy: RENT CARS
We really like Rent Cars to find the cars we use on our travels. It is the only one in Spain that compares the best rental companies in the world, but lets you pay in reais, without IOF. In addition, it is also the only one that lets you pay in 12 interest-free installments. It is worth it!
#Here's a tip: Try to find cars with full car and third party insurance coverage. Thus, you avoid inopportune surprises when picking up the car.
Also, be very smart when closing with other car rental comparisons. That's because prices are usually charged in dollars and close with your card. If the dollar goes up, the price of your car rental goes up too.

#StayAtip: Make your planning and before buying, see the museums that offer days with free admission. Buy tickets to popular attractions and those that don't offer free.
Note: We highly value the credibility of our information. All the sites we recommend above are sites we already use, we have good experiences and feedback from readers!
In addition, it is worth checking out other useful information for your trip to Greece.
Items you can't forget in your suitcase
Europe Travel Insurance – What you NEED to know before hiring
Travel Insurance Greece – Find out if it is Mandatory
How Much Does Travel Insurance for Europe Cost?
Travel Health Insurance – 5 tips to find a cheaper one
Is Promo Insurance Reliable? It's good? - How it works
Read more about Greece
Greek Islands – Complete Roadmap of the 5 Best Islands to Visit
Hotels in Santorini – The 10 best to book without fear
Hotels in Mykonos – 12 options with the dream room
Travel Insurance Greece – Find out if it is Mandatory
Santorini Travel Itinerary – Complete Guide to Enjoy
Athens Hotels – More than 20 tips for your stay
Where to Stay in Santorini – Best Hotels and Regions
What to do in Kefalonia – 3 Days Itinerary on the Island
Where to Stay in Kefalonia – Petani Bay Hotel
What to Do on Milos Island – 7 Must-See Places
Where to Stay on Milos Island – Hotel Perla Rooms
Lefkada – The Complete Guide to the Ionian Island of Greece
Restaurants in Athens – Unmissable Places to Dine in the Capital
The Margi Hotel – Review 5 Star Hotel in Athens
Travel Insurance Europe – Complete Guide on How to Hire
How and Where to Buy Travel Insurance – Step by Step
Best Travel Insurance Europe – Which to Choose?
Backpacking Europe – Everything you need to know
The Best Places for Honeymoon – Complete Guide
Honeymoon – Top 10 Dream Places
Mykonos travel insurance is mandatory! See how to buy yours
Hotels in Zakynthos – The 11 most suitable for your trip
Plan your trip:
Get started now by booking your hotel in Greece on Booking.com
Want to find cheap tickets? Find flights with discounts of up to 35% every day at Passages Promo!
Save time and money searching for the best Travel Insurance Greece with the Insurance Promo comparator! Extra 5% off with coupon: FORTRAVELOVERS
Compare the best prices to rent a car from over 100 rental companies with Rentcars! (Pay in up to 12X! Pay in reais, without IOF)
Leave España with unlimited 4G Internet from America Chip!