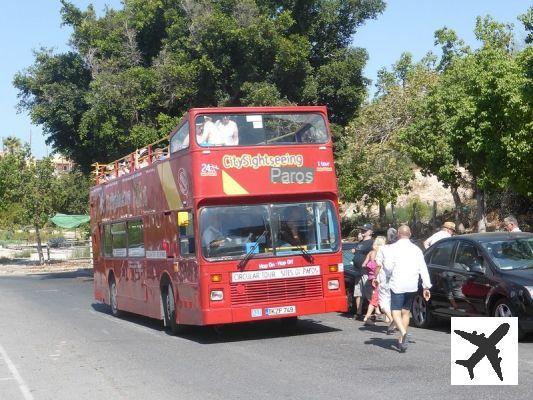 Summary
Getting around Paros by bus
- The KTEL network
- The schedules
- Tariffs
Getting around Paros by car
- Getting around with your car
- Rent a car in Paros
Getting around Paros by scooter, motorbike or quad bike
Getting around Paros by boat
Other means of transport in Paros
- By taxi
- Hiking in Paros
- By bike
- On horseback
Good to know
Are you planning to go to Paros for a few days? Choose well your mode of travel. The success of your stay depends on it!
Paros is one of the three largest islands of the Cyclades archipelago. A territory where the Marpissa mountain range dominates the coastal plains, Paros has many hills that end up facing the Aegean Sea, in the form of cliffs or steep coastlines. Some small coves reveal their turquoise waters. If one is in search of animation and tradition, Paros is home to pretty little villages, which will charm you with their authenticity and character.
To get to Paros, there is only one option: the ferry. Once you are on the island and in order to discover the richness of the island in good conditions, it is important to choose your way of travel. Are you looking for freedom, speed, a change of scenery, the sporting, ecological or practical side? Means of transport in Paros are not rare: bus, car, scooter, motorbike, quad, bike, boat, etc... It remains to be determined which one suits you best and which is in adequacy with your project.
Let's take stock!
Also to be read :
The 6 must-do things to do in Paros
In which city to stay in Paros?
Getting around Paros by bus
The KTEL network
The Paros land transport network (KTEL) is quite developed and rather well organized, at least during the high season. Many lines leave from Parikia (or Paroikia) or Naoussa. The main cities of Paros are served by coaches.
The schedules
The KTEL network website gives you the essential information. As a general rule, and during the summer period, the first buses start their tour around 7.30 am. The last ones run until 1 am, on the busiest routes.
Every town or village has a KTEL station. Be sure to ask for bus schedules for small outlying towns.
Tariffs
You will find the fares on the website ktelparou.gr.
As an indication, for the Parikia-Naoussa ticket:
Full price: €1.80
Half price : 0,90 €.
Student: 1,40 €.
Night rate: 2,20 € per night
The highest fare is €4 per night from Parikia to Drios or Aspro Chorio.
Getting around Paros by car
Getting around with your car
What a joy to be free to move around! If you want to move around with your vehicle, this must of course be anticipated. Indeed, you will have to choose a ferry that carries both passengers and vehicles. Rest assured, this is most often the case.
Several companies provide daily connections from another island in the Cyclades or from the mainland: Blue Star Ferries, Hellenic Seaways, Minoan Lines, Seajets, Golden Star Ferries, etc. The Ferries in Greece website lists the different companies. The Direct Ferries website allows you to easily book your ticket with a price comparison tool.
Rent a car in Paros
If you are travelling to Paros during the high season, it is better to book in advance from the website of a professional car rental company, so that you don't find yourself without a car. You can rent a car for a day or a longer period of time, reserve it at one place on the island and return it to another, choose a small or a bigger model, etc.
As a rule of thumb, the minimum charge is €50 for a small model for one day, with unlimited mileage, theft protection and partial collision coverage.
Getting around Paros by scooter, motorbike or quad bike
Two-wheeled travel in Paros gives you wings! However, you must remain extremely vigilant. Driving in the Cyclades is a perilous exercise! If however you like to take risks, you will easily find a rental agency in Parikia or Naoussa. In terms of price, a scooter rental by the day, during the summer period, can go from 20 to 35 €.
Getting around Paros by boat
In Paros, it is possible to rent boats to cruise the island's coasts. Rent a motorboat, with or without license, at Paros Rent a Boat, from 120 € per day.
At Archipel, catamarans and yachts are available for rent, for a whole week, with skipper. The average price is between 3 500 and 4 500 € for a yacht, 4 500 € for a monohull, and between 5 000 and 7 000 € for a catamaran.
Other means of transport in Paros
If none of the means of transport presented above appeals to you, think about hitchhiking, cycling, horse riding, taxi or trekking.
By taxi
Newly approved taxis are now operating on the Parikia-Naoussa routes. Outside this connection, you can order a taxi, for a few hours or for the day, at the numbers indicated on the Paros.gr website.
Hiking in Paros
Paros has a network of thirty-five kilometres of hiking trails. It is not huge, but it allows you to move around quietly, to take time to visit, to swim and to contemplate.
You will find many hiking ideas on the sites aboutparos.gr or toparos.com.
By bike
Two-wheeler rental agencies also offer bike rentals, such as Paros Rent a Car in Parikia. Rent road bikes from 9 € per day. The rates are degressive if you rent for more than two days.
On horseback
The sea, the mountains, the rising sun and you, galloping on the paths, are you there? Perfect! Getting around in Paros, that can also be it! What could be better than discovering this island on horseback? Many people recommend the Kokou Horse Riding Center in Naoussa. Count 60 € for the 2 h 30 ride at sunrise, and 40 € for the 1 h 30 ride at sunset. They also offer to drive you to the centre from Naoussa for 5 €.