Island of idyllic and exclusive beaches bathed by the crystal clear waters of the Ionian Sea, with wonderful sunsets and super charming villages. Check out the complete itinerary of what to do, where to eat and where to stay in Kefalonia.
Kefalonia (or Kefalonia) is one of the most beautiful Greek islands, if any one can be chosen, and is part of the Ionian Islands archipelago. Extensive and diverse, the place has paradisiacal scenery and beaches bathed by the crystal clear waters of the Ionian Sea.
Besides, of course, wonderful sunsets and super charming villages. It also has a lot of gastronomy always with the Greek sympathy.
On our journey through Greek islands, our script was among the best known as Santorini, Milos and finally we made the islands of Kefalonia and Zakynthos. Each island has its particularity and beauty and we will tell you everything here!
#ParaNãoForget: Have you bought your travel insurance yet?
Get your discounted plan using the coupon FORTRAVELOVERS (5% off).

You will find in this post:
How to get to Kefalonia
When to go to Kefalonia
How many days to stay in Kefalonia
Tips on what to bring on your trip to Kefalonia
How to get around on Kefalonia Island
How to use your cell phone and have GPS on the trip
What to do in Kefalonia – 3 days itinerary
How to get from Kefalonia to Zakinthos
Where to stay in Kefalonia – Best Regions to Stay
What you NEED to know BEFORE going to Kefalonia
Before starting with the our itinerary and tips on what to do in Kefalonia, we answered some questions that a lot of people have before going there.
How to get to Kefalonia
How to go from Athens to Kefalonia
You can get from Athens to Kefalonia by plane or with rented car – which arrives at the port of Kyllini and goes by ferry to Kefalonia.
By airplane
A Sky Express is the Greek domestic airline. They use smaller planes, the ATR, which are small but comfortable, with 40 rows. The internal luggage compartment is not as spacious as the luggage compartment on other flights.
It's better to prepare if you have extra luggage, try to board as soon as possible to guarantee space. Other than that, it's a quiet plane and the service is very good.
You can buy the ticket at SkyScanner, which searches for the cheapest ticket prices on several websites. If you have extra luggage, it's cheaper if you buy it online with your ticket than at the airport.
by car and ferry
By car you will have two options: go from Athens to porto de Kyllini (approximately 3h30) or at the port of Patras (approximately 2h30) and from there go by ferry to Kefalonia.
The ferry takes around 1h30 to 2h30 depending on the port of destination. In Kefalonia there are three ports located on each side of the island, with Argostoli to west, Poros in the southwest and Sami towards the north.
The roads are great, super well maintained, signposted and the drivers are super nice, in addition to the beautiful view. If you have enough time to enjoy the trip, it's worth it! Remember if: the roads are tolled, so save the coins to spend on them.
To find out more about ferry timetables and prices you can check the Ferry Hooper websites or Direct Ferries.
How to get from Milos to Kefalonia
By airplane
This was our case. From Milos the only way is to take a plane, as the distance is quite long. We took a super smooth flight from Milos to Kefalonia, which arrives at the island's international airport. We fly with Sky Express and recommend it!
When to go to Kefalonia
De May to the first half of October the days are hot, the sun sets late and the days are longer in Greece. So this is the best time to enjoy the island – lots of sun and warm waters for a good swim.
The months of July and August are the European holidays, during this period the island receives more travelers and maybe the value of the hotels and the crowd increases a little, but the sun continues to shine brightly.
The period from the end of October to April is not a very good time to visit Kefalonia. The days are no longer sunny, the waters are very cold, the weather is cloudy and there is even the possibility of rain.
Many hotels, restaurants and shops do not work at this time, and even some ferries or companies. airlines reduce itineraries.
Our columnist Flávio visited Kefalonia in 2017, and look at one of the surprises you can find there!
How many days to stay in Kefalonia
If I could, forever! ?
The ideal is to stay at least three days integers in Kefalonia. The island is super extensive and the distances are great. So, if you want to see the whole island, book at least three full days there.
We stayed 3 nights and 2 and a half days, and still lacked some places to visit.
Tips on what to bring on your trip to Kefalonia
Write down these tips, because they are important!
Shoes for walking on stones: as most beaches are stone, one of the best tips we can give you is – buy a shoe to walk on the stones. Doing these hikes in Hawaiian, sneakers or espadrilles is very difficult (own experience). We didn't shop at España and surrendered on the first day, we ended up shopping at a local store.
Thermal bag/refrigerator: In Kefalonia, several beaches do not have kiosks or food infrastructure. We stopped at a grocery store, bought water, wine, ice packs and our fridge accompanied us on all the deserted beaches.
don't forget the travel insurance for greece is required!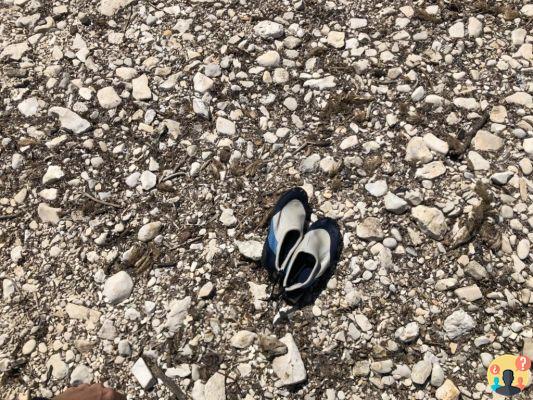 How to get around on Kefalonia Island
Without a doubt, our tip is: rent a car. As the distances on the island are very large, renting a scooter or quadricycle, as in other islands, is practically unfeasible. The car makes trips faster, in addition to protecting you from the sun and being safer.
Just to give you an idea, during the 2 and a half days we were on the island, we traveled 400 km by car, imagine doing that by scooter or quadricycle.
We rented a car for RentCars. We chose an economy car, the Twingo, and it was great for the trip. We managed to pick up the car at the airport and return it to the port of Sami (but the drop off point was not a good idea and we'll tell you why at the end of the post? ).
Click Here to rent your car with RentCars. You can pay in up to 12 installments without interest and without IOF!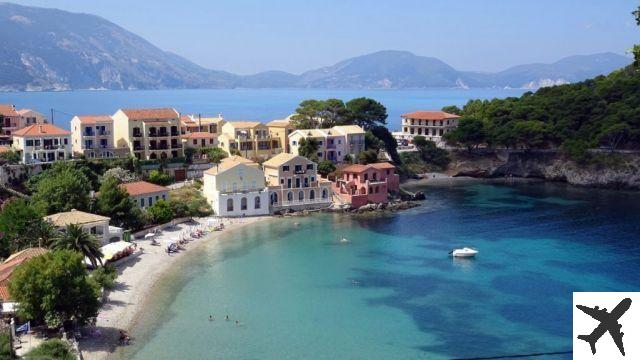 How to use your cell phone and have GPS on the trip
We use the chip from America Chip. which is super practical. You pay once and have unlimited internet for the entire trip. The chip arrives at his home in España. Just put it on your cell phone on the plane, and when you arrive in Greece you will already have a cell phone chip working with 4G or 3G internet.
At Kefalonia, the chip worked very well and we had signal throughout the trip. Only in some beaches of difficult access the signal was weaker. Then, back on the road, the light was back in full force.
I highly recommend the chip, it is an essential facility – especially for those traveling by car or motorcycle.
What to do in Kefalonia – 3 days itinerary
Now, with everything ready and planned, the coolest time of the trip has arrived! #Longing. As I've already told you, we only stayed 3 days on the island and we made a pretty cool itinerary.
What to do in Kefalonia – Day 1
Choose the first day to rest at the hotel and enjoy the local cuisine!
As we arrived late on the island, on the first day we chose to enjoy the hotel we stayed in, the Farmers Bay Hotel. The hotel is very good, exclusively for adults, and has a panoramic view of the beach that bears the same name, Beach Farmers.
>> Read all about the Hotel in our post Petani Bay Hotel in Kefalonia, Greece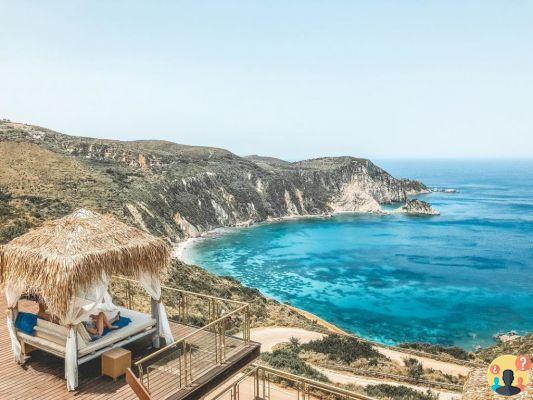 We chose to have lunch at Taverna Ksouras, right there in the region. It's a simple seafood restaurant, but highly recommended. In addition to enjoying the view of the beach with crystal clear waters. The price for two people was 12 euros. It is worth it!
#Good memories: it was at Petani Beach that I was able to see the most perfect sunset. The sun practically "touches" the horizon, unforgettable! Hope you have the same luck! ?
For dinner, we went to the main town on the peninsula, called Lixouri – about minutes from the hotel. It has a super charming center with several restaurants. We had dinner at Tsibino (highly recommend).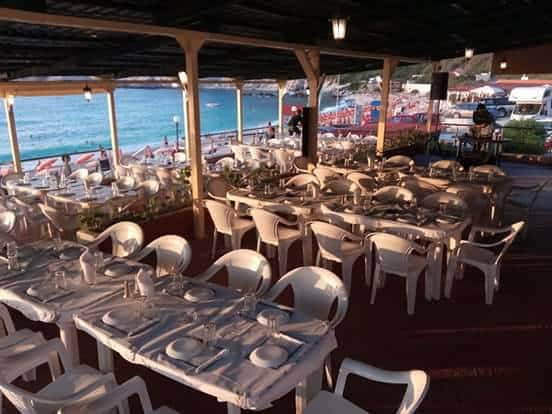 What to do in Kefalonia – Day 2
Now begins our itinerary to visit the main highlights of the island. #DecadeTravel: Fill the tank and let's meet paradise!
We walked about 200 km along the road to discover the island's greatest highlights. Write down what you need to put on the list of things to do at Kefalonia:
Melissani Cave and Drogorati
Foki Beach
Lunch in Fiskardo
Dafnoudi Beach
Photo Viewpoint to Myrthos Beach (must see)
Myrtos Beach
We left our hotel and headed towards the region of Sami. On the way, we took the opportunity to visit a beach called Antisamos. From there, we went to the Melissani cave to take a boat trip.
The Sami region has several caves, Melissani is the most famous. For those who like this type of tour, there is the cave Drogorati also. After the cave tour, a good option is to visit the Foki beach – one of the most beautiful on the island.
For lunch, the region of Fiskardo, to the north of the island, is ideal. The restaurants are located in a super charming marina and the atmosphere is delicious!
After lunch, save energy to get to know the Dafnoudi Beach and end the day on a high note by getting to know the myrthos beach, mandatory stop in Kefalonia.
Below we tell you all the details about each place.
Melissani cave
A Melissani cave It's a super beautiful and different spot on the island. It's a quick 15-20 minute walk, but it's worth it. The cave is beautiful, full of stalactites and stalagmites – those rocky spikes that form on the floor and ceiling of caves.
It has an impressive opening to the sky, which reflects the sun in its crystal clear waters. A guide takes a group of 8 to 10 visitors in a simple wooden boat to experience this landscape. For drone enthusiasts, the tip is to take advantage of the opening of the cave to take flight and take beautiful images.
Ticket price: 7 euros (adult) and 4 euros (child)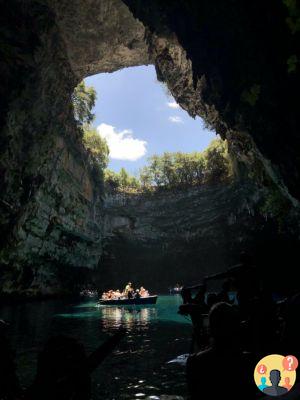 Don't forget the Compulsory Travel Insurance for Greece. Compare prices at Seguros Promo and buy your Travel Insurance Greece now! Click here and check it out!
Foki beach
One of the most beautiful beaches on the island, the Foki beach it's a charm. Pequenina, with several trees on its banks, is a narrow beach and should be very popular in high season.
It is good to go there prepared, since there is no kiosk structure or street vendors selling iced mate (laughs). It is one of the most beautiful beaches we have passed and it is well worth including it in your itinerary.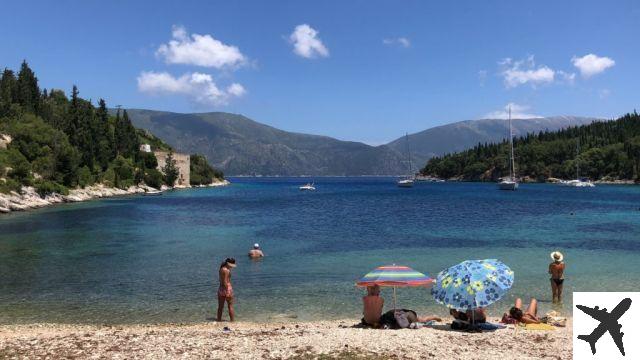 Lunch in Fiskardo
After visiting some places, a stop for lunch is ideal. We chose to have lunch in the village of Fiskardo, close to the port.
The place has several options of super charming restaurants and all with a view of the boats moored in the marina. Our choice was the restaurant Apagio, with great options of seafood, salad and typical Greek food.
The price was fair, much cheaper than what we were paying in Santorini and Milos. It was worth the stop for lunch.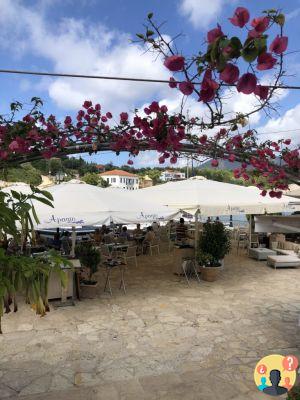 Dafnoudi beach
After lunch, we decided to rest in the Dafnoudi beach. To get to the beach, you have to face a 10 to 15 minute trail full of pebbles. So bring the appropriate footwear.
It is a very narrow beach, about 50 meters long. It's very pretty and super exclusive. There, there is no structure of restaurants and no shade, so it's a good idea to go prepared. We've been dreaming about that after-lunch nap, but the stone beach wasn't the most comfortable place for it, haha.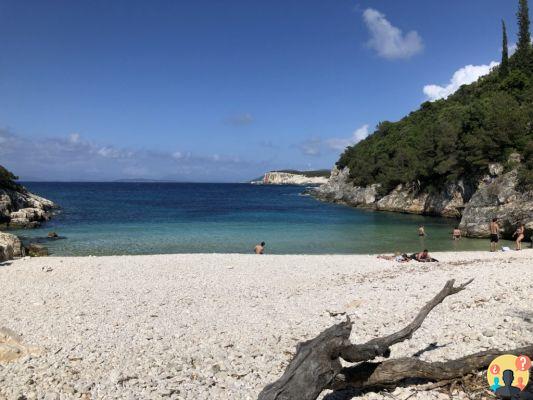 ViewPoint e Myrthos
This place is a mandatory stop on the island. Put it on your list of things to do in Kefalonia!
The viewpoint overlooking Myrthos beach is wonderful, with a surreal view, and it's easy to get there. See on Google Maps the "Photo View Point to Myrthos Beach", as we have made it available to you below. #DecadeTravel: be careful and double your attention, as the viewpoint is on a curve in the road.
To take pictures, the tip is to go in the morning. Thus, the sun is still against the sea, leaving the photos with perfect light. But at any time of day the view will be beautiful.
We came back at the end of the day to see the sunset. Between May and June (when we visit the island) the sun practically sets in the sea right in front of the Mirante da Praia de Myrthos.
At that time, the sunset is at 9 pm, so if you go to see the sunset, it's worth leaving ready to go to dinner later. If you need to go back to your hotel, you can be very late.
If you want to go down to Myrthos Beach there is a road that goes down there. The beach is sandy, but it has a lot of rocks, so it is difficult to walk along it because of this (again, the special shoe fits well).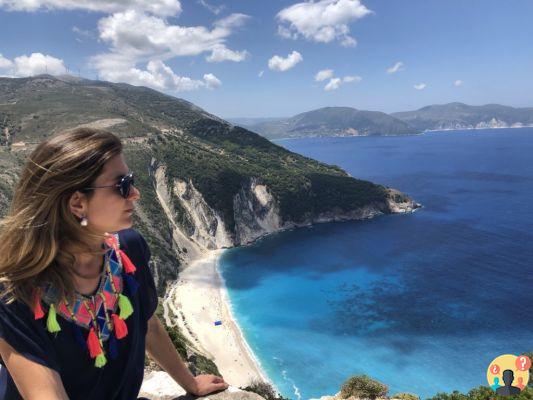 Myrthos It's a much bigger beach than the others I mentioned above. The water is crystal clear and there is even a small cave at the end of the beach. Just watch out for pebbles that can roll off the hill – you'll see a warning!
Once again, as in the vast majority of beaches, it is worth remembering that there is no shade (except in the cave) and no restaurant or food structure.
What to do in Kefalonia – Day 3
On the third day, we went to explore more of the peninsula region where we were staying at Farmer Bay.
Start exploring the island from the north, at Atheras Beach and then descend towards the south, passing through Megas Lakkos Beach, Kounopetrs e Stomach Bay. We got all the tips from the owner of the Petani Bay Hotel, who was super attentive. These were the Kefalonia sights that we highlighted:
Atheras Beach
Megas Lakkos Beach
Kounopetr
Stomach Bay
Kipoureon Monastery
Atheras Beach
A Atheras Beach it is a wider and more extensive beach, also made of stone. The water is crystal clear and super calm, perfect for families with children or for those who want to relax.
She has a beachside restaurant and it's super easy to get to. Another paradise beach in Kefalonia.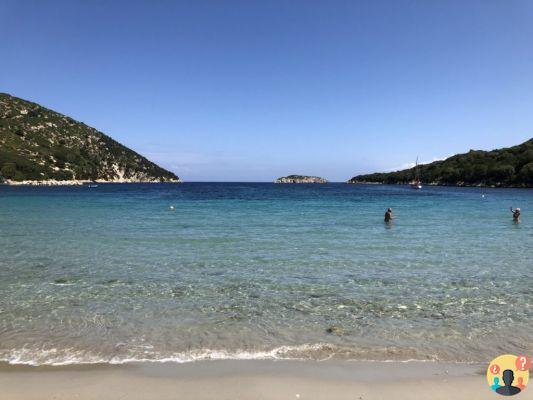 Megas Lakkos Beach
The southern peninsula of Petani Bay is known for being a region of red sand beaches. What may not look so pretty to some people may be comfortable to others.
This is one of the only beaches on the island that is nice for a walk without shoes. The water remains crystal clear, in addition to being a very extensive beach. It has kiosks and a restaurant – the Fishbones it's a good request.
The beach is not very touristy and if you are in Petani Bay it is close.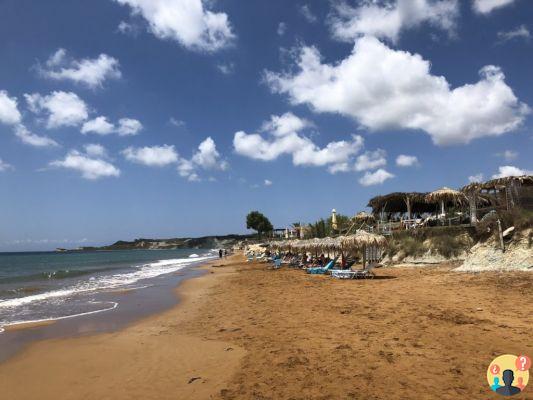 Kounopetra
A kounopetra peninsula, in Kefalonia, is also recognized as the "moving stone". It is a unique natural phenomenon in the world.
Kounopetra consists of a large rock that is known because it is never standing in the same place and in the same position. She attracts the attention and curiosity of many scientists as she constantly moves from east to west.
The rock's slow movement is visible from the shore, and some say you can hear the vibrations above it. However, the reality is that it is very difficult to see or feel anything. It's only worth it if you have a lot of time on the island and if you're staying at Petani Bay, otherwise it's not worth traveling to the island ready to see the phenomenon.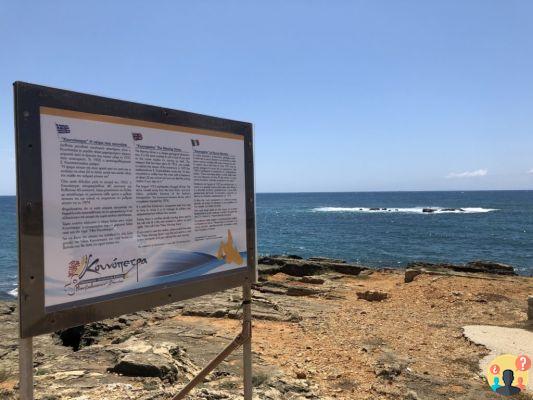 Vatsa Bay and Restaurante Spiaggia (Taverna)
A good place to have lunch on this route is the restaurant Beach in Vatsa Bay. It is a very rustic place, away from the tourist scene. The restaurant is right on the beach, has great dishes and seafood.
In front of the restaurant are some lounge chairs – also rustic, perfect for that nap after lunch.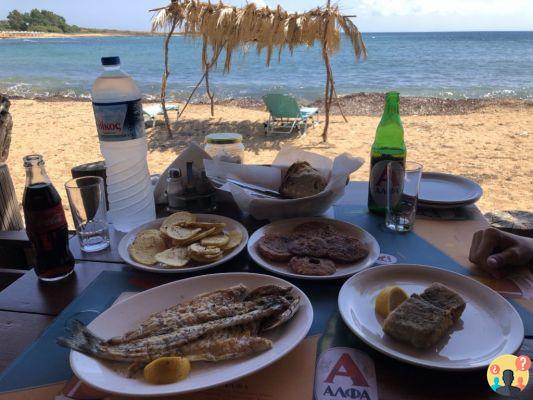 Kipoureon Monastery
The owner of the Petani Bay Hotel recommended us to stop by the Kipoureon Monastery on the way back to the hotel. Built on top of a rock, the site yields a beautiful view of the island.
We've heard good recommendations that it's super beautiful and well worth the visit. Unfortunately, we were unable to visit, as we stayed longer than planned at the other beaches (normal, right?). But who knows next time!
Dinner in Lixouri
Enjoy one more end of the day to see the sunset. And if you're staying at Farmers Bay Hotel, like we did, enjoy the view from the pool even more.
Finish the day with a dinner in the center of Lixouri. we choose the coffee but, which has a famous hamburger menu. The restaurant is right on the town square, easy to get to. It's really worth it!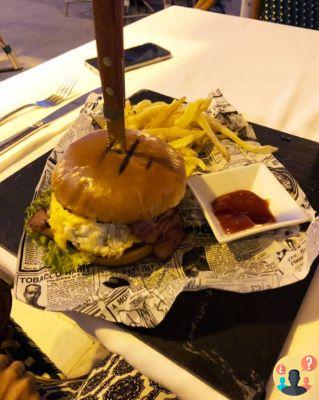 How to get from Kefalonia to Zakinthos
And on the fourth day it was time to leave :(. But that's ok, our trip didn't end here. A very nice itinerary, and that's what we did, is to marry your trip to Kefalonia with the Island of Zakythos. That's where is one of the most beautiful beaches in the Greek islands, Navagio Beach.
>> Read more tips from Zakynthos and other paradise Islands in our post Greek islands – The Complete Roadmap of the 5 Best Islands to Discover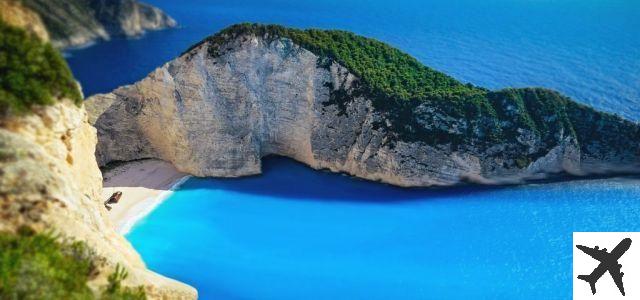 If you go to Kefalonia between the months of June to October, take note of the tip:. there is a direct ferry that leaves from Kefalonia (in Pessada) and goes to Zakynthos (in Agios Nikolaos). The journey takes around 1 hour.
Few websites talk about this ferry and it is difficult to find information, so we highlight it and recommend keeping this information. The boats are smaller, but they are available throughout the summer.
Check the timetables and tips for the ferry that goes straight to Zakynthos and operates in the summer months: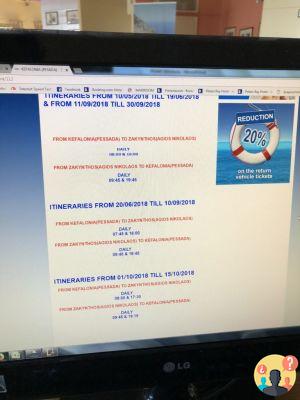 As we were in the low season, we had to take a ferry that stopped at Kyllini. That's why it took us 3 hours to arrive. Our ferry left Poros in Kefalonia.
Important tip: Take a good look at the port of departure you will choose to reach your next destination. The ferries leave each one of a city, which requires more attention in the travel logistics.
We returned our car in Kafalonia, in the town of Sami, but later found that our ferry to Zakynthos leaves from the port of Poros. So we ended up having to pay 40 euros for the taxi driver to take us to the right port.
Distances in Kefalonia are quite long, so do your research well before booking car returns, etc.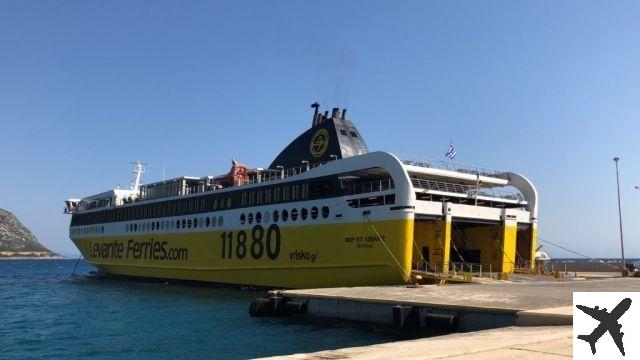 Do you know more tips on what to do in Kefalonia? Leave your comment for us!
Where to stay in Kefalonia – Best places to stay
Make a note of this: it is really worth staying in 2 hotels in different places in Kefalonia. The island is quite large and setting up a base in one place can waste a lot of time on the trip. If you intend to explore the island to the fullest, it is worth staying at two different hotels.
For example, if you are going to stay 4 nights and 3 days on the island, try to stay 2 nights in each hotel on opposite sides of the island. So you can explore more regions without wasting too much time on the way.
Best region to stay in Kefalonia
We stayed at the hotel Farmer Bay, in Luxouri, which is on the island's western peninsula. The location is good for discovering the West and North region of the island.
To get to know the South, Center and East of the island, good locations are the regions of Sami e Argostoli. These two cities are also closer to the ports that have ferries that go to Kyllini, Zakynthos or Patras.
Where to stay in Lixouri na Kefalonia
Farmers Bay Hotel ($$)
What's Worth It: Exclusive View of Petani Beach
O Farmers Bay Hotel, 4 star hotel, is super exclusive, accepts adults only. It is located in Petani Bay with a beautiful view of the beach of the same name.
>> We tell all our experience in our post, read everything in Petani Bay Hotel in Kefalonia in Greece
Click Here and make your reservation now at the Petani Bay Hotel and enjoy this incredible view of Kefalonia
Kymata Bohemian Beach Resort ($$$)
What's worth sailing: Private beach on the sand
O Kymata Beach Resort It is seaside with a private beach. The hotel also offers a Mediterranean restaurant and an open-air bar.
The chalets have a living room with smart TV and a fully equipped kitchen. Rates include WiFi and continental, buffet or a la carte breakfast.
Click Here and book your place in paradise on foot in the Kymata Resort area at the best prices
Other good options are Kefalonia Private Paradise ($$$), ideal for families with a distance of 80 meters from the beach, and also the The City Hotel ($).
Find more options where to stay in Lixouri in Kefalonia on Booking.com
Where to stay in Argostoli in Kefalonia
Aenos Hotel ($$)
What's worth sailing: great value for money and location for honeymooners
O Aenos Hotel It is ideal for honeymoon couples. The hotel is located on the main square of Argostoli and is great value for money.
The rooms have a balcony overlooking the city, air conditioning. Breakfast and WiFi are included in the rate. Some of the rooms have a spa bath overlooking the sea. A luxury! In addition, the hotel has a rooftop bar with panoramic views of the city.
Click Here and make your reservation at the Aenos Hotel and enjoy a lot of romanticism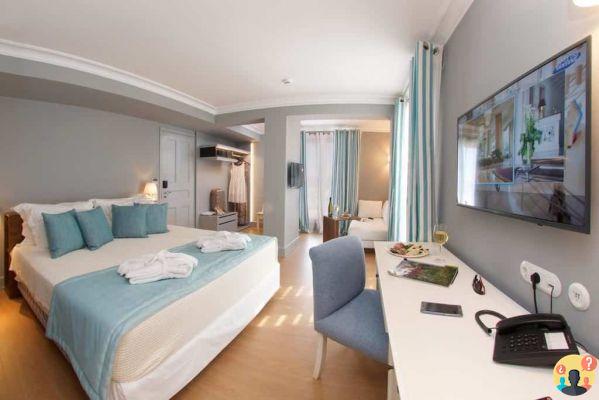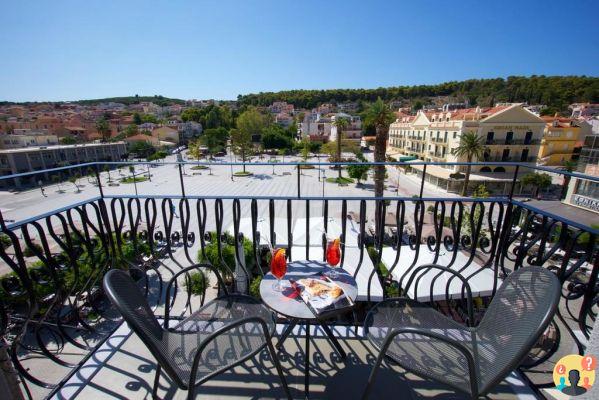 Other options where to stay in Argostoli in Kefalonia:
Argostoli Marina Suites ($$)
Tourist Hotel ($$)
Find more options where to stay in Argostoli in Kefalonia on Booking.com
What you NEED to know BEFORE going to Kefalonia
Are you full of things to think about and still have to plan your entire trip? Or you've seen it all, but you're feeling that familiar "Have I forgotten something?"
So calm down, we'll help you with some items you can't forget before boarding. Come on!
1) Travel Insurance Greece:
Having travel insurance for Greece is a requirement to enter the country, which is part of the Schengen Treaty and requires medical and hospital coverage of at least €30 for travelers. In addition to being mandatory, insurance is a great way to ensure a smoother trip. Also enjoy our Insurance Promo discount coupon. - SEE PRICES
#StayHip: Save 10% on your travel insurance. use the coupon FORTRAVELOVERS to get 5% off and pay with boleto to guarantee an additional 5% OFF.
2) How to have unlimited internet while traveling
Where to Buy: AMERICA CHIP
Did you know that it's getting easier – and cheaper – to have unlimited internet throughout your trip?
Just ask for an international cell phone chip through America Chip. We always use and love it! They send a SIM card to your address in España, you insert it in your cell phone when you arrive at your destination and you have unlimited internet throughout the trip.
#StayHip: Save on car GPS rental and use GoogleMaps and Waze with your unlimited internet ;).
3) Have you booked your hosting?
Where to Buy: Booking.com
If you haven't booked your stay, the tip is to compare hotels, hostels and inns through Booking.com. This is the largest hotel booking platform in the world, ensuring a safe experience and great accommodation deals.
#StayHip: Keep an eye out for 'Smart Deals', which only last for one day. Some amazing hotels offer great discounts using this badge on the platform. If you find a good deal, it's worth closing!
4) Rent cars at the best prices
Where to Buy: Rent Cars
We really like Rent Cars to find the cars we use on our travels. It is the only one in Spain that compares the best rental companies in the world, but lets you pay in reais, without IOF. In addition, it is also the only one that lets you pay in 12 interest-free installments. It is worth it!
#Here's a tip: Try to find cars with full car and third party insurance coverage. Thus, you avoid inopportune surprises when picking up the car.
Note: We highly value the credibility of our information. All the sites we recommend above are sites we already use, we have good experiences and feedback from readers!
In addition, it is worth checking out other useful information for your trip to Portugal:
Items you can't forget in your suitcase
Europe Travel Insurance – What you NEED to know before hiring
Travel Insurance Greece – Find out if it is Mandatory
How Much Does Travel Insurance for Europe Cost?
Travel Health Insurance – 5 tips to find a cheaper one
Is Promo Insurance Reliable? It's good? - How it works
Did you like our Kefalonia Island tips? Comment here!
Read More
Where to Stay in Kefalonia – Petani Bay Hotel
Santorini Travel Itinerary – Complete Guide to Enjoy
Hotels in Santorini – The 10 best to book without fear
Where to Stay in Santorini – Best Hotels and Regions
Lefkada – The Complete Guide to the Ionian Island of Greece
Grecia Turismo – Everything for you to Plan your Trip
Greek Islands – Complete Roadmap of the 5 Best Islands to Visit
What to Do on Milos Island – 7 Must-See Places
Where to Stay on Milos Island – Hotel Perla Rooms
Restaurants in Athens – Unmissable Places to Dine in the Capital
The Margi Hotel – Review 5 Star Hotel in Athens
Travel Insurance Europe – Complete Guide on How to Hire
Documents for Entering Europe in 2019, 2020 and post 2021
How and Where to Buy Travel Insurance – Step by Step
Best Travel Insurance Europe – Which to Choose?
How Much Does Travel Insurance for Europe 2019 Cost?
Backpacking Europe – Everything you need to know
The Best Places for Honeymoon – Complete Guide
Honeymoon – Top 10 Dream Places
Hotels in Mykonos – 12 options with the dream room
Hotels in Zakynthos – The 11 most suitable for your trip
Plan your trip:
Get started now by booking your hotel in Greece on Booking.com
Want to find cheap tickets? Find flights with discounts of up to 35% every day at Passages Promo!
Save time and money searching for the best Travel Insurance Greece with the Insurance Promo comparator! Extra 5% off with coupon: FORTRAVELOVERS
Compare the best prices to rent a car from over 100 rental companies with Rentcars! (Pay in up to 12X! Pay in reais, without IOF)
Leave España with unlimited 4G Internet from America Chip!