Ibiza is one of the most popular and popular places during the European summer. The island is huge, democratic and full of secret and special places. Here I share more than a dozen tips to make your trip to Ibiza amazing!
Ibiza Forever! My days in the Balearic Islands (to be more precise in Ibiza and Formentera) were unforgettable and for sure this was one of the best trips of my life. I will contextualize a bit before going through the recommendations on what to do in Ibiza Spain.
I decided to celebrate my 2018 birthday with dear friends. I chose Ibiza for several reasons, among them being a hotspot that I didn't know about, because of the reputation for its beautiful beaches and sensational parties.
I read a lot about it online – including here on the blog via Diego's excellent posts (practically a local) – and I also resorted to books, recommendations from friends and friends of friends to put together a show script.
A final general-royal-official verdict: IBIZA IS ALL THE BEST! All in caps lock!
Another addendum before I release the tips on what to do in Ibiza: in addition to choosing your places well, choose your companies very well. Ibiza is sensational, but if you go with a crowd by your side, everything will be exponential and it will be even better.
I would like to express my gratitude to all my friends from all over the world who were there with me! HERE ARE THE TIPS of what to do in Ibiza:
Save money on travel insurance!
use the coupon FORTRAVELOVERS and pay in boleto to take off 10% discount.

What to do in Ibiza Spain – 10 essential tips for those who like to party
1. Accommodation in TALAMANCA
Many people think that Ibiza is a small island, but this is not true. The island is large and has more than 500 km2, so it is worth researching the options well to choose a place that makes sense with your schedule and style. In my opinion a good area to stay is the Talamanca beach.
hotels in Ibiza
It is a central, peaceful and quiet area that is close to several key Ibiza attractions such as Pacha and the old village. The beach is quiet and despite not being one of the most beautiful, it has a charming shore with good restaurants. I stayed at Hotel Sinbad Talamanca a four star, with fair price, great breakfast, outdoor and indoor pool, friendly staff and practically a private beach. Waking up to the view of Talamanca Bay was great too. I recommend the room with a view.
MAKE YOUR RESERVATION OR LEARN MORE ABOUT THE HOTEL HERE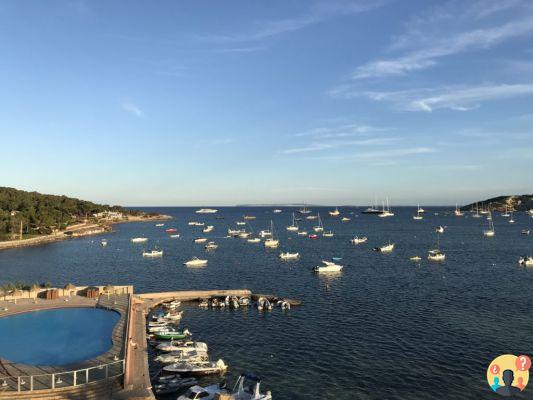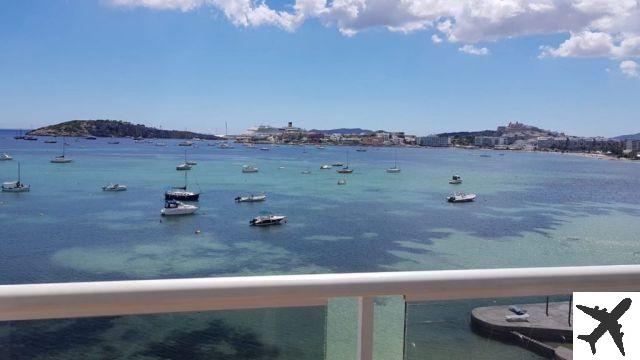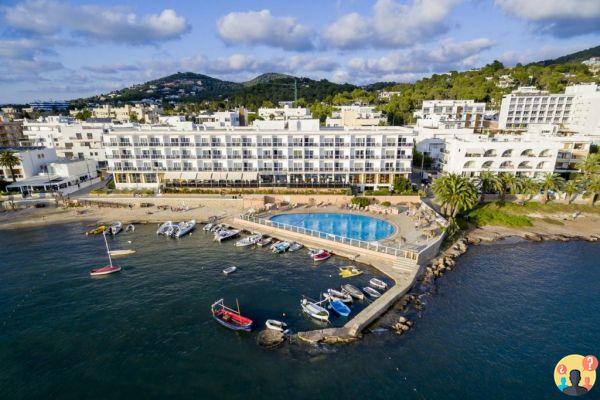 But there are other hotel options in Ibiza, in the Talamanca region, check out some here:
Nobu Hotel Ibiza Bay
Lux Isla
Hotel Argo Ibiza
Destination Pacha Resort
Ibiza Spain hotels on sale:
2. Tapas and drinks at LA BODEGA
Practically next to the hotel I mentioned above are two unmissable places…
There are two La Bodega restaurants on the island. One is located in the heart of Ibiza, at the foot of the Dalt Vila wall and the other is on the shores of Talamanca beach, practically next to the Hotel Sinbad Talamanca. Sea views and a tropical, relaxed and relaxing atmosphere.
If you are looking for where to eat in Ibiza, at La Bodega you will find something very traditional Spanish. This is a Spanish tapas restaurant with excellent drinks and friendly prices. This was actually a tip I got from our Travel Tips columnist Diego Imai – click here to see it.
Me and my gang went practically every day to La Bodega – it was practically our pre or post beach and/or nightclub. The people who work at the restaurant are super friendly and funny. Lots of reviews over there with the dears Diego and Sara, or rather Sarita.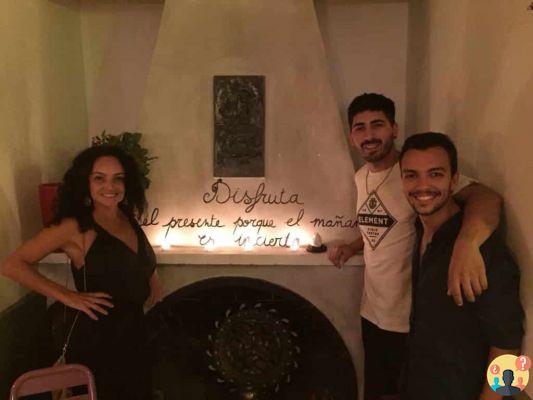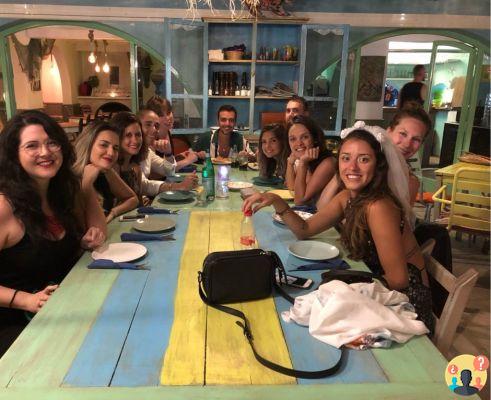 3. Good drinks and plural cuisine at SA PUNTA
This casual-chic restaurant actually has 3: Sa Punta (Mediterranean cuisine), Ginger (Asian) and Patchwork (Lebanese). It is located at the very end of Talamanca beach. It is an exquisite place with an incredible view, show-decoration, delicious drinks, a good DJ and a store with incredible products for the wardrobe and home. If you have time, try more than one of the restaurants. I would tell you to have lunch at Sa Punta and dinner at Patchwork.
Sa Punta Restaurant – Photo: publicity

Patchwork Restaurant – Photo: publicity

Dinner at Patchwork with friends

Ginger Restaurant – Photo: publicity
4. The beach club BEACHOUSE in Playa d'en Bossa
There are several beach clubs on the island for those who like to enjoy the day at the beach with a certain structure.
I went to several, but my favorite is definitely the BEACHOUSE located in Playa d'en Bossa, one of the most famous.
There: comfortable sunbeds, excellent food and drinks, fair prices (considering the quality/service/place/crowd comparison), sunny and lovely staff, good music, high spirits and a relaxed chic atmosphere. Of my 7 days at the beach… 3 were there. They also have a store with products from independent and "unknown" brands and an indoor space for children with recreational activities – which is a good place to go for lunch if you are traveling with children. The facilities (restaurant, restrooms, bar) are excellent. Carmem is the dear host there.
Beachouse Ibiza – Photo: publicity – Beachclubs and Parties in Ibiza

Beachouse Ibiza – Photo: publicity – What to do in Ibiza Spain: 10 essential tips for your itinerary

Friends, wonderful beach and the vibe at Beachouse

Guys at Beachouse | What to do in Ibiza Spain: 10 essential tips for your itinerary

Total vibe on Bossa beach at Beachouse – What to do in Ibiza Spain: 10 essential tips for your itinerary
5. CALA SAN VICENT + The Boat House
In the north of the island there are several beautiful beaches. One of the places I got to know and loved was the Cala San Vicente – a beautiful beach, quiet and more familiar – I mean: without hype, beach clubs and the like. It's worth enjoying this paradise quietly and then having lunch or dinner at The Boat House – a super cool beachside restaurant created by Jay – a Spaniard who has lived in España and considers himself half Brazilian. He also owns the On the beach which is right next door, almost on the rocks, on the side of the beach – relaxed and perfect place to chill out with organic juices, beer or drinks.
Cala San Vicent beach

Praia Cala San Vicent – ​​The Boat, in Ibiza. Photo: Luis Felipe Di Mari.

On the Beach details say it all!

At The Boat House with friends and "Brazilian" Spanish – Jay
Ibiza is world renowned for its amazing clubs and parties. I went to several parties in Ibiza and clubs, but my favorites and super recommended are:
6. PARTIES IN IBIZA: FLOWER POWER
This party has been taking place in Pacha for many years. On the playlist Bob Marley, The Beatles, Gispy Kings, Abba, Amy Winehouse and etc. A blender of classics from the 60,70,80,90's, XNUMX's, XNUMX's, XNUMX's to the present day. It's a wonderful vibe with overnight surprises and a peace and love atmosphere worthy of the hippies of today and yore. Best party of my life. This season the party takes place on Mondays.
Our anniversary at Flower Power – Peace and Love! – Parties in Ibiza that we recommend

Guys arriving at Flower and Power – Parties in Ibiza that we recommend
7. PARTY: BE CRAZY
I highly recommend the BE CRAZY that rolls on HEART. In the carrapetas, DJ Jean Claude Ades, receiving other guests, rocks a dance floor full of cool and cool people who enjoy quality electronics. Amazing sound, great structure, highlighting the spacious and delicious rooftop with bar, stalls selling various products and even a tarot table. Too much! This season the party takes place on Fridays.
Isa Ades and Paula Vieira are the hotties, muses and Brazilian ciceronas of the party!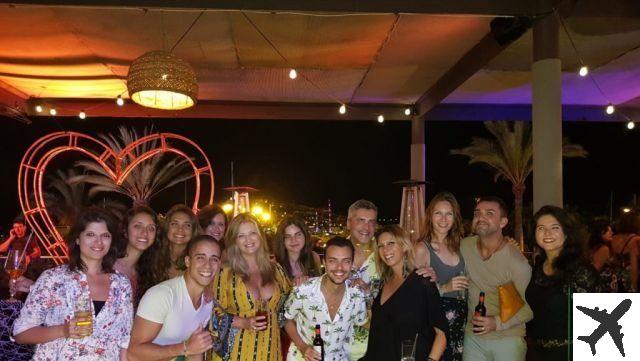 8. BOAT TOUR TO FORMENTERA
One of the highlights of the trip was our day al mare between Ibiza and Formentera. I did a LOT of research and spoke with several companies, agents, concierges, etc. to make an unforgettable day/tour. I highly recommend Charteralia. They are super professional, clear and direct and have a diverse fleet with several boats, yachts and catamarans.
I rented a catamaran for 12 people and we spent 8 hours strolling along the sea, with a stop for diving, stand up paddle and another for lunch in a paradise in Formentera. It was awesome! Their service is fast both by email and WhatsApp. Thanks José!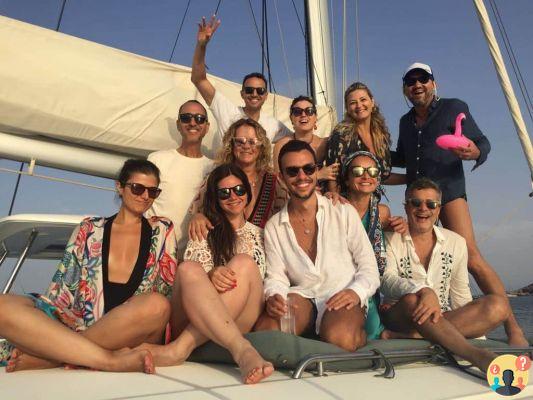 9. Cala Conta & Sunset Ashram
This rocky beach is beautiful and has crystal clear water. If you go in July and August, arrive early to get your spot in the sun and sand – literally – because as Diego says, this beach gets crowded at that time.
Over there is Sunset Ashram, the only restaurant on the beach with great drinks and food (mainly Asian). Perfect spot to watch the sunset in a delicious vibe animated by DJs and instrumentalists. Very astral!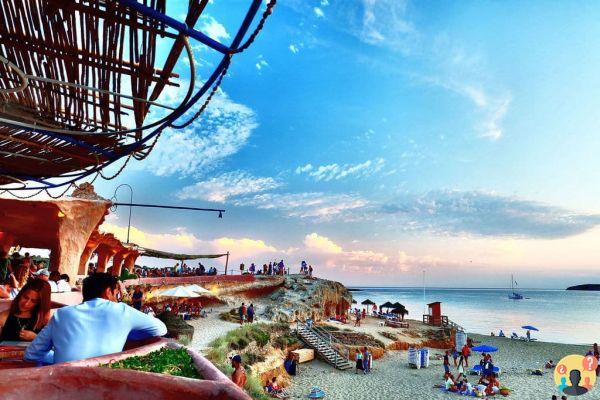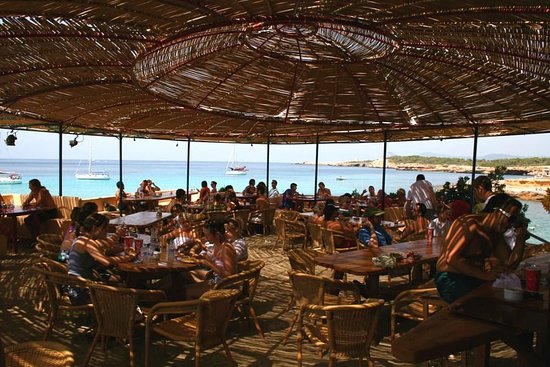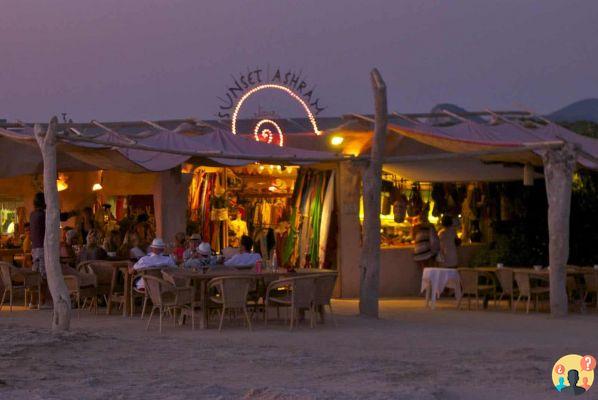 10. The Lovers
Just north of the island on Carretera de Portinatx is a charming mini boutique hotel called Los Enamorados. It's a bohemian place with super interesting and original decor and shop. Everything is panned around the world by the owners of the place. It's a good idea to have a drink or beer there during the sunset. The place is intimate and chic without any affectation.
On special nights they throw parties and also have open-air cinema sessions. Cool!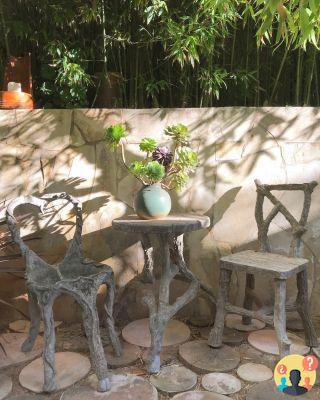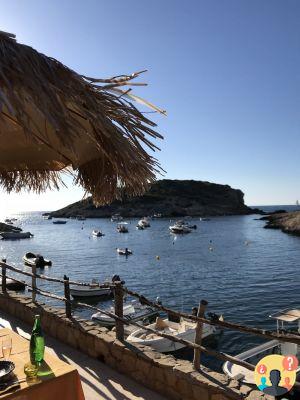 Left Ibiza?!
We made a really cool map for you to find all our tips, check it out here
We made several Instagram posts from these and other places. You can search there using the hashtag #LF28IBIZA
Hope you enjoyed the tips and have an amazing trip! Comment here what you think and your experience in Ibiza Spain.
Travel insurance for Spain
Having travel insurance for Spain is a requirement to enter the country, which is part of the Schengen Treaty and requires medical and hospital coverage of at least €30 for travelers. In addition to being mandatory, insurance is a great way to ensure a smoother trip. Also enjoy our Insurance Promo discount coupon. - SEE PRICES
Receive a SIM card at your home in España and use unlimited Internet in Ibiza and throughout Europe
Are you also tired of only being able to use your cell phone at points that you find Wi-Fi free during the trip? And having to pay per day to be able to use a GPS in the rental car on the trip?
We couldn't take it anymore, especially because we wanted to post real-time photos of our trip on social media. In addition, Google is a great ally to find what we need while on vacation, such as information and places, and you can't just use it where you have Wi-Fi.
So we discovered one of the best solutions to end this problem, that you will no longer have to spend hours of travel in phone stores in the country, speaking an unknown language to get a SIM card. This is one of the tips we love to give our readers: America Chip.
Write it down: The company sends an international Chip to your home in Spain. When you're on the plane, just change your Brazilian SIM card for this international one. You will arrive in Ibiza with unlimited internet, using your cell phone at will, as you use in España.
Arriving in Ibiza, you can use the whole day, anywhere in Europe. You'll save on GPS rentals, Skype credits, and you'll still be able to use social networks, Google, or search for anything on the internet all day. In addition, you can still call your home to send travel news as many times as you want via WhatsApp or Facetime.
Plan your trip:
Get started now by booking your hotel in Ibiza on Booking.com
Save time and money searching for the best Travel Insurance with the Seguros Promo comparator! Extra 5% off with coupon: FORTRAVELOVERS
Compare the best prices to rent a car from over 100 rental companies with Rentcars! (Pay in up to 12X! Pay in reais, without IOF)
Leave España with Unlimited 4G Internet!
See also:
Chip Cell Phone Spain – Which is the Best?
Internet Chip in Europe – Which is the Best International Chip?
America Chip – Learn How It Works
What to do in Barcelona – Itinerary from 1 to 5 days
Where to Stay in Barcelona – Best Regions and Hotels
Where to Eat in Barcelona – Best Restaurants
Complete Guide to Las Ramblas – How to Get There, What to Do and Hotels
La Boqueria Barcelona – Guide to Barcelona's Most Famous Market
Travel Insurance Spain – Know What are the Requirements
Best Parties in Ibiza in Summer – Know Where to Go
When to go to Ibiza – What is the Ideal Season?
7 Must-See Nightclubs in Ibiza – Best Parties in the City
5 Tips for Spanish Restaurants – Where to Eat in Ibiza
Where to Stay in Ibiza – 5 Party Accommodations
Things to do in Formentera – Discover the Ibiza Refuge
10 Best Beaches in Ibiza – Complete Guide to Where to Go
What to Do in Summer in Ibiza – Complete Guide
Ibiza Spain hotels on sale: