Summary
How to use public transport in Venice?
Vaporetto
- Map & plan of the vaporetto lines
- Vaporetto: where to buy your tickets, at what price, schedules...
Gondolas
Traghetto
ACTV Venice Pass: what are the advantages?
Where to get the ACTV Pass?
Transport in Venice: what is the main tourist vaporetto line?
How does public transport work in Venice? Here is our complete guide to get around Venice easily using the various means of transport in the city.
Venice is an ideal city for walking, but even the most faithful walkers will probably want to use public transport in Venice at some point. It is on the water, after all, that you get around in this city where there are no cars or buses, and you won't regret a trip on a vaporetto, one of Venice's famous boats.
To get around Venice you have to get there first - so here's how to get from Marco Polo Airport to Venice. Are you arriving from Treviso airport? This way.
The good news is that Venice's public transport system is really easy to use - there are very few lines to spot in Venice, and only a few places where you will have no choice but to take the boat. The bad news is that transport tickets seem to be more expensive than they should be, so it is important to know all the transport possibilities in Venice in order to save money.
Here's what you need to know about using public transport in Venice (prices, timetables, routes...) :
How to use public transport in Venice?
As you will have understood, the most common way to get around Venice is by boat. There are different types of boats in Venice. The three main types of water transportation in Venice are vaporetto, gondolas and traghetto. But do you know what they are?
Vaporetto
These are the big boat-buses which have regular lines (see the map of lines) along the Grand Canal for example and from Venice to Murano and Burano. During your stay, you will inevitably take a vaporetto (vaporetti in plural).
Map & plan of the vaporetto lines
It is obvious that getting lost in the narrow streets of Venice can be part of the charm of your stay. As vaporetti are mainly only used along the Grand Canal and between the islands of the Venetian lagoon, you don't really have to worry about getting lost in the network of lines. If you are close to the Grand Canal, it may be easier to go to the nearest vaporetto stop and look at the stops served by this line. And if you are planning a trip to one of the other islands, you will have to find the connection.
To facilitate your organization with the transports of Venice, we have put below the map of the vaporetto lines of Venice.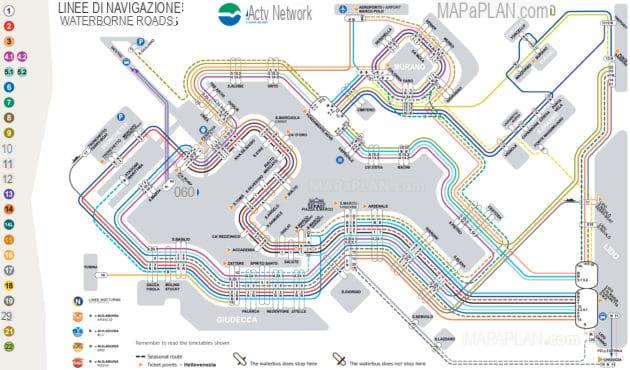 Vaporetto: where to buy your tickets, at what price, timetables...
A single ticket valid for 75 minutes to take a vaporetto will cost you 7,50€. If you're just looking to cross a canal, that's a high price to pay. At this point, we suggest that you either take an ACTV Pass which gives you access to all transport in Venice for the duration of your choice (from 1 to 7 days), or take a traghetto, or walk.
Ticket price for the vaporetti:
75 min : 7,5€.
24h : 20€
48h : 30€
72h : 40€
7 days : 60€.
Children under the age of 6 travel for free! Once you have bought your ticket, don't forget to validate it in the machines available at each vaporetto station just before boarding the vaporetto.
Gondolas
That's what you think of when you imagine Venice. You can rent a private gondola for a cruise but it costs a small fortune. Learn more about gondola rides in Venice.
Traghetto
They look like gondolas in every way, but they are only used to cross the Grand Canal in various places. There are traghetto stations along the Grand Canal and these boats regularly carry passengers from one shore to the other. The price of a crossing is 2€ for non-residents. The gondoliers are not really gondoliers, they do not sing and do not dress in striped shirts. Usually, passengers do not sit down during the crossing.
In this photo of the Grand Canal, you can see all three types of boats - among others.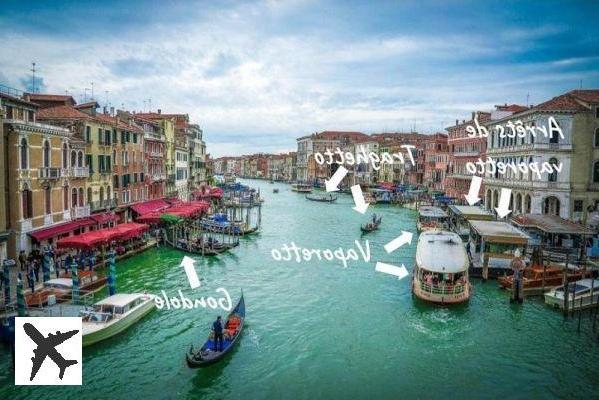 As mentioned above, most travellers are content to walk around Venice for the duration of their stay. You can really walk everywhere and in many ways a walk is one of the things to do in Venice. But taking a boat trip along the Grand Canal (especially at night) can be a great way to have a good time. And if you plan to visit other islands in the lagoon, you'll probably take a vaporetto or two in Venice.
ACTV Venice Pass: what are the advantages?
Venezia Unica is the main seller of public transport tickets, and you can buy tickets for the vaporetti in the cabins of most resorts. Free timetables and maps are also available. Tickets can also be purchased in advance online.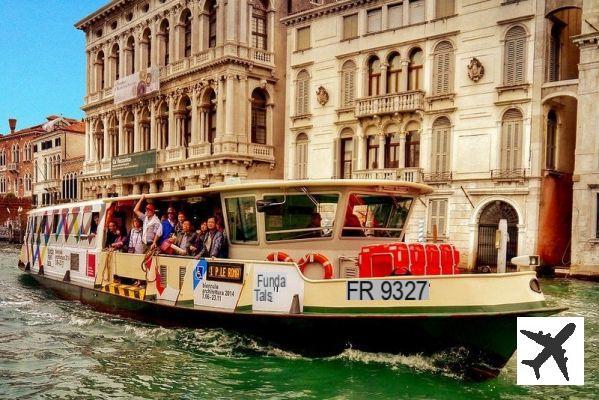 In fact, if you plan to use the vaporetto frequently (more than three trips), instead of spending €7.50 for each one-way ticket, it is advisable to take an ACTV Pass - which gives unlimited access (and for a set period that starts when you validate your ticket at the yellow machine located at the vaporetto stops). Pass your card every time you board, even if you have already validated it on your first trip. If you are checked without a valid ticket, you will have to pay an immediate fine of €59 (plus the €7.50 fare). No exceptions are possible.
Where can I pick up the ACTV Pass?
To collect your ACTV Pass booked online, you must redeem the voucher you receive by email at Vènezia Unica agencies or at Vènezia Unica ticket machines. Following your reservation, you will receive a complete list of all the vending machines by email.
Simply scan the QR code on your voucher at the yellow machines, which will issue your ticket automatically, allowing you to take the vaporetti for the duration chosen for your pass (from 1 to 7 days).
Transport in Venice: what is the main tourist vaporetto line?
The main tourist vaporetto line, the one that is recommended if you want a "cruise" (without a guide and at a lower cost) on the Grand Canal, is the vaporetto line #1.
Vaporetto line #1 runs along the Grand Canal and stops at every stop between the train station and Piazza San Marco. It takes between 45 minutes and an hour to travel between these two points. If you are looking for a peaceful way to see the sights and the weather is good, this is a great way to relax for an hour.
If you have any questions about transport in Venice, please do not hesitate to ask me in the comments area under this article.