Athens is a spectacle that deserves to be discovered and explored little by little. Most of the people I know only make a short pit-stop or literally fly past the trendy islands, missing out on the capital's surprising faces, secrets and regions.
The local culture is extremely rich and there is an extensive list of attractions to visit and enjoy. I will not talk about Acropolis and company in this post – my intention is to present you with tips on the best restaurants in Athens running away from the obvious. These are tips that are not in the most traditional circuit guides.
If you have time, I recommend you stay 3 or 4 nights in Athens, so you can explore the different regions calmly before heading to the paradise islands (this was mine and will probably be your case). If you are planning your summer trip, enjoy luxury accommodation and want to discover the Athens Riviera, discover The Margi Hotel, or others Athens hotels, - It is the right request ☺
#ParaNãoForget: Have you bought your travel insurance yet?
Get your discounted plan using the coupon FORTRAVELOVERS (5% off).
Click here and enjoy!
Now let's go to the restaurant tips in Athens
For a dinner with a view
O Art Lounge is a New Hotel rooftop restaurant and bar and is a super tip for lovers of gastronomy, cocktails and trendy places. I loved that the restaurant & bar is also a library with a catalog with over a hundred books on art, design, etc.
The proposed menu is a mix of Greek and Mediterranean dishes with modern touches in the chef's style, adding seasonal ingredients to the ever-changing menu.
We ordered a pout-pourri of dishes and desserts – all delicious, especially the grilled chicken, a kind of Greek risotto with cheese and vegetables and the vanilla dessert that reminded me of delicious French pastries. En fait, the breads and patisserie are made with ingredients and recipes made in France.
Drinks deserve to be mentioned here. I tasted two that are part of the signature cocktail menu. My favorite was one made with gin, lemon, basil and other things. The name is Mysterious Kiss, impossible to resist!
The Brazilian touch is present in the decor with exclusive pieces created by the geniuses and brothers Fernando and Humberto Campana. Order a drink or a table outside and sip with a 360º view of the city.

Typical dinner plate
A Kalokerinos Tavern is one of the oldest and most traditional greek taverns, situated in the heart of Plaka, the oldest part of Athens. The venue offers a dining experience with entertainment: a folk dance show and the traditional and mythical plate breaker. It's a mega tourist spot, but if you're traveling as a family or a group, it can be a good dinner program. The dancers interact and get whoever they want to dance and break cymbals at the end. I initially thought it would be a tourist trap never to return, but the first impression was wrong. I loved it and recommend it.
The food as you can imagine is very typical. I had the best moussaka of my life – typical Greek food with mutton, aubergines, and tomatoes.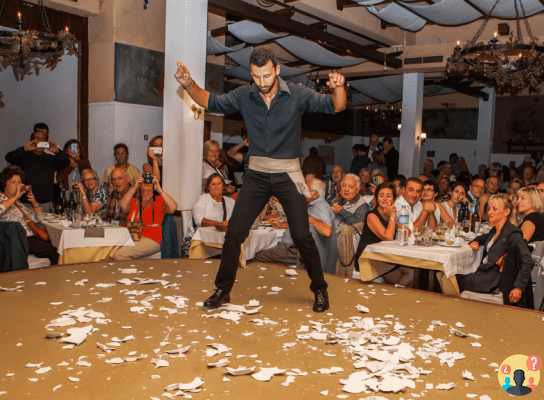 Restaurants in trendy and jet-set favorite Athens
O Zonars it's the place to be to eat and drink wonderfully, as well as being the best place to see and be seen in Athens. This was since 1939 the meeting place of the greatest thinkers and the main Greek personalities of the last century, such as the poet Odysseas Elytis, Gatsos Nikos and the actress Melina Mercouri.
And it remains one of the favorite places for international stars such as Sophia Loren, Jean Paul Gaultier, as well as princesses from Denmark, London, Marina Abramovic, Valentino and so on. Spyros and Chrysanthos Panas are the engines of luxury hospitality in the city and responsible for the reopening of this legendary place.
All the glamor of the past was revamped by the vision of Chrysanthos who modernized the decor, included several works of art from his on-site collection and created a menu that features Greek options and dishes inspired by the main cuisines of the world. You have to order: the "Chicago" sundae. Traditional and must-have since the 50's. Chic and too good!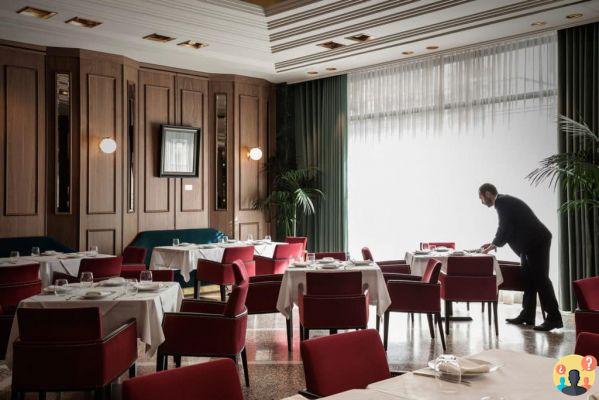 Did you like our tips for Restaurants in Athens? Leave your comment here…
Athens Travel Insurance
Having travel insurance for Athens is a requirement to enter the country, which is part of the Schengen Treaty and requires medical and hospital coverage of at least €30 for travelers. In addition to being mandatory, insurance is a great way to ensure a smoother trip. Also enjoy our Insurance Promo discount coupon. - SEE PRICES
Don't miss the daily deals for accommodation in Athens on Booking.com
Receive a Chip at your home in España and use unlimited Internet throughout Europe
This is one of the tips we love to give our readers: a AmericaChip.
Write it down: The company sends an international Chip to your home in Spain. When you're on the plane, just change your Brazilian SIM card for this international one. You will arrive in Milos with unlimited internet, using your cell phone at will, as you use in España.
Arriving in Greece, you can use it all day, anywhere in Europe. You'll save on GPS rentals, Skype credits, and you'll still be able to use social networks, Google, or search for anything on the internet all day. In addition, you can still call your home to send travel news as many times as you want via WhatsApp or Facetime.
Read More
Athens Hotels – More than 20 tips for your stay
Hotels in Santorini – The 10 best to book without fear
Hotels in Mykonos – 12 options with the dream room
The Margi Hotel – Review 5 Star Hotel in Athens
Grecia Turismo – Everything for you to Plan your Trip
Greek Islands – Complete Roadmap of the 5 Best Islands to Visit
Travel Insurance Greece – Find out if it is Mandatory
Santorini Travel Itinerary – Complete Guide to Enjoy
Where to Stay in Santorini – Best Hotels and Regions
What to do in Kefalonia – 3 Days Itinerary on the Island
Where to Stay in Kefalonia – Petani Bay Hotel
What to Do on Milos Island – 7 Must-See Places
Where to Stay on Milos Island – Hotel Perla Rooms
Best Travel Insurance Europe – Which to Choose?
Backpacking Europe – Everything you need to know
The Best Places for Honeymoon – Complete Guide
Honeymoon – Top 10 Dream Places
Hotels in Zakynthos – The 11 most suitable for your trip