Find out what to do in Mykonos, one of the most beautiful islands in Greece
Preparing a to-do list Mykonos, Greece? Read on to find out all about the destination!
Considered the second most famous island in Greece, second only to Santorini, Mykonos is popular with young people looking to enjoy the best beaches, beach clubs and parties in the country, but it is also popular with honeymooners, families and budget travelers.
And, although the highlight is the action, the city is also home to old buildings, a labyrinth of white alleys with blue windows, museums, churches made of stones and great restaurants, ideal for those looking for more peaceful walks in Mykonos.
To learn more, find out, below, the best attractions on the island and essential tips to prepare your Mykonos itinerary.
Here you can find:
hide Why visit Mykonos? Where is Mykonos What to do in Mykonos, Greece: TOP 10 best attractions What to do in Mykonos at night Where to stay in Mykonos Where to eat in Mykonos - best restaurants Mykonos itinerary 3 days Plan your trip - best time, how to get around, how long to stay , etc. Extra tips for your trip to Mykonos And don't forget to take out good travel insurance.
Why visit Mykonos?
Photo: Dimitris Kiriakakis on Unsplash
The beautiful scenery of the wonderful beaches of the Aegean Sea is a good reason to visit Mykonos. It is one more beautiful than the other and with a great infrastructure to receive visitors.
The big parties and beach clubs guarantee days of fun during your days on the Greek island. Therefore, for those who love partying, it is worth visiting Mykonos.
In addition to the excitement, the cultural tours with attractions dating back to before Christ make the destination a delight for history lovers. Be sure to include them in your Mykonos itinerary.
Photo Opportunities Everywhere: Besides the obvious perfect beaches and whitewashed houses, there are photo opportunities everywhere in Mykonos, so if you post your travels on Instagram, you won't find a better place.
Endless shopping: If you love shopping, Mykonos will be a paradise, with its endless markets, cave-like boutiques and countless fashion designers, everywhere.
To complete, this paradise island is home to the Bohemian Mykonos, one of the most beautiful hotels in the world, ideal for those who want to sleep/wake up facing the Aegean Sea.
Where is Mykonos
Mykonos is located in Greece, just 180 km from the capital, Athens. It is part of the Cyclades archipelago, a group of islands in the Aegean Sea and neighbors the famous island of Santorini, which is 150 km away and is considered one of the most beautiful islands in the world.
Now that you know where Mykonos is, it's time to find out what to do there.
What to do in Mykonos, Greece : TOP 10 best attractions


1. Walk around the center of Mykonos
Photo: Woody Van der Straeten on Unsplash
The center of Mykonos, also called Chora, is where the charming white houses with blue doors and windows and windmills are located, where you can see a beautiful sunset, which you cannot fail to add to your Mykonos 3 itinerary days.
Around here, you will also be able to check out the region known as Little Venice, which is very similar to the romantic Italian city! There are great restaurants and cafes that are worth including on the list of things to do in Mykonos, such as Nice N Easy, which serves an excellent greta salad and has a beautiful view!
2. Explore the Isle of Delos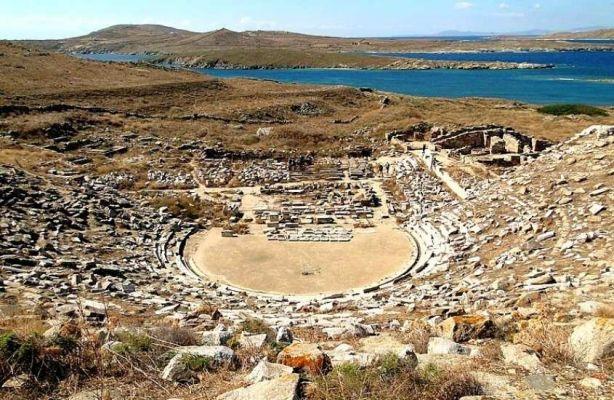 Photo: Bernard Gagnon, CC BY-SA 3.0
The island of Delos cannot be missing from a list of things to do in Mykonos in 3 days! Home to gods such as Apollo and Artemis, it is home to an important archaeological site that features the Temple of Isis, House of Cleopatra and Sanctuary of Apollo.
There are boat trips such as the 'From Mykonos: Boat Transfer to Delos Island' which take you to the island of Delos from the old port of Mykonos daily at 09:10, 11:25 and 158,00:XNUMX. The price starts at XNUMX euros (about R$XNUMX) per person and you can purchase it on the Get Your Guide website.
Certainly, this is one of the best tours in Mykonos!
3. Visit the Archaeological Museum
Photo: Joanbanjo, CC BY-SA 3.0
Another good option for those looking for things to do in Mykonos is the Archaeological Museum.
In it, you can find important artifacts from the Hellenistic period, an important time in Greek history marked by territorial conquests and cultural and artistic development. The value of the visit is 4 euros.
4. Discover the beaches of Mykonos
Photo: Dimitris Kiriakakis on Unsplash
Certainly, one of the main attractions in Mykonos is its beautiful beaches. The best part is that there are options that suit every possible style. Meet some of them:
Paraga Beach: A beach that you cannot fail to include in your list of things to do in Mykonos Greece is Paraga Beach. It offers a great infrastructure for tourists and has as part of the scenery a beautiful view of the island of Delos. In addition, this is where one of the most famous beach clubs in the region is located, Scorpios.
Agios Ioannis Beach: Located very close to the center of the island, this beach is an excellent option for those traveling with the family. With good infrastructure, shops and restaurants nearby, the sunset seen from here is very beautiful and an excellent option for those who want to know what to do in Mykonos in 1 day.
Agios Sostis: Unlike the other beaches in Mykonos, this one is practically deserted, ideal for those who want to escape the large flow of people. There is no structure here, so take your lunch and umbrella if you plan to spend the day there! And oh, it's important to say that this beach is open to nudism, so don't be scared if you see people naked lol…For those looking for a different and unusual program to include in the list of things to do in Mykonos, Agios Sostis is a good choice.
Psarou Beach: Definitely one of the most popular beaches in Mykonos! It is often frequented even by celebrities, so it cannot be left out of a list of what to do in Mykonos in 1 day! It has a good infrastructure and, therefore, is a little more expensive than the others. In addition, it is normal to see several luxury yachts there.
Paradise Beach: Yet another beach where the action never stops! Here, in addition to bars and restaurants with live music, you will find the most famous beach club in Mykonos: the Cavo Paradiso. Therefore, if you want a lot of beach parties on your list of things to do in Mykonos in 2 days, be sure to include Paradise!
5. Visit the Panagia Paraportiani Church
Photo: Bernard Gagnon, CC BY-SA 3.0
This Byzantine church dates back to 1425 and took nearly two centuries to complete. It has an all-white architecture and, from there, you have an incredible view of the entire region.
It forms part of a larger building made up of five separate churches that are all connected.
If you go in the late afternoon, you will be presented with a breathtaking sunset! Undoubtedly, a good alternative for those looking for what to do in Mykonos in 2 days. Entry is free.
6. Go to Castle Panigirakis
Publicity photo: Castle Panigirakis
A very different tip for tours in Mykonos is to visit Castle Panigirakis, considered historical and architectural heritage, it is on top of a mountain and houses the 180 sunset bar, which serves wonderful drinks and has an incredible view of the island that you need to include in your trip. your list of things to do in Mykonos, as well as a cozy hotel overlooking the sea, also known as Castle Panigirakis.
7. Relax in Little Venice (Little Venice)
Photo: Johnny Chen on Unsplash
This neighborhood famous for its whitewashed architecture with colorful details is known as Little Venice and is the most romantic place in Mykonos.
It is a beautiful place to visit, both day and night, where you can sit down for a coffee or a drink with a beautiful view of the sunset. Some of the houses here are over 100 years old.
Getting here is easy: there are buses all over the island that take you to the center of Mykonos and, from there, it's just a matter of walking.


8. Watch the sunset from the windmills
Photo: Nikos Sgouros on Unsplash
The 16 windmills on the hills around Mykonos Town are an iconic symbol of the island (you've probably seen them on Instagram).
They are also the most popular place to watch the sunset. There will be crowds, so get there early to secure a good spot!
9. Take a boat ride
Photo: Harrison Fitts on Unsplash
Although this is not the cheapest Mykonos tour, it is a super relaxing way to spend an afternoon or evening, and you won't regret it!
There are tours for all tastes, from partying to the most contemplative. Many of them head to Delos, Paradise Beach or even the Rhenia Islands, with plenty of time for a swim and some even a barbecue.
Boat trips start at 49 euros, while trips with food and drink included start at 90 euros. These are some we recommend:
Little Venice Sunset Cruise
1 Day Cruise to the South Coast
Sailboat at Sunset with Snorkeling and Light Lunch
10. Visit the Aegean Maritime Museum
Photo: Here, CC BY-SA 3.0
The Aegean Maritime Museum covers from ancient Greece to the modern day. Its exhibits include amphorae and ceramics, ancient nautical maps, navigational instruments and incredibly detailed models of sailboats and steamships.
Don't miss the giant Fresnel lighthouse in the courtyard before you leave! Entrance costs 4 euros.
What to do in Mykonos at night
Photo: Mae Mu on Unsplash
As you already know, Mykonos is a super busy island, so the night here is very popular with restaurants, bars and nightclubs that are very lively.
The vast majority of attractions that we recommend for those looking for what to do in Mykonos at night are in the center and there are many options to enjoy until dawn!
To start the night, you can visit the Capriche Bar and have a good drink while listening to live music. Later, you can go to the Scandinavian Bar, one of the liveliest bars on the island! And finally, to go into the night, you can choose some ballads like Cavo Paradiso and Paradise Club.
Where to eat in Mykonos - best restaurants
Photo: Mariana Medvedeva on Unsplash
Interni Restaurant
O interior is one of the most traditional restaurants in Mykonos. The house's most ordered dish is tuna with leeks and lobster tail risotto.
Kiku Restaurant
Another option for those looking for good restaurants in Mykonos is Kiku, located in a luxury and super refined hotel. The place serves the best of Japanese cuisine, with beluga caviar being the restaurant's specialty.
Niko's Tavern Restaurant
O Niko 's Tavern stands out for its typical Greek architecture, with tables in the street and checkered tablecloths under the table. A delicious dish you cannot miss is orzo pasta!
Kalosta Restaurant
This restaurant has an incredible view of the sea, as it is located in a higher part of the city. The house specializes in risottos, one more delicious than the other. Certainly one of the best restaurants in Mykonos!
George's house
For those who love pasta, the George's house is one of the specialty restaurants in Mykonos that deserves your visit. The penne with best octopus is sensational.
Mykonos itinerary 3 days
Photo: Ricardo Gomez Angel on Unsplash


What to do in Mykonos – Day 01
On the first day of your 3-day Mykonos itinerary, our suggestion is to start by getting to know the magnificent island of Delos, taking a boat trip.
In the afternoon, visit Paraga Beach, an excellent beach that has a great infrastructure to receive tourists.
To end the day on a high note, have a drink at one of the many bars in the Little Venice (or Little Venice) region, enjoying the beautiful Mykonos sunset.
What to do in Mykonos - Day 02
On the second day of the Mykonos itinerary, take a walk through the tourist center. There you can see little houses with white architecture and super instagrammable stone or tile floors! In addition, there are several shops and restaurants in this area.
Enjoy lunch at Bakalo Restaurant, which serves traditional Greek cuisine, such as roasted mushrooms stuffed with pork!
After lunch, include in your list of things to do in Mykonos in 3 days a visit to the Archaeological Museum, which has a very rich collection and objects dating back to the 25th century BC.
To close the day of sightseeing in Mykonos with a golden key, visit the Panagia Paraportiani church, which has a very beautiful white stone architecture and a beautiful view of the sea. The sunset seen from there is one of the most beautiful in the city!
Finally, at night, visit some of Mykonos' clubs to spend the night listening to the best DJs in the country. Our tip is to visit the Cava Paradiso Club.
What to do in Mykonos - Day 03
On your third day of the Mykonos itinerary, our recommendation is to enjoy the island's coastline a little more. Visit Kapari Beach, a deserted beach, but with a satisfactory infrastructure.
Afterwards, be sure to include the Kato Myli windmills on your list of things to do in Mykonos, which are the city's postcard. There are more than 16 large white mills on top of a small hill, with a beautiful view of the sea!
To end your day of sightseeing in Mykonos, visit the Sea Satin by Gryparis restaurant, which faces the beach, very close to the windmills.
Plan your trip - best time, how to get around, how long to stay, etc.
How much does it cost to travel to Mykonos
Photo: Omid Armin on Unsplash
Now that you know everything to do in Mykonos, it's time to find out the average prices for visiting the destination. Considering a 3-day trip to the island, check out how much it costs to travel to Mykonos:


Accommodation:
Average of 89,69 EUR per night in a mid-range hotel.
Average of 35,88 EUR per night in a hostel in a shared room.
Food:
Average of 35 per day per person, considering lunch and dinner.
Restaurants:
Lunches in small taverns: around 15 EUR
Breakfast with eggs and coffee: 12 EUR
Typical Greek dish with traditional Greek salad: from 8 to 10 EUR
Fish dinner: from 25-30 EUR
Drinks:
Glass of wine: 4 EUR
Bottle of wine: 20 EUR
Beer: 3-5 euros
Cocktails: 10 EUR
Latte/cappuccino: EUR 4
Bottled water at the supermarket: 0,50 EUR


How many days to stay in Mykonos

For those who want to know how many days to stay in Mykonos, our suggestion is at least three days to explore the main attractions. However, if you want to enjoy the island more calmly, we recommend staying 7 days. In this way, you will be able to do all the tours in Mykonos without rushing.


When to go to Mykonos

The best time to visit Mykonos varies according to your travel objectives. During the period from June to August is the high season, this is when the island is super busy and there are lots of parties.
However, if you want to escape the crowds, a good time is April, May and September. The weather remains good and the city has less movement.


How to get to Mykonos
Photo: Philip Myrtorp on Unsplash
To get there you need to go by plane or ferry. Check now the details of how to get to Mykonos:
Flight
There is an airport on the island. However, tickets directly to Mykonos are slightly more expensive than to Athens. Therefore, a good option might be to take a flight to Athens and from there to Mykonos by ferry.
If you choose to go by plane, the airlines that operate on the island are: Volotea, Olympic e Sky Express.
Rafts
Another option for those who want to know how to get to Mykonos, it's a ferry. Transport is common in the region, especially between islands like Santorini for example. In addition, ferries are more cost-effective than flights. The average price per person for the route is around 80 euros (R$510,00 more or less).
The main companies that make the journey are: Golden Star Ferries, Fast Ferries, Seajests.


How to get around Mykonos
The best way to get around Mykonos in comfort is by scooter or car, which you can rent through RentCars! So you will have more freedom!
There are many scooter and ATV rental shops all over the island. You can usually find a scooter rental for around 20 euros a day for one person, while ATVs start from 40 euros a day for two people. In low season, some shops rent their vehicles for about a third of that price.
Now, if the idea is to save money, it is possible to use public transport, which works very well on the island.
The bus fare is between 1,60-2,40 euros, depending on where you are going. Mykonos bus offers a list of routes and timetables. Keep in mind that routes are drastically reduced in low season.
There is also a very different and widely used option which is the SeaBus, a water bus that has an attractive price and transport is fast. You can check times and details at SeaBus official website.
Hitchhiking in Mykonos is also relatively easy in summer.
Extra tips for your trip to Mykonos
Photo: Dimitris Kiriakakis on Unsplash
Avoid high season and peak times: during the summer months and especially between 10:00 am and 17:00 pm, when the big cruise ships are docked, the streets of Hóra are so busy that it is often very difficult to walk through them. If you want to see the main town of Mykonos, it's best to visit in the low season months or very early or late in the day.
Rent a scooter or car: public transport will take you to the most popular destinations in Mykonos, but to discover more hidden corners, choose to rent a car or scooter and explore on your own. You will be able to reach more isolated beaches and towns and thus enjoy the most authentic side of the island. But if you rent a car, drive carefully. Greeks drive aggressively so you have to be extra careful on the roads.
Eat where the locals eat: the restaurants surrounding the more popular areas tend to be crowded with tourists and tend to have tourist prices. To experience more authentic Greek cuisine, try visiting restaurants further away from these places, such as Madoupas Cafe, a favorite with locals, serving Greek dishes such as moussaka and hummus, and fresh fish.
To enjoy the parties: Mykonos is known as a party island, with top DJs playing from July to September. If you want to attend these events, be sure to book tickets in advance and look for packages that include drinks. Avoid drugs at all costs, or you could face huge fines or even jail time.
If you go hiking, always take water and sunscreen and wear a hat. The heat can be exhausting!
Always trust your instinct. Avoid secluded areas at night and always be aware of your surroundings. Make copies of your personal documents, including your passport and ID, and don't keep too many valuables on you.


Tell us: did you like our list of things to do in Mykonos, Greece?
Whether you are a traveler looking for busy days or a lot of rest, we are sure that by following these tips you will be able to put together a perfect Mykonos itinerary to make your trip spectacular!