The multicolored cliffs topped with the white houses of the Cyclades make Santorini one of the most coveted postcards among travelers. But the great strength of the Greek island is actually its beaches. And, to get to know them and enjoy the destination to its full potential, we made an itinerary in Santorini ideal for those who are going to stay there for 1 to 4 days. Thus, you guarantee that you will know the main pieces of this paradise.
However, it is worth mentioning that Santorini is not an island that is super full of activities. It is more a place to rest, enjoy the oceanic landscape and enjoy the incredible infinity pools – that is, it is a destination that adheres to the definition of "perfect vacation" in its most natural state.
In fact, one of the details that make all the difference in a trip to Santorini is the choice of hotel. Staying in a good accommodation makes all the difference, especially if you are traveling as a couple. One of the musts there is to stay in a romantic hotel with a good view – an investment that completely changes your vacation on the island.
Without further ado, let's get to the point: the itinerary in Santorini. Scroll down and check out the details of the itinerary that we have created for those who will enjoy the island.
In this post you will read:
Itinerary in Santorini at a glance
Santorini itinerary map
Itinerary in Santorini from 1 to 4 days

1st day in Santorini
2st day in Santorini
3º he is Santorini

Unmissable places on the itinerary in Santorini

Ancient Thera
Perissa and Perivolos
Red Beach
Imerovigli
Wine Museum – Winery tour
Caldera View Point

What to taste in Santorini Greece
Where to stay in Santorini
hotels in Santorini
How to get around in Santorini
Santorini – Complete travel guide
Travel insurance for Santorini
Flights to Greece
internet chip in greece
FAQ
Itinerary in Santorini at a glance
Check out a summary of the itinerary in Santorini:
01 Day: Arrival in Santorini.
Walk around Kamari and Oia and discover the region, the shops and restaurants. End the day with the famous sunset (tip: when booking a hotel with a view, you can see the sunset from there).

02 Day: Boat ride.
It is possible to book this activity for the morning or afternoon, when it is already combined with the sunset time, to watch the phenomenon on the high seas.

03 Day: Day to discover beaches and enjoy landscapes.
Explore the island towards Kamari – head to Thera, Perivolos, Red Beach, Ophiras and Piraeus, where you can see another amazing sunset.

04 Day: Departure from Santorini.
From Thera port, head to the next destination.
Santorini itinerary map
Itinerary in Santorini from 1 to 4 days
1st day in Santorini
Start your tour in Santorini by visiting Oia. It is the best known region of the island, and therefore the busiest. The place is suitable for walking and getting lost in the shops and restaurants in the alleys. Many people put the sunset in Oia as one of the big points on the list of things to do in Santorini Greece (and with good reason). However, we do have some important considerations.
#AnotaAí: If you want to see the sunset there, you have to plan ahead. A tip is to make reservations at popular restaurants that have a privileged view of the sunset, such as That's Castro. If you want a plan B to escape the crowds, seeing the sunset in other regions is also very beautiful – like in Imerovigli, which we talk about below.
Another important tip, if you are thinking of staying in Oia – where one of the most incredible hotels in the area is located – keep in mind that it is a difficult area to park your car. So see if your hotel has parking.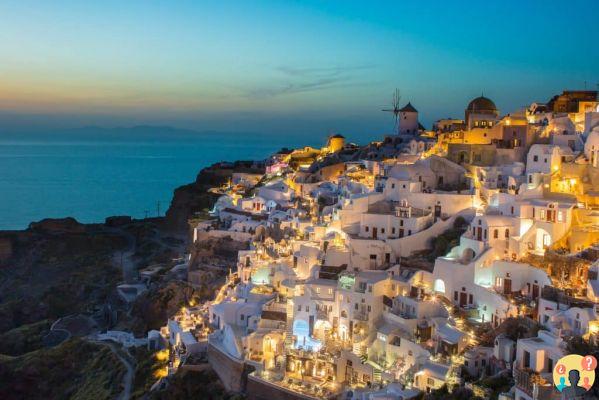 2st day in Santorini
How about starting the second day with a boat tour in Santorini? If you can go during sunset, the tour is even better, but you need to book in advance, as the time is very popular.
A good tip for boarding are the company's catamarans Sunset Oia Sailing Cruises, with staff who pick travelers up at the hotel for the tour. Those who go in the morning shift stay until 14 pm with the team, including having lunch on the boat. Everything is made right there, and the meal included in the package is delicious, in addition to being accompanied by drinks such as water, wine, juices and soft drinks, which are also included. The only thing they don't have is beer.
The Santorini boat tour itinerary passes through The Red Beach, The White Beach, Pharos – Indian Rock, Hot Springs, Palea Kameni and Caldera.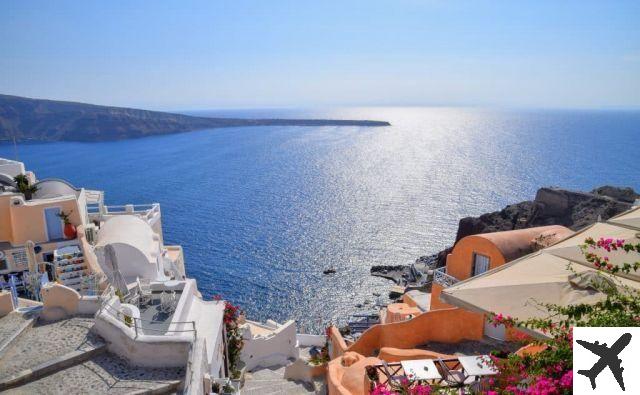 3º he is Santorini
The third day can be used to explore the island further. Head towards Kamari, make a first stop at Ancient Thera, then pass through Perivolos and Read Beach. Finally, the day can be ended on a high note by enjoying the sunset at the Akrotiri Lighthouse.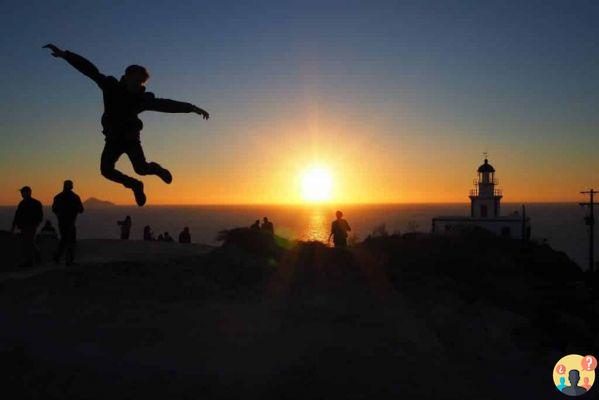 Unmissable places on the itinerary in Santorini
The place names in Greek are a bit complex, and even more so with traditional writing. If you were a little confused by the nomenclature of the itinerary in Santorini, the main tourist attractions are listed below. Thus, the places that were mentioned are much clearer, so that your route is defined correctly before the trip.
Ancient Thera
Ancient Thera (also called Thira or Fira) is one of the highest points in Santorini. For there, it is essential to take sneakers for trekking, since leaving there you have the option of walking for 1 hour to one of the archeological sites on the island, or 2 hours to reach Perivolos beach.
A good tip is to park in Kamari because there is the closest point to Ancient Thira. In high season, I paid attention to the parking lots that usually fill up quickly.
From there, you have to walk up. If you don't feel like hiking, just go up a little bit and you'll get an incredible panoramic view, without having to spend hours walking.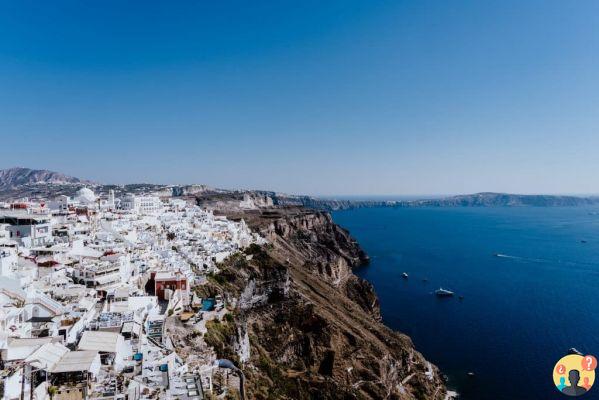 Perissa and Perivolos
Perissa and Perivolos are two beaches that share the same strip of sand, like Ipanema and Leblon.
There you can enjoy the day on one of the sun loungers with umbrella available on the beach. Some are free, others require a minimum consumption, or even a seat fee.
The beach water is beautiful, but very cold – be warned. On the shore there are several restaurants and some hotels. For lunch, the restaurant 41 Forty One, em Perivolos it is very worth it.
If you are looking for hotel options in the area, you will find that the prices are much cheaper. The accommodation options in this area have a view of the sea, but do not have a view of the caldera (which is the main attraction of the island) or the sunset.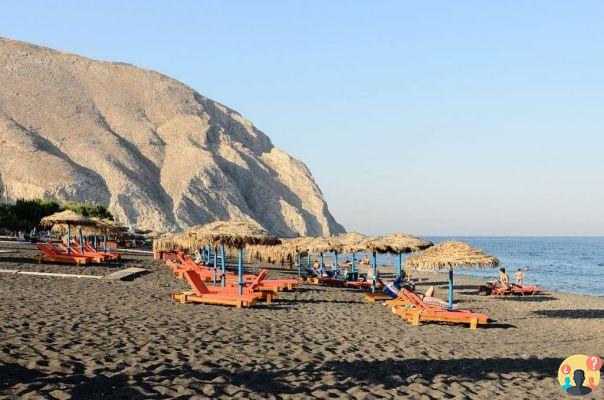 Red Beach
Next stop: Red Beach. It is a beach with surreal colors, including cliffs and red sands. Erosion in the rock formed this landscape similar to the image we have of Mars.
It is worth seeing it from afar, either on a boat trip or from the viewpoint at the top of the cliff. The water is beautiful, transparent and the ground is made of pebbles. There is parking for cars, but during high season it fills up quickly.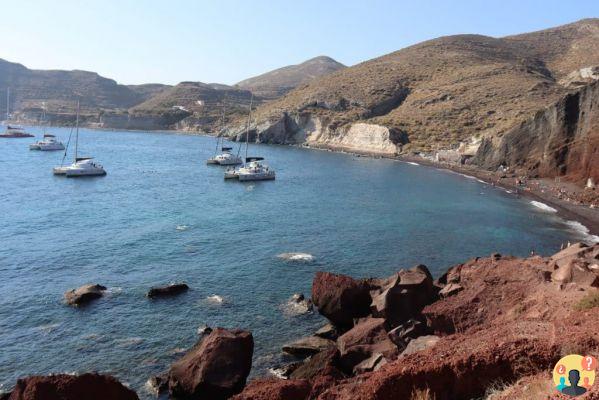 Imerovigli
Imerovigli is an area with several hotels and restaurants. Other than that, there are no attractions nearby. It's a great neighborhood to stay in and one of the most expensive areas as well. There, the sunset is also phenomenal, with a view of the Caldera and also of Oia.
It is worth seeing a sunset there, booking a restaurant, staying in the infinity pools and enjoying the panoramic view of the place. In addition, as it is a more empty region, you will not fight for space to enjoy the evening. It is a quieter and more comfortable option for this time of day.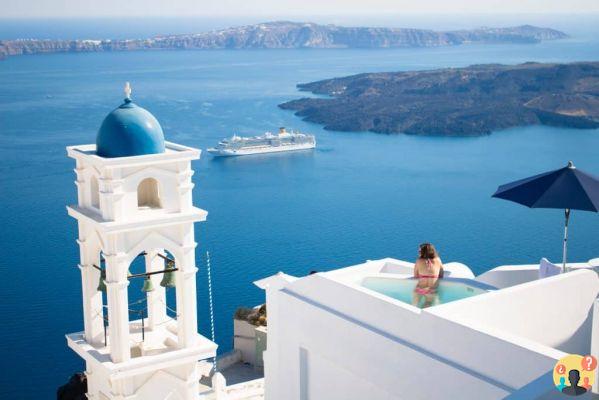 Wine Museum – Winery tour
For those who don't know, Santorini wines are great! There, there are several wineries that are worth the trip. For those who liked the idea, the Wine Museum is a good indication, with a tour telling the history of wine on the island. At the end, there is a tasting of 4 wines.
The main wineries to visit in Santorini are: Artemis Karamolegos Winery, Venetsanos Winery and Domaine Sigalas.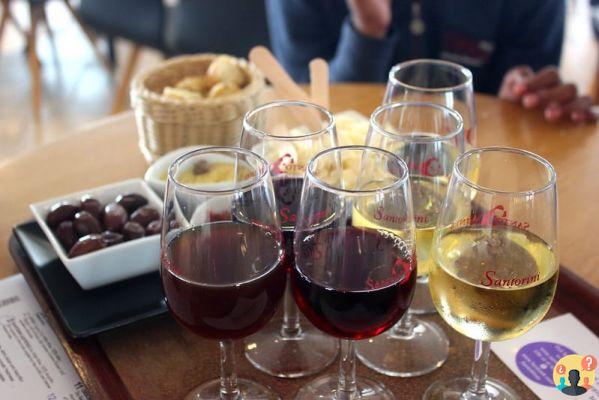 Caldera View Point
You can put it on the list of things to do in Santorini Greece. The Caldera View Point is a viewpoint with quite a view! Up there, there is a cafe that is also worth the stop. To get there, just put "Caldeira View Point" on Google Maps and start the visit.
What to taste in Santorini Greece
A good script worth its salt should also have indications of the most essential typical foods for travelers to taste, don't you agree? The following list indicates the most delicious delicacies that you will find to try in Santorini.
Oh, and it's also worth mentioning that restaurant prices in Greece are usually reasonable. The dishes cost around 9 to 20 euros, with an average of 35 euros spent per meal. Some very good local wines are found for 12 euros. For those who want a more economical, tasty and quick snack, gyros is a good tip.
Moussaka: Typical Greek dish made with eggplant, meat and potato
Pita gyros: A kind of Greek kebab – very tasty and very cheap (about 2 euros)
Various types of Greek salad: Tasty, accompanied by local feta and goat cheeses
Olives and oils: Always at the table, of course!
Tzatziki: Sauce made with yogurt, very tasty
wines and beers: In addition to local wines, the Beptina, Mythos and Fix beers stand out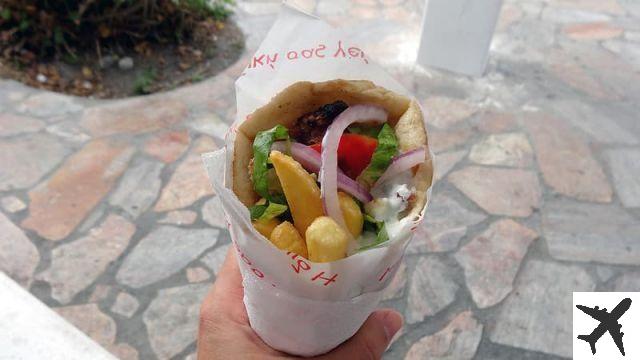 Where to stay in Santorini
As we mentioned before, in addition to the itinerary in Santorini, another fundamental part of your travel planning is deciding on the ideal accommodation. That's because a good hotel, in a privileged location, can make a lot of difference in your experience through the destination.
In summary, the main regions where to stay in Santorini are: the village of Oia, Imerovigli and Thera. Below we will also indicate the best hotels in Santorini. Keep reading.
hotels in Santorini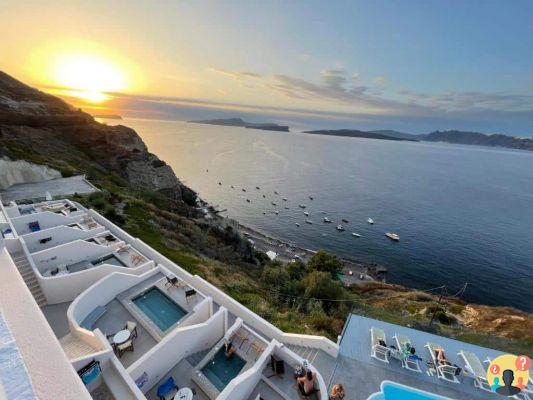 Know which are the best hotels in Santorini can make planning your trip even easier. Therefore, below we separate indications of the best evaluated, in the most diverse prices, for you to know. Check out:
White Pearl Knights – Daily rates from € 569 – Note 9,9
Kokkinos Villas – Daily rates from € 179 – Note 9,2
Luxury Resort Santorini Sky – Daily rates from € 432 – Note 9,8
Absolute Bliss – Daily rates from € 315 – Note 9,7
See all Santorini hotel options.
How to get around in Santorini
Santorini is a small island. It is possible to cross it from end to end in about 1 hour by car. Therefore, many people choose to rent scooters or quadricycles, which have a great advantage when it comes to parking. Vacancies on the island are very popular, especially if you are staying in the Oia region.
But the car also has advantages. For example, by motorcycle or quadricycle, it is more difficult to transport luggage. The car also protects from the sun, which is very strong in Greece. If you rent a scooter or quad, get ready to go back in that tan to España (but don't forget your sunscreen!). Finally, by car it is easier to navigate with Waze or Google Maps.
There is no Uber on the island, and there are few taxis. A ride from the airport to the hotel in Imerovigli costs 30 to 40 euros.
To rent your vehicle, we recommend the online platform Rent Cars. It is the only one in Spain that compares the best rental companies in the world, but lets you pay in reais, without IOF. In addition, it is also the only one that lets you pay in 12 interest-free installments. It is worth it! – SEE PRICES
Santorini – Complete travel guide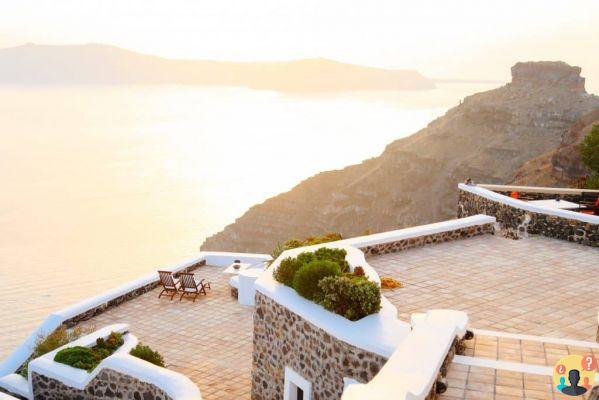 It's no secret that Santorini attracts crowds much of the year, and that it is indeed one of the busiest islands in Greece. The good news is that the island still makes good use of this "darling" post.
The traditional village of Oia (pronounced "ía") is the busiest, where it is worth getting lost in the alleys and getting carried away between shops, restaurants and hotels. The island still has other secrets, such as excellent wineries, breweries and some of the best accommodation among the islands of Greece.
Another great highlight of the trip to the island is the unforgettable sunset, which yields iconic travel photos, as well as a souvenir of the landscape that you will take with you for the rest of your life, looking forward to repeating the experience. When the time for the natural spectacle arrives and the sun sets, not a single visitor can fail to appreciate the reflections in the sea and the glow of orange on the cliffs. There's no denying it: sunset is definitely the island's biggest attraction.
See also:
Athens hotels
Greek islands
Greece
Santorini
Where to Stay in Santorini
Mykonos travel insurance
restaurants in Athens
hotels in Santorini
Hotels in Mykonos
Hotels in Zakynthos
Travel insurance for Santorini
Having a travel insurance for Santorini is a requirement to enter the country, which is part of the Schengen Treaty and requires medical-hospital coverage of at least €30 for travelers. In addition to being mandatory, insurance is a great way to ensure a smoother trip. Also enjoy our Insurance Promo discount coupon. - SEE PRICES
Read all about travel insurance:
Documents to enter Europe – See which ones you need
Travel Insurance Europe – Complete guide on how to hire
Best Travel Insurance Europe – Which one to choose for your trip?
How much does travel insurance for Europe cost?
Make your travel insurance quote at Seguros Promo and guarantee 5% off with our coupon FORTRAVELOVERS
Flights to Greece
Looking for a good deal and flight prices? When buying tickets to Barcelona, ​​it is worth taking a look at the website Flights On Sale. It is quite common to find cheaper and better flight options than on other sites. We always use it and it's worth it! – SEE PRICES
internet chip in greece
Going without internet is almost impossible these days. To enjoy the destination using transport apps and other online facilities, having a good mobile connection is essential. To do so, just buy an international chip from a reliable company, such as America Chip. We use it a lot on our travels and we love it! – SEE PRICES
Also read more chip tips:
Europe Internet Chip – Which is the best international chip?
Viaje Conectado – Know everything about your travel chips
America Chip – Find out how it works
FAQ
What to do in Santorini?
Santorini is an island dedicated to relaxing holidays, and it is interesting to visit beaches such as Perissa, Perivolos and Red Beach. See tips for setting up your itinerary in Santorini.
How many days to stay in Santorini?
About three days is enough to see the main points of interest in Santorini, with the fourth day of the trip serving to depart for another destination. Check out the complete itinerary in Santorini.
What to do in Santorini in 1 day?
With just one day to discover the most famous of the Greek islands, take a walk through Oia, and be sure to enjoy the sunset in the region. See more tips in the post itinerary in Santorini.
What to do in Santorini in 2 days?
On the second day of your trip to Santorini, it's a great idea to take a boat trip along the island's beaches – some are only accessible that way. See other itinerary tips in Santorini.
What to do in Santorini in 3 days?
With three days to explore the island, a good option is to drive around other beaches and places of interest in the territory. Finish with the sunset at Akrotiri Lighthouse. Check out our complete Santorini itinerary.