The oldest city in Colombia, founded in 1525 by the Spanish, Santa Marta, Colombia, is surrounded by beautiful Caribbean beaches and mountains that hold a lot of history and adventure. Check out a full post about this destination here.
Santa Marta, Colombia, is among the oldest cities in South America. For that reason alone, it is already an important tourist destination, don't you think? But does not stop there. In addition to the historic center and surrounding beaches, its location makes it an excellent base for discovering very interesting places.
In this post you will read:
How to get to Santa Marta, Colombia

By airplane
By bus
private transportation

When to go to Santa Marta, Colombia
how many days stay
Things to do in Santa Marta, Colombia

Historical Center
Fifth of San Pedro Alejandrino
Beaches
Tayrona National Natural Park
Sierra Nevada de Santa Marta National Park Colombia
Coin

Where to stay in Santa Marta Colombia
Colombia travel insurance
Save money on travel insurance!
use the coupon FORTRAVELOVERS and pay in boleto to take off 10% discount.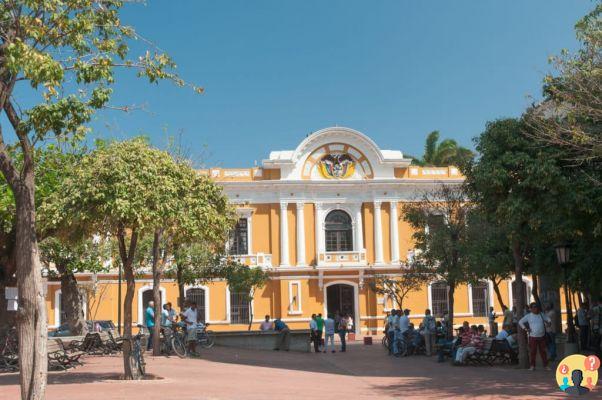 How to get to Santa Marta, Colombia
By airplane
There are no direct flights from España to Santa Marta, Colombia. LATAM and Avianca operate flights with stopovers in Bogotá. However, if you are already in Colombia, want to visit this destination and want to save time on your trip, Viva Air has direct flights departing from Bogotá and Medellin, with a trip duration of approximately 1h20.
Simón Bolívar Airport, in Santa Marta, is located 16 kilometers from the city center. From there to the center it is possible to go by local bus or taxi. If you prefer more comfort and convenience, arrange the transfer with your hotel.
Want to find cheap flights to Colombia?
Find flights to Colombia with discounts of up to 35% every day at Promo Tickets.
By bus
For those who are in Cartagena, the bus trip lasts around four hours, covering just over 200 kilometers of distance. The companies Copetran, Expreso Españaia and Torcoroma are some of those that make daily trips between the two cities. Buses depart from the Cartagena De Indias Land Transport Terminal.
From Bogotá or Medellín, the bus trip takes more than 15 hours – that is, it is a little tiring. If your trip has contact time, it is more rewarding to think about the plane, if you are departing from any of these destinations.
private transportation
This transport consists of private vans or minibuses that take travelers more comfortably, whether from Cartagena to Santa Marta or from Santa Marta to Cartagena. The convenience lies in the fact that the vehicle will pick you up and drop you off at the door of your accommodation.
When to go to Santa Marta, Colombia
In Santa Marta Colombia the heat lasts all year. The average temperatures are around 24ºC, minimum, and 32ºC, maximum. The months of December to April have less rainfall, which makes this a good time to visit the region.
Regarding when to go to Tayrona National Park – there is more information about it below – it is more interesting to visit it in the low season (from February to June; from August to November). That way you can enjoy the place with more tranquility.
For those who want to visit the Lost City, in the Sierra Nevada region, there's not much to escape from the rain. It is a guaranteed presence throughout the year, but more intense between the months of October and November.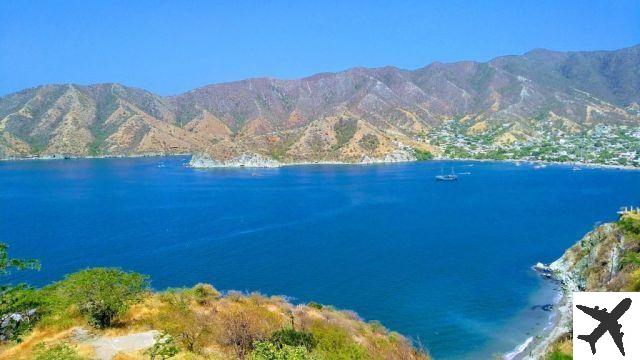 how many days stay
To get to know only the city of Santa Marta and some beaches in the surroundings, the ideal is to dedicate at least 3 full days. If you like camping and hiking with paradisiacal scenery, I suggest 2 more days just for the Tayrona Natural Park.
If you want to include the Sierra Nevada region in your itinerary and take the tour to discover the Lost City of El Dorado, include at least 4 more full days – there are tour options with up to 6 days, but it depends on the tour to be hired. It is worth noting that it is not possible to reach El Dorado on your own.
Want to have unlimited internet throughout your trip?
Buy your international travel chip in advance and arrive in Colombia using America Chip.
Things to do in Santa Marta, Colombia
The city may seem small, but don't underestimate it, nor the region, because you will be surprised by the amount of attractions. Take a look at the main tips on what to enjoy on your visit to Santa Marta.
Historical Center
Walking through the historic center does not require much time, but take the opportunity to calmly enjoy every bit of it. Appreciate the local architecture and the small streets of the city, which add to the charm of the region.
During the walk through the center, between one store and another, walk to Parque de Los Novios. A large square, with lots of green and shade. It's a great option for a mid-day break, good for resting and cooling off from the Colombian heat.
Walk along the Bay of Santa Marta Colombia, but be sure to stop by at the end of the day as well. With the sunset there are great chances of a beautiful view, guaranteeing beautiful photos.
Don't waste time and schedule your itinerary in Santa Marta now!
Access the main city tours and book your tickets na GetYourGuide.
Fifth of San Pedro Alejandrino
visit to Fifth of San Pedro Alejandrino is to discover one of the most important tourist attractions in the city, in addition to learning more about Colombian history.
It was here, on this farm, that the Liberator Simón Bolívar died on December 17, 1830. During your visit, take the opportunity to discover the Bolivarian Museum of Contemporary Art.
The Farm and Museum are approximately 7 km from the historic center, 20 minutes by car. It is recommended to take a taxi to and from.
Entrance costs 22 thousand Colombian pesos (about R$ 25) per person and gives access to the Museum, Farm and the Botanical Garden. A good tip is to buy in advance to avoid queues and guarantee your visit, by clicking here.
It is open from Sunday to Sunday, from 9 am to 16:30 pm. On December 24 and 31, only from 9 am to 13 pm. It is closed January 1st.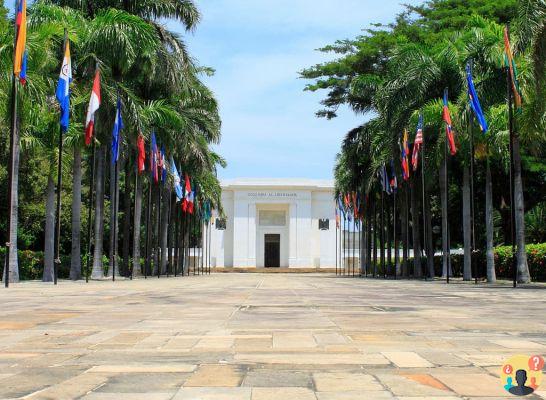 Beaches
From the beaches bathed by the Colombian Caribbean, certainly The Rodadero is the most popular and visited in Santa Marta. Located in the neighborhood of the same name, it is a little far from the historic center, but it is no less busy. If you are not staying here, it is worth coming to spend the day, take a beach and enjoy the sun and the sea.
Hands is another beautiful beach in the region to discover, located just over 5 km from the center of Santa Marta. The drive to the small village takes less than 30 minutes. The beach attracts the most adventurous, lovers of the sea and diving.
Make the most of it and include a day of diving in the crystal clear waters of the Caribbean Sea on your list of things to do in Santa Marta. It is a unique and very economical opportunity when compared to other Caribbean destinations such as, for example, Curaçao and the Bahamas. I dived in and I highly recommend the Santa Marta Dive and Adventure.
Tayrona National Natural Park
O Tayrona Park it is a nature reserve with 15 thousand hectares of nature. It is possible to stay in chalets, camp with your own tent and even sleep in hammocks there.
It is not necessary to spend the night to visit some of the beautiful beaches in the park, but plan to arrive before the gates open. Be prepared to walk, as access to some beaches can take up to two hours on foot. In addition to sunscreen, don't forget to bring a good repellent.
The main entrance to the park is in El Zaino, 32 kilometers from downtown Santa Marta. This is the entrance for those who want to spend the night. From there it is possible to access some beaches such as Cañaveral, Arrecifes, La Piscina, Playa Nudista, Playa Brava and Pueblito.
Palangana is another entry option, closer to Santa Marta, just 15 kilometers away. It is a great option for those who want to do just a day trip to some beaches. If this is your case, be sure to visit Playa Cristal, which is accessible by boat from Neguanje.
The park is open every day from 8 am to 17 pm. In low season admission costs 53 Colombian pesos per person (about R$68), and in high season 63.500 Colombian pesos (about R$80). For more information, access the website here.
Attention: The high season at Parque Tayrona includes the following dates: from December 1st to January 31st; from June 1st to July 31st; Holy Week, from Palm Sunday to Easter Sunday; in addition to national holidays. The other days are considered low season.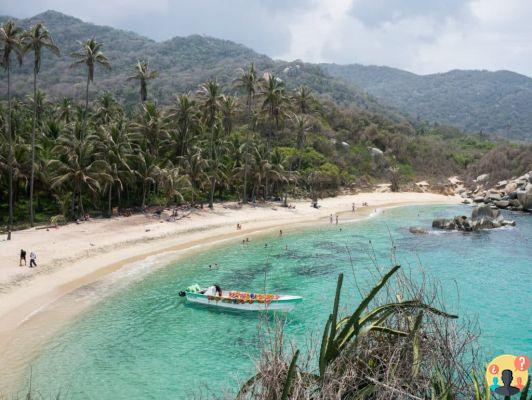 Sierra Nevada de Santa Marta National Park Colombia
The search for the Lost City of El Dorado. This is one of the great attractions of the Sierra Nevada, in addition to, of course, the really snowy mountains, rivers and waterfalls, villages and beautiful landscapes.
Finding the ruins of the Tayrona Indian empire, the Lost City, is no cakewalk. The walk to and from the jungle and dense forest, far from civilization, takes four to six days. It is not possible to go on your own, it is necessary to hire a guide.
The investment is also something more remarkable – a 5-day tour can cost around R$ 2 thousand per person. If you are thinking of including this tour in your itinerary, I suggest booking in advance to guarantee your spot. Here, here are some suggestions of companies that take.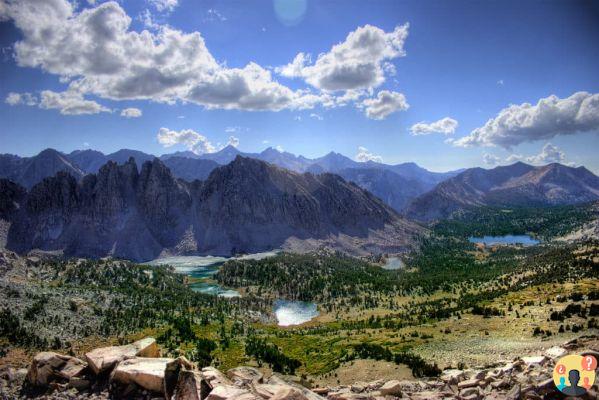 Coin
This is a village in the mountains, close to Santa Marta, less than 1h by car. It is worth making a day trip or even spending a night there to enjoy it with tranquility and peace.
You can go on your own or hire a day tour with agencies in the city. Trails and waterfall baths are the main attractions of this place.
Where to stay in Santa Marta Colombia
The city of Santa Marta is big and staying in the historic center is a good choice, as it makes getting around. The region is quite busy, with easy access to restaurants, shops, tourist agencies and some tourist attractions. In addition, it is an area option with budget accommodation.
Another very interesting neighborhood, but a little more expensive and away from the center, is in El Rodadero. This is where the main and busiest beach in the city is.
#Quick Tips: Did you know that the sooner you book, the cheaper the hotel rate is? So run and guarantee your hosting at Booking.com
hotels in Santa Marta
Boutique Hotel Casa Carolina: Well located, in the historic center of Santa Marta, Colombia, is the Hotel Boutique Casa Carolina. Spacious rooms for up to four people, with air conditioning and private bathroom. In addition to being able to enjoy the city's beach, the hotel has an outdoor pool and SPA service, exclusive to guests.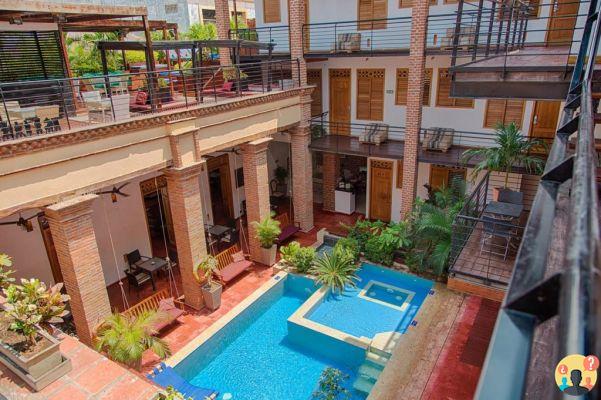 Hostal El Espanolete: It is an economical option in downtown Santa Marta, located behind Plaza Simón Bolívar. With a relaxed atmosphere, double, triple and dormitory rooms. In addition to the terrace, there is a common area with a microwave and a coffee machine – for the use of all guests.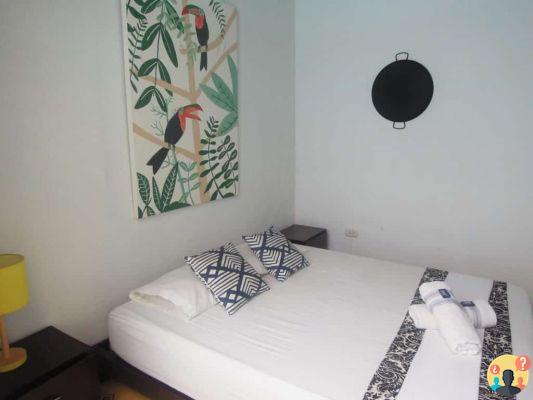 Hotel Tucuraca: Staying at the Tucuraca Hotel is like having your "foot in the sand". Located 50 meters from El Rodadero beach, with good shopping, shops and restaurants nearby. The rooms, double or triple, have a private bathroom and air conditioning. Wi-Fi is free and the reception is open 24 hours a day.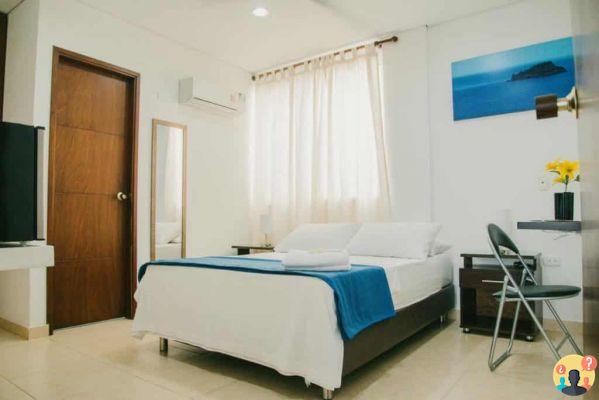 Colombia travel insurance
Taking out travel insurance for Colombia is an excellent way to ensure a smooth trip and avoid worries. Having the assistance of insurance gives you the peace you need to enjoy your destination and know that you have support if you need it. Also enjoy our Insurance Promo discount coupon. - SEE PRICES
Did you like Santa Marta, the oldest city in Colombia? Comment here!