When I was in Colombia for the first time, I promised to come back! And for me, promise is debt! On the second visit, my promise was reinforced by San Andres. Learn all about the island in this complete guide!
San Andrés is one of the favorite destinations for Brazilians. The island is part of an archipelago that also includes the islands of providencia e Santa Catalina. This region of the Colombian Caribbean is known as sea ​​of ​​seven colors, and this fame is somewhat self-explanatory for tourists visiting this Caribbean paradise.
With an atmosphere that oscillates between tranquility and a bit of hustle, San Andrés appeals to all audiences. It is an ideal destination for any traveller, especially for lovers of natural beauty. Those who value exquisite cuisine, with many Seafood, and those who can't resist the tax-free imported goods stores, will also love the place!
In this post you will see:
How is the island of San Andres
The best time to visit San Andres
Arriving in San Andres
How to get around in San Andres
Sights in San Andres

Around the island of San Andres
The aquarium
Haynes Cay

Johnny cay
West View
Diving and Scubadive in San Andrés
Where to stay in San Andres

Tranquilo Beach Boutique Hotel ($$)
Tamarind House ($$)
Solymar Sarie Bay ($$)
Caribbean Island Hotel ($$)
Hotel Casablanca ($$$)
Villa Maru ($$$)
Island Decameron – All Inclusive ($$$)

General tips before going to San Andrés

ID or passport?
What currency to take to San Andres?
Which airline is cheaper?

Travel insurance for San Andres
Summary of the days of San Andrés
What you NEED to know BEFORE going to San Andrés

1) Have you already purchased your airline ticket?
2) Have you booked your hosting?
3) Travel Insurance is ESSENTIAL
4) How to have unlimited internet while traveling
5) Rent cars at the best prices

Read More
Save money on travel insurance!
use the coupon FORTRAVELOVERS and pay in boleto to take off 10% discount.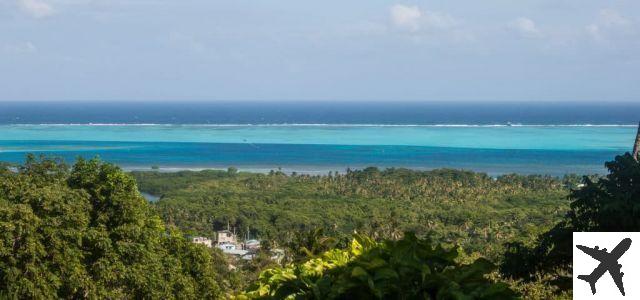 However, despite being considered one of the cheapest places in the Caribbean, San Andrés is not a low-cost trip – the large flow of tourists generates quite abusive prices. But don't be discouraged! It is still possible to make the trip of your dreams for a very affordable price. Check out our tips to save money and make the most of your trip to the island!
How is the island of San Andres
San Andres is an island in the Caribbean Sea, belonging to Colombia, despite being very close to Nicaragua and Costa Rica. The shore is shaped like a seahorse, and one of the things that caught my attention there was the cultural mix, which gave the population a very striking identity.
Under the influence of the English, most natives speak English better than Spanish – in addition to speaking Sanandresano Creole, a very curious dialect that was created from English, a little Spanish and some African languages. #imaginamixtureba
I always give this tip, regardless of the place, and here it couldn't be different: try to have a good chat with the natives, who will bring a very different experience beyond the tourist cliché. The guide Rafael gave me a local culture class and showed me the San Andres corals as if they were his backyard!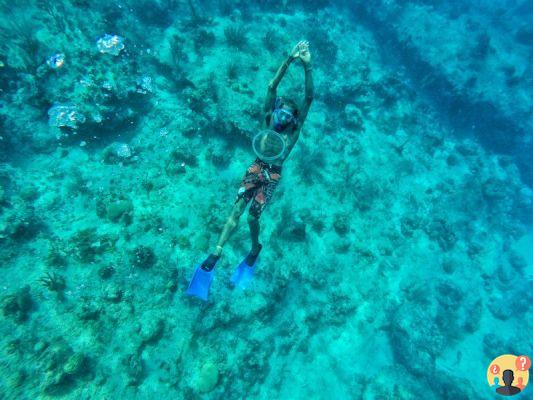 The best time to visit San Andres
In Colombia, any season is valid! Known as the country of eternal spring, the seasons are not very marked – a characteristic, by the way, of countries close to the equator.
However, heavy rains are common in the Colombia and usually intensify during the months of October and November. The climate is warm throughout the year, as is the sea water, with average temperatures between 28⁰C and 30⁰C.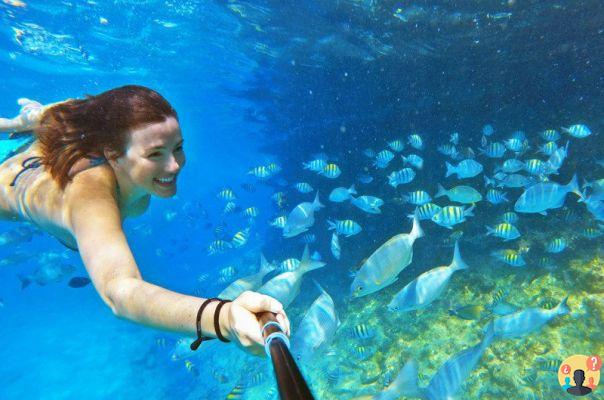 Arriving in San Andres
You know those expectation vs reality memes? So it is, San Andres and so!
I arrived in the late afternoon, imagining that I would get off the plane and stop at the first beach to enjoy the sunset, backpacking and all. But the lines at the Federal Police counters were huge and I waited about two hours to deliver the "tourist card".
This document is mandatory for everyone visiting San Andrés, even for Colombians. The paper must be purchased from the airline before boarding and costs 50 Colombian pesos (about R$65). After handing over the card, it is necessary to go through security, which has X-rays and even sniffer dogs (cute ones!).
There is a bit of a lack of organization. There is no standard for purchasing the card. Some companies accept payment in US dollars and others accept only in Colombian pesos.
While some airlines sell the card at the check-in desk, others – as in my case – only inside the departure lounge. But one thing is for sure: no one will tell you anything unless you ask! So patience on arrival is key!
Attention: the tourist card is not retained by the Federal Police. It is returned to you and you will need to present it again when you leave the island – this time without all the mess. #promise
How to get around in San Andres
Contrary to what I imagined, San Andrés is relatively large. Therefore, it is essential to choose your means of transport as soon as you arrive, to be able to explore the region well without having to spend a taxi. By the way, when taking a taxi, negotiate a lot – they don't use a meter and set a price before leaving.
On the island it is not common to rent cars, so these rental companies are rare and the prices are quite steep. Below I list the most common options, for you to decide according to your travel style:
Scooter: great option for getting around the island, it can be easily rented in the city center. It's worth bargaining a little on the price – I got a ride to negotiate in downtown stores, and rented a scooter for 50 thousand pesos (about R$ 65) a day.
Golf cart: another good option for transport on the island, with two or four/five seats. Despite being fun, the cart is quite slow and does not have a headlight, which makes it impossible to go out at night. Prices can range from 100 to 200 Colombian pesos per day.
Mula: the most complete option is a cart called a mule – much like a golf cart, but with a more powerful engine. This one has the advantage of having light to transit at night, in addition to being faster. The price, however, is more expensive, reaching up to 300 thousand Colombian pesos.
For any of the options, it is more advantageous if you rent for several days (the single rate is more expensive and more difficult to negotiate). Compare the prices charged by different stores before renting – there are several and they are next to each other.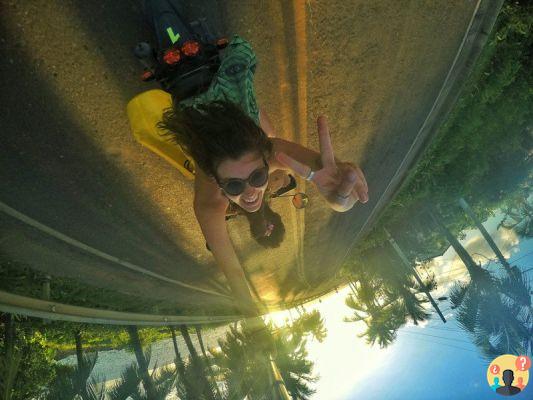 Sights in San Andres
If the island of San Andrés has wonderful beaches, can you imagine those more distant islets where nature takes over? The advantage of traveling through this region is being able to enjoy fantastic tours for a relatively low price.
There are several amazing tours to do in San Andrés, to suit all tastes!
From beaches to diving to see coral reefs, here are some great suggestions for what to do on the island. Keep reading to find out!
Around the island of San Andres
The island tour is something everyone needs to do! Every corner of this paradise has a particular beauty, which you will hardly find there! If you do not want to have your own means of transportation, there is also the possibility of paying for a "chiva" to go around the island, which is a kind of open truck – very nice with its vibrant colors.
Does it or does it not look like a seahorse?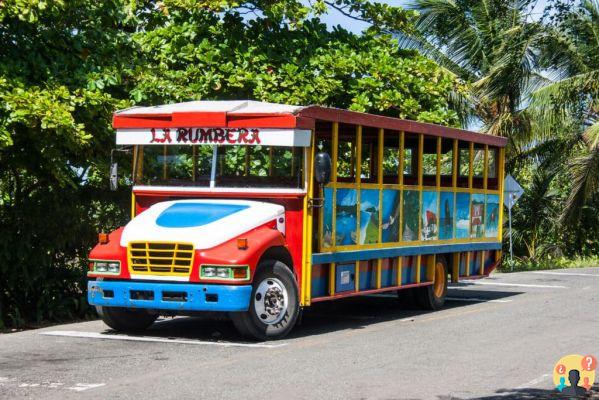 The aquarium
the paradise called The aquarium it is an islet that looks more like a swimming pool, with clear and calm water. The place has the inconvenience of being full of tourists, but it is also surrounded by the most varied types of fish – which swim freely in the crystal clear water, creating an exuberant natural aquarium without animals in captivity!
Tip: look around and try to get away from the crowd of people. I guarantee you will enjoy your tour and nature much more!
Despite being quite messy, due to the large number of tourists passing through, the island of The aquarium it has a structure for equipment rental, bathroom, luggage storage and a small snack bar.
Unfortunately, the place lacks cleanliness and care and preservation of nature. So, I think it's our duty, as connoisseurs, to take certain precautions so that all this continues to exist!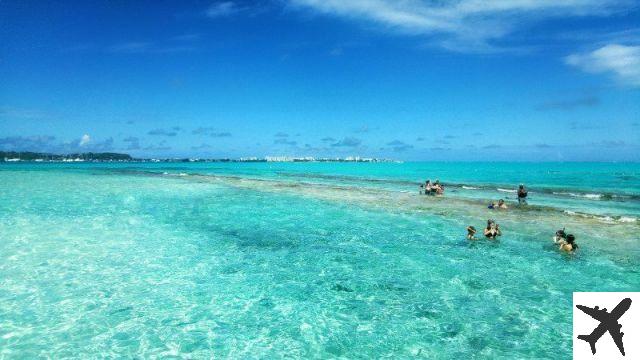 Haynes Cay
Right next to the Aquarium, you will see another islet that does not attract much attention, but is also very beautiful and worth visiting. This island is called Haynes Cay and it is possible to walk or swim there (it is only 200 meters in very shallow water). If you want to do the pedal boat, for 5 thousand Colombian pesos you have that option!
The sea in this area is impressive from the outside, and even more beautiful from the inside. The crystal clear water is ideal for snorkeling – almost mandatory!
Some important tips
Take care of the nature! Load your garbage and be careful with the animals – we need to take care that this paradise always exists for us!
Bring your own shoes to get in the water. If you don't have these water sports shoes, consider wearing a Crocs. This tip, by the way, is valid for several other places on the island. I couldn't enjoy it 100% at times because I could barely walk barefoot (at the Aquarium, the reefs are full of sea urchins).
If you have a day to load up all your sunscreen stock, this is the day! The sun sets for real and there's not much to hide!
You can rent a mask, but if you have your own equipment, bring it! Because, when I say mask, I mean – literally – just the mask, without the tube that completes the equipment. I didn't know that and I had to rent it there (5 thousand Colombian pesos).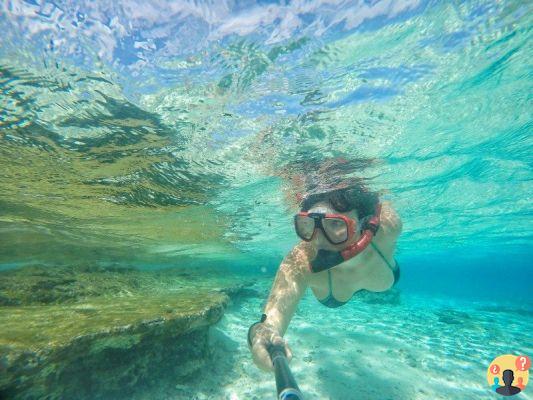 Johnny cay
Johnny Cay – the locals pronounce it Johnny "Qui" – is a small island that can be seen in front of the Pedestrian Beach or Spratt Bight, the main and most popular beach in San Andrés.
Johnny Cay has controlled visitation, you will need to pay a small fee of 5 thousand Colombian pesos at the time of disembarkation.
Full of palm trees, with white sand that makes the blue of the sea even more vibrant. The island is quite small and can be covered in a short walk. There is only one side with a strip of sand, where tourist boats arrive and where everyone can bathe.
The rest is full of natural pools with rocks and reefs that form a paradisiacal setting, like a painting.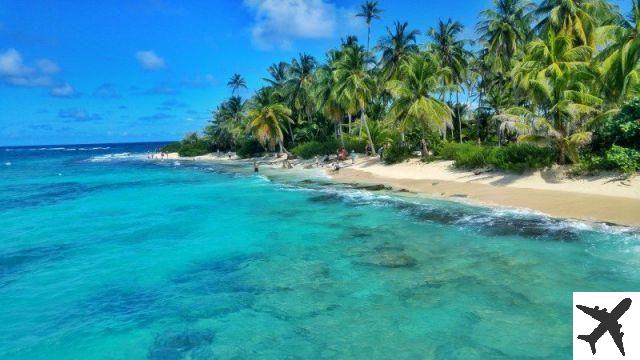 In the middle of the island, there are paid restrooms and several kiosks that sell typical food at a reasonable price. However, I preferred to enjoy the beach and leave it to eat later – I recommend taking some food in your bag if you want to save money.
It is an exceptionally beautiful place, worth visiting even with all the crowds, but I was very sad to see such neglect in a place where nature is so generous. I confess that I have rarely been so irritated by the abuse of tourists. Unfortunately, there is a lot of garbage scattered everywhere, including in the sea.
This is a classic San Andres tourist spot, which is usually sold along with the natural aquarium. Completing a full day tour for just 15 Colombian pesos – I traded and got it for 12 pesos, very cheap! #StayAtip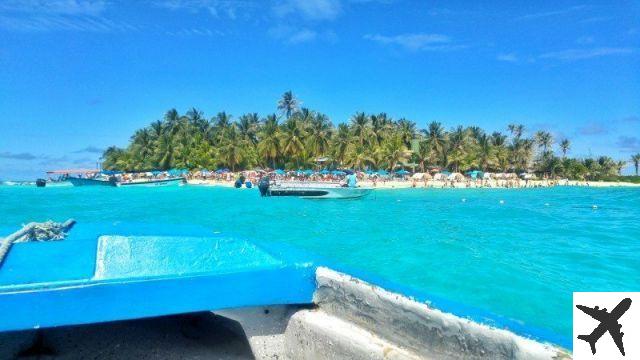 Don't forget your Travel Insurance, huh!
And we have great help for you! Use Coupon FORTRAVELOVERS and pay in boleto to take off 10% discount. With InsurancePromo you guarantee the best insurance companies on the market, at the best price!
West View
West View is a small ecological park located on the quieter side of San Andrés. It is a great option for those who want a few hours of fun in the middle of the "arduous" journey between one paradise beach and another. ?
The place has a trampoline that reaches up to 10 meters high depending on the tide, and a very fun toboggan that flows into a natural pool full of fish and beautiful corals.
The place is also perfect for snorkeling. That's because visitors always throw some food at the fish, which aren't intimidated at all by whoever is swimming.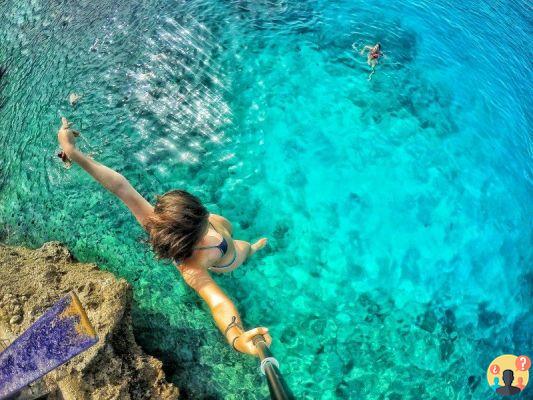 The park opens at 9 am and the entrance fee is 4 Colombian pesos. I recommend going early or late in the afternoon to get the park a little more empty. The place yields good hours of fun!
Very cool tip: at the bar next to the West View, the owners do snorkel trips – which I discovered by chance and it was amazing! So, for those who enjoy enjoying the corals, it's worth getting there and asking.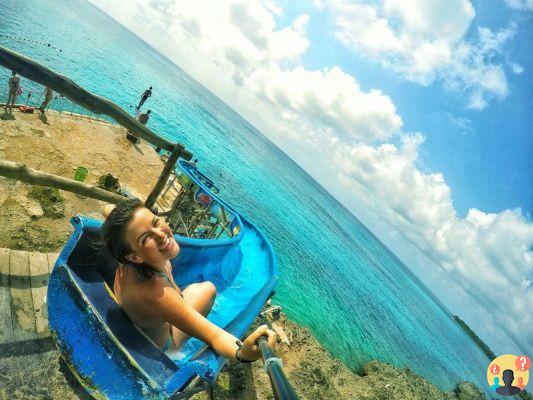 Diving and Scubadive in San Andrés
Os San Andres corals are world-renowned among divers. It's no wonder that there are so many gringos making their home there just to dedicate themselves to diving. The most memorable day of the trip was the one I had the pleasure of getting to know, even closer to the Caribbean wonders – it is difficult to summarize such beauty in mere words!
The team that attended to me was the staff of the Scuba San Andres. Regardless of whether you've dived before or not, I highly recommend this team of professionals who made my trip even more beautiful (if that's even possible)!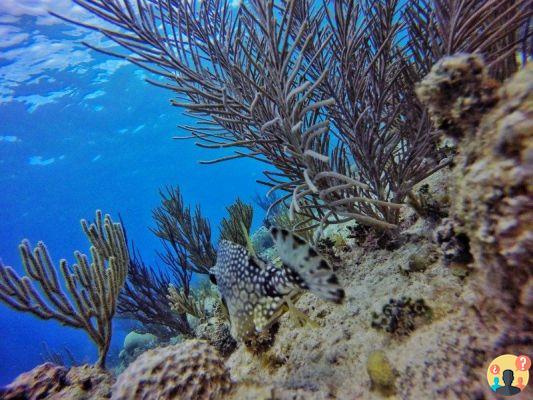 The diving center is located inside the Tranquilo Beach Boutique Hotel, where I stayed. Of course, you don't need to be staying at the hotel to do the dive, and if you don't have a way to get there, don't forget to let them know when you schedule your dive, as they will pick you up.
I don't have a certificate, but I had done scuba several times and this was by far the best in terms of the care and professionalism of the instructors. Scuba San Andrés has a super knowledgeable and caring team that makes any newbie feel much more relaxed – and free, because they only do guided diving if you want to, which is great!
This experience will surely make you realize that the sea of ​​seven colors really lives up to its name! # super recommend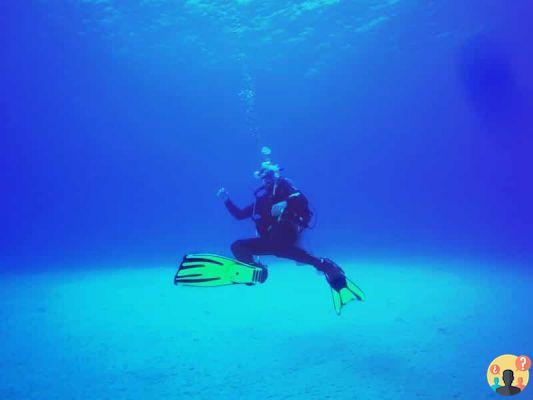 Where to stay in San Andres
There is no shortage of varieties where to stay in San Andres, from simpler and cheaper hostels to more refined hotels. I have selected a few hotels that are worth booking, including the one I stayed at: the Tranquilo Beach Boutique Hotel, on the west side of the island.
Choosing where to stay in San Andres depends on your travel style. North End It is recommended for those who like to be busy and have everything close by. saint Louis e Sound Bay are places with empty beaches. Already West View e little pool are areas to relax.
#Tip: San Andrés hotels are usually not very expensive! It's worth checking out the mid-range or even high-end price categories – you might be surprised!
We, from Travel Tips, have selected some other options to please travelers of different styles ? keep reading to check it out!
>> Read more tips in our Complete Guide to Where to Stay in San Andrés – the best regions and budget to luxury hotels!
Tranquilo Beach Boutique Hotel ($$)
I really liked the place where I stayed and was exceptionally well attended. O Tranquilo Beach Boutique Hotel it has differentiated service and is very exclusive – with very few rooms of varying prices and a pleasant atmosphere that makes you feel at home.
Playa Tranquilo, as its name suggests, is located on the most peaceful and beautiful side of the island, where the only noise you hear is the sound of nature. I woke up every day with coconut water freshly taken from the tree and served by a very nice gentleman who took care of the garden.
See prices and availability for the Hotel Boutique Playa Tranquilo by clicking here on Booking.com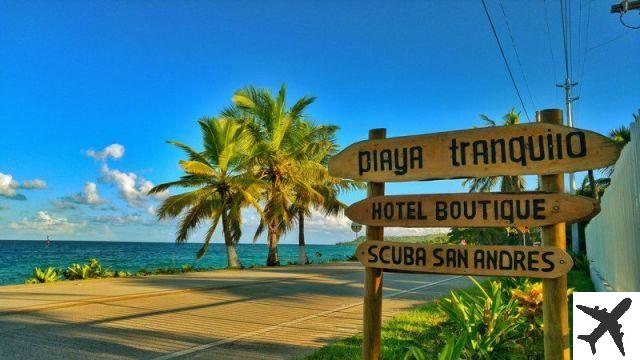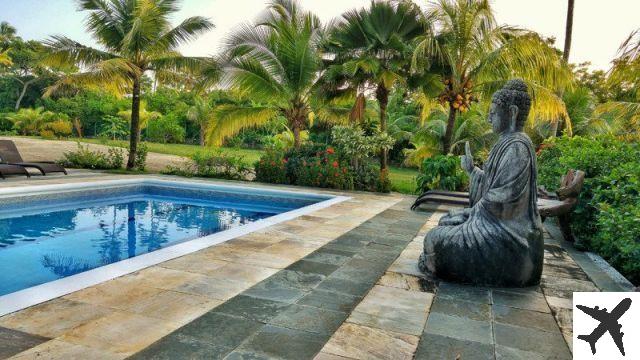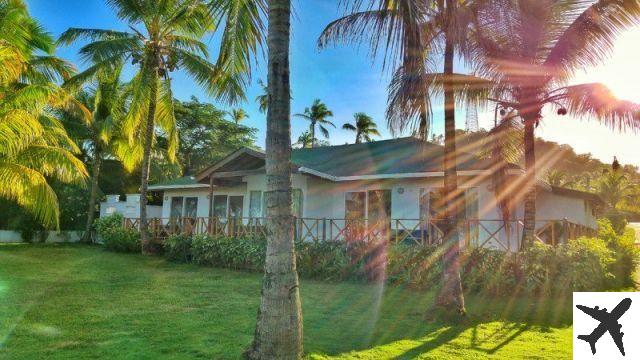 Tamarindo House ($$)
How about an entire private home for you, your friends or family? THE Tamarind is one of the best rated options in San Andres by Booking.com. It has three bedrooms and sleeps six people. It is an excellent option for those looking for cost-effective and independent accommodation.
See prices and availability for Casa Tamarindo by clicking here on Booking.com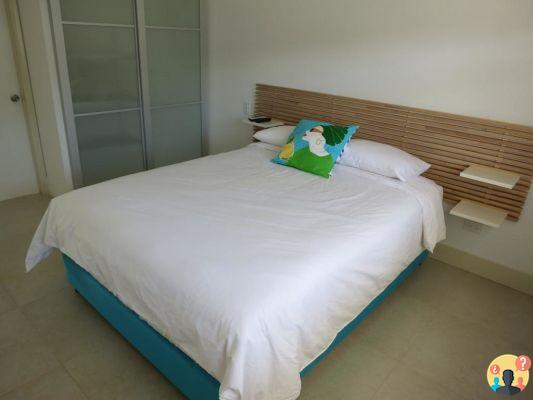 Solymar Sarie Bay ($$)
O Solymar Sarie Bay it is a great value for money option in one of the best locations in San Andres, right next to downtown and Spratt Bight. The accommodation also has a swimming pool, whirlpool, free Wi-Fi, air conditioning, TV and private bathroom. In addition, it offers a shared kitchen.
See prices and availability for Solymar Sarie Bay by clicking here on Booking.com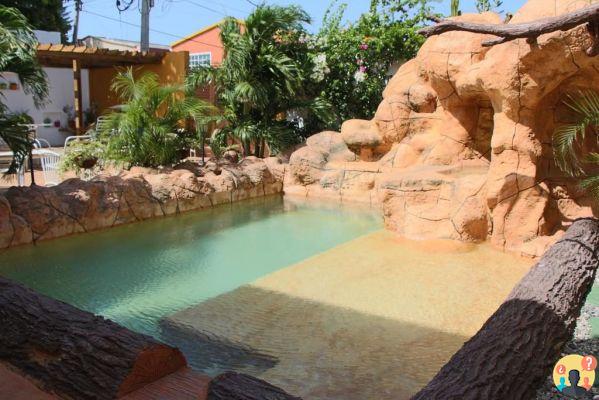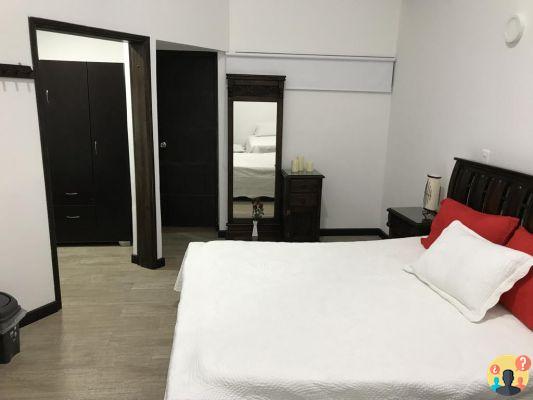 Caribbean Island Hotel ($$)
O Caribbean Island Hotel It is very well located, 100 meters from the island's good restaurants and the main beach (Spratt Bight). All apartments have air conditioning, a private bathroom, a mini kitchen and a 24-hour reception. To stay in a room with a sea view, opt for the Superior Double Room with Sea View.
See Caribbean Island Hotel prices and availability by clicking here on Booking.com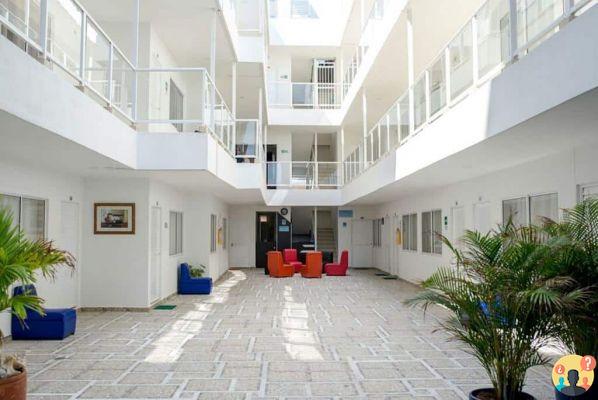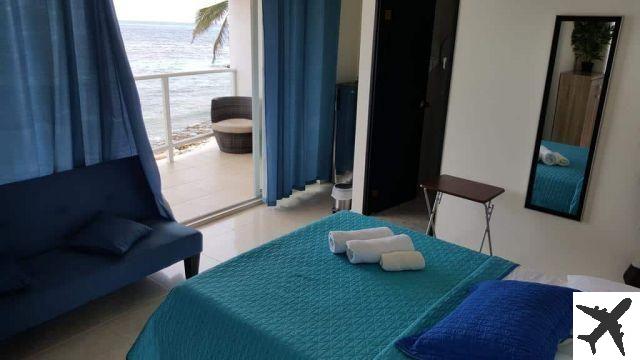 Hotel Casablanca ($$$)
In front of the beach and surrounded by palm trees, the Casablanca hotels has a typical Caribbean astral. The hotel has four restaurants, an outdoor swimming pool and all rooms have a terrace, air conditioning and TV. It is an excellent option for couples and families looking for comfort and peace in front of the beach.
See prices and availability for Hotel Casablanca by clicking here on Booking.com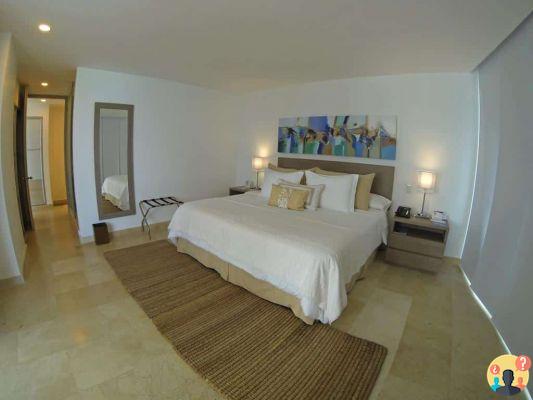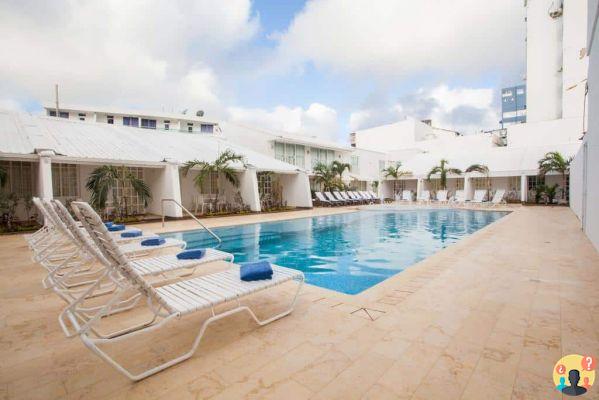 Villa Maru ($$$)
A Villa Maru it feels more like a luxury beach house than a hotel in San Andres itself. The outdoor pool, well-lit, air-conditioned apartments and modern decor are the highlights of the Villa Maru. The location is another strong point, as it is just a 10-minute walk from the center.
Some suites have ocean views and spa baths on the balcony. In addition, the hotel serves a continental breakfast with fruit and Colombian coffee (delicious!) every day.
See prices and availability for Villa Maru by clicking here on Booking.com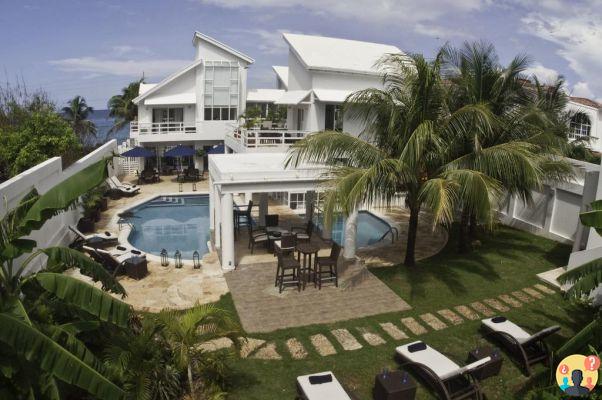 Island Decameron – All Inclusive ($$$)
The Decameron hotel chain offers different types of properties in San Andrés. The most luxurious of these is the Island Decameron, which offers All Inclusive packages in a mega resort on the seafront. In addition to being next to the beach, it is also very close to the shopping center.
Even so, you may not even want to leave the hotel to enjoy all the infrastructure it offers: swimming pool, gym, SPA, water sports, restaurants, among many other options. It is a great option for families, groups of friends and couples who want to make the most of the beachfront.
View Decameron Isleño pricing and availability by clicking here, no Booking.com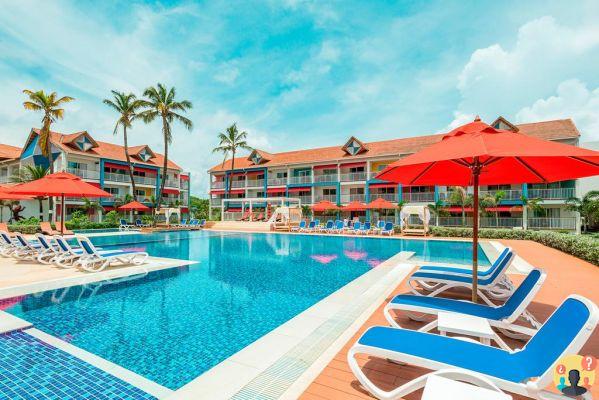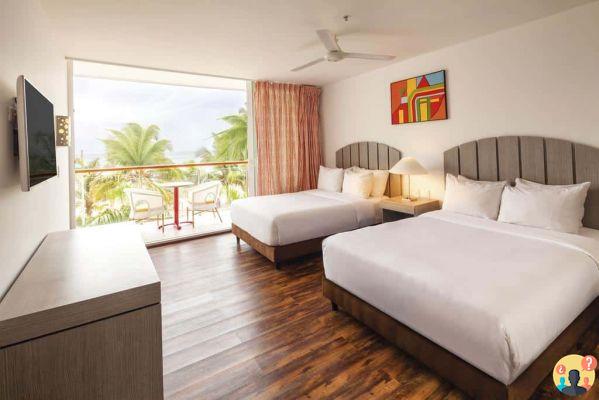 Want to find good hotel deals in San Andres?
See the discounts that are only available TODAY No. Booking.com
General tips before going to San Andrés
ID or passport?
Colombia – like Argentina, Uruguay, Paraguay, Ecuador, Chile, Peru, Bolivia and Venezuela – does not require a passport from Brazilians who visit the country. Therefore, with the RG you can travel without worries. But it is important to consider that the banknote must be in good condition and with a recognizable photo.
If you travel without a passport and need to make a connection in a country that requires the document (many flights to Colombia stop in Panama, for example), this will not be a problem. Because you will not need to go through immigration in this country. However, it is always good to check how many hours of wait you will have between one flight and another, or if there is no airport change.
Important: although it is allowed, when you choose to travel only with your ID, you are also at the mercy of having a little headache if certain unforeseen events happen, such as losing a connection and having to sleep in the country of stopover, for example.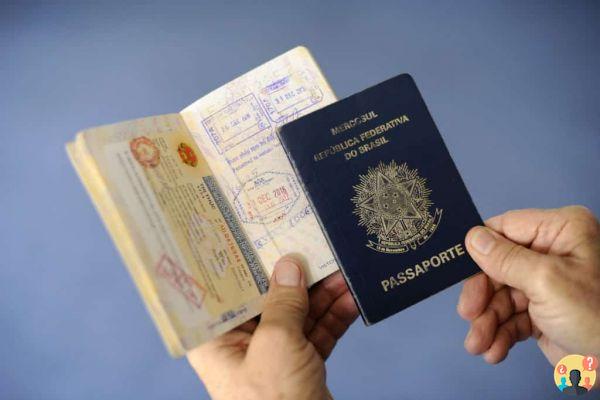 What currency to take to San Andres?
The official currency of San Andrés is the same as the rest of the country.to Colombia, the Colombian peso, but the dollar is also widely accepted there. Be aware, however, of quotes, which are often disadvantageous to tourists. However, with the high value and instability of the dollar, it is becoming more advantageous to take reais and exchange them directly for Colombian pesos at exchange offices there.*
As I would already be in Colombia before going to San Andrés, I did a research on the conversion rate at an exchange office in the city of Medellín before I even left España. My tip is that you do the same, because the difference can be quite considerable! Not all exchange houses exchange reais, but you will surely find some options.
*Price data from May/2018. Always check the price of the time you are planning to travel!
Which airline is cheaper?
The low cost airline (the famous low cost) of Colombia is Long live Colombia – the prices are really very attractive! However, it is important to take into account the restrictions of the company, which controls the weight and volume of luggage very strictly - this is how they profit from prices so below competitors.
The tip is to take some bulkier pieces of clothing and accessories on your body, to lighten the size of your luggage. It is also essential to remember to print your ticket at least two hours in advance, because if you need to check-in at the airline's counter, they charge the equivalent of R$30 for a mere piece of paper.
Another tip is to look for discounted flight prices on the Promo Tickets. You can get discounts of up to 35% off the value! We use it and recommend it – it's worth searching there!
Travel insurance for San Andres
Taking out travel insurance for San Andrés is an excellent way to ensure a smooth trip and avoid worries. Having the assistance of insurance gives you the peace you need to enjoy your destination and know that you have support if you need it. Also enjoy our Insurance Promo discount coupon. - SEE PRICES
Did you like our San Andres in Colombia tips? Tell us here.
Summary of the days of San Andrés
Best time to visit San Andres
It is possible to visit San Andrés throughout the year. Average temperatures are always between 28⁰C and 30⁰C. However, in October and November the rains intensify.
Onde fica San Andres
The island of San Andrés is located in the Caribbean Sea and makes up the archipelago that also includes the islands of providencia e Santa Catalina, belonging to Colombia. It is a 2h10 flight from Bogotá, on the west coast of Nicaragua.
Qual a lingua falada in San Andres
The language of San Andrés is Spanish, as is the case throughout Colombia. As it is a tourist destination, it is also possible to communicate in English with some people.
Do you need a passport to go to San Andrés?
Colombia, like other Mercosur countries, does not require a passport from Brazilians who visit the country. It is possible to travel with just the identity card.
How many days does it take to visit San Andrés
A week is a good time to visit San Andrés and relax in the Caribbean waters.
Or what to wear for San Andrés
Don't forget to bring bathing suits, towels and wraps, sunscreen, sunglasses, chargers (cell phone, machine) and flip-flops.
Where to stay in San Andres
Tranquilo Beach Boutique Hotel ($$), Island Decameron ($$$)
Things to do in San Andres
Go around the island passing by El Acuario Island, Haynes Cay, Johnny Cay, West View and go diving.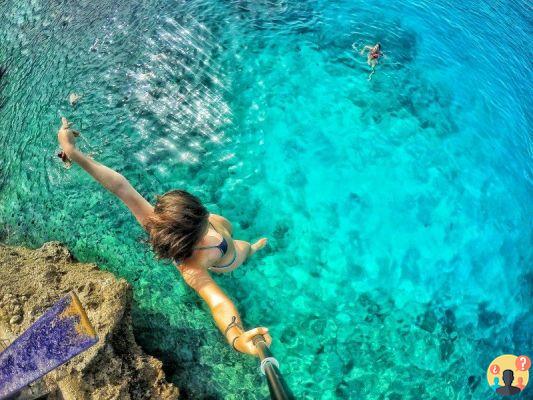 What you NEED to know BEFORE going to San Andrés
Are you full of things to think about and still have to plan your entire trip?
Or you've seen it all, but you're feeling that familiar "Have I forgotten something?" So calm down, we'll help you with some items you can't forget before boarding. Come on?
1) Have you already purchased your airline ticket?
Where to buy: PROMO TICKETS
Looking for a good deal and flight prices? When buying tickets to San Andrés, it is worth taking a look at the website Promo Tickets. It is quite common to find cheaper and better flight options than on other sites. We always use and is it worth it?
2) Have you booked your hosting?
Where to buy: BOOKING.COM
If you haven't booked your stay, the tip is to compare hotels, hostels and inns through Booking.com. This is the largest hotel booking platform in the world, ensuring a safe experience and great accommodation deals.
#StayHip: Keep an eye out for 'Smart Deals', which only last for one day. Some amazing hotels offer great discounts using this badge on the platform. If you find a good deal, is it worth closing?
3) Travel Insurance is ESSENTIAL
Where to buy: INSURANCE PROMO
Have you ever thought about having to pay medical expenses or having to shell out fortunes for setbacks on the trip? We already know of several cases of people who have gone through this.
Although travel insurance is not mandatory to enter San Andres, hiring a plan is highly recommended. Travel Insurance is cheap and a necessary investment to get rid of bigger problems that can happen during the holidays.
To find good travel insurance, compare prices and coverage on Promo insurance.
#StayHip: Save 10% on your travel insurance. use the coupon FORTRAVELOVERS to get 5% off and pay with boleto to guarantee an additional 5% OFF.
4) How to have unlimited internet while traveling
Where to buy: America Chip (5% discount with FORTRAVELOVERS coupon)
Did you know that it's getting easier – and cheaper – to have unlimited internet throughout your trip?
Just ask for an international cell phone chip through America Chip. We always use and love it! It sends a SIM card to your address in España, you insert it in your cell phone when you arrive at your destination and you have unlimited internet throughout the trip.
#StayHip: Save on car GPS rental and use GoogleMaps and Waze with your unlimited internet?
5) Rent cars at the best prices
Where to rent: RENTCARS
We really like RentCars to find the cars we use on our travels. It is the only one in Spain that compares the best rental companies in the world, but lets you pay in reais, without IOF. In addition, it is also the only one that lets you pay in 12 interest-free installments. Worth investing in if you need a car in Colombia!
#Here's a tip: Try to find cars with full car and third party insurance coverage. Thus, you avoid inopportune surprises when picking up the car.
Also, be very smart when closing with other car rental comparisons. That's because prices are usually charged in dollars and close with your card. If the dollar goes up, the price of your car rental goes up too.
Note: We highly value the credibility of our information. All the sites we recommend above are sites we already use, we have good experiences and feedback from readers!
In addition, it is worth checking out other useful information for your trip to San Andres
Items you can't forget to bring on your trip
What to pack for the beach
Read More
All about Jamaica – Caribbean Paradise
Caribbean Virgin Islands – Discover the US Virgin Island
Saint Martin – All about this Caribbean Paradise
Caribbean Islands – 7 Islands You Must Know
Tips about San Andres, Colombia – Everything you need to know
Cartagena Colombia – A complete guide to plan your trip
Hotels in Cartagena Colombia – The Best Options Neighborhood by Neighborhood
Providencia Island – The Colombian Caribbean
Things to do in Costa Rica – 3 Amazing Beaches
What to do in Pavones – Complete City Guide
What to do in Cerro Negro, Nicaragua – Skibunda on the Volcano
Guatemala Tour – What You Need to Know
Complete Guide to Guatemala – Everything to Plan your Trip
Where to Ficar in Guatemala – Las Lagunas Boutique Hotel
Where to Stay at Lake Atitlán – Hotel Casa Palopó
Things to do in Belize – Caye Caulker Guide
Things to do in San Blas, Panama – Complete Itinerary
What to do in Panama City – 1 Day Itinerary
International Travel Insurance – Is it worth it?
How and Where to Buy Travel Insurance – Step by Step