We have selected the essential attractions for you to include in your itinerary in Medellin. So, you can enjoy one of the main Colombian cities to the fullest. See below:
Anyone who sees modernity and innovation on the streets of Medellín cannot imagine that it was once elected the most dangerous city in the world. Discover everything you need to do on this itinerary in Medellin to make the most of this city that has known how to reinvent itself.
First of all, it is important to know that Medellín is the second largest Colombian city and is located in the Aburrá Valley, in the Andes Mountains. A region surrounded by mountains, parks and lots of nature. The pleasant climate is one of the attractions, it is not for nothing that the city is known as the city of "eternal spring", with temperatures around 24ºC.
The city that grew, struggled and developed, in addition to being an important financial center, attracts visitors from all over the world. Those interested in culture and entertainment will love discovering Medellín's attractions.
Buy your travel insurance at a discount!
Get 10% off with coupon FORTRAVELOVERS + payment by check.
Click here and enjoy!
In this post you will read:
After all, is Medellín dangerous?
Medellin route map
What to do in Medellin in 1 day

City tour
Plaza Botero
Museum of Antioch
Berrio Park and Lights Park
Where to eat

What to do in Medellin in 2 days

little town Paisa
Botanical Garden and Explora Park
Where to eat

What to do in Medellin in 3 days

Arvi Park
Commune 13
Metrocable Car
Where to eat

Take the opportunity to discover a neighboring city
Medellin itinerary – What to do at night
Where to stay in Medellin

Medellin Vibes Hostel
I will go to Medellin
Stellar La Torre Suites

Medellin – Travel Guide
Internet chip in Medellin
Medellin travel insurance
Colombia car rental
Flights to Colombia
Frequently Asked Questions
Read all our tips and posts from Colombia
After all, is Medellín dangerous?
Medellín's dark and bloody past is quite recent, dating from the 80s to the early 2000s. At that time, the city was the scene of terror and wars between drug cartels. One of these cartels was financed by Pablo Escobar – a drug dealer elected sometimes as the richest man in the world by Forbes.
The most tense and complicated years of this period were between 1983 and 1994. However, with Escobar's death in 1993, crime began to fall, and little by little crime was fought and the city began to have more peaceful and peaceful days. .
Today, Medellín no longer faces problems with cartels and drug trafficking, but there is no denying that there are still security problems, as in large metropolises. Being alert with your belongings and valuables never hurts (#ficaadica) and enjoy your trip.
Want to have unlimited internet throughout your trip?
Compare prices and buy your international travel chip in advance at America Chip, EasySim4U, my chip or with the Connected Travel.
Medellin route map
What to do in Medellin in 1 day
City tour
It is worth starting the day with a Free Walking Tour – city tours that are theoretically free, but it is always a good idea to offer a cash contribution at the end in the amount you think is fair. I did it with Real City Tours, they offer four different types of tours daily.
This city tour is not focused on Pablo Escobar – although it is almost impossible to tell the history of Medellín without mentioning him. However, you can find companies in the city that offer tours about the history of Pablo Escobar, in much more detail.
They are usually part-time or full-day tours, and they are paid.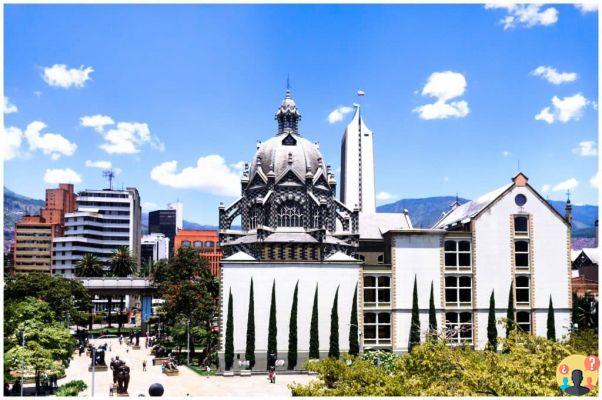 Plaza Botero
Even on the first day, if you didn't know it during your tour, visit Plaza Botero, there are 23 bronze sculptures by Fernando Botero. Medellin-born painter and sculptor. The works were donated by the artist himself. I do not recommend visiting this region at night.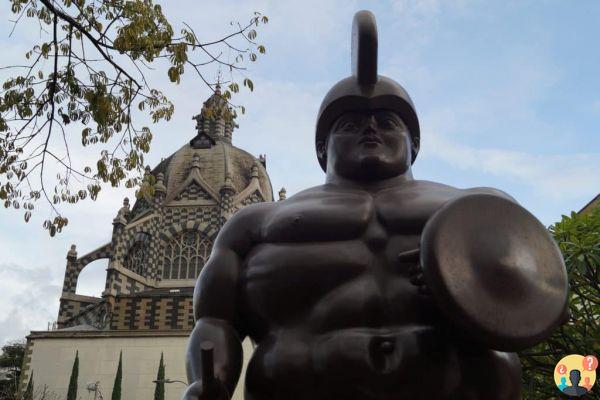 Museum of Antioch
Take advantage of the passage through the center and visit the Museo de Antioquia. There are more than 5000 items on display that tell the history and artistic expressions of Colombia, as well as sculptures and works by Botero.
Visit the museum from Monday to Saturday, from 10 am to 17:30 pm; Sundays and holidays, from 10 am to 16:30 pm. Admission is $22.000 COP.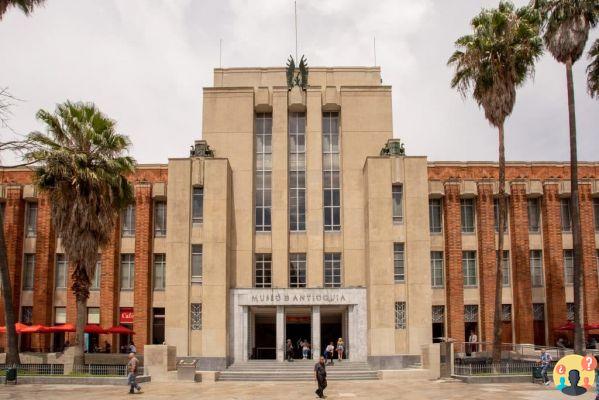 Berrio Park and Park of Lights
Since it's in the center, it doesn't hurt to stop by Parque Berrio and visit the Basilica Nuestra Señora de la Candelaria, the oldest church in the city.
And a 10-minute walk away is Parque de Las Luces, with imposing pillars that light up at dusk.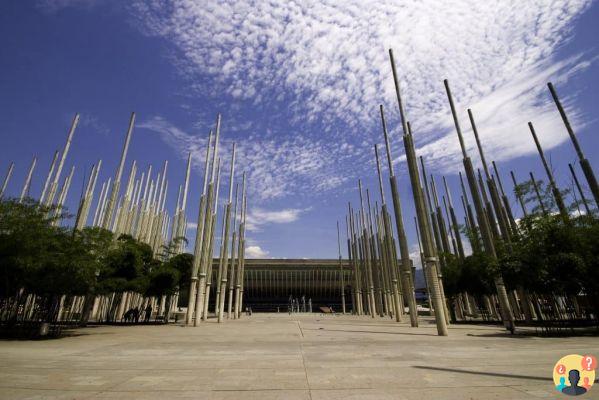 Where to eat
Enjoy the walk through the city center and have lunch at Hacienda Orijen. A restaurant with typical Colombian dishes and well served. Try the Tray Paisa, a typical Colombian dish – reminiscent of a feijoada.
Also take the opportunity to have a pot of water, rapadura juice, another typical item of the local cuisine.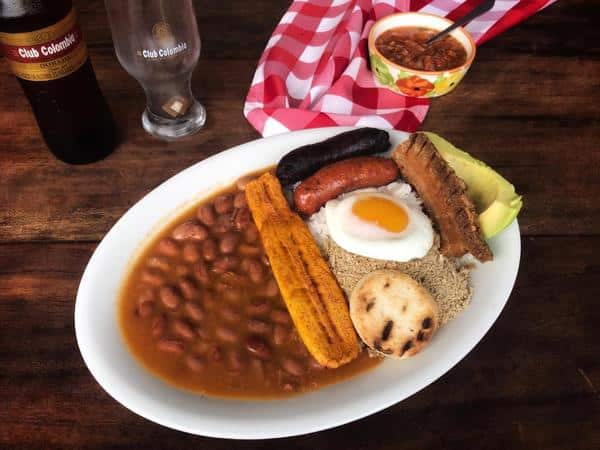 What to do in Medellin in 2 days
little town Paisa
Visit Pueblito Paisa, high up on Cerro Nutibara. It is a replica of the village that gave rise to the city, in the XNUMXth century, with some super charming houses, church, city hall and a central square.
It is approximately 40 minutes from the city center on foot. Public transport does not reach the top, the way is to face the climb – it can be heavy for some people, or order a taxi.
In addition to the view from up there, which is very beautiful, especially on blue sky days, there are some restaurant options for lunch or dinner. However, be warned: it is not the cheapest place to eat. A good option is to visit at the end of the day and enjoy watching the sunset.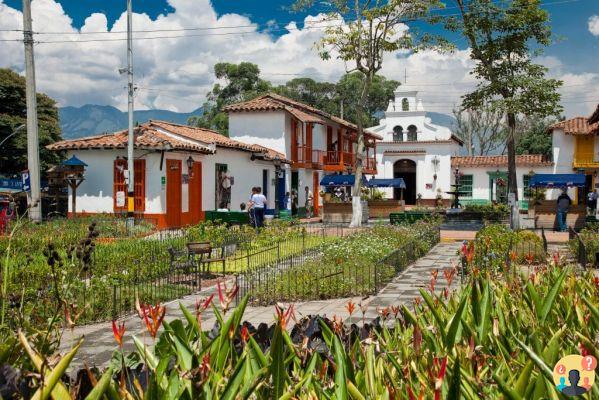 Botanical Garden and the Explore Park
Two tourist attractions very close to each other are the Botanical Garden and Parque Explora. The first, in addition to having free admission, is a very pleasant walk, especially on a hot day in the city. Walking in the middle of nature and breathing some fresh air is always invigorating. The garden is open from Tuesday to Sunday from 8:30 am to 15:30 pm.
Parque Explora is an outing for the whole family, children particularly enjoy the interactive areas with dinosaurs on display. In a fun way, you learn even more about science and technology.
Still in the park it is possible to visit the freshwater and saltwater aquariums, which serve as a center for university studies and for environmental awareness. In addition, there is a planetarium, a magical way to see and learn about the stars.
The park is open every day from 9 am to 17 pm. Admission starts at $20.000 COP per person.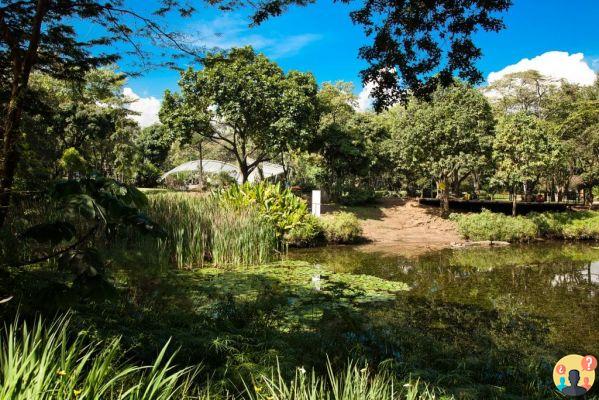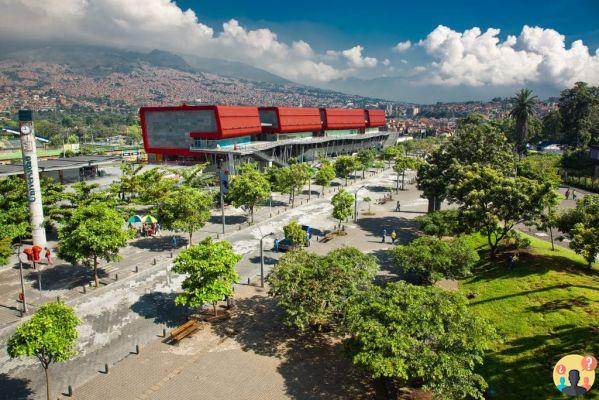 Where to eat
The Alambique restaurant has a very pleasant atmosphere, with a very varied menu. Located in El Poblado, on Carrera 41, number 10 – 3rd floor.
The entrance is a little hidden, but don't give up, find the shy little door and go up the stairs, you will be enchanted.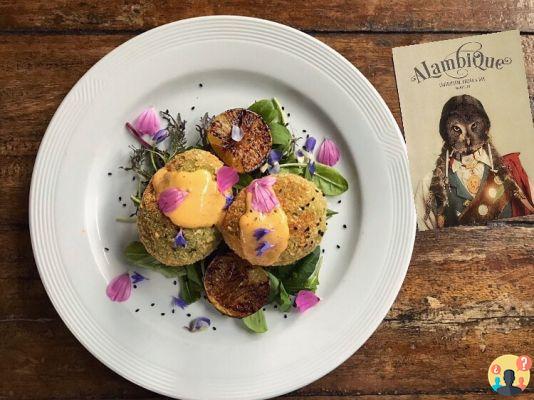 What to do in Medellin in 3 days
Arvi Park
You can already see that Medellín is a city surrounded by a lot of green and nature, and Arví Park is one of those places to go and enjoy. There, it is possible to take guided or self-guided hikes, ride bicycles and enjoy the day. It is open every day from 9 am to 18 pm.
The park is located at the top of the Santa Elena community. To get there you have to go by Metrocable Car. From Acevedo station, take Metrocable Line K to Santo Domingo station, change again and take Line L to Arví.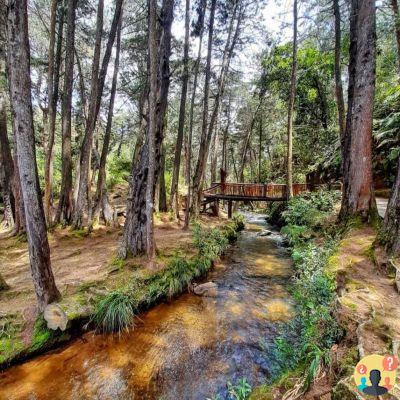 Commune 13
To complete the day, and if you want to know a little more about the current history and the changes that have taken place in the city, I suggest visiting Comuna 13, preferably with a guide.
This was one of the most violent neighborhoods, but it has changed and tells its story with large and colorful graffiti murals. It is one of Medellín's postcards. The ascent to Comuna 13 can be done by Metrocable Car – Line J; or by escalator – Escaleras electric de San Javier.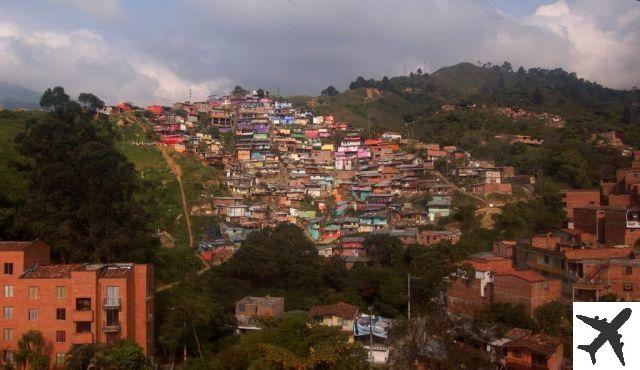 Metrocable Car
Many see the Metrocable Car as a tourist attraction in the city, but it is nothing more than a cable car. For you it may not be a big deal, but for the residents it was really an innovation that contributes a lot to the daily life of the city.
Here's a map of the city's subway that will help you better understand the paths.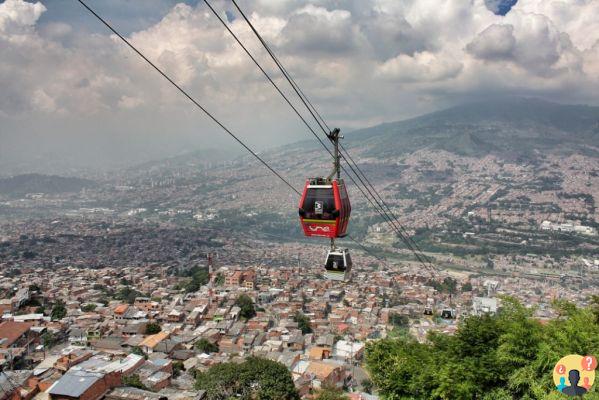 Where to eat
The La Matriarca restaurant is a good choice for lunch or dinner. With a menu of typical dishes, don't leave without tasting a good and refreshing coconut lemonade or the house sangria.
Located in El Poblado, on the corner of Calle 8 and Carrera 43C.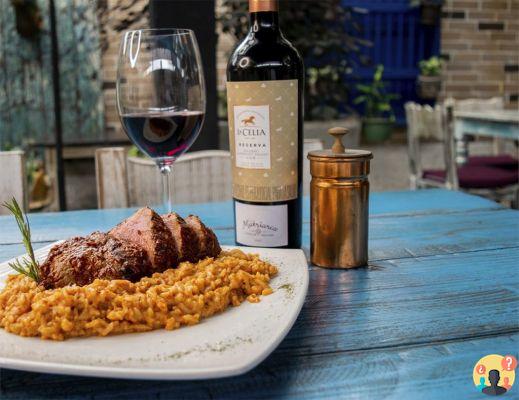 Take the opportunity to discover a neighboring city
Do you want to enjoy the trip and get to know another city? The tip is to visit El Peñol de Guatapé, located approximately 80 km from Medellín.
El Peñol is a rock that rises to 220 meters high. To climb, you have to face its almost 700 steps. Breathe in, but the view from up there is worth it. At the base of the rock there are shops and restaurants, but if you prefer you can bring your own food and have a picnic in the heights.
You can go on your own – buses depart from Medellín's North Terminal, and there are also guided tour options. I suggest booking a full day for this tour. It's a super nice place and a unique look, visit without haste.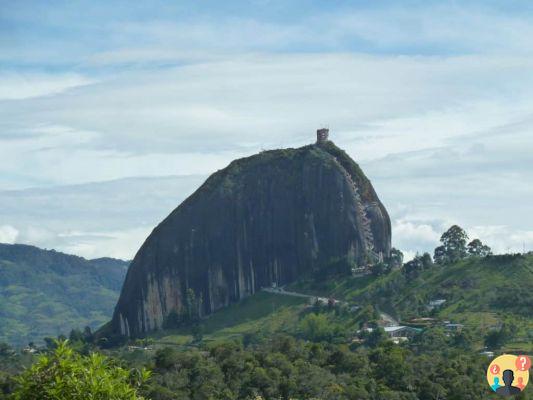 Medellin itinerary – What to do at night
Medellín's nightlife is very lively and attracts many visitors, especially in Parque Lleras, in the El Poblado neighborhood. This is a great place to find bars, laid-back restaurants, clubs and lots of salsa dancing.
Can't dance salsa? There's no excuse, it won't be hard to find a few lessons along the way... And then just fall into the night and have fun. The main bars are between Calles 10 and 11 and Carreras 33 to 43 in El Poblado.
Another cool tip of what to do in Medellín, not necessarily at night, is to go watch a football match. When I was in the city, I took a tour with the team to watch the match between Atlético Nacional de Medellín and Cerro Porteño, at the Estadio Atanasio Girardot stadium. There are other companies that offer this tour, I went with Futbol tour Medellín.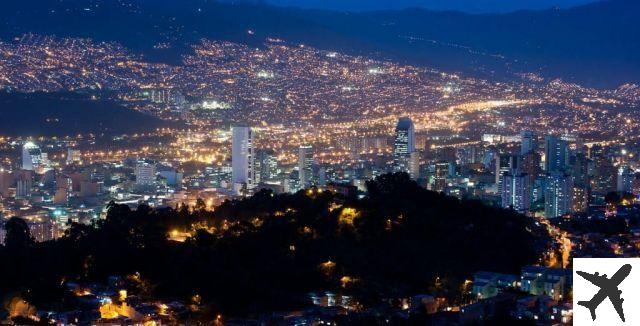 Where to stay in Medellin
The two main neighborhoods in the city are El Poblado and Laureles. The first is a lively neighborhood that attracts most visitors – that's where I stayed. In addition to accommodation, there are good options for bars and restaurants in the region.
Laureles, on the other hand, is a quieter neighborhood, looks more like Colombia and can be a little more economical. Here you will also have easy access to public transport, shops, bars and restaurants.
Another option is to stay in the center of the city known as La Candelaria Medellín neighborhood, although this is not an idea that I think is worth it. Here you will be just steps away from some of the main tourist attractions. It is a more commercial area, it can be quite noisy during the day and not very attractive at night, but it has easy access to public transport.
Take a look at the hotel suggestions in El Poblado (my favorite area) that we have put together for you.
Find the best accommodation in Medellin on Booking.com
Medellin Vibes Hostel
Medellín Vibes Hostel is located in the heart of El Poblado, with easy access to the train, less than a 10-minute walk from Poblado station. In the surroundings there are good options of bars and restaurants to enjoy the night. Take the opportunity to cool off in the outdoor swimming pool is available to guests.
The hostel offers double rooms and dorms (4, 6 and 8 beds), all rooms have private bathrooms, air conditioning and free Wi-Fi. But it also has great suites with private bathrooms for a super affordable price! ?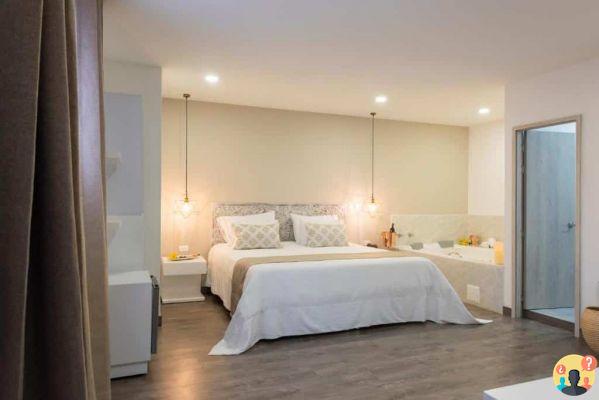 I will go to Medellin
The hotel Ibis Medellin It is located 30 minutes by public transport or 15 minutes by car from the city center. The nearest train station is Industriales. If you are traveling by car, parking is free.
Rooms are air conditioned and soundproofed. Wifi is free.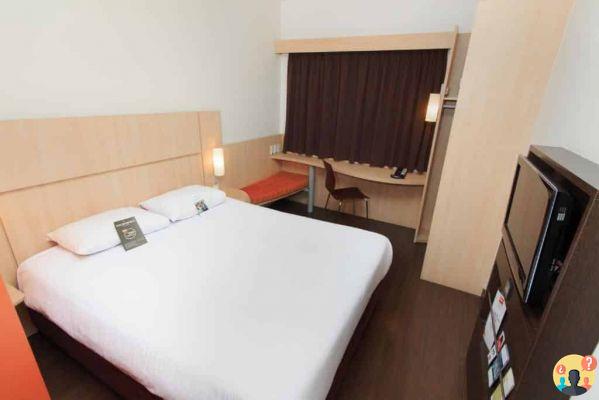 Stellar La Torre Suites
O Stellar La Torre Suites It is modern and has a great infrastructure. Perfect to enjoy your days in Medellín with calm and tranquility. It has an outdoor pool and an exclusive SPA service for guests.
Rooms with air conditioning, microwave, refrigerator and coffee maker. Wifi is free and reception is open 24 hours.
There is a a little further away from the hustle and bustle of El Poblado, and is a good option for those traveling by car or who don't mind relying on taxis to get around, even if only to get to the nearest station, Poblado – which is 10 minutes away by car. car.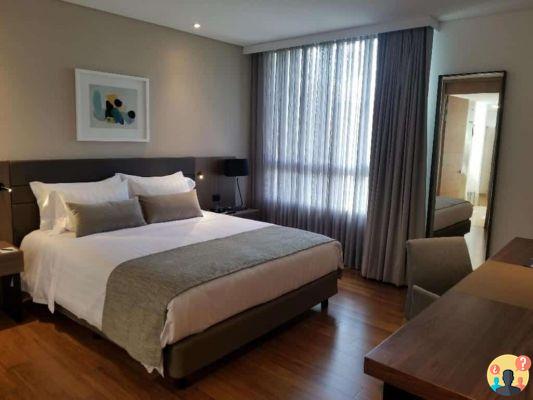 Medellin – Travel Guide
The city of Colombia's eternal spring is full of colors, life, history, culture and gastronomy! Surrounded by the mountains of the Andes, Medellín is an unmissable destination for anyone visiting Colombia. There are tourist attractions for all ages and tastes, walks in the city center, trails in parks, restaurants with typical dishes and beautiful landscapes wherever you look.
So don't waste time putting together your itinerary in Medellín. Put Botero square in your plan, the Antioquia museum and Parque de Las Luces too. If you are a nature lover, be sure to visit Arví Park and Medellín's Botanical Garden. For children, it is worth visiting Parque Explora and even Estadio Atanasio Girardot. See? Options abound!
So don't waste your time and book your trip to Medellin, Colombia. Who knows, you still don't enjoy and stretch your trip to Bogotá and Cartagena too? ?
Book all Medellin tickets and tours in advance and skip the lines with GetYourGuide
Internet chip in Medellin
It is getting easier and cheaper to have unlimited internet throughout your trip in Colombia. Nowadays you can buy an international cell phone chip online while you're still here in España. We always use and love it! You receive the sim card at your address and then just insert it into your cell phone to reach your destination with unlimited 4G internet working.
International Cell Phone Chip – Which is the Best and How Much Does It Cost?
America Chip – Learn How It Works
Viaje Conectado – Know everything about your travel chips
Medellin travel insurance
hire a Medellin travel insurance it's a great way to ensure a smooth trip and avoid worries. Having the assistance of insurance gives you the peace you need to enjoy your destination and know that you have support if you need it. Also enjoy our Insurance Promo discount coupon. - SEE PRICES
Read all about travel insurance:
What is the Cheapest Travel Insurance – Tips on How to Save
How to Get Travel Insurance – 5 Easy Steps [DISCOUNT]
Which Travel Insurance to Choose – 3 Infallible Tips to Help
Colombia car rental
Renting a car in Colombia is a great idea to get to know the surrounding cities and beautiful hidden beaches. We really like Rent Cars to find the cars we use on our travels. It is the only one in Spain that compares the best rental companies in the world and lets you pay in reais, without IOF. In addition, it is also the only one that lets you pay in 12 interest-free installments. It is worth it!
Flights to Colombia
Looking for a good deal and flight prices? When buying tickets to Colombia, it is worth taking a look at the website Promo Tickets. It is quite common to find cheaper and better flight options than on other sites. We always use and is it worth it?
Did you like the tips on what to do in Medellin? Comment here!
Frequently Asked Questions
How many days to stay in Medellin?
A good idea is to stay for at least 3 days in the city. You can check out a Medellin itinerary complete with what to do in the city each day. Check it out here.
What to do in Medellin in 1 day?
Start the day with a city tour of downtown Medellín, Colombia, and visit Botero square. Take the opportunity to visit the Museum of Antioquia and also the Berrio Park…continue reading.
Where to stay in Medellin?
The two main neighborhoods in the city are El Poblado – a lively neighborhood that attracts most visitors – and Laureles, a quieter, more Colombian neighborhood that can be a little more economical…continue reading.
What to do in Medellin in 2 days?
When setting aside 2 days to visit Medellín, it is worth visiting the Pueblito Paisa, the Museum of Antioquia, Plaza Botero, the Botanical Garden of Medellín and Parque Explora. Continue reading.
What are the top attractions to visit in Medellin?
Some of the main attractions in Medellin are Botero square, Pueblito Paisa, Comuna 13 and Parque Lleras. The best known parks are Parque de Las Luces, Jardim Botânico and Parque Explora. See more attractions in Medellin.
What to do in Medellin in 3 days?
Those planning a 3-day trip to Medellín in Colombia can include Comuna 13, Pueblito Paisa, Plaza Botero, the Antioquia Museum, the Botanical Garden, Parque Explora and…continue reading.
What to do in Medellin at night
?
Medellín's nightlife is very lively and attracts many visitors, especially in Parque Lleras, in the El Poblado neighborhood. This is a great place to find laid-back bars, clubs and restaurants. Learn more at itinerary in Medellin.
Read all our tips and posts from Colombia
Caribbean Islands – The 11 best to book your trip
Hotels in Cartagena – Top tips for your stay
Itinerary in Medellin, Colombia – What to do from 1 to 3 days
Medellín travel insurance – See why it is important to hire one
Bogotá tourist attractions you need to know
What to do in Bogotá from 1 to 3 days in the city
Bogota,
Bogotá travel insurance – Understand the importance of hiring
Cartagena
Cartagena travel insurance – Find out why and how to buy it