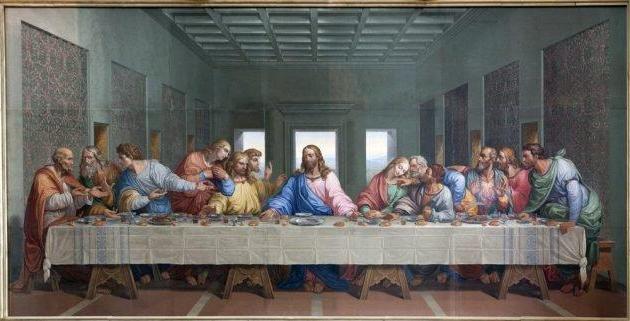 Summary
History of the Last Supper of Leonardo da Vinci
- The origin, Leonardo da Vinci
- A thoughtful last meal
- A different realization technique
- The Last Supper of Leonardo da Vinci, a survivor
- World fame and contemplation
What to see at Leonardo da Vinci's Last Supper in Milan?
- Other places to see after Leonardo da Vinci's Last Supper in Milan
How do I go to see Leonardo da Vinci's Last Supper in Milan?
Timetables & prices to see Leonardo da Vinci's Last Supper in Milan
- SCHEDULE
- RATES
- The little extra in the ticket cutter
GOOD TO KNOW
The Last Supper of Christ, Leonardo da Vinci's Last Supper, is now on display in Milan, in the church of Santa Maria delle Grazie. Are you ready to uncover its final secrets?
Although several copies of this emblematic mural exist, the original of Leonardo da Vinci's Last Supper is in Milan. Its gigantic dimensions - 460 x 880 centimetres - make this work one of the most impressive in the world.
A keen observer of religious writings, Leonardo da Vinci was able to set up a rather complicated and very strong scene for the Christian religion. The Last Supper represents Jesus' last meal with his twelve apostles, at the moment when he announces that one of them is going to betray them. We then witness the reaction of each one of them, following this brutal announcement. Christians consider this gigantic work as one of the pillars of the Christian faith. According to them, it is the commemoration of the Eucharist, the sacrament perpetuating Christ's sacrifice, sometimes called the "Holy Supper" .
Also to be read: The 14 must-do things to do in Milan
History of the Last Supper of Leonardo da Vinci
The origin, Leonardo da Vinci
Leonardo da Vinci is a man who will have left his mark on his time and on all those who came after him. A prolific artist, his works can be counted by the thousands, including drawings, sketches, studies, paintings, sculptures and other inventions. Even today, some of them are still shrouded in mystery and many researchers and historians are trying to understand them. The enigma that da Vinci represents will also impact other art forms, such as literature. We all remember the immense success of Dan Brown's "The Da Vinci Code". A novel whose plot revolves around Leonardo da Vinci's imposing creation and the interpretation that anyone can make of it. The mysteries evoked and the questions raised remain unsolved to this day...
A thoughtful last meal
Leonardo da Vinci's Last Supper is one of those landmark works, which do not leave anyone unscathed. Carried out at the end of the 15th century, between 1494-1495 and 1498, this "Last Supper" (Ultima Cena in Italian) of Christ was commissioned by the Dominican convent of Santa Maria delle Grazie, and specifically for its refectory. Three years of creation during which Leonardo da Vinci carried out a long work of preparation, research and observation. Testimonies tell that the painter sometimes spent several hours, or even whole days, strolling through the streets of Milan, in search of an inspiring face or a suitable posture. Sometimes he would start painting very early in the day and only stop once he was satisfied with his work, without eating or taking a break. At other times, he preferred to stand still in front of his work, probably thinking about his future movements.
A different realization technique
For the mural painting of the Last Supper, Leonardo da Vinci chose to use a different technique from the one in vogue at the time: tempera. This technique consists of applying a layer of calcium and magnesium carbonate before starting to paint. As a finish, the famous "tempera" is applied: an emulsion of eggs and oil, which should fix the pigments of the paint. The problem with this technique is that it does not resist very well to the ravages of time and humidity.
The Last Supper of Leonardo da Vinci, a survivor
In addition to an artistic technique that is not very resistant and which will be able to mishandle the work, Leonardo da Vinci's Last Supper will experience a few setbacks over the centuries. First of all, barely 20 years later, it was declared to be in an advanced state of disrepair. Then, the wall of the Last Supper is decorated with a door communicating between the refectory and the kitchen. A door that completely spoils the lower part of the scene. Then, in Napoleonic times, the refectory was transformed into a stable. A little later, the Napoleonic soldiers shot a gun at the wall and caused considerable damage to the ceiling of the Last Supper. Finally, the church is bombed... Miraculously, the wall remains standing. The Last Supper was restored as early as 1726, and then many other times, until the last restoration campaign from 1978 to 1999, by Pinin Brambilla Barcilon.
World fame and contemplation
The work now attracts millions of tourists every year. This is why we recommend that you opt for a ticket if you want to be sure to see Leonardo da Vinci's Last Supper. In order to properly manage the crowds and allow as many people as possible to see the fresco, the "classic" guided tours do not last very long. It will not be easy for you to stay more than 15 minutes in front of the Last Supper.
What to see at Leonardo da Vinci's Last Supper in Milan?
The main attraction of this cultural activity is of course the wall where Leonardo da Vinci's Last Supper, a timeless masterpiece, is painted. Discover the details of the work, saved by the various restorations that have managed to preserve the original features and colours.
Also enjoy the church of Santa Maria delle Grazie, a fabulous red brick building listed as a UNESCO World Heritage Site. It was founded, along with the adjoining monastery, in 1463. The interior of the building is worth a visit, with its very impressive and, above all, well-maintained architecture. The church itself is not out of the ordinary. Nevertheless, a visit to the church is a way to soak up some of the atmosphere in which the Last Supper was born.
Other places to see after Leonardo da Vinci's Last Supper in Milan
Being in Milan will also be an opportunity to discover the "Atlantic Code": a bound set of 12 volumes of drawings and scientific writings. All of them were created and described by Leonardo da Vinci himself, between 1478 and 1519. It is quite simply the largest collection of Da Vinci's drawings to date. Various subjects are evoked in it: preparatory sketches, drawings, research in mathematics, astronomy, culinary recipes, and philosophical thoughts and many invention projects. This "Codex Atlanticus" can be found in the Pinacoteca Ambrosiana.
If your stay allows you, also take the time to visit Milan, a city full of surprises. Capital of fashion and shopping, it is also a city of history. The famous Duomo (Duomo di Milano) is just a short distance from Leonardo da Vinci's Last Supper. The Vittorio Emanuele II Gallery houses prestigious boutiques and as you walk through it you will come across the luxury theatre, the Scala of Milan. A very famous building, it has a museum with an incredible collection of works related to opera. An ideal stop to complete the visit to Leonardo da Vinci's Last Supper.
How do I go to see Leonardo da Vinci's Last Supper in Milan?
By metro: line M1 (red), stops Conciliazione or Cadorna; line M2 (green), stop Cadorna.
By suburban train: lines S1, S2, S3, S4 to the Cadorna stop.
On foot: 20 minutes walk from Dome (city centre).
By bike: popular equivalent of the Parisian Vélib', they allow you to move around the city.
Timetable & Prices to see Leonardo da Vinci's Last Supper in Milan
SCHEDULE
Discovery tour of the Last Supper (groups of up to 25 people, French available): Tuesday to Sunday, 8:15 am to 6:45 pm. Duration: 30 minutes.
Discoveryvisit of the Last Supper (in English): Tuesday to Sunday from 8:30 am. Duration: 1 hour.
Private visit of the Last Supper (must be booked in advance): 12 times a day. Tuesday to Sunday from 9:00 am to 5:00 pm. Duration: about 1 hour.
Half-day excursion with ticket and visit (in English): Tuesday to Sunday, morning or afternoon, every quarter of an hour between 8.30 a.m. and 2.15 p.m. Duration: 3 hours.
Closed on Mondays, January 1, May 1 and December 25.
RATES
Discovery tour of the Last Supper (French): from 44 € per person depending on the tour and options selected.
Ticket with visit (English): from 50 €.
Ticket for a private visit to the Last Supper: 186 € for one person. Namely: the fixed price is €160 for the guide, plus €26 per person. For groups of more than 7 people, this rises to 49 € per person (in addition to the 160 €).
Half-day excursion with ticket and tour: 68 € per person.
Reduced prices for 18-25 year olds and 6-17 year olds. Free under 6 years old.
The little extra in the ticket cutter
With a ticket, you will have the opportunity to discover this fantastic painting with an expert English-speaking guide to make the most of anecdotes and other sensational little stories. Each visitor has a headset with real-time commentary on what you are admiring.
Thanks to this advantageous ticket, you have the opportunity to avoid the endless queues and immediately immerse yourself in da Vinci's extremely rich and teeming universe.