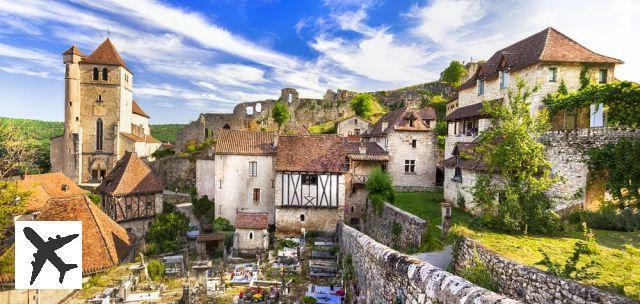 Summary
1. Saint-Cirq-Lapopie Castle
2. Rignault Museum
3. Church of Saint Cirq-Lapopie
4. The Breton House
5. Bancourel's point of view
6. Medieval Houses
7. Daura Houses
8. Moulin D'Aulanac
9. Cirque de Vènes
10. Rock of Lapopie
11. Holy Cross Chapel
12. La Fourdonne
13. The Wine Museum
14. Bread Pilgrims
How to get to Saint-Cirq-Lapopie?
Where to stay in Saint-Cirq-Lapopie?
In this village perched at the top of the cliffs of the Lot, so much splendour does not leave one indifferent, what are you waiting for to visit Saint-Cirq-Lapopie?
Describing Saint-Cirq-Lapopie is not easy, as the beauty of this village with its gothic houses is omnipresent! Situated in the heart of nature and on the water's edge, this medieval village is one of the most intimate in France. In addition to having been elected the favourite village of the French in 2012, it abounds in sumptuous historical monuments. When you arrive in this town, you will quickly feel like you've never been here before. Castles carved out of the rock, narrow streets with cobblestones marked by time and rocky cliffs... Saint-Cirq-Lapopie definitely has a lot to offer you. There, anything can happen: the beginning of a love story, a family holiday or a first solo trip. Whatever your intentions, visiting Saint-Cirq-Lapopie should be at least once in a lifetime.
Also read :
The 21 must-do things to do in Occitania
The 9 most beautiful villages of Occitania
The 20 most beautiful villages in France
1. Saint-Cirq-Lapopie Castle
To visit Saint-Cirq-Lapopie at its best, you must absolutely start with its castle! If you've never tasted castle life, Saint-Cirq-Lapopie's will amaze you. Situated in the main street of the village, this beautiful castle offers visitable remains and guest rooms. Inside, you will find sumptuous period paintings and decoration from another era. If you stay there for a few nights, you will appreciate its breathtaking view of the Lot.
Its little extra? A swimming pool on a rocky hillside. Nothing better to relax after a long day's sightseeing.
2. Rignault Museum
The Musée Rignault is a traditional Saint-Cirquoise house. By visiting it, you will instantly immerse yourself in the intimacy of the village.
Moreover, you can enjoy a country stroll in its flowery gardens. From there, you will have a breathtaking view of the green Lot valley. A haven of peace not to be missed!
3. Church of Saint Cirq-Lapopie
The imposing Gothic church of Saint-Cirq-Lapopie was built in 1522. Its carved acanthus leaf decoration from the 12th century and its 13th century wall paintings will catch your attention.
To visit it and admire its Gothic style of yesteryear, just enter it. Visits, like many other places in Saint-Cirq-Lapopie, are free all year round. It is a must to visit Saint-Cirq-Lapopie!
4. The Breton House
This house is named after the famous author and poet André Breton, its former owner. It belonged to him from 1951 until his death. Every summer, he returned to this very special house. And for the record, he invited all his friends to put their suitcases there at the same time as he did. Man Ray, Miró, Max Ernst or Henri Cartier-Bresson stayed there. Visiting Saint-Cirq-Lapopie will immerse you in French art and literature!
Moreover, this magnetic place, totally out of time, is now within everyone's reach. Come and discover this place where surrealist art, poetry and freedom of thought were once in turmoil. This house or the nature that surrounds it may help you find inspiration. Buy water paint and a blank canvas to transform yourself into a budding artist. It's a great opportunity to let your imagination run wild.
5. Bancourel's point of view
Visiting Saint-Cirq-Lapopie is a great way to enjoy the beautiful view overlooking the lush green valley with benches and tables. You will be able to come and have a picnic or even have dinner there. Far from everything, you will have only one thing to do: relax and listen to the birds singing.
It's easy to get there. Go to the car park n°5 le Bancourel at only five minutes walk from the village in the heights.
6. Medieval Houses
Cross time in the most beautiful way by walking through the cobbled streets of this medieval village. Stroll and create your own route or opt for a guided tour of the historic centre. This tour offered by the tourist office retraces the rich history of Saint-Cirq-Lapopie.
For two hours, you will be able to contemplate the remains of the seigneurial castle as well as the merchant and medieval houses. Thanks to an experienced guide, all the secrets of this uniquely charming town will be revealed to you. But hush! This remains between us, you and your guide.
7. Daura Houses
In the Daura houses, a centre for research and artistic innovation emerged at the beginning of March 2005. Since then, artists and researchers from all over the world have come to collaborate on different projects. During the summer, visitors can discover works created in the spring.
You will also have the opportunity to exchange with the inhabitants of the village. In particular by strolling down the main street of the village. There, all the artists and craftsmen know each other. Thanks to them, Saint-Cirq-Lapopie has kept its authentic aspect year after year. Maybe you will even see a man on horseback on a street corner... Who knows?
8. Moulin D'Aulanac
You'll soon feel like you're in a fairy tale in front of this mill made up of exposed stones and half-timbering.
If you would like to discover the interior and its two pairs of millstones, book a visit directly at the tourist office. Otherwise, admire the beautiful stones that make it up and that are reflected in the Lot.
9. Cirque de Vènes
This 14-kilometre loop is an absolutely divine towpath. You will see wild flowers in many colours. You will also enjoy a beautiful view of the cliffs of Tour-de-Faure and the Lot valley. A perfect place to take unforgettable pictures.
Hiking lovers and Sunday walkers: this path is really worth taking!
10. Rock of Lapopie
In the shape of a teat, this rock once supported the first castle on the site. A belvedere was then built below it.
Today, the top of the rock offers an incredible view of the limestone rocks and the roofs of the village.
11. Holy Cross Chapel
Modernized in the early 1980s, this chapel overlooks the beautiful cliffs of Coudoulous. You will also be able to follow with your eyes the river downstream.
To reach this pretty Chapel Sainte-Croix, take the GR 36 in the direction of Concots. Then, you will need 20 minutes to reach it on foot. Don't forget to bring good trainers and a bottle of water!
12. La Fourdonne
This house, built at the end of the Renaissance period, is surrounded by greenery. It is also a meeting place where art and heritage are combined. Animations, playful visits, musical naps and events of all kinds are organized there.
If you wish to focus on art and opt for a specialised course, La Fourdonne also offers accommodation. A warm gîte where art and music will punctuate your stay from beginning to end. Visiting Saint-Cirq-Lapopie also means knowing how to take your time.
13. The Wine Museum
Two winegrowers welcome you to make you discover local products. Whether you are a small or a big gourmet, this museum offers tastings of gourmet products from Quercy (fois gras, truffle, saffron etc.). And of course, the unmissable Cahors wine!
In addition, the whole team knows the producers of the region very well. Come and awaken your senses and sharpen your palate at the Wine Museum.
14. Bread Pilgrims
Put on your baker's shell and take some pastry lessons with Pat Hains.
With the help of a wood-fired oven, you'll create your own bread and leave with it. Pat Hains studied bread baking in France, Italy and Germany. She was interested in European breads. The owner of the place will be able to tell you all about this French tradition which makes us unique in the world.
How to get to Saint-Cirq-Lapopie?
By train: from Paris Austerlitz or Lyon Perrache, take an intercity train to Cahors. Then change from the train to bus 889 to stop at Tour-de-Faure.
By road: from Bordeaux, take the A62 and then the D953. You will arrive in Saint-Cirq-Lapopie in only 3h11. From Montpellier, you won't have much more time to travel. If you take the A75, it will only take you 3h22 to get to this old village.
Where to stay in Saint-Cirq-Lapopie?
For lovers of barbecues and pétanque games, the campsite La Truffière will be ideal. It is situated in the heart of the regional park of the Causses du Quercy and has its own heated swimming pool.
Not far away, you can also opt for a nature break by trying out a fun concept: modern yurts. Again you will have access to an outdoor swimming pool and heated indoor pools. Les Hauts d'Albas is open all year round and will be able to introduce you to this unusual accommodation straight from Mongolia.
Finally and for those who love comfort, you can choose to sleep in the pleasant Sombral inn or in one of the rooms of the Spa le Saint-Cirq hotel. These two establishments are located in the middle of the village. They will allow you to stay immersed in the medieval atmosphere.
There you go! If tomorrow your friends ask you: "What to do in Saint-Cirq-Lapopie?" you'll be spoilt for choice. It's simple, enchantment is everywhere. Don't hesitate to go to the tourist office at the beginning of your stay for even more good ideas to visit Saint-Cirq-Lapopie. Finally, tell us the place you preferred in the comments once your stay is over.