The 11th century Byzantine monastery is perched on a cliff on the island of Amorgos.
High above the Aegean Sea, on the island of Amorgos, the easternmost of the Greek islands of the Cyclades, lies the spectacular Byzantine monastery of Panagia Hozoviotissa. Visible only from the sea like a luminous white spot, it clings to the cliff 300 meters above sea level. The monastery was built in the 11th century to protect a 9th century religious icon of the Virgin Mary from marauding pirates. The icon, which is on public display inside the monastery, is believed to have mysteriously arrived on the shore just below on an unmanned boat from Palestine.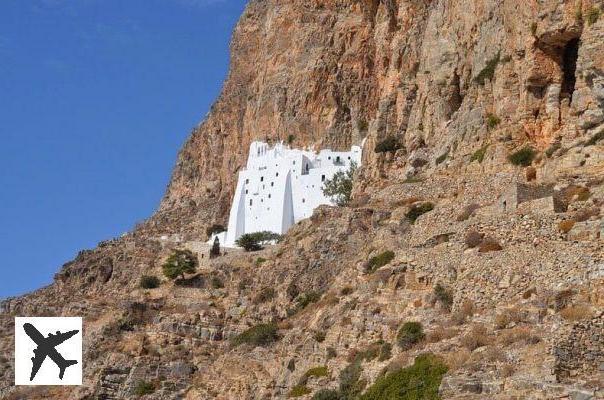 The building of the monastery is stuck against the cliff face. It is about 40 meters high and 5 meters wide, and has 8 superimposed floors that are wider, using niches in the rock. Its interior resembles a labyrinth between the church, the rooms (about a hundred!) and the various auxiliary rooms forming a whole which, with ingenuity and ease of use, meets the needs of monastic brotherhood.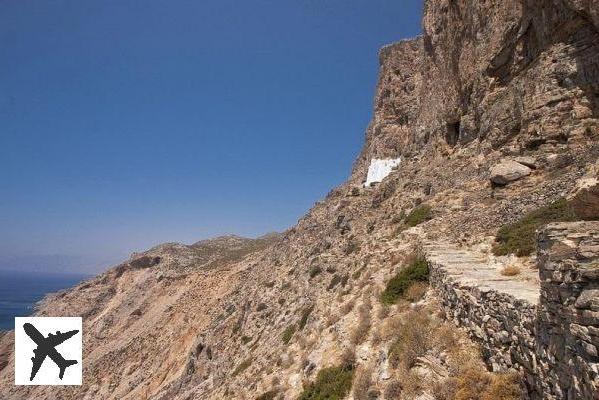 A small stone staircase leads to the narrow and low entrance on the east side of the monastery. There used to be a retractable wooden ladder, which could be raised to prevent the invasion of unwanted visitors in difficult times of pirate attacks. The exterior of the building as it stands today is the result of several transformations that have taken place over time. The ogive above the door dates back to the 15th century, while the carved stone door frame was installed during the renovation of the monastery in the 17th century.
There are numerous cells for the monks, a kitchen, built-in ovens designed with semi-circular arches, and a cellar for storing grain and wine. The monastery altar with the wooden ceiling and the impressive monastic table are also interesting to see.