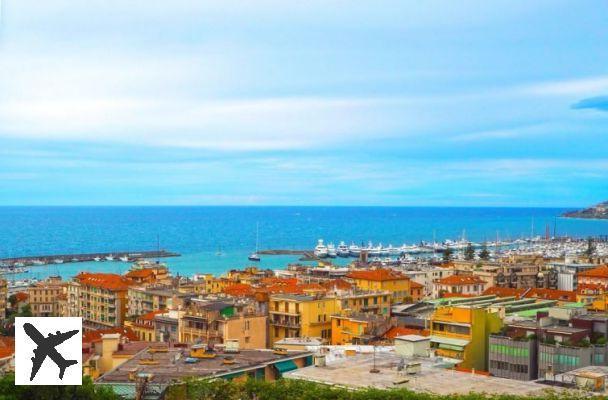 Summary
What kind of boat to rent in Sanremo?
How much does it cost to rent a boat in Sanremo?
How to rent a boat in Sanremo?
Do I need a license to sail in Sanremo?
Our tips for boating in Sanremo
When is the best time to sail in Sanremo?
Ideas for boat itineraries from Sanremo
- Cetacean and Dolphin Watching
- Stopover in Monaco
On vacation on the Ligurian coast? Discover one of the most beautiful harbours of the Mediterranean thanks to boat rental in Sanremo!
In northwestern Italy, in the province of Imperia in Liguria, lies the city known as "The City of Flowers". Sanremo is located along the coast, a few kilometres from the French border. Its privileged location allows you to enjoy its long sandy beaches and many water sports activities in crystal clear waters.
What if you discover the Ligurian coast in a different way, thanks to the boat rental in Sanremo?
Also to be read: Airbnb Sanremo: the best rentals in Sanremo
What kind of boat to rent in Sanremo?
Sanremo is one of the largest marinas in the Mediterranean. In fact, it is home to all kinds of boats, from the smallest fishing boat to the mega yacht. With or without a licence, you can rent inflatable boats and motorboats here. Stars, speedboats, helmsmen, zodiacs, they accommodate from 4 to 12 people.
Sailing boat enthusiasts can also rent sailboats and catamarans, alone or accompanied by a skipper. Finally, it is possible to rent a yacht in Sanremo, for a luxurious and relaxing sea trip.
How much does it cost to rent a boat in Sanremo?
The price range for renting a boat in Sanremo is so wide that you will certainly find something to satisfy you. You can rent a boat in Sanremo without a licence from 100€ for half a day and 150€ for a full day.
The great variety of motor boats explains the wide range of prices for them. For example, you can rent a boat of medium power for between 125€ and 800€ a day, with or without a captain on board. More powerful boats can be rented from 750€ per day up to 1,400€.
If you do not have a boat licence, or if you are not comfortable with the type of boat you are renting, it is strongly recommended to hire the services of a professional skipper. His presence on board is charged between 100€ and 500€ per day, in addition to the boat rental fee.
The rental of a sailboat is charged between 500€ and 1,200€ per day and almost only in the presence of the captain on board.
Good to know: to these rental rates must be added the cost of fuel and the deposit.
How to rent a boat in Sanremo?
Sanremo is a very dynamic yachting area. In fact, you will find many boat rental companies there. From the unlicensed model to the luxury yacht, the providers offer you a personalized service, at roughly similar prices.
You don't want to choose your boat rental in Sanremo by chance? What if you go through one of the platforms specialized in this activity such as Click&Boat?
Indeed, these platforms list for you all the advertisements available in real time from professionals and private individuals. So you can compare them in the blink of an eye! Refine your selection according to your criteria: date, model, presence of a skipper, etc. and find the boat of your dreams.
Most service providers, private or professional, are committed to making your trip to Sanremo a unique experience. They also offer you the possibility of renting nautical leisure equipment with your boat. For 25, 30, or 40€ added to your booking, take advantage of towed buoys, wakeboards or even flippers, masks and snorkels.
Do I need a permit to sail in Sanremo?
Given the heavy traffic in the port and the presence of many yachts and cruise boats, it is preferable to have a boat licence to navigate safely. However, you can rent a boat in Sanremo without a licence or hire a skipper if you don't have one.
Our tips for sailing in Sanremo
Sanremo has two ports: a public port and a private port. It is possible to moor free of charge in the public port, however places are extremely limited, less than a dozen.
There is no water, electricity or surveillance on these berths. On the other hand, it is essential to check in at the harbour master's office on arrival.
Portosole is the main marina in Sanremo. Located only 15 miles from Monte Carlo and in the heart of Sanremo, it is one of the most prestigious tourist ports in the Mediterranean. Privately owned, it welcomes more than 800 boats, from motorboats to mega yachts up to 90 metres long.
Port rates are given exclusively online or by phone depending on the characteristics of your boat. As an example, for a 10.5-metre boat, count 49 € per day.
When is the best time to sail in Sanremo?
Summer is of course the most pleasant season to sail. However, spring and the off-season offer a major advantage: favourable weather and still little sea traffic.
Ideas for boat itineraries from Sanremo
Discover two ideas for a sea trip in Sanremo and its surroundings:
Cetacean and Dolphin Watching
Liguria is home to a beautiful community of dolphins and whales that come to feed in the food-rich waters between June and September. For a chance to catch a glimpse of them, you can head just a few miles south out of the port of Sanremo.
Stopover in Monaco
From Sanremo, head east along the Ligurian coast to Monaco. Along the way, you will find a succession of coves, white sandy beaches and breathtaking scenery. You are sailing partly in the middle of the cetacean sanctuary, so be careful, and keep an eye out!
Your navigation will take you quietly to the mythical Monaco where you can dock for the day, or stay for a magical night. You return by the same way, or by the open sea.
From now on, boat rental in Sanremo has no more secrets for you!