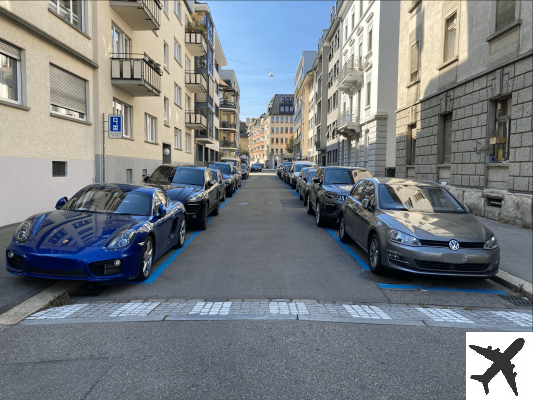 So, where do you go to find parking in Zurich? For Travel Lovers have the answer: remember our travel tips below.

Find your cheap parking in Zurich
Zurich is not only Switzerland's main financial city, but also has many cultural and tourist attractions that one should not miss. Magnificent churches such as Grossmünster or St. Peter's Church, as well as the Fraumünster convent, are necessary to see.
If you're an art or history lover, be sure to visit the Swiss National Museum or Museum of Fine Arts. If you prefer a more natural aesthetic, walk the Limmat River, Uetliberg (highest point in the city), and take in all the beauty that Zurich has to offer. To experience all this awesomeness, you'll have to find a place to park because it can get complicated. Here's your guide on where to find cheap parking in Zurich!

Parking in Zurich: street parking for a fee.
To park cheaply in Zurich, as elsewhere in Switzerland, you need to consider the zone in which you want to park. There are three different zones:
Blue zone: in Zurich you can park for free in these zones from Monday to Saturday, from 8 am to 12 noon and from 1.30 pm to 7 pm, thanks to a parking disc. For residents, this is the blue parking disc and for citizens of other countries, the European parking disc.

You can also buy a disk at gas stations or police stations. However, parking is limited to one hour. The time indicated on your disc must be within half an hour of your arrival. On Sundays and public holidays, parking in the blue zone is free of charge. Between 12h and 13h30, the time is not counted, but you will still have to place your disc. If you wish to park in Zurich between 7 p.m. and 8 a.m., the disc is optional - don't forget that the country is famous for its punctuality and the precision of its clocks!



Yellow zone: includes private and reserved spaces for individuals and companies. Do not park in these spaces under penalty of fine, unless you are a customer of an establishment or a guest of a resident.
White zone: groups together numbered and paid parking spaces. To park in Zurich in the white zone, you will need to take a ticket from the ATM. Parking time is usually limited to 2 hours. Rates vary by zone, but parking in Zurich in the white zone is usually expensive.
You can buy daily permits from the city of Zurich or from the police guards for the following zones:
Old city on the left side of the Limmat: 10 CHF/day;
Old city on the right side of the Limmat: 10 CHF/day;
Inner Circle 5: 10 CHF/day;
Langstrasse east/west: 10 CHF/day;
Blue Zone: 15 CHF/day.
Please note: if you exceed the allowed parking time, you risk a fine of CHF 40! So be on time!
And if you want extra information, in this other post we tell you how to park at Zurich airport.
Cheap parking in Zurich: free on-street parking
There is a free period of parking in Zurich, between 9 p.m. and 8 a.m., but it's important to make sure you move your car before 8 a.m., otherwise you will be fined.

Parking in Zurich in a secure paid parking lot.
There are many cheap parking lots in Swiss city of Zurich. To find a nearby and cheap parking lot, you can go to the Parkopedia website which lists more than 50 parking lots less than 15 minutes away from the city center. The parking lots that are especially cheap and not too far are listed below:
Hafendamm Enge: 1 CHF for 2 hours ;
Migros Limmatplatz: 2 CHF for 2 hours;
Strandbad Mythenquai: 1 CHF for 2 hours.
For parking in the center, you can also choose Parkhaus Urania. The prices are higher (4 CHF/hour the first hour and then 5 CHF per additional hour), but the flat rate for parking between 9 and 24 hours is 45 CHF.
Here is a handy tip for finding cheap parking in Zurich.