The largest city in Switzerland has tours that are essential for those who visit it. If you want to know what to do in Zurich, here are 8 tips!
Zurich is the largest city in Switzerland, located in the heart of Europe and at the foot of the Swiss Alps, is usually the starting point when visiting the country. Also known for being the Swiss economic center, it has already been named the city with the best quality to live in the world by Mercer's Quality of Living Survey and also the richest city in Europe.
Zurich was my starting point Switzerland and the first contact was already impressive. The city has the largest airport in the country, which has direct connections to 170 destinations around the world. In addition, it is only ten minutes by train to the central Station which is also the largest in the country.
The city itself has a lot to offer, the mixture of a modern metropolis with the historic side of an old city, makes Zurich a special and very attractive place for people of all kinds. The historic part is very charming, one of the most attractive in the city. Just being able to walk around Old Town already worth the visit.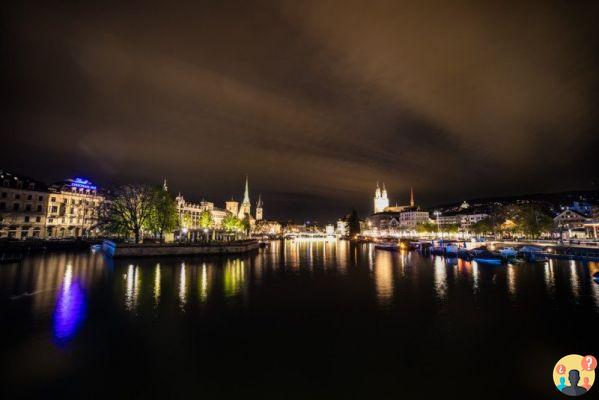 In contrast to the historic, many museums, galleries, restaurants, lively nightlife and trendy neighborhoods show a little of the city's atmosphere.
Zurich is also known as the water city, because it is everywhere. The city was built on the banks of the lake zurich and Rio Glued, which crosses the historic part. The curious thing is that the city has 1.200 sources of drinking water. So here's the tip: buy just one bottle of water and always fill it at one of the fountains or any tap in town.
In addition to the big picture, the question remains: what to do in zurich? We made a list with 8 must-see city tours.
1 – Bahnhofstrasse
It is one of the most popular streets in the city, it starts at the central station and ends at the lake zurich. Always very busy and full of famous stores, I recommend it as the first activity to do when starting to explore Zurich.
Walking from the central station, which alone is something to visit, to the end of the street, is essential. THE bahnhofstrasse ends with a beautiful view of the lake zurich, where you can start exploring the old part of the city.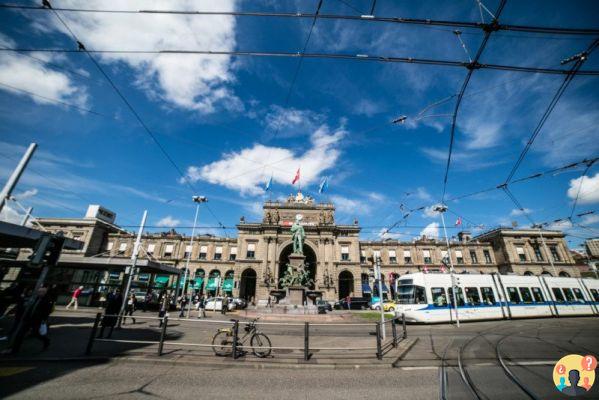 2 – Limmatquai
This is a street next to the Rio Glued in the historic part of town. Cars do not have access there, giving space to cafes, colorful shops and restaurants with Swiss specialties. THE I'm stuck It is without a doubt a pleasant walk (about 1km) along the river.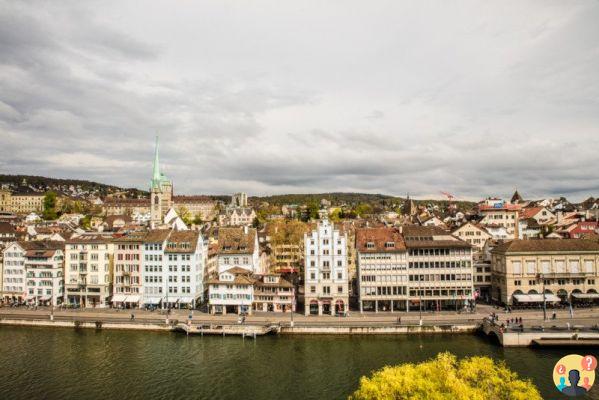 3 – Grossmünster
This Romanesque-style Protestant church on the banks of the Rio Glued, is certainly one of the most famous symbols of city ​​of zurich. Built around the year 1.100 and since then rebuilt and renovated several times. Today the church is open to visitors and what caught my attention were its stained glass windows (works by the German artist Sigmar Polke), which are completely different, modern and colorful, fleeing the traditional stained glass windows.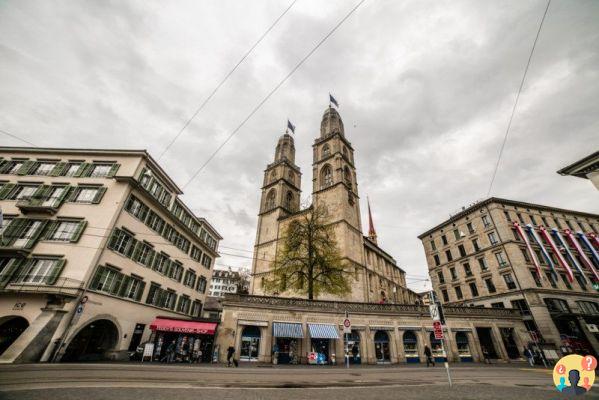 4 – Fraumunster
On the other side of Rio, five minutes away from Grossmunster, is Fraumunster, another famous church in Zurich. Despite being smaller, it is also popular for the huge stained glass windows by Augusto Giacometti and Marc Chagall, two renowned artists. You will drool when you see the five windows of chagall, where each one tells a story related to Christianity.
5 – Lindenhof
Undoubtedly one of the highlights of the city. For photographers or lovers of a beautiful view, Lindenhof It's definitely the best stop in the historic part of town. It used to give way to a Roman castle, which was destroyed, and today it has become a park. It is one of the most important places in the city, due to its history, location and landscape. It is the only park within the city walls.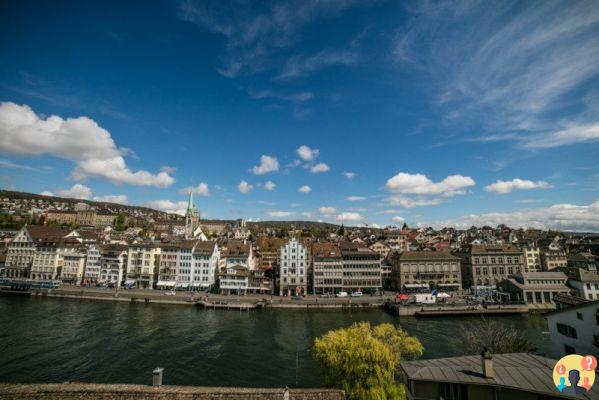 6 - St. Peter Kirche (St. Peter's Church)
This church is next to Lindenhof and is popular for owning the largest clock in churches of europe.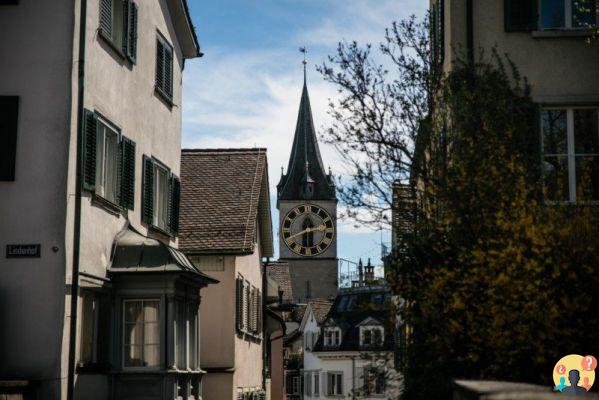 7- Rennweg
Rennweg was the main street during the middle ages in the city of Zurich. To this day it is one of the main attractions of the historic center, along with I'm stuck.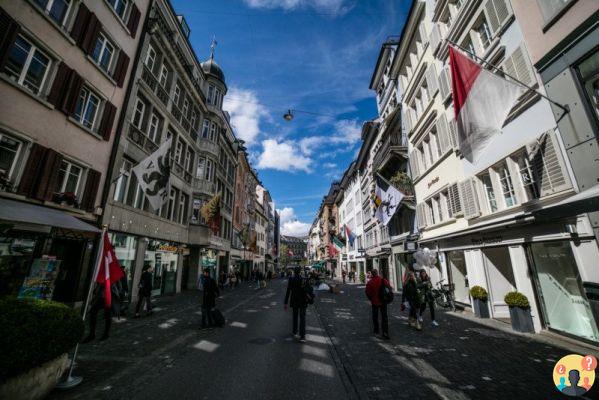 8- Zurich West – District 5 Quarter
Leaving the historic center aside, Zurich West it is a neighborhood of Zurich that you cannot miss visiting. A neighborhood that was once popular for its factories and industries and that after the industrial revolution became a trendy neighborhood. It kept its characteristics, but today it is known for its gastronomy, art, design, culture, architecture and nightlife.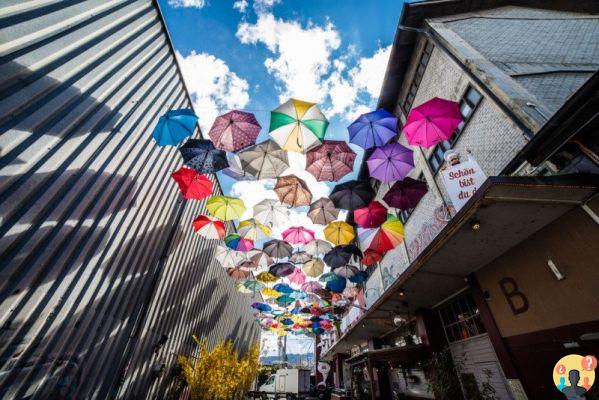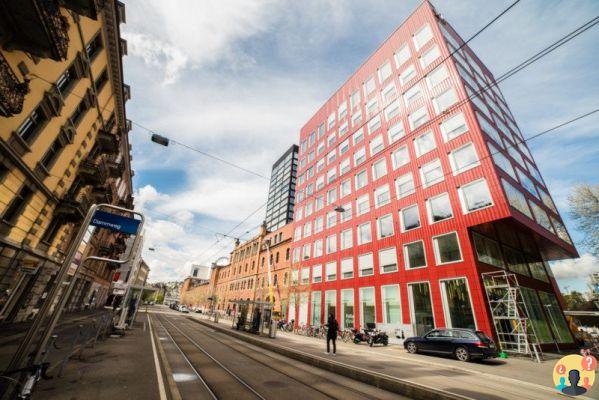 I will quote three attractions of the neighborhood that I liked the most, but a day walking around will make you discover much more!
• THE primeiro is Flagship store since Friday, a brand that became very famous in Switzerland for its bags with recyclable materials. It's a store built out of shipping containers and you can climb to the top for an amazing view of the city.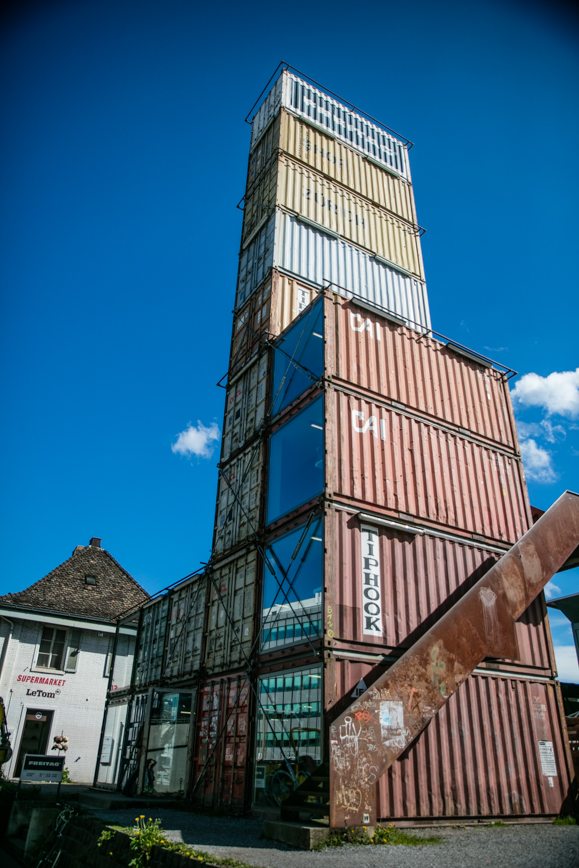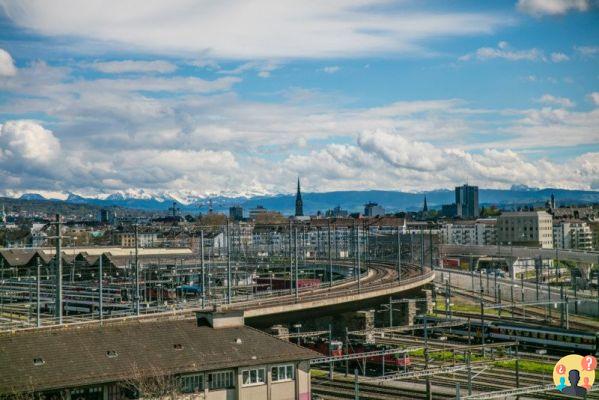 • Second: or Mrs. Gerold's garden maybe it was my favourite, a place with bars and tables where people meet on a sunny day to chat and chat.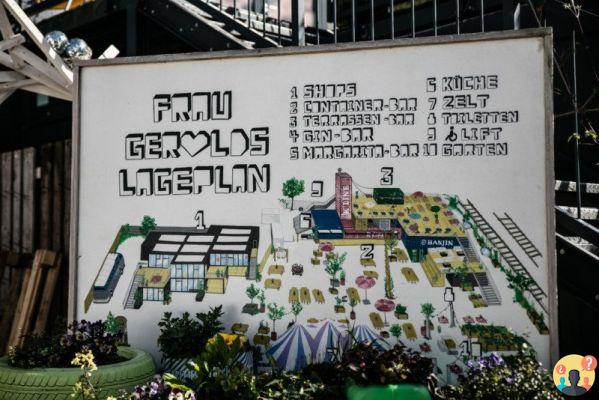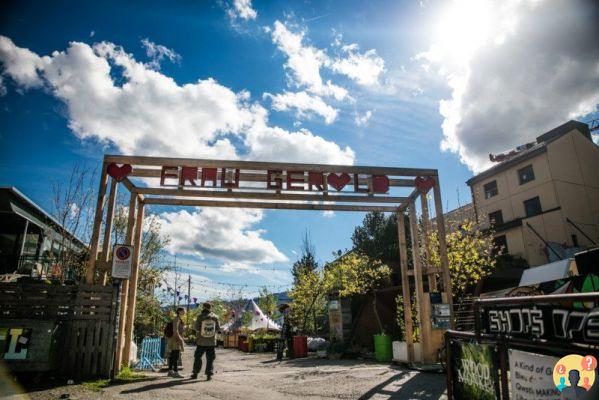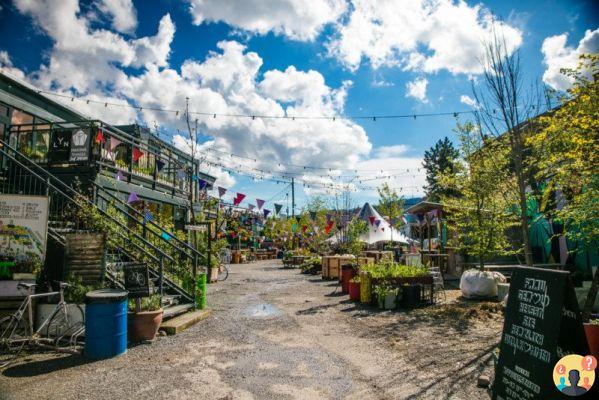 • Third: or Viadukt it is a viaduct and train line, which today has become a very different and modern shopping mall. Each overpass arch has a different store. It has a fair of regional and international foods with restaurants as well.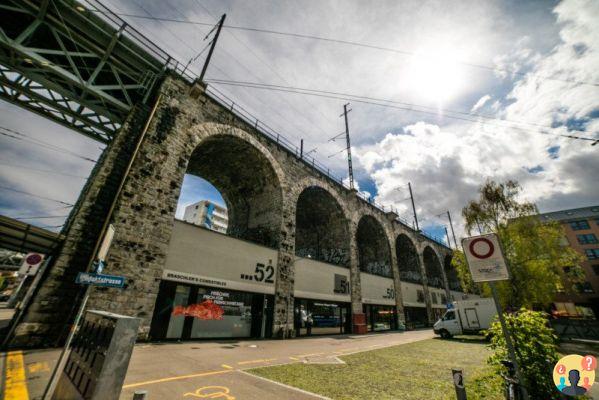 Zurich facts worth noting:
And then, I was able to jot down some tips about what to do in zurich? I also take the opportunity to share with you here some curiosities and information about this incredible city:
Zurich is situated at 409 meters above sea level.
The city is only 92 km squared and is divided into 12 municipal districts.
O lake zurich It is 28 km long and 4 km wide and has a maximum depth of 143 meters.
The average temperature in summer is 22 degrees Celsius and between -2 and 3,5 during winter.
The city is the largest in Switzerland, but has only 400 inhabitants. However, including the entire region of the canton of Zurich the number rises to 1,5 million.
The language spoken in Zurich is Swiss German a dialect little different from traditional German.
Of 2001 2008 to Zurich was considered the city with the highest quality of life standards in the world and from 2009 to 2013 it was ranked second according to the Mercer's Quality of Living Survey ranking.
1.224 is the exact number of water sources found in the city.
The city has about 400 hotels from the simplest to the most luxurious. Despite the city's standards, only 1,75% are five-star hotels. (I've heard that the Swiss don't like to snub and flaunt their wealth.)
A FIFA headquarters is located in the city of Zurich and it is still possible to visit the Fifa World Football Museum. It costs 24 CHF (Swiss Francs) to enter. For more info, just click here.
How to get the best prices on hotels in Zurich?
Do you also think that finding the perfect Zurich hotel at a great price can be a matter of luck? We thought so too, but once we found a way to search for the best hotel deals at any time of year, our traveler lives just got a whole lot easier! The good news is that it's not about luck, it's about learn HOW to find the best deals.
First Tip: book your hotel in advance. The sooner, the better (and why not, right now? lol). This will make your range of options much wider than in a few days.
Second Tip: Focus on the best location in Zurich. Look for accommodations that are close to the points you want to visit. This will save you not only on transportation, but also more time for you to enjoy your trip.
Last and most important tip: Find the best prices. To find amazing prices on hotels in the city, use this Europe hotel search site. You might be wondering, why not other hotel searchers? We've already tested several other sites and we've come to the conclusion that the best deals are on Booking.com, which is the largest hotel reservation site in the world. The logic is simple and proven: If all the best hotels are there and they decide to lower their prices, they will go down where there are more bookings and searches.
We only use Booking.com and we always get great deals. A tip worth noting: look for accommodations with the "smart offer" of the day. Another good idea is to filter options by the neighborhoods you want to stay in and by Reviews from other guests of " Very good" up. Best of all, most hotels offer free cancellation! That is, if you book now (put a call to action) and change your mind later, you can cancel without losing money.
In addition, Booking is super reliable and safe (no one wants to have a problem with accommodation on vacation, after several perrengues – now we know better!). Recently, Booking even includes options for rental of apartments and houses. This is great news for those traveling with family and groups of friends, which gives even more options to get good prices for trips with a lot of people. We always recommend Booking because for sure you won't have any problems and you'll still get the best deals there. Then tell us how it went!
Did you know that it is mandatory to take out travel insurance for Zurich?
Having a travel insurance for zurich is a requirement to enter the destination or anywhere in Switzerland, which is part of the Schengen Treaty and requires medical-hospital coverage of at least €30 for travelers. In addition to being mandatory, insurance is a great way to ensure a smoother trip. Also enjoy our Insurance Promo discount coupon. - SEE PRICES
Receive a SIM card at home in Brazil and use unlimited Internet in Zurich and throughout Europe
Are you also tired of only being able to use your cell phone at points that you find Wi-Fi free during the trip? And having to pay per day to be able to use a GPS in the rental car on the trip?
We couldn't take it anymore, especially because we wanted to post real-time photos of our trip on social media. In addition, Google is a great ally to find what we need while on vacation, such as information and places, and you can't just use it where you have Wi-Fi. So we discovered one of the best solutions to end this problem, that you will no longer have to spend hours of travel in phone stores in the country, speaking an unknown language to get a SIM card. This is one of the tips we love to give our readers: America Chip.
Write it down: The company sends an international SIM card to your home in Brazil. When you're on the plane, just change your Brazilian SIM card for this international one. You will arrive in Zurich with unlimited internet, using your cell phone at will, as you use in Brazil.
Arriving in Zurich, you can use the whole day, anywhere in Europe. You'll save on GPS rentals, Skype credits, and you'll still be able to use social networks, Google, or search for anything on the internet all day. In addition, you can still call your home to send travel news as many times as you want via WhatsApp or Facetime.
In the video below, a little bit of Zurich and what we saw during our trip through Switzerland. Leave your doubts in the comments! ?
Diego traveled at the invitation of Tourism Switzerland.
Read More
Where to Stay in Zurich – B2 Boutique Hotel + Spa
Switzerland Itinerary – 10 Best Tours
What to Do in Switzerland – 4 Must-See Sights
What to do in Switzerland – 7-Day Itinerary
Flight to Switzerland – What it's like to fly with Swiss Air
Travel Insurance in Switzerland – How to Find the Right One
Traveling by Train in Switzerland – Everything you need to know
What to do in Basel – 9 Essential Tips
Where to Stay in Basel – Hotel Schweizerhof
Itinerary in Bern – 10 Tips on What to Do
Where to Stay in Bern – Hotel Alpenblick
Travel Insurance Europe – Complete Guide on How to Hire
What to Do in Montreux – 10 Must-See Sightseeing on the Swiss Riviera
Where to Stay in Montreux – Tralala Hotel
How to Get to Jungfrau – Discover the Swiss Alps in Interlaken
Where to Stay in Interlaken – Hotel Krebs
Skydiving at Interlaken – Everything you need to know
What to Do in Lausanne – 10 Must-See Things
Where to Stay in Lausanne – Hotel Alpha Palmiers
European Winter – Best Destinations in the Coldest Season of the Year
Plan your trip:
Get started now by booking your hotel in Switzerland on Booking.com
Save time and money searching for the best Travel Insurance with the Seguros Promo comparator! 5% extra discount with the coupon: TRAVEL TIPS5
Compare the best prices to rent a car from over 100 rental companies with Rentcars! (Pay in up to 12X! Pay in reais, without IOF)
Get out of Brazil with Unlimited 4G Internet!