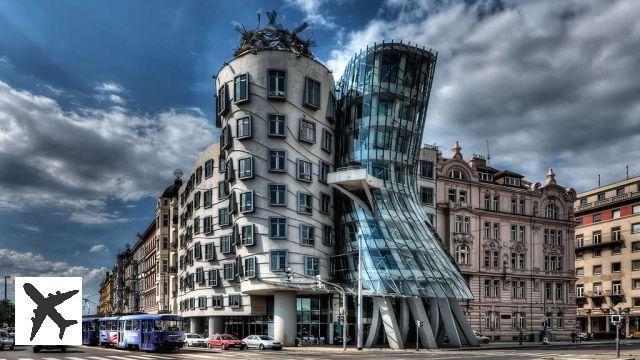 Frank Gehry's dancing house in Prague: discover one of the pillars of modern architecture, which has been making the banks of the Vltava River dance since 1996!
The Dancing House, or "dancing house" in English and "dum Tančící" in Czech, is the little name given to the Nationale-Nederlanden building, an office building in the centre of Prague.
Built in 1996, this "house" is the joint work of the Croatian-Czech architect Vlado Milunić and the famous American-Canadian architect Frank Gehry.
The history of the dancing house in Prague
By its own little history, the "dancing house" bears witness to modern Czech history: it is located on the site of a very old building destroyed during the bombing of Prague by the Americans during the Second World War, then following the Velvet Revolution (end of the communist regime), the new Czech president wanted to build a new emblematic building there. To do this, he unofficially commissioned three architects, including Vlado Milunić, who made a proposal that was particularly appreciated by the Czech president.
The idea of the architect Vlado Milunić was to build a building reflecting the end of the Czech Republic's totalitarian past and also the dynamics of radical change: something static in the face of something in motion, such as yin and yang.
The ING bank bought the site in 1992, and in order to remain true to the original project, decided to entrust the project to Vlado Milunić and a renowned architect, Frank Gehry. The aim was to build a building that would bear witness to the bank's prosperity!
Located on the top floor of this amazing building, the restaurant "Ginger & Fred" offers you the possibility to have lunch or a drink with a view of the Vltava River and Prague Castle. It is also a good opportunity to visit the interior of the dancing house!
See the "dancing house" in Prague
The project is inspired by the dance steps of a famous couple of dancers, Fred Astair (symbolized by the stone tower) and his partner Ginger Rogers (the glass tower): a glass dancer's dress, pleated and clinging to a slender man wearing a hat.
This dancing couple is an analogy of male yang and female yin balancing each other - a rational dialogue between a vertical, static and totalitarian approach on the one hand and a dynamic and changing society on the other.
The Czechs also see this tower as a representation of the joyful and dancing tomorrows following the Velvet Revolution and the return to democracy.
Where is the dancing house in Prague? How do you find it?
You can find the "dancing house" on the banks of the Vltava River: Rašínovo nábřeží 80, 120 00 Praha 2.
The Dancing House in Prague is primarily an office building and cannot be visited. However, it houses a museum and a restaurant with a panoramic terrace from where you can enjoy a 360-degree view of Prague.