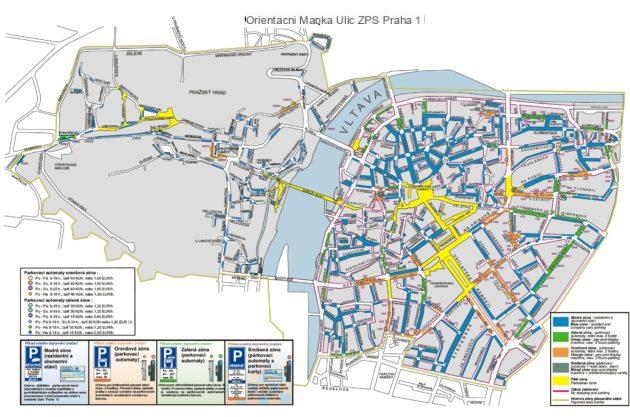 If you come to Prague by car or if you rent one, it is important to know where the cheap car parks are in Prague and where to park.
Are you coming to Prague by car? Or are you planning to stay in Prague for more than 3 days and want to get to some of the tourist or natural sites around the city and in Bohemia? In this case, using public transport may limit your possibilities and having a car, whether rented or not, may become interesting.
Whether you have your own car or rent one, the question of parking will arise: where to park in Prague? What are the best parking places? where to find cheap parking in Prague?
Parking in Prague: parking on the street for a fee
There are 2 parking areas in Prague :
Resident zones: they are marked by a blue stripe in front of the parking spaces. They are reserved for city residents only, you are not allowed to park in these spaces. Your car will be impounded and you will have to pay a fine of CZK 2,500 (€100).
Zones equipped with parking meter : The color of the zone is indicated at the bottom of the sign with the duration, hours and days.

Orange zone: you can park for a maximum of 6 hours. The price varies between CZK 15 and CZK 30 per hour.
Green zone: you can only park for up to 2 hours. The price is CZK 40 per hour.
Parking on the street for a fee is therefore not the best solution. We advise you to avoid the city centre when parking or travelling, public transport is much more convenient and affordable.
Here is a map of streets where you can park in zone 1 of Prague :
Cheap parking in Prague: park on the street for free
If you don't want to pay for parking in Prague, a second option is to park your car outside the paid parking zones and then take public transport to the city centre.
There are free parking zones in the suburbs. For example, it is possible to park for free around the Nové Butovice station, in the surrounding residential areas.
On weekends, it is possible to park free of charge in Prague 5 or Prague 6, just make sure to respect the blue zones reserved for residents. The signs indicate whether the street is free on weekends or not: "Po - Pa" means that from Monday to Friday parking is charged ("Po - So" = Monday to Saturday).
Here is the map of the different areas of the city to help you find your parking space:


Let's now move on to the best solutions for parking in Prague: public transport car parks or paid parking.
Parking in Prague in a cheap car park
The best and cheapest solution when you want to park in Prague is to choose a Park & Ride or P+R car park. Most of them are guarded, but not all of them are covered.
They are located near the city's most remote underground stations: Skalka, Zličín, Nové Butovice, Opatov, Chodov, Ládví, Rajská zahrada, Černý most, Palmovka, Nádraží Holešovice.
They are open between 4 a.m. and 1 a.m. In fact, you are supposed to stay for a maximum of 12 hours, for CZK 20 per day (€0.80). You have a parking ticket to put behind your windscreen, and you have to buy and keep a metro ticket until you leave the car park.
If you do not pick up your car on the same day, you will have to pay a fine of CZK 100 and parking for two days, i.e. CZK 140. This amounts to CZK 184 (fine + day price + metro ticket) or less than €8 per day.
This is the cheapest way to park in Prague during the week. On weekends, we advise you to park in Prague 5 or 6. You can visit the Prague Public Transport website for more information on P+R parking. It also indicates the current capacity of P+R car parks.
Parking in Prague in an indoor car park for a fee
The other solution is to choose a paid car park in the centre, the prices are usually higher (50 CZK per hour and 650 CZK per day) and you are not sure to have a place. However, they are always covered and guarded.
Here is a list of the best paid and guarded car parks in the centre:
Central Parking Prague
Parking Palladium
Parking Wilsonova
Parking Rudolfinum