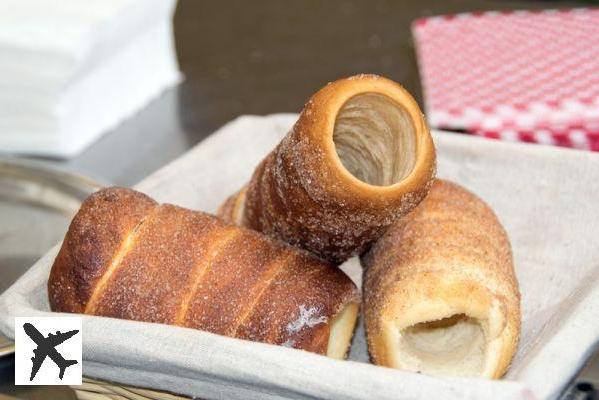 On holiday in Prague, it will be hard to resist Trdelnik, the delicious pastries typical of the Old Town. Here are our best places to eat Trdelnik in Prague!
Trdelnik is one of the culinary specialties of Prague. Originally from the town of Skalica in Slovakia and imported to Prague by the Slovak community, Trdelnik consists of a brioche dough wrapped around a wooden cylinder, then toasted with embers and covered with sugar and crushed hazelnuts. This gives it its characteristic cylindrical shape: golden on the outside, pale on the inside!
There are many places to eat Trdelnik in Prague. All of the restaurants in Old Town sell them. You can avoid tourist traps by relying on our list of recommended places to have this Czech treat.
1. Creperie U Kajetana
You can order one of many crepes at the Creperie U Kajetana. You can either enjoy it there, or take it to go and continue your journey to the castle. The interior is easy to enjoy with a light, welcoming ambience that is cozy during the colder months.
Address: Creperie U Kajetana, Nerudova 248/17, 118 00 Malá Strana
2. "Trdelnik" Karlova
At the crossroads between Charles Bridge and the Old Town, this address bears the inscription "Best Trdelnik of Prague". The Trdelnik made here are delicious and home-made! In the left front (in summer) there are various flavours of home-made ice cream to add to your Trdelnik: they are much better than the industrial ice cream offered in other bakeries. You may even be able to enjoy a little fruit on top: the cherry on top of the Trdelnik!
Address: "Trdelnik" Karlova, Karlova 190/1, 110 00 Staré Město
3. Good Food Coffee & Bakery
This bakery offers a wide variety of products including the famous Trdelnik. You can sit inside or outdoors, or take your treats with you on your visit to Prague. It is located very close to Charles Bridge!
Address: Good Food Coffee & Bakery, Karlova 160/8, 110 00 Staré Město
4. "Trdelnik" Celetna
The trdelnik at this address is delicious, you can eat it plain or with accompaniments such as whipped cream, ice cream or nutella.
Address: "Trdelnik" Celetna, Celetná 565/26, 110 00 Staré Město