With more than 200 islands in Greece, it is difficult to choose your itinerary. Among so many, I chose Santorini and Milos. Get ready, because I'm sure you'll want to go back to Greece!
One of my favorite destinations in the world are the Greek islands, One more beautiful than the other. The luck of travelers is that there will always be a new Greek island there to come back and discover.
In 2015 I had the chance to return to the traditional Santorini island, and meet the wonderful Milos, both in the Cyclades – a group of islands in Greece south of the Aegean Sea.
>> Read all about Santorini in our post Santorini Greece – The Complete Guide for Travelers
>> Want to know everything about Milos, click on the link and read more What to do on Milos Island in 2 days
#ParaNãoForget: Have you bought your travel insurance yet?
Get your discounted plan using the coupon FORTRAVELOVERS (5% off).

How to get to the Greek Islands
To reach the Cyclades from Athens, in addition to the air option, it is possible to take ferries from Porto Piraeus.
The main companies that allow you to buy tickets online, with a website in English, are: Hellenic Seaways, Jet Seas and Aegean Speedlines.
For logistical reasons, I chose to travel to the Greek islands: Athens – Santorini – Milos and from Milos we returned to Athens.
Don't forget the mandatory Travel Insurance! We use and recommend Seguros Promo, always with the best prices!
Greek Islands Itinerary
Ready to discover the Greek Islands! Click on the links to go straight to the destinations, if you prefer ?
Santorini 4 Days Itinerary
Milos Itinerary 4 Days
Mykonos
Patmos
Zakynthos
Greek Islands – Santorini
4-Day Itinerary
On the map below are all the tourist attractions of Santorini that we know, so you don't miss a thing!
Day 1 – The most beautiful sunset in Oia
We arrived in Santorini around 13pm with the Jet Seas and we took a taxi to the Hotel Villa Rose, in Thira (or Fira), the capital of the island. Santorini is the perfect destination for couples, super romantic.
>> Read all tips Where to stay in Santorini – Best Regions and Hotels Tips
We had lunch at Ellis Restaurant, with a beautiful view and easy access from the hotel. Prices at Ellis are more expensive, like most of Santorini, which is aimed at tourists. However, it offers affordable options with starters, mains and desserts, and the food is really delicious.
At the end of the afternoon we got a ride with the Villa Rose van to the agitated heard (pronounced Ia), most famous sunset scenery in the world.
To close our day, we had good drinks there, enjoying the buzz of the region.
>> Read more about Santorini in our post Santorini Greece – Your Complete Guide for Travelers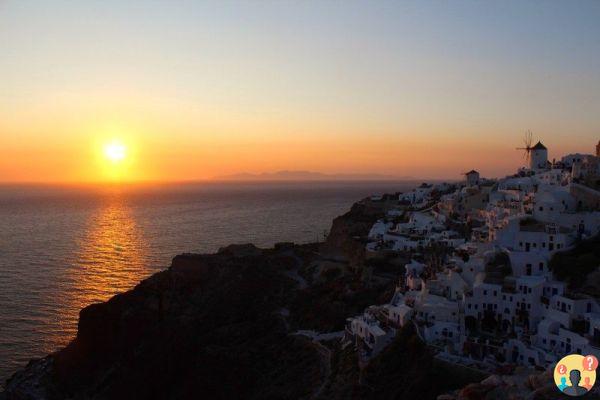 Day 2 – Exploring Santorini Island
On our second day we did a boat ride around the island with Pelagos Cruises, in a semi-private scheme, but in fact we only had the 5 of us on the boat.
The price is around 150 euros per person with aGreek barbecue-style lunch and drinks, including wine and ouzo (Greek cachaça), plus wifi (haha #addiction).
Ilias, captain of the boat, was extremely helpful as well as being a lot of fun, we loved it! We passed through all the main points of the island: the Areia Vermelha beach (Red Sand Beach), the Branca beach (White Beach), the indigenous rocks of Akrotiri, o farol, a Caldera with its hot springs, Oia and Thirassia.
In the evening, we decided to have dinner at Volcano Blue, in Fira, with a very pleasant atmosphere and good food, although the service left something to be desired.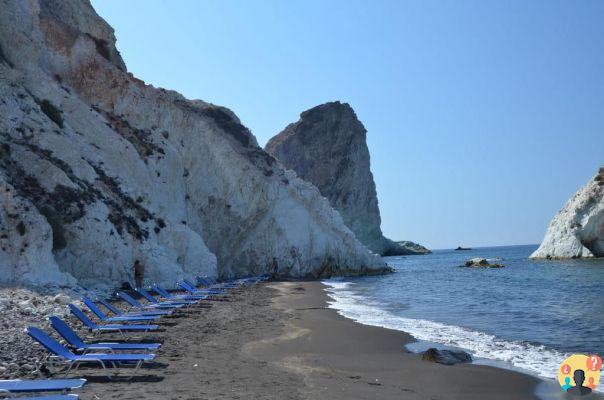 Dia 3 – Explorando a Red Sand Beach
The next day we got up early and went to the red sand beach. This beach has very dark sand due to volcanic activities, and is a busy beach, with many visitors. From there we went to Oia for a walk.
We had lunch at Floga, an amazing restaurant, with a privileged view and modern cuisine – it was one of the restaurants I liked the most in the 3 weeks I spent in Greece.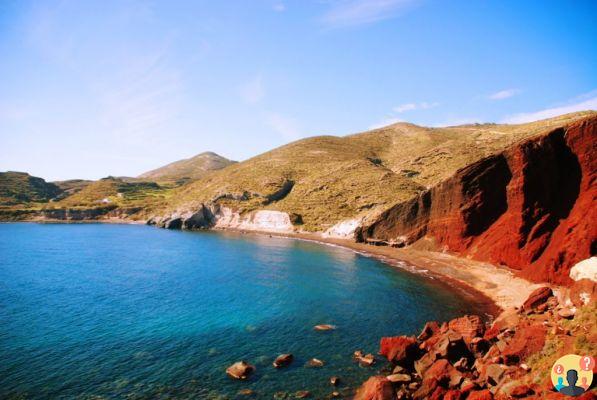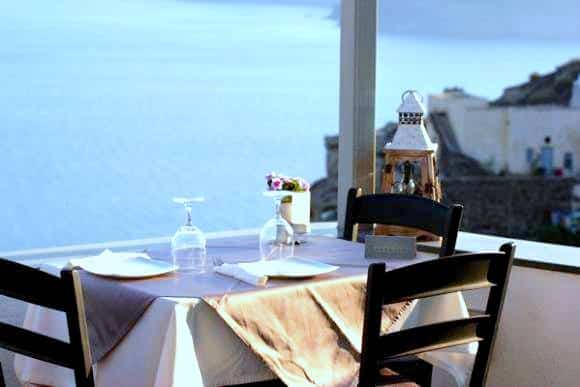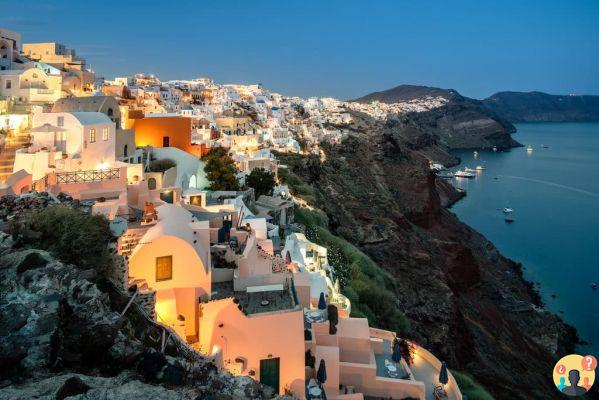 Day 4 – Discovering the Wineries of Santorini
On our 4th and last day we went to Saint Wines, the most traditional winery on the island, to taste Greek wines. The view from there is unmissable, breathtaking.! And the super affordable price – 9 euros for 3 glasses of #pirei wine.
After a few hours there we went to the Nicholas Tavern in Fira, a restaurant that is deceiving for being very simple and small, but is one of the most respected. Both the food and the service are great. Mr. Nikolas is a sweetheart, super friendly!
After walking and seeing everything in Fira. We went to have our last drinks in Santorini at Two Brothers Bar. A bar that is super lively at night and has excellent drinks and great prices.
At the end of the day we took the hotel van to the port and headed to Milos, again with Sea Jets (52,50 euros).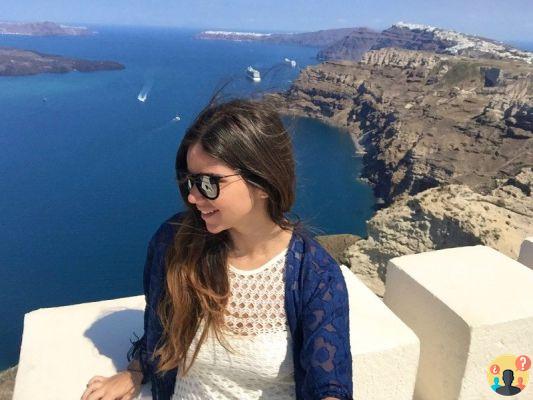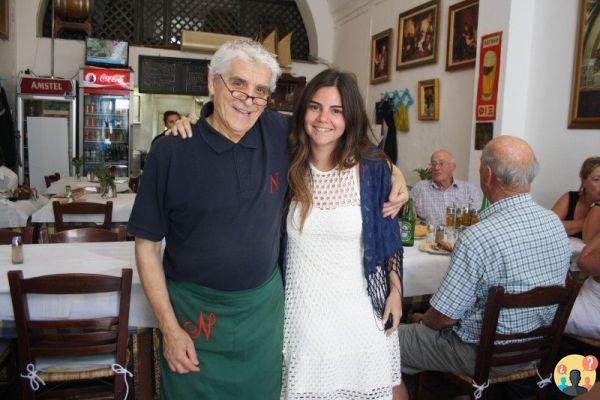 hotels in Santorini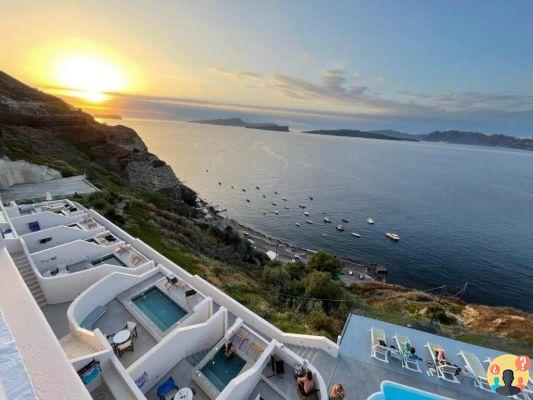 Know which are the best hotels in Santorini can make planning your trip even easier. Therefore, below we separate indications of the best evaluated, in the most diverse prices, for you to know where to stay in Santorini. Check out:
White Pearl Knights – Daily rates from € 569 – Note 9,9
Kokkinos Villas – Daily rates from € 179 – Note 9,2
Luxury Resort Santorini Sky – Daily rates from € 432 – Note 9,8
Absolute Bliss – Daily rates from € 315 – Note 9,7
See all Santorini hotel options.
Greek Islands – Milos
Itinerary 4 Days
We arrived in Milos around 20pm and we did the entire tour with a rental car. Car rental on the island is cheap and REALLY necessary. There are few "buses" and it is very difficult to get around depending on public transport or taxi.
Click Here and rent your car with Rent Cars. Payment in reais and up to 12 installments without IOF
We continue towards the Milos Achivadolimni Camping, which, despite its name, is also a hotel with suites with minibar, air conditioning, swimming pool, etc.
The Achivadolimni region is far from the center, where the port is located. Adamas, on a beach that bears the same name. As a car is indispensable in Milos, the location made no difference to our stay.
The hospitality of Efi, the owner of the hotel, was simply spectacular. Despite not having breakfast included in our rate, the Efi offered us complimentary coffee and cake every morning.
>> Read our hosting tip Where to stay on Milos Island, Greece: Perla Rooms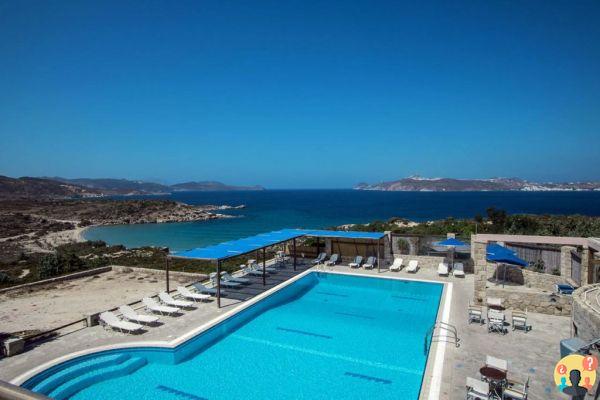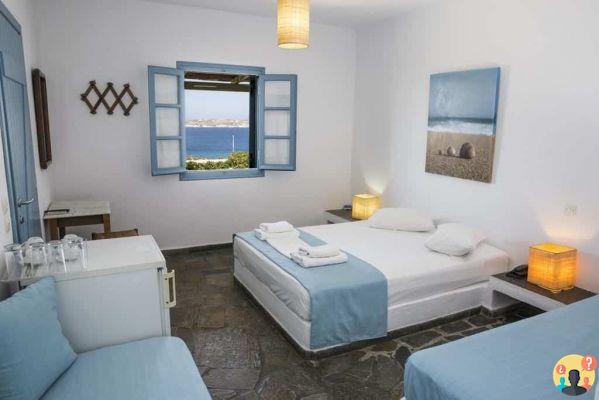 Find the best prices on Hotels in Milos on Booking.com! Make your reservation today!
Day 1 – Discovering the Famous Beaches of Milos
On our first day we went to the renowned beaches of Tsigrado e Firiplaka. Accessing with a physical map is kind of complicated, I ended up using GoogleMaps on my cell phone.
Click Here and order an AMERICA CHIP cell phone chip and unlimited internet access during the trip
Despite this, driving in Milos requires some caution as it has unpaved and very narrow stretches, but we had no problem. We left very early in the morning, around 7:30 am. It was ideal because the beaches were completely empty, most tourists only arrive after 10:30 am.
#Tip: bring water bottles and other things to drink and eat, as I went in mid-June (off season) and there was absolutely nothing there!
Tsigrado and Firiplaka beaches
A Tsigrado beach It's beautiful, but it's a little difficult to access, you have to go down a ladder – the same layout as Sancho beach in Fernando de Noronha – with a narrow passage and a rope. It's a really nice beach, crystal clear water and wilder look.
A few minutes away by car, is the beach of Firiplaka, which, in my opinion, it's one of the most wonderful beaches I've ever seen in my life., and empty! It is an extensive beach, with huge rocks forming its shore.
>> Bruno our columnist also visited Milos and told everything What to do on Milos Island in 2 days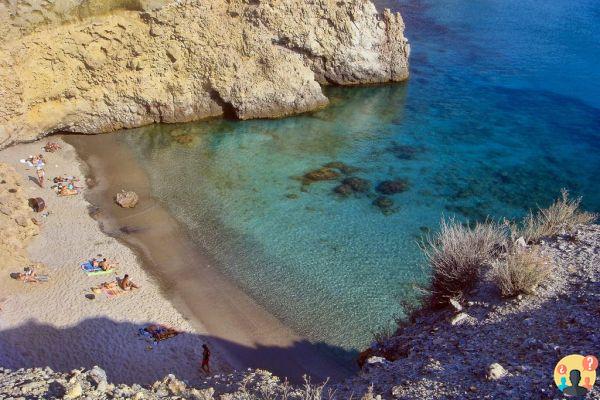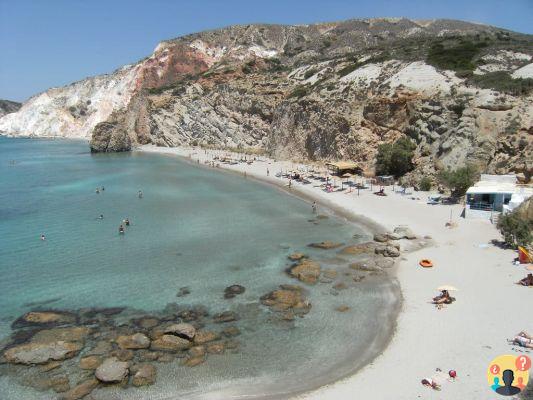 We left Firiplaka and went to Paleohori, where we had a late lunch at the excellent restaurante Sirocco. The menu is focused on seafood, with super cheap prices (much better than in Santorini), we even had a bottle of local rosé wine for 4 euros. That's right, 4 euros!!
It is a beautiful and "younger" beach with several water sports being offered, as well as taverns and restaurants. We enjoyed the beach for the rest of the afternoon and ended up going to the Adamas region, at night, to have dinner and visit the shops.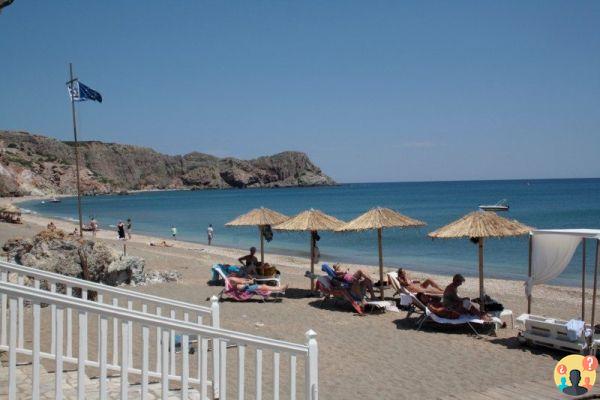 Day 2 – Discovering the beaches north of Milos
The next day we left early to discover the beaches of Sarakiniko, Papafragas, Firopotamos, Agia Kiriaki e Paleohori. The first three are in the north of the island and we chose to start with the most famous, Sarakiniko.
Sarakiniko It's quite different from any other I've been to. It has a "lunar" shape, thanks to the action of the wind and waves on its volcanic rocks. Despite the sun, it was very windy and tourists were already there.
The next stop is the beach of Papafragas. It was a super saga, since its access consists of a very discreet entrance and we had to ask several people on the street how to get there.
It's like an "open cave", with a hole in which you can swim in the crystal clear Greek water, but it's quite small and you have to walk downhill to get there. It's nice to visit but not to spend a lot of time.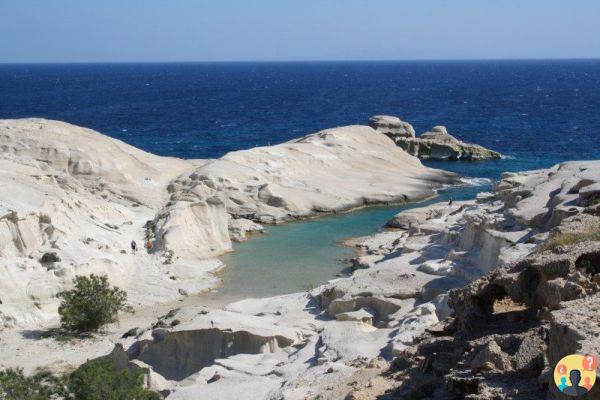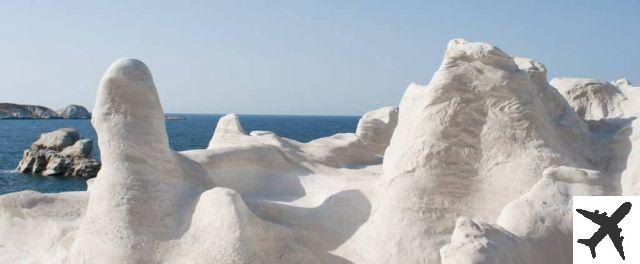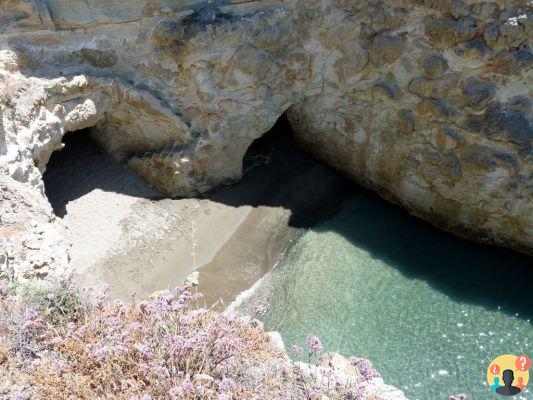 And the journey continues! Soon after we went to Firopotamos. Access by car is very bad, as it is very narrow and in a certain stretch only one car passes, be careful. We arrived there around 12:XNUMX and I was a little disappointed in relation to the other beaches, besides being a minimum extension, it is an area where there are many fishermen.
We decide to continue to Praia de Agia Kiriaki, not sul from Milos. This was one of my favorites, the color of the water was just unbelievable. A real pool in the middle of the sea, I've never seen anything so transparent.
Despite having some restaurants and bars close by, the beach was practically empty. A paradise!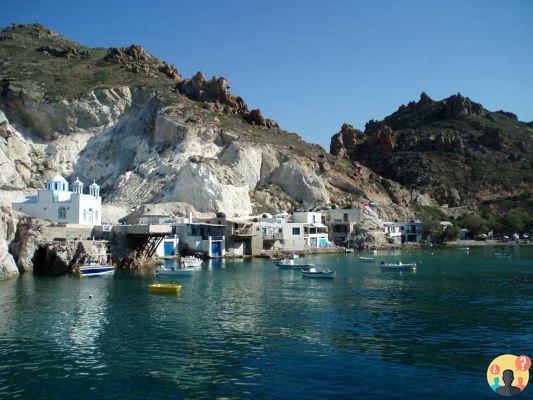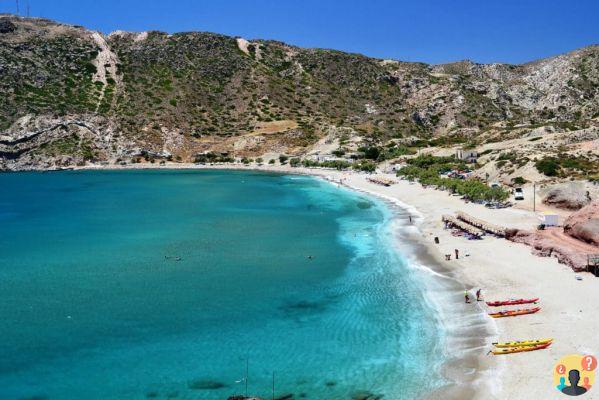 Day 3 – Boat trip in Milos
On our third day in Milos we did the tour I wanted most of the entire trip: a day by boat around Milos and visiting other more distant islands and islets.
We made the "Route 2" of Milos Adventures Sailing Excursions, which goes around Milos and goes to Polyegos.
Polyegos it is without a doubt the place that took my breath away: the color of the water is fluorescent blue, I have never seen anything like it. I think it's the same thing you have in the Ionian Islands, but in the middle of the Cyclades.
In this itinerary we also pass through the Milos main attraction, the famous Praia de Kleftiko, which can only be accessed by boat. With crystal clear waters, caves and rocks, Cleft girl sums up the stunning natural beauty of Milos well.
The tour costs 80 euros per person and includes a snack (sandwich, fruit, snacks), drinks (including wine and ouzo), a rich seafood lunch and even ice cream for dessert.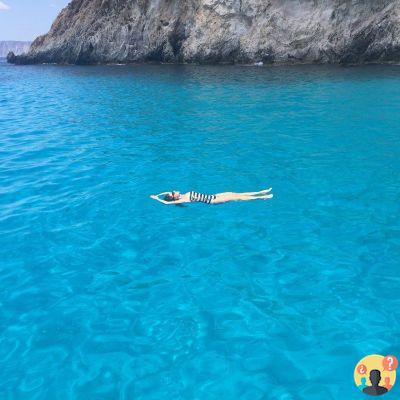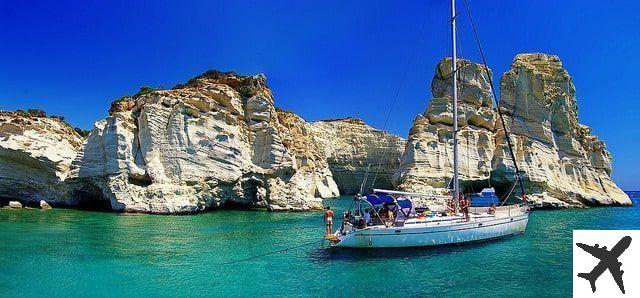 Day 4 – Discovering Plaka – Capital of Milos
On our fourth and last day in Milos we went to visit Plate, the island's capital, located 220 meters above sea level. To get there beyond the limitations of access – the streets are very narrow – we also don't find parking easy.
Despite this, it is worth the visit as it is possible to have beautiful panoramic views of Milos and neighboring islands. On the hill at the top of Plaka is the Castle (Kastro), with walls that served to observe pirates and prevent attacks in medieval times.
It is also where the most famous church in Milos is located, the Assumption of the Virgin, from the 13th century.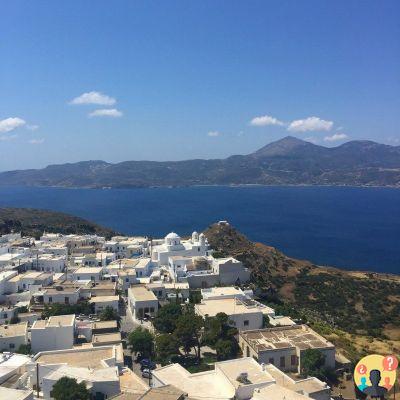 And there are still many more beaches and beautiful places in Milos. See more sights in Milos in the video below:
Greek Islands – Mykonos
Mykonos is one of the best known Greek islands, next to Santorini and also in the Cyclades. Unlike Santorini, where the romantic spirit prevails, Mykonos is known for its funky vibe and guaranteed fun for young people with lots of parties and nightlife.
With its picturesque architecture, Mykonos offers activities for people of all types:
kick in Chora
See or sunset in Little Venice
swim in Super Paradise, Psarou – the beach of the highly disputed club-restaurant Nammos
Discover the Beach Kaio Livadi
Discover the famous restaurant Kiki's na Praia Agio Sostis
Beyond Mykonos Town's bars and clubs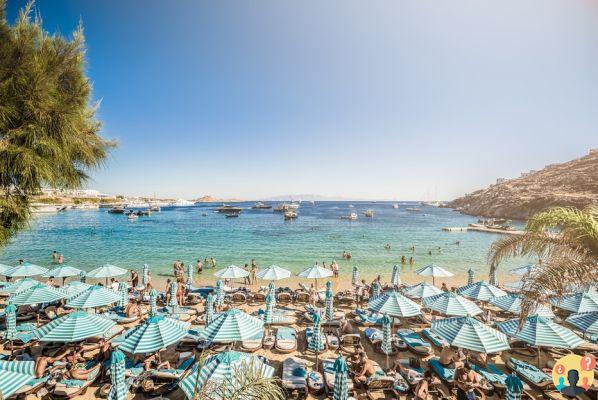 Hotels in Mykonos
If you are going to pass through Mykonos during your trip to the Greek islands, check below for the best hotels in Mykonos for you to have a perfect stay at the destination.
Mykonos Riviera Hotel & Spa – Daily rates from € 332 – Note 9,5
Lithos by Spyros & Flora – Daily rates from € 157 – Note 9,9
Palladium Hotel – Daily rates from € 360 – Note 9,6
Corfos Hotel – Daily rates from € 141 – Note 9,1
See all Mykonos hotel options.
See also:
Mykonos travel insurance is mandatory! See how to buy yours
Greek Islands – Patmos
Maybe this is one of the most unknown greek islands of this post. Patmos has become a guaranteed destination for jetsetters from all over the world, thus deserving its place in the sun.
This beautiful island is located in the Dodecanese, near the coast of Turkey, it is considered the "Jerusalem" of the Aegean – it was there where John wrote the book of Revelation.
That's why the attractions on the island are the St. John's Monastery, on top of a hill in Chora and the apocalypse caveInter Chora e Skala.
The outstanding beaches are the exclusive Psili Ammos, accessible only by boat 45 minutes from Skala. The beach Sapsila, known for having the warmest waters on Patmos and Agriolivadi.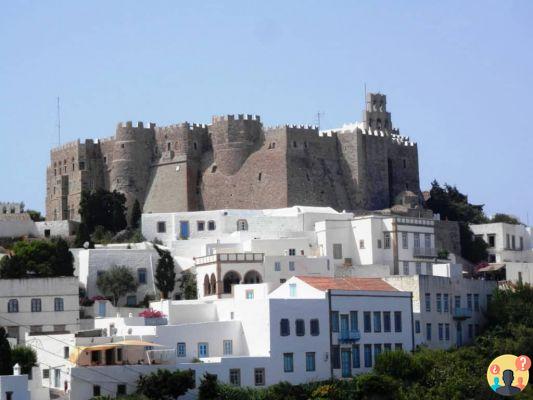 Find the best prices on Hotels in Patmos on Booking.com! Make your reservation today!
Greek Islands – Zakynthos
To close this post with a flourish, I left it for the end Zakynthos, also known as Zante, is the island of the famous Navagio Beach.
The main one of the Greek Ionian Islands, Zakynthos receives almost half a million tourists each summer – including many who leave for the area of Lagging, known for having 24-hour parties.
the dizzying Navagio Beach it can only be accessed by boat, although it can be seen from a viewpoint with a panoramic view. Originally called Agios Georgios, around 1981 Greek authorities chased a ship allegedly smuggling wine and cigarettes, the "Panagiotis", and it ended up running aground on the beach.
Hence the new name: Navagio Beach (Shipwreck Beach) or Shipwreck Beach (Stranded Ship Beach). The ship is still abandoned on the white sand of the beach, making up the magical scenery of Zakynthos.
Depending on the time of year, unfortunately the beach is full of tourists, and there is no bar structure or chairs. Try to go in the morning so you can see the beach in its best light.
>> A good tip is also to visit Kefalonia Island, very close by. Read all the tips in our post Kefalonia, Greece – All Tips in a 3-Day Tour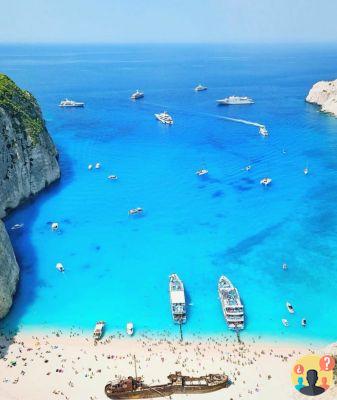 Hotels in Zakynthos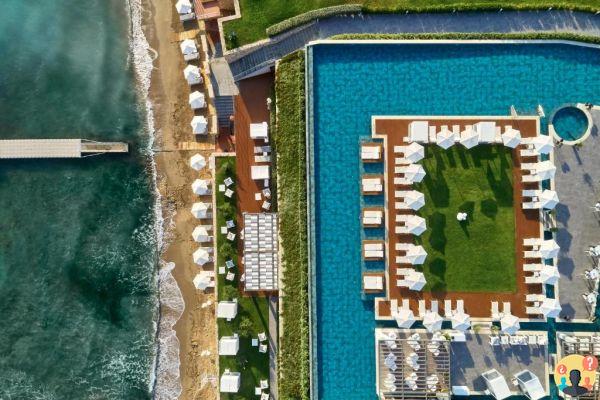 Zakynthos is another little piece of Greece that every traveler dreams of meeting during a trip to the Greek islands. If you are going to pass through this region, also know the best hotels in Zakynthos which we list below:
Lesante Blue – Daily rates from € 404 – Note 9,3
White Canvas Boutique Studios – Daily rates from € 130 – Note 10
Olea All Suite Hotel – Daily rates from € 360 – Note 9,3
Balcony Hotel – Daily rates from € 110 – Note 9,4
See all hotel options in Zakynthos.
See also:
Zakynthos travel insurance – All tips to buy yours
And you, did you like our Roadmap Greek islands? Tell us?
Athens hotels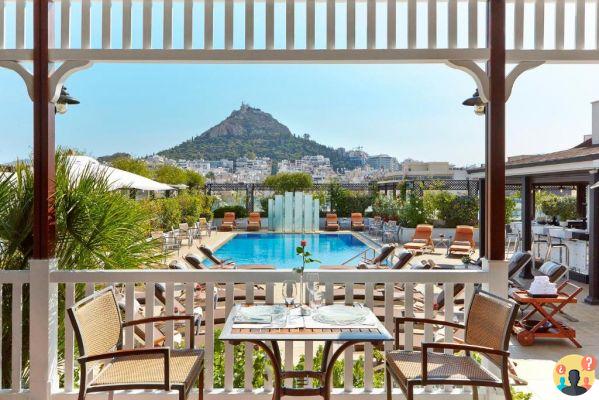 Many travelers pass through the capital before departing for the Greek islands. Knowing this, we are going to leave you some indications of hotels in Athens, in case you are going to spend a few days in one of the oldest cities in the world.
Four Seasons Astir Palace Hotel – Daily rates from € 971 – Note 9,3
Elia Ermou Athens Hotel – Daily rates from € 191 – Note 9,2
Ergon House – Daily rates from € 211 – Note 9,2
Nlh Fix Hotel – Daily rates from € 118 – Note 9,2
See all hotel options in Athens.
What you NEED to know BEFORE going to the Greek Islands
Are you full of things to think about and still have to plan your entire trip? Or you've seen it all, but you're feeling that familiar "Have I forgotten something?"
So calm down, we'll help you with some items you can't forget before boarding. Come on?
1) Travel Insurance Greece
Having travel insurance for Greece is a requirement to enter the country, which is part of the Schengen Treaty and requires medical and hospital coverage of at least €30 for travelers. In addition to being mandatory, insurance is a great way to ensure a smoother trip. Also enjoy our Insurance Promo discount coupon. - SEE PRICES
#StayHip: Save 10% on your travel insurance. use the coupon FORTRAVELOVERS to get 5% off and pay with boleto to guarantee an additional 5% OFF.

2) How to have unlimited internet while traveling
Where to Buy: AMERICA CHIP
Did you know that it's getting easier – and cheaper – to have unlimited internet throughout your trip?
Just ask for an international cell phone chip through AMERICA CHIP. We always use and love it! They send a SIM card to your address in España, you insert it in your cell phone when you arrive at your destination and you have unlimited internet throughout the trip.
#StayHip:Save on car GPS rental and use GoogleMaps and Waze with your unlimited internet
3) Have you booked your hosting?
Where to buy: BOOKING.COM
If you haven't booked your stay, the tip is to compare hotels, hostels and inns through Booking.com. This is the largest hotel booking platform in the world, ensuring a safe experience and great accommodation deals. ?
#StayHip: Keep an eye out for 'Smart Deals', which only last for one day. Some amazing hotels offer great discounts using this badge on the platform. If you find a good deal, it's worth closing.
4) Rent cars at the best prices
Where to buy: RENT CARS
We really like Rent Cars to find the cars we use on our travels. It is the only one in Spain that compares the best rental companies in the world, but lets you pay in reais, without IOF. In addition, it is also the only one that lets you pay in 12 interest-free installments. It is worth it!
#Here's a tip: Try to find cars with full car and third party insurance coverage. Thus, you avoid inopportune surprises when picking up the car.
Note: We highly value the credibility of our information. All the sites we recommend above are sites we already use, we have good experiences and feedback from readers!
In addition, it is worth checking out other useful information for your trip to Greece.
Europe Travel Insurance – What you NEED to know before hiring
Items you can't forget in your suitcase
Travel Health Insurance – 5 tips to find a cheaper one
Documents to enter Europe – Everything you need to know
Is Promo Insurance Reliable? It's good? - How it works
How Much Does Travel Insurance for Europe Cost?
Best Travel Insurance Europe – Our 4 Favorites
Read More
Grecia Turismo – Everything for you to Plan your Trip
Hotels in Zakynthos – The 11 most suitable for your trip
Santorini Travel Itinerary – Complete Guide to Enjoy
Hotels in Santorini – The 10 best to book without fear
Where to Stay in Santorini – Best Hotels and Regions
Hotels in Mykonos – 12 options with the dream room
Athens Hotels – More than 20 tips for your stay
What to do in Kefalonia – 3 Days Itinerary on the Island
Where to Stay in Kefalonia – Petani Bay Hotel
What to Do on Milos Island – 7 Must-See Places
Where to Stay on Milos Island – Hotel Perla Rooms
Lefkada – The Complete Guide to the Ionian Island of Greece
Restaurants in Athens – Unmissable Places to Dine in the Capital
The Margi Hotel – Review 5 Star Hotel in Athens
Travel Insurance Greece – Find out if it is Mandatory
Travel Insurance Europe – Complete Guide on How to Hire
How and Where to Buy Travel Insurance – Step by Step
Best Travel Insurance Europe – Which to Choose?
Backpacking Europe – Everything you need to know
The Best Places for Honeymoon – Complete Guide
Honeymoon – Top 10 Dream Places
Mykonos travel insurance is mandatory! See how to buy yours
Zakynthos Travel Insurance – All the tips to buy yours
Plan your trip:
Get started now by booking your hotel in Greece on Booking.com
Want to find cheap tickets? Find flights with discounts of up to 35% every day at Passages Promo!
Save time and money searching for the best Travel Insurance Greece with the Insurance Promo comparator! Extra 5% off with coupon: FORTRAVELOVERS
Compare the best prices to rent a car from over 100 rental companies with Rentcars! (Pay in up to 12X! Pay in reais, without IOF)
Leave España with unlimited 4G Internet from America Chip!