The photos of a good trip bring back good memories, but it's the sensations that transport you back. In the case of Portugal, we are sure that you will not forget the flavors. Discover where to eat well and cheaply in the city of Porto, capital of northern gastronomy.
If you are planning a trip to Portugal, be sure to go to the North. Despite being small, the country has an incredible diversity of landscapes, traditions, cuisine and even accents! In this post you will know where to eat well and cheaply in Porto.
It is a delight to walk through the streets of the city center, full of colorful tiles and traditional shops. Every corner is a historic place, from centuries-old churches to entire Art Nouveau squares.
When strolling through the "Ribeirinha" area, listed as a UNESCO world heritage site, it is easy to fall into the temptation of staying at the tourist restaurants that are there. But if you want to taste the most typical dishes, visit the favorite restaurants of the locals who know better than anyone else. where to eat well and cheaply in Porto.
From the famous francesinha to the incomparable seafood from the icy waters of Portugal, prepare to eat like a true "Tripeiro", as the people of the North are known. Firstly, the price-quality ratio is very important to them. They are faithful to restaurants where you can eat well and cheaply and don't care about sophistication. The thing here is authenticity, the waiter who knows the customers by name and the owner of the restaurant who is also the cook.
It is also good to know that northern dishes are neither light nor vegetarian. The best thing would be to travel without dietary restrictions, to be able to enjoy everything the city has to offer. And don't worry if you're on a diet, just walk around the city's slopes after lunch to burn that extra potato.
Don't forget travel insurance!
Click here and hire the ideal plan for your trip at the best prices!
Discover where to eat well and cheaply in the city of Porto like a real local
Coffee Santiago
Let's start with the unmissable "Francesinha", star of the menu at Café Santiago. If you don't know this delicious invention, let's warn you that it's best to go on an empty stomach. The "Francesinha" is a kind of sandwich on a plate, with several layers of sausage, cold meats and a beef steak wrapped in a generous dose of melted cheese. Accompanies egg, fries and an amazing sauce with a touch of piri-piri.
Café Santiago is perfect for a break from your downtown Porto tour. It is very busy, but it doesn't take long to free a table and the service is fast. And the best part is that lunch costs less than ten euros per person.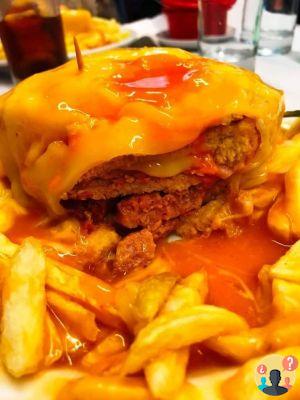 Open from Monday to Saturday, between 12:00 and 23.00:XNUMX
Address: Rua Passos Manuel 226, Porto
Access the website HERE.
Nanda House
There, in Baixa, there is also another darling of the "Tripeiros", which is where you will discover the origin of this nickname. At Casa Nanda, the best choice is the "Tripas à moda do Porto", a traditional dish from the time of the Discoveries. Legend has it that the navigator Infante D. Henrique asked the population of Porto for help to supply the ships that were leaving for India with food.
Giving up all the meat they had, the inhabitants were left with only the offal and had to make do with it. They mixed beans with tripe and a delicious seasoning and the "Tripas à moda do Porto" was born.
If you are not very fond of this type of food, ask the cook Fernanda for a suggestion. Who better than the owner of the place to know what's good? Start with the starter fried dumplings, which are to be eaten on your knees.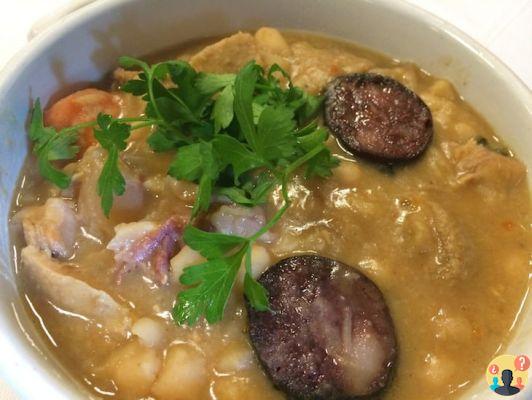 Open from Tuesday to Saturday, between 12:15 and 15.00:19 for lunch and from 00:22 to 00:12 for dinner. On Sunday it opens only for lunch between 15:15 and 00:XNUMX.
Address: Rua da Alegria 394
Reservations only by phone +351 22 537 0575
The Tavern
Despite being right in the center of the city, between the Clérigos Tower and the art galleries on Rua Miguel Bombarda, Tasquinha looks like a restaurant from the countryside.
In the house with traditional Portuguese architecture, you can choose to have a table in the cozy living room or on the terrace under the trees in the square. The rustic setting is charming and you pay no more than 25 euros for starters, dessert and wine.
The specialty are octopus fillets with rice, perfect to accompany with vinho verde. In addition, the menu has a good variety of traditional Portuguese dishes, such as various types of cod and Minho-style firecrackers.
Take the opportunity to taste a cheese starter, but leave room for the convent desserts, you won't want to miss the papos d'anjo and the sericaia.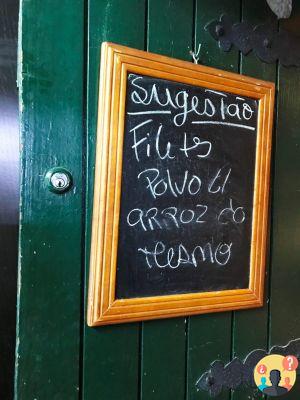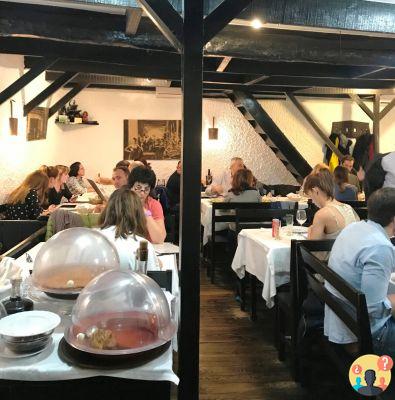 Open from Monday to Saturday, between 12:00 and 15.30:19 for lunch and from 00:00 to 00:XNUMX for dinner.
Address: Rua do Carmo 23, Porto
Access the website HERE.
Don Tonho
If you can't resist the charming restaurants Cais da Ribeira, then grab a table at Don Tonho. Here you pay a little more, as the restaurant was built on the very Muralha Fernandina facing the Douro River and the iconic Luiz I bridge.
Despite being a neighbor of restaurants that are obviously "trap-for-tourists", D. Tonho is very traditional and frequented by locals.
Located in the heart of a UNESCO World Heritage Site, the view of the Port wine cellars is not the only unforgettable thing, it also has the famous portuguese cod. At D. Tonho you can choose any of the varieties that you can't go wrong with, the favorites are the traditional cod à lagareiro and the house style.
Accompany it with a glass of Papa Figos or Esteva, excellent red wines from the region, or take a look at the extensive house wine list.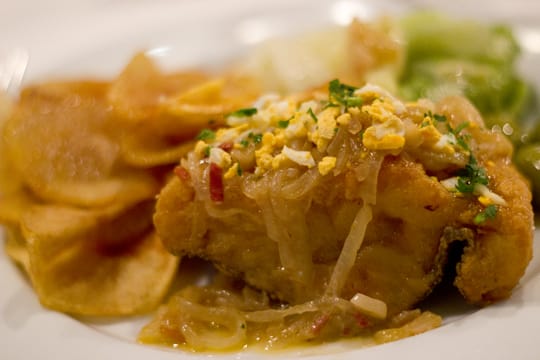 Open every day from 12:30 to 15.00:19 for lunch and from 30:23 to 00:XNUMX for dinner.
Address: Cais da Ribeira 13-15, Porto
Access the website HERE.
Filipe de Angeiras
Your trip to Portugal would be incomplete without a good Mariscada by the sea. Cold water had to have some benefit and it is what provides the tastiest seafood.
In the city of Porto the seafood restaurants are concentrated in the periphery, neighborhoods like Matosinhos and Leça da Palmeira have one on every corner. There you pay a good 50 euros per person, so it might be worth going a little further to pay half.
Filipe de Angeiras is located on a beach a 10-minute drive from the airport. It is a typical seafood restaurant, where Portuguese families enjoy the fresh fish of the day, clams à bulhão pato or a generous stuffed shoe rack. At Shrimp Scampi they are simply divine and don't forget to order the toasted bread with butter, a must in any seafood restaurant.
The draft beer, called "fino" in Porto, is the best accompaniment along with the sunset on the sea right in front of the restaurant. If you opt for lunch, you can then take a relaxing walk along the beaches to Matosinhos, walking along the wooden walkway.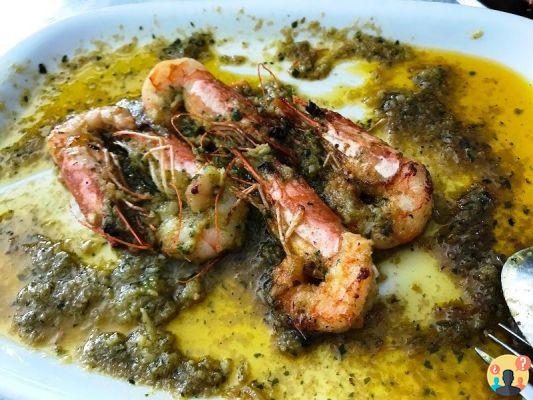 Open from Monday to Saturday, between 12:00h and 23.00:12h and on Sunday from 00:16h to 00:XNUMXh.
Address: Av. from Praia de Angeiras 160, Lavra
Reservations by phone +351 934 544 733
queen of the mouth
To finish off with something sweet, the croissant is the election of locations. The favorites in Porto are brioche and you'll see plenty of them in the city's pastry shops. But it is in the prestigious neighborhood of Foz, where the most traditional families live, that it has one of the favourites.
The Rainha da Foz bakery is next to the market in the neighborhood, on a street of little houses that ends at the sea. It's a meeting point for locals to have a cimbalino (Porto's espresso coffee) at the end of the day or take a box of croissants for an afternoon snack.
Wait for the batch to come out and taste a warm croissant. Simple ones are the best, but there are also chocolate and almond ones.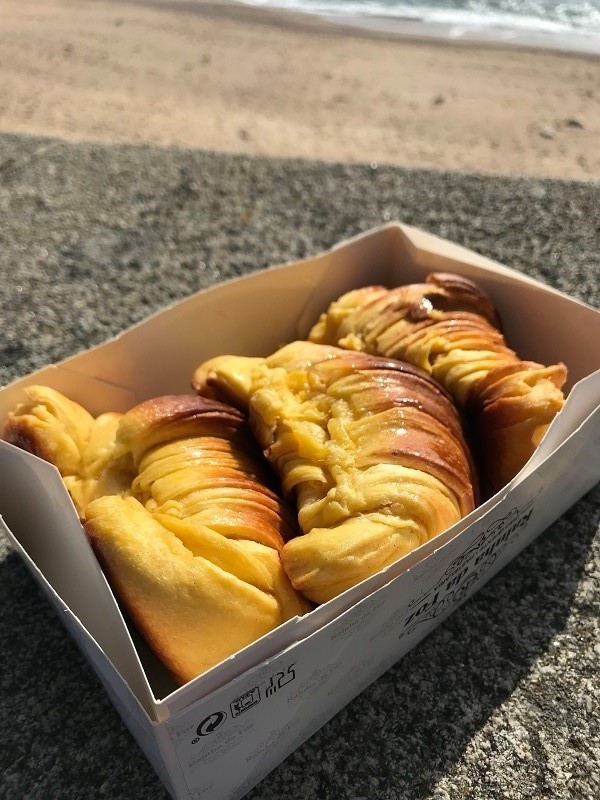 Tip: Ask for take-out and walk along the shore to the Felgueiras Lighthouse, the point where the Douro River flows into the Atlantic Ocean.
Open every day from 08:00 to 20:00
Address: Rua de Diu 299, Foz
took note of where to eat well and cheaply in Porto? Then tell us what your favorite dish was.
Discounted hotels in Porto, Portugal
Did you know that it is mandatory to take out insurance when traveling to Europe?
If you were thinking about traveling to Europe without travel insurance, be aware that this can become a problem at the time of immigration. So it is good to note a very important tip for those who are planning a trip there: Travel Insurance for any destination in Europe is mandatory.
The reason? It is the Schengen Treaty, which establishes free movement and mandatory travel insurance in 26 European countries. Since we plan so much for the holidays, we create expectations, we invest money, it's not worth risking any setback that could ruin it all. You can check out the stories of our columnists who tell why it is worth taking out travel insurance.
To find good travel insurance deals, we recommend the website Promo insurance. It compares the prices and coverage of the main insurance companies in the world, such as SulAmerica, Assist Card, GTA, Affinity, among others. There, you can check the policies that most have to do with your trip and hire the one you think is best.
As we really like this tool, we got a 5% discount on Insurance Promo for our readers! Just use the coupon FORTRAVELOVERS on the website by clicking here.
Receive a SIM card at your home in España and use unlimited Internet in Portugal and throughout Europe
Are you also tired of only being able to use your cell phone at points that you find Wi-Fi free during the trip? And having to pay per day to be able to use a GPS in the rental car on the trip?
We couldn't take it anymore, especially because we wanted to post real-time photos of our trip on social media. In addition, Google is a great ally to find what we need while on vacation, such as information and places, and you can't just use it where you have Wi-Fi.
So we discovered one of the best solutions to end this problem, that you will no longer have to spend hours of travel in phone stores in the country, speaking an unknown language to get a SIM card. This is one of the tips we love to give our readers: America Chip.
Write it down: The company sends an international Chip to your home in Spain. When you're on the plane, just change your Brazilian SIM card for this international one. You will arrive in Portugal with unlimited internet, using your cell phone at will, as you use in España.
Arriving in Portugal, you can use it all day, anywhere in Europe. You'll save on GPS rentals, Skype credits, and you'll still be able to use social networks, Google, or search for anything on the internet all day. In addition, you can still call your home to send travel news as many times as you want via WhatsApp or Facetime.
See also:
Itinerary Portugal: 10 places you can't miss
The 20 main tourist attractions in Portugal to put on your itinerary
Where to stay in Porto in Portugal
Where to eat in Paris
5 insider tips to find out where to eat in Ibiza
Plan your trip:
Get started now by booking your hotel in Porto on Booking.com
Save time and money searching for the best Travel Insurance with the Seguros Promo comparator! Extra 5% off with coupon: FORTRAVELOVERS
Want to find cheap tickets? Find flights with discounts of up to 35% every day at Passages Promo!
Compare the best prices to rent a car from over 100 rental companies with Rentcars! (Pay in up to 12X! Pay in reais, without IOF)
Leave España with Unlimited 4G Internet!