One of Austria's postcards. Hallstatt is a great destination for those who want to discover fairytale towns.
Hallstatt Austria is a great destination for those who want to discover fairytale towns. Hallstatt is a village of less than 1000 inhabitants, but it is certainly one of the best-known places in Austria. That's because the city that is between beautiful mountains and a lake has become one of the country's postcards.
In addition, the city is located in one of the most beautiful regions of Austria. Be sure to visit if you want to see jaw-dropping landscapes. The best part is that despite being a small town, there is plenty to do in Hallstatt.
The trip is full of activities for the whole family. Especially if you like outdoor tourism. After all, there are several trails, points with panoramic views, boat rides, funicular rides, cable cars and much more!
Haven't taken out your travel insurance yet?
How about buying at a discount? use the coupon FORTRAVELOVERS and get 5% off.
Click here and check it out!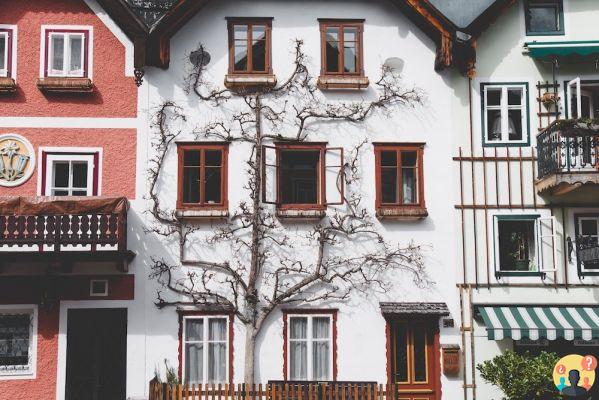 Want to find cheap flights to Vienna? Find flights with up to 35% off every day at Passages Promo. Click and check it out!
About the city
Directions
how many days stay
what to do in the city
what to do at night
Where to eat
Where to stay – Hotels in the city
Austria itinerary
Currency, visa and information to plan your trip
Plan your trip
The city of Hallstatt Austria
The history of Hallstatt is one of the most interesting in the country, without a doubt. There are hints of prehistoric human settlements! The region is rich in salt, in fact the Hallstatt salt mine is the oldest in the world. Currently, you can visit and even enjoy the slides in the mine.
I visited Hallstatt both in summer and winter. The coolest thing is that the city totally changes depending on the time of year. But one thing is for sure: the place is beautiful.
As you can see in the photo below, it feels like you are in a fairy tale, whatever the angle or time of year.
View this post on Instagram
📍Hallstatt, Austria I already had the privilege of coming to this city in the summer and now I visited again in the winter. I, who always advocate spring/summer tourism, totally surrendered to the magical Hallstatt with its streets and snow-covered roofs. Did it get cold? Put on another sock and have a punsch! ♥️
A post shared by Amanda Previdelli (@aprevidelli) on Dec 17, 2017 at 8:29am PST
#ToDon'tForget: Travel insurance is mandatory in Austria
Immigration does not release visitors who arrive in Vienna without travel insurance. use the coupon FORTRAVELOVERS for 5% OFF, compare prices and coverage on InsurancePromo.
How to get to Hallstatt Austria
Hallstatt is located in a region of Austria known as the Salzkammergut. The city is less than 60 square kilometers and is sandwiched between Lake Hallstätter and the Dachstein Mountains.
The small town is closer to Salzburg than to Vienna. In fact, there is no shortage of round trip tours from Salzburg.
You can reach Hallstatt by train (and then cross by boat), daily buses from Obertraun and also by car.
For those who just want to stay in Hallstatt or just do a day trip, the best thing is to go by train from Salzburg/Bad Ischl to Hallstatt train station. Then make the crossing by boat. It's super simple, as the departures of the boats coincide with the times of the trains.
However, if you have a few more days to enjoy the region, it is worth renting a car. Thus, you will be able to have greater mobility through the different lakes and villages of the Salzkammergut.
The only downside is that in Hallstatt there is a lot of control for cars. Therefore, park before the entrance to the village, and walk the rest of the way, or look for the city's official car parks.
And it's also always possible to get there with the tour buses that, especially in summer, fill the city.
How many days to stay in Hallstatt Austria
Unless you want to visit the regions and surroundings, you can get to know Hallstatt in a day trip. Also because the city is tiny and it is possible to do everything on foot (or by funicular).
For those who want to know the city, but also go hiking or discover the wonders of Dachstein, better at least a weekend.
Finally, to visit the main attractions of the entire region, it is better to book more than 2 days. It all depends, of course, on your travel style.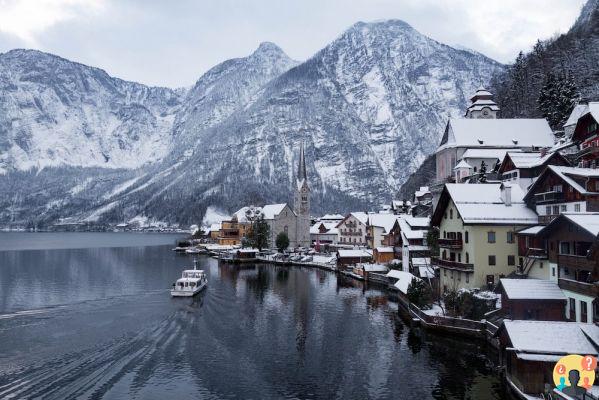 Things to do in Hallstatt Austria
Hallstatt lake
Hallstätter See is the lake of Hallstatt. All year round, you can take a boat ride and it's really worth it! In addition to being a pleasant walk, it also offers unique and beautiful views of the village.
In summer, you can swim in most lakes in the region. But it is worth remembering that they are mountain lakes. In other words, lots of ice cream!
The warmest in the area are probably the Wolfgangsee and the Mondsee.
In the Hallstätter See, the best areas to have a tchibum are the Badeinsel and the Strandbad Obertraun. The lake is immense and the best way to reach the different points is by car.
But if you're on foot, no problem. You can take a beautiful walk along the side shore and get incredible views of the village.
Salt worlds Hallein
Salt worlds is the Hallstatt salt mine, the oldest in the world. And getting there is almost as cool as the visit itself, as you can hike or take the funicular.
Guided tours are in English or German. It is possible to reach the depths of the mine using the slides (with a Disney-style photo on one of the descents).
Using the same cable car it is possible to visit the observation point Skywalk Hallstatt. From there, you can see the whole village and the lake.
ossuary
Certainly one of Hallstatt's most peculiar attractions. The Beinhaus is an ossuary located near the Catholic church. It's a small room, but with rows and rows of human skulls with the most diverse paintings.
There you can learn about the village's history and different funerary traditions.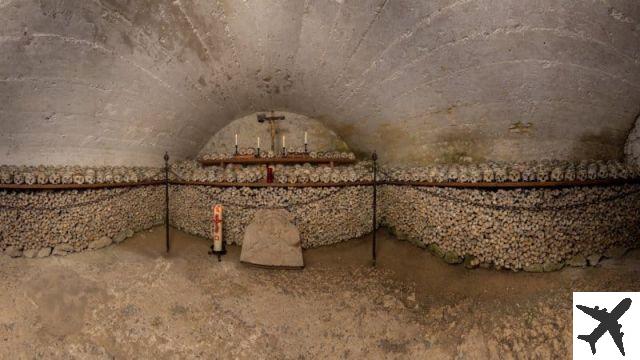 What to do – Hallstatt surroundings
Leaving a little bit of the village itself, the region is simply incredible. Especially if you are a fan of nature and lush views.
The trick is to ensure car rental so you can visit your favorite sights at your leisure.
Dachstein Caves
In the village of Obertraun you will find the best access to the Dachstein caves.
There are two: Dachstein Eishöhle, which has ice structures illuminated in different colors and needs a guide for the visit. And the Mammuthöle, which has no ice, but is one of the deepest and longest in the world.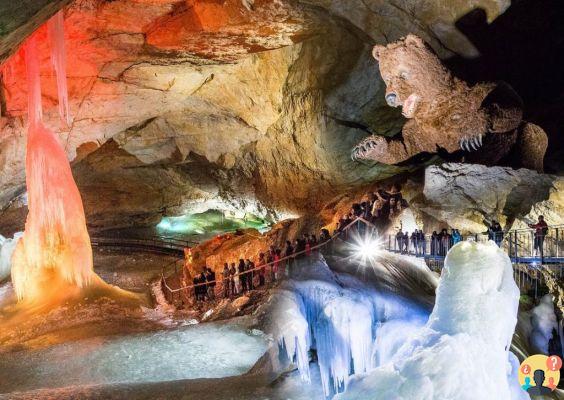 Krippenstein and 5Fingers
Krippenstein is a mountain of 2109 meters of altitude also in the village of Obertraun. From the city you can take a cable car that goes up to the top, where there is an observation point known as 5Fingers, due to the shape similar to a hand with fingers stretched out.
Undoubtedly one of the best observation points in the area. The walkway leads towards the cliff, with sections made entirely of glass.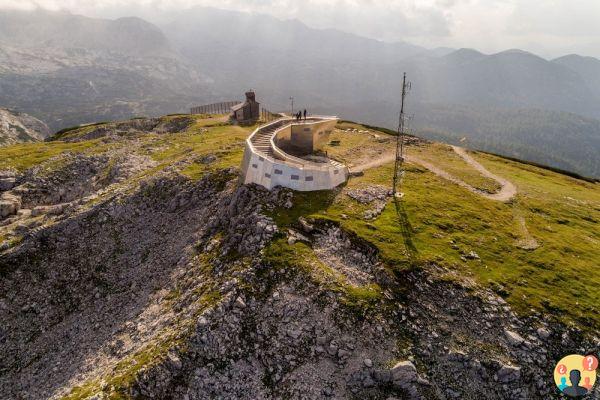 Dachstein suspension bridge – a "Escada para o nada"
This is certainly a region for those who enjoy incredible views, as we said. Dachstein Hängebrücke is a suspension bridge under the Alpine cliffs and not for those who are afraid of heights!
In addition to the bridge, you can also visit the ice palace (an excellent program to do with children!). There's also the Sky Walk, a 10-minute ride through the heights, and of course the "stairway to nothingness" which is a wonderful vantage point.
All of this is in the same "complex" called Der Dachstein, along with hiking trails, ski slopes and a mountaintop restaurant.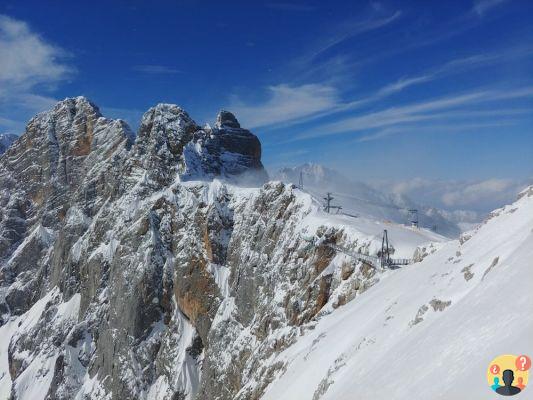 walk on Schafbergbahn
The little town of St. Wolfgang is also quite famous for the region, especially for pilgrims over the centuries. Nowadays, tourists flock to the city to visit its charming little streets, stroll along the shores of Lake Wolfgangsse and visit the 14th century church.
But the main attraction is likely to be the train ride. The famous Schafbergbahn, which was part of the movie "The Sound of Music" is the steepest train journey in Austria, is an attraction in itself.
The train ride is super cute, and it also has beautiful scenes from the Alps. As not everything is perfect, there is a problem: fish market. Therefore, it is best to arrive early, buy a ticket for a later time and go enjoy the little town in the meantime. The train does not run during the winter months.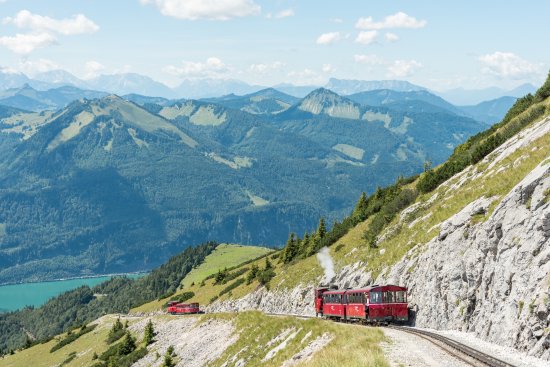 Ski Station in Hallstatt
The best area for skiing in Hallstatt is in the mountains of Dachstein, absolutely. During the months of December to March it is possible to go down the mountains of the area, in addition to doing cross-country trails.
Another good place for skiing in the region is the Alberfeldkogel mountain in Ebensee. It's great for hiking in the summer or cross-country skiing in the winter. There are also easy to medium descents for skiers.
Close to the Salzkammergut region, where Hallstatt is located, Salzburg it also has great options of alpine resorts for those who want to practice sports such as skiing and snowboarding.
As the Alps head west towards Switzerland, the further west you go, the more skiing options there will be. Be sure to check out our guide on Innsbruck, one of the most beautiful Austrian cities and in the heart of the Alpine mountains.
But skiing is practically the Austrian national sport. Even more than that, it's a way of life there. So any roadtrip you take will see people skiing and lifts for skiers even in the smallest villages.
It is worth remembering that one of the coolest things about Austria is how much they know how to enjoy each season of the year. Most ski slopes, for example, become hiking trails and mountain biking trails in summer.
The lakes are places for diving, boat trips or even places to practice sports such as windsurfing during the warmer months. As they do not freeze, boat trips take place throughout the year.
What to do in Hallstatt at night
Hallstatt Austria, the village of less than XNUMX people, doesn't have the hectic nightlife you'd expect. However, there are options for things to do at night in the city or around the region.
For example, depending on the time of year you may be lucky enough to be able to attend some music and art festivals. O festival de Lehár, in Bad Ischl, takes place from July to August.
In the same city there are even nightlife options, such as the pub/club KuK Hofbeisl, which runs until 4 am on Fridays and Saturdays, with a house DJ.
For those looking for bars and clubs, the 12Almbar, in St. Gilgen, is an option in the area. Until 21pm, it's a typical bar. After that, it becomes a nightclub. Sometimes there are special events there, so it's worth checking out the website.
Where to eat in Hallstatt
In Hallstatt, a good option for dinner is the Salt baron restaurant, with European food, gourmet and perfect for those who like fresh seasonal dishes.
In Obertraun, the city where the Dachstein caves are located and where much of the tourism we recommend here, the tip is to have dinner at Pizzeria bowling alley. Open until midnight, it is a cheaper option in the region, but no less delicious. In addition, it has a charming outdoor area and, curiously, two bowling alleys.
O Bread & Wine, in Gmunden, is an option for those who, as the name implies, like wine (and bread). The wine bar is in a basement decorated with different posters and, despite being a bar, it closes around 22pm.
Hotels in Hallstatt Austria
Even though it is quite touristy, it is worth remembering that Hallstatt is very small and extremely popular. Thus, hotels and inns end up being much more expensive and fill up quickly. So, it's important to plan ahead.
We separate some options where to stay in the city, check them out:
see all the options where to stay in Hallstatt Austria with the best prices on Booking by clicking here.
Hallstatt Hideaway ($$$)
O Hallstatt Hideaway It is one of the most luxurious hotels in the village, offering rooms with balconies, Jacuzzis and views of the lake. Simply sensational.
It's perfect for couples, but adults only. The hotel has a spa, a private "beach" area on the lake and its own parking lot.
Rates from 400 euros with breakfast paid separately.
See the prices and availability of Hallstatt Hideaway and make your reservation on Booking by clicking here!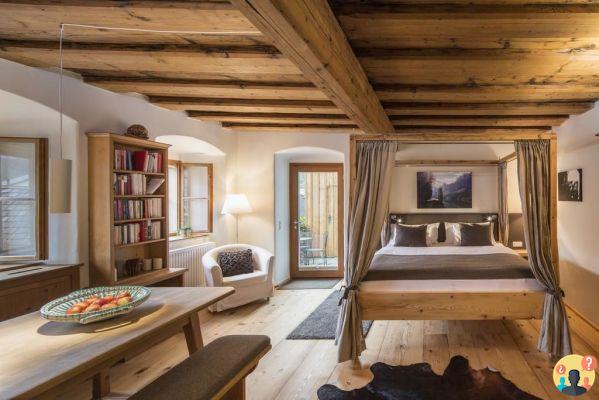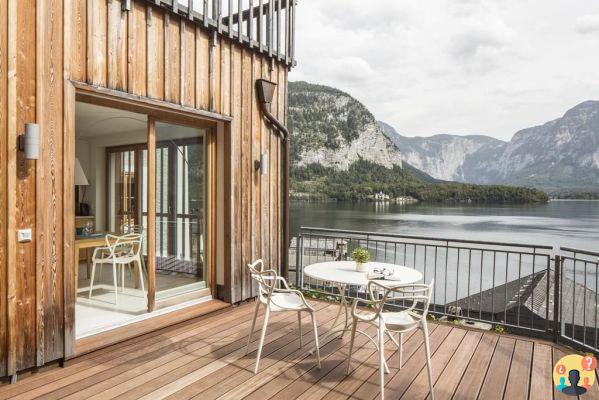 White Lamb ($$)
O White Lamb It has great value for money for those who want to stay in Hallstatt and do not give up comfort. The hotel is close to the center of Hallstatt, that is, close to everything. The rooms are beautiful and spacious and there are views of the city.
The hotel also offers a good breakfast included and you can dine in their restaurant.
Rates from 120 euros with breakfast included.
Check prices and availability at Weisses Lamm and make your reservation on Booking by clicking here!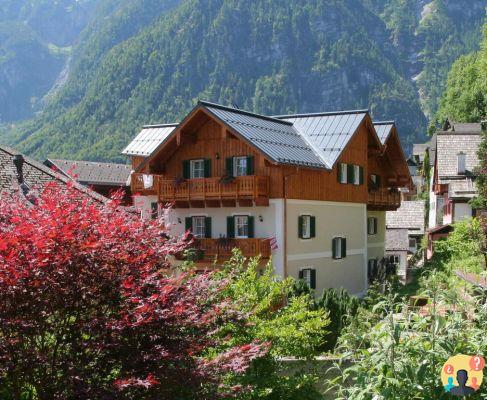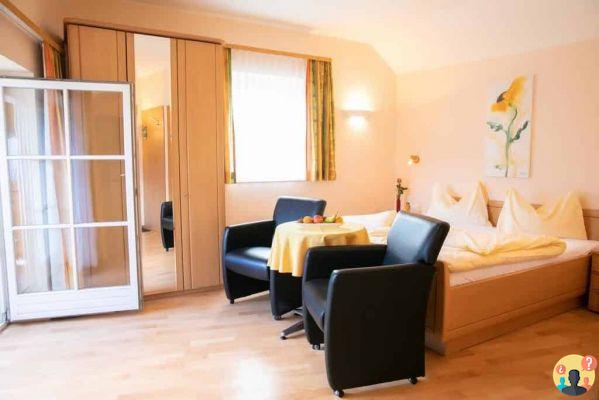 Hallstatt Lakeside ($)
O Hallstatt Lakeside certainly one of the best and cheapest options in the village! You can book a room or the entire apartment at the property. Located by the lake, there is a garden and private beach area.
Also excellent for families, as even the smallest rooms have a bed and sofa bed.
See the prices and availability of Hallstatt Lakeside and make your reservation on Booking by clicking here!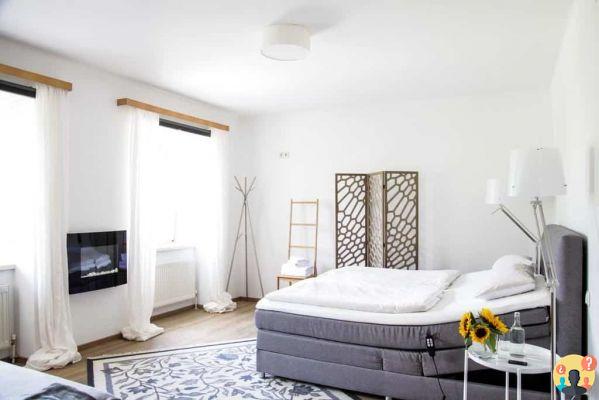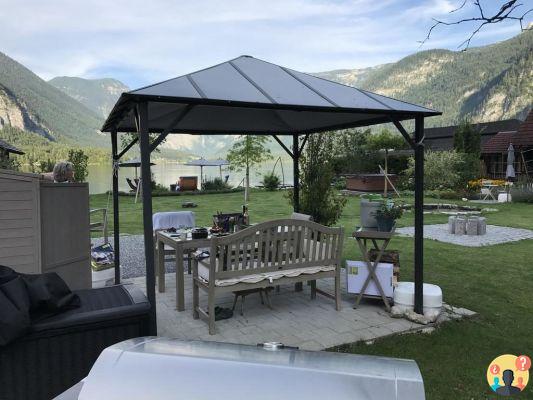 Austria itinerary
Did you like Hallstatt? Without a doubt it is one of the most famous places in Austria. One of its main postcards.
As you can see, the whole region is beautiful. But the whole country is really a sensational place for those who love history, culture and natural beauty. Despite not having direct flights from España, there are super simple and easy connections and traveling within Austria is also easy by car, bus, train or even plane.
So be sure to check out our complete guide with tips on what to do in Austria, specific suggestions for cities like Vienna, Salzburg and others, accommodation and everything you need to know to travel around Austria.
Read all about Austria:
Austrian Landmarks – 27 Places to See
Itinerary in Vienna – 10 Tips You Need to Know
What to do in Vienna – 1 to 5 Day Itinerary
17 Sights in Vienna – Attractions You Need to Know
Where to Stay in Vienna – Best Neighborhoods and Hotels
Hotels in Vienna – 15 Options Worth Booking
25hours Hotel in Vienna – Our Review
Innsbruck, Austria – Travel Guide
Graz, Austria – Everything to Plan Your Trip
Salzburg, Austria – How to Plan Your Trip
Linz, Austria – Complete Travel Guide
Austria Travel Insurance – Is It Mandatory? Learn Everything Here
Tips for Hallstatt – Currency, visa, language and other information
Hallstatt is in Austria, which is a European Union country and the Schengen area. This means that Brazilians do not need a tourist visa to go there. However, it is important to be prepared for basic things that immigration may ask you or ask you.
For example, have your hosting information handy, a travel insurance for Europe that covers the period you are traveling and also your return ticket. This is if your trip is traditional tourism, but it is worth checking basic requirements for entry into Austria.
> Compare the best prices and travel insurance plans by clicking here. (opens in a new tab)">>> Compare the best prices and travel insurance plans by clicking here.
Also, there are no direct flights from España to Austria. If you enter through a country in the Schengen Zone, your immigration process will be carried out in the country of entry (eg Germany or Italy).
If it is done in a non-Schengen country (England is still the European Union, but it is not Schengen!), it will go through two immigration processes.
Tongue - German in Austria
In Austria the official language is German, which is a little different from the German spoken in Germany, but nothing too absurd (potato is "kartoffel" in Germany, but "erdapfel" in Austria, for example). In addition, the country has several different dialects and even fluent German can have some difficulty.
But don't be scared! Much of the population, especially the younger ones and in the larger urban centers (or tourist areas), speak English. However, you will rarely find an Austrian who speaks Portuguese.
In Hallstatt, especially, due to the huge number of Chinese tourists, you will notice that there are numerous signs in Mandarin (but also in English). In addition, Austria in general is very well prepared to deal with tourism and welcomes visitors from all over the world.
When in doubt, study: "please" is "bitte", "thank you" is "danke" and "do you speak English" is "Sprechen Sie Deutsch?".
A typical Austrian greeting that you can use instead of hello is 'Grüß Gott', which is pronounced like 'grus gót'.
the austrian currency
Austria is part of the Eurozone, which makes it easier for those who have other destinations in the region. After all, the country's official currency is the euro. Austrians usually pay for things with cash and it's common for places not to accept even a debit card, let alone a credit card.
For this reason, and especially in smaller towns around Hallstatt, it is worth carrying a good amount of cash. Also, always check in establishments (including restaurants) if they accept cards.
Plan your trip to Hallstatt
Are you full of things to think about and still have to plan your entire trip? Or you've seen it all, but you're feeling that familiar "Have I forgotten something?"
So calm down, we'll help you with some items you can't forget before boarding. Come on!
1) Have you already purchased your airline ticket?
Where to buy: PROMO TICKETS
Looking for a good deal and flight prices? When buying tickets to Vienna, it is worth taking a look at the website Promo Tickets. It is quite common to find cheaper and better flight options than on other sites. We always use it and it's worth it!
2) Have you booked your hosting?
Where to buy: BOOKING.COM
If you haven't booked your stay, the tip is to compare hotels, hostels and inns through Booking.com. This is the largest hotel booking platform in the world, ensuring a safe experience and great accommodation deals.
#StayHip: Keep an eye out for 'Smart Deals', which only last for one day. Some amazing hotels offer great discounts using this badge on the platform. If you find a good deal, it's worth closing.
3) Travel Insurance for Austria is MANDATORY
Having travel insurance for Austria is a requirement to enter the country, which is part of the Schengen Treaty and requires medical and hospital coverage of at least €30 for travelers. In addition to being mandatory, insurance is a great way to ensure a smoother trip. Also enjoy our Insurance Promo discount coupon. - SEE PRICES
4) How to have unlimited internet while traveling
Where to Buy: AMERICA CHIP
Did you know that it's getting easier – and cheaper – to have unlimited internet throughout your trip?
Just ask for an international cell phone chip through AMERICA CHIP. We always use and love it! They send a SIM card to your address in España, you insert it in your cell phone when you arrive at your destination and you have unlimited internet throughout the trip.
#StayHip: Save on car GPS rental and use GoogleMaps and Waze with your unlimited internet ;).
5) Rent cars at the best prices
Where to rent: Rent Cars
We really like RentCars to find the cars we use on our travels. It is the only one in Spain that compares the best rental companies in the world, but lets you pay in reais, without IOF. In addition, it is also the only one that lets you pay in 12 interest-free installments. It is worth it!
#Here's a tip: Try to find cars with full car and third party insurance coverage. Thus, you avoid inopportune surprises when picking up the car.
Note: We highly value the credibility of our information. All the sites we recommend above are sites we already use, we have good experiences and feedback from readers!
Did you like our tips for Hallstatt in Austria? Leave your comments and questions here…