A Bridge Golden Gate It is one of the most beautiful suspension bridges in the United States and certainly one of the best known in the world. With its vibrant color – red for some and orange for others (officially the color is "international orange" to facilitate its visibility to ships and vessels) – which contrasts with the blue sky of San Francisco and often with the white of the clouds, it attracts thousands of tourists daily.
It is almost 2,5 km long over the Golden Gate Strait – hence the name of the bridge – that connects San Francisco to Sausalito. The distance can be crossed by car, bus, bicycle or walking. Despite being huge, it is not from anywhere in the city of San Francisco that you will be able to see the Golden Gate Bridge.
Don't forget travel insurance!
Click here and hire the ideal plan for your trip at the best prices!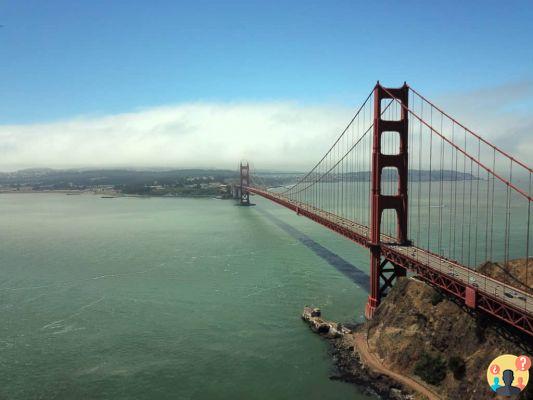 History
The bridge is one of the landmarks of the state of California. Construction of the bridge began in the early XNUMXth century, when there was a need to find a way to cross San Francisco Bay other than by ferries.
Designer Leon Moisseiff and Chief Engineer Charles Alton Ellis were responsible for the engineering design. Irving Morrow designed the look of the art deco towers and details. Construction began in 1933 and ended in 1937. It is unknown how many workers worked on the bridge, but it was built by 10 major contractors, costing around $35 million dollars. Additionally, it was completed ahead of schedule and $1,3 million under budget.
Curiosities
During the fog, which is super common in San Francisco in the summer, it is normal to hear the sirens that blare from the Golden Gate Bridge. The south tower siren emits a low, high note for two seconds and the siren in the central span between the towers emits two high notes.
One of the biggest challenges of building the bridge was underwater. Imagine in 1933, when the bridge was built, what the diving equipment was like! There were no cylinders and air was pumped nearly 35 meters downstream.
To learn more about the bridge see the Golden Gate website please click here
South of the bridge in the Presidio neighborhood, you'll find great spots to take postcard photos of the city. Take a look at the points at green in the map.
1) Visitor Center da Golden Gate Bridge
It is the most frequented point, right there there are several places and small trails to walk and look for the best angle. Here is also the starting point for those who want to cross the bridge on foot, it is super quiet and worth the experience. Just be careful with the bikes and bring a jacket to protect yourself from the wind.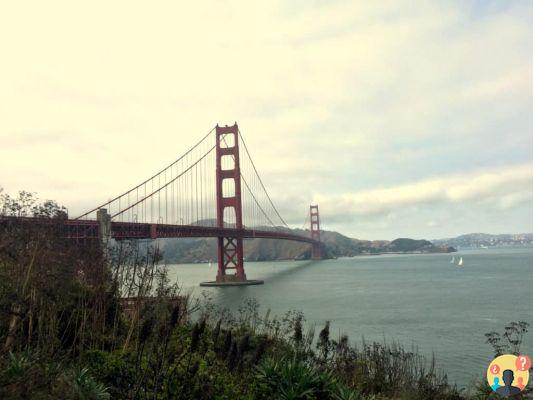 2) Crissy Field
The area is very wide, with beach, cafes and picnic tables. You can plan ahead and spend the morning or evening in the region. Looking at the map it may seem far, but it is possible to walk from the Visitor Center to here, enjoy the day and the scenery.
3) Fort Point
Continue walking until you reach Fort Point, you can get very close to the Golden Gate Bridge and stand under it. If you want to visit the interior of Fort Point, it is open from Friday to Sunday, from 10 am to 17 pm.
4) Baker Beach
The beach is not very attractive for bathing, mainly because of the low water temperature, but it is a great spot for beautiful photos. With your feet in the sand, walk towards the rocks and enjoy the landscape. Here is a good place to enjoy the sunset – in that case, don't forget to bring a coat or even warm clothes.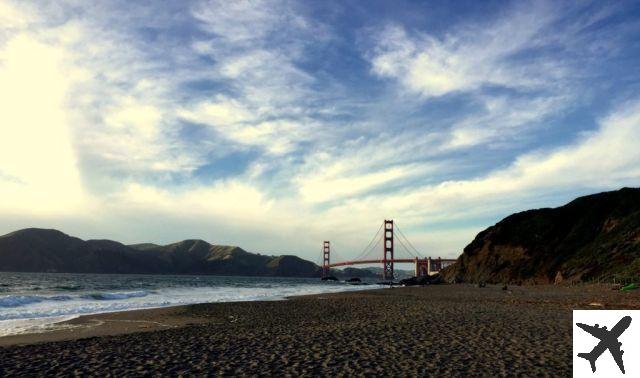 5) Lands End
O Lands End it's a small park, but with an impressive view and a lot of wind (don't forget your coat). There are a few small trails, nothing too long or strenuous. Even if you've grown tired of seeing the Golden Gate Bridge (which is almost impossible to do), it's a place worth visiting. For a great view of the bridge, walk to the Lands End Labyrinth.
North of the bridge, towards Sausalito, there are also great photo spots. Take a look at the red dots on the map.
6) Golden Gate Bridge View
Another region with many tourists, it seems far away, but it is possible to reach it by public transport. If you have a car, you can park, sometimes you just need to be patient to get a spot. Coming by car, keep an eye on the entrance, it is very easy to go unnoticed.
7) Golden Gate Bridge Vista Point e Battery Spencer
Getting here by public transport is more complicated, actually tiring, but possible. You have to get off at the Golden Gate Bridge View and walk. Prepare for the ascent. If you are in good physical condition, cycling is also an option.
If you are driving, the Vista Point it is a little more complicated to park, and there are almost always police patrolling, be careful not to be fined and be patient. Once you secure your spot, walk for 5 minutes to the top of the Battery Spencer and get ready for the beautiful view.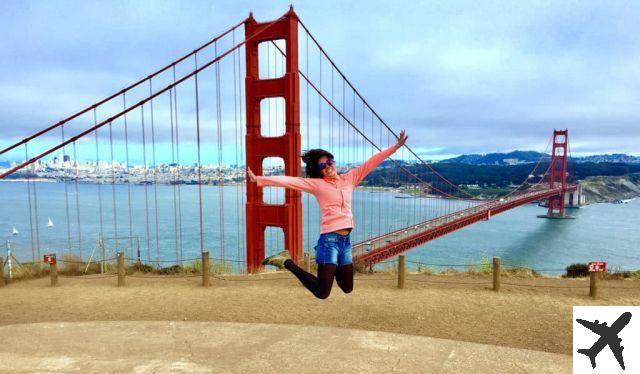 8) Golden Gate View Point
The ascent continues and up there there is also space to park. If the day is beautiful – blue sky and no low clouds – it is possible to capture beautiful photos of the bridge and the city of San Francisco.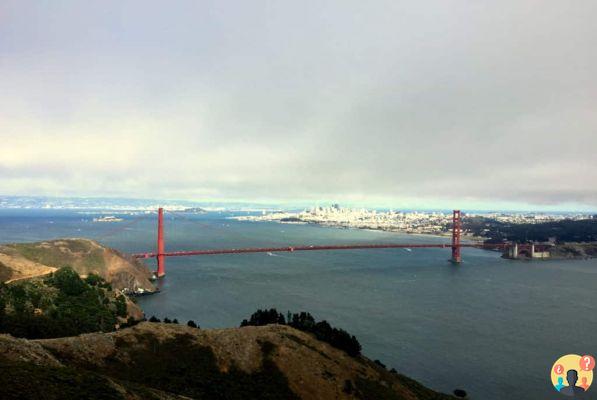 #Important tips:
Keep an eye on the weather forecast, low clouds (locals call it fog) are very common in the city and can damage the photo. Dawn makes for beautiful photos, but fog is also more frequent.
It is worth mentioning that the Golden Gate Bridge is tolled, but you only pay when crossing it by car in the North-South direction, that is, only for those arriving in San Francisco, coming from the Sausalito region.
If you are renting a car, keep an eye out, as the bill will arrive. The toll is electronic so there is no need/possibility to pay when passing.
There's no excuse for you to come back without that beautiful picture of the Golden Gate Bridge. Don't forget to share on our social media using #fortravelovers
San Francisco travel insurance
Taking out travel insurance for San Francisco is an excellent way to ensure a smooth trip and avoid worries. Having the assistance of insurance gives you the peace you need to enjoy your destination and know that you have support if you need it. Also enjoy our Insurance Promo discount coupon. - SEE PRICES
Receive a SIM card at your home in España and use unlimited Internet in San Francisco and across the US

We discovered one of the best solutions for you not to spend hours of travel in telephone stores in the country, speaking an unknown language to get a SIM card. This is one of the tips we love to give our readers: America Chip.
Write it down: The company sends an international Chip to your home in Spain. When you're on the plane, just change your Brazilian SIM card for this international one. You will arrive in the United States with unlimited internet, using your cell phone at will, as you use in España.
Arriving in the United States, you can use it all day, anywhere. You'll save on GPS rentals, Skype credits, and you'll still be able to use social networks, Google, or search for anything on the internet all day. In addition, you can still call your home to send travel news as many times as you want via WhatsApp or Facetime.
And you, do you already know what to do in San Francisco? Comment here!
Read More
San Francisco Complete Guide – Everything You Need to Know
Things to do in San Francisco – 22 Must-See Attractions
Car Rental San Francisco – How to Get Discounts
Travel Insurance in San Francisco – Is It Worth It?
Where to Eat in San Francisco
Where to Stay in San Francisco
Hilton San Francisco Union Square – Our Review
Hotel San Remo – Where to Stay in San Francisco
Apple Farm Inn Hotel – Where to Stay in San Luis Obispo
Cheshire Cat Inn – Hotel in Santa Barbara, California
Auberge Carmel – Relais & Chateaux
Hotel Cavallo Point – Hotel em Sausalito
Hotel Santa Barbara Inn – Where to Stay in Santa Barbara
Where to Shop in San Francisco
Museums in San Francisco – 6 Attractions You Can't Miss
Sports and Games in San Francisco – Everything You Need to Know
International Travel Insurance – Check the Step-by-Step on How to Hire
Travel Insurance for the United States – Is it mandatory?