Discover the incredible train station located at an altitude of 3454 meters, on the Jungfrau Mountain, in the Swiss Alps. The landscape is surreal.
Interlaken is an amazing little town, situated in the heart of Switzerland at an altitude of 568 meters, between the lakes of Thun and Brienz and at the foot of the famous and monstrous trio of mountains, the Eiger, the Mönch and the Jungfrau.
The region of Interlaken It has about 125 inhabitants. Only 15 people live in the center. The largest area of ​​Interlaken is Thun with almost 43 thousand inhabitants. The official language is German, along with Swiss-German which is the most widely spoken in the region, but don't worry: many can speak English as well as French.
Interlaken is the starting point for those who are going to visit the Jungfrau mountain. Undoubtedly the biggest highlight of my trip was going up to one of the tops of Europe by train, it's a unique and enchanting experience.
I spent an afternoon in Interlaken before going up to Jungfrau mountain by train. I highly recommend taking a Free Walking Tour around the city. It was a really cool experience and I even had the pleasure of trying a lot of cheeses and chocolates during the tour! For more info visit the website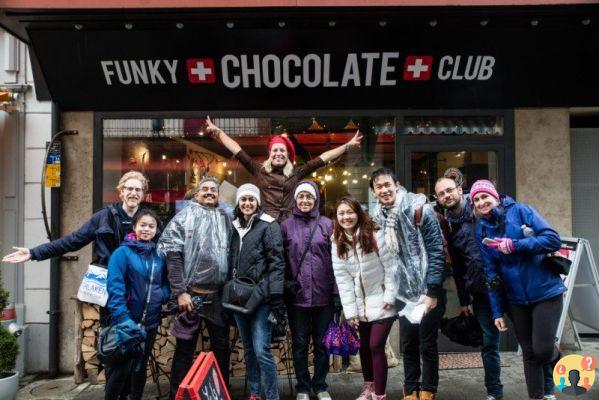 How to get to Interlaken
Traveling by train in Switzerland It's the easiest and most beautiful thing to do. To get to Interlaken is no different, you can go by train from the main airports and cities in the country, trains with direct connections from Paris, Berlin, Frankfurt and also Wiesbaden.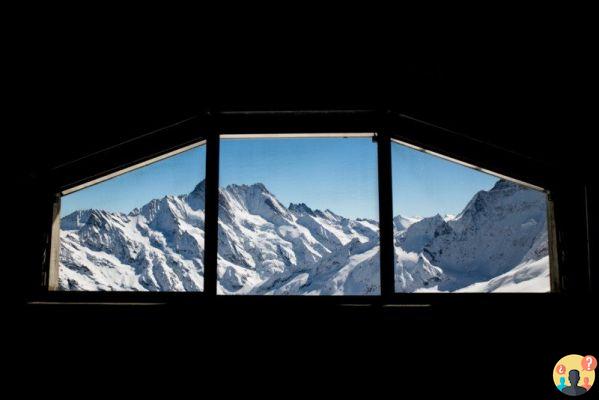 If you choose to go by car, the roads are also connected to the main cities and airports in Switzerland and also main European cities.
Jungfrau
Jungfrau in German it means "Young Girl". It is the highest of the three mountains in the mountain massif of the Bernese Alps, known as Swiss Alps Jungfrau – Aletsch, and considered UNESCO World Heritage.
A Jungfrau mountain is located at exactly 4158 meters of altitude, while Mönch is at 4107 meters and Eiger at 3970 meters.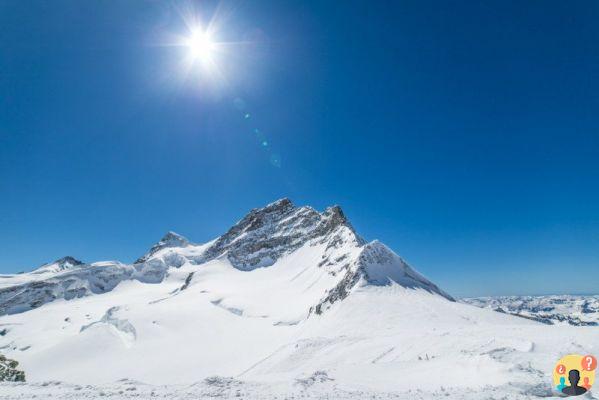 Jungfraujoch - Top of Europe
Jungfraujoch it is considered by many to be the biggest tourist attraction when visiting Switzerland. It is the highest train station in Europe, located at exactly 3,454 meters above sea level.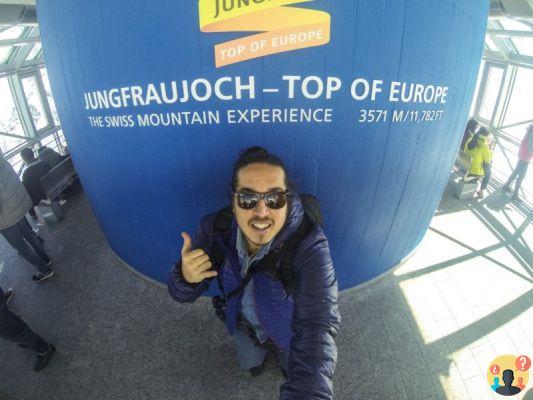 History of Europe's highest station
It all started when the Swiss entrepreneur Adolf Guyer Zeller had the idea of ​​building a tunnel that would take him to the top of the Jungfrau in 1893.
The initial idea was to build 7 stations inside a tunnel leading to the top of Jungfrau. Several reasons prevented him from continuing, including many accidents and deaths due to working conditions (cold and altitude). The biggest one happened when 30 tons of dynamite accidentally exploded.
After 16 years of construction and adversity, the path to the highest point was built. that's where it stays Sphinx, one of the highest astronomical observatories in the world. The station became accessible to tourists on August 1, 1912. Today, the Jungfrau Railway It is considered one of the most impressive in all of history.
When visiting Jungfraujoch, an area called Alpine Sensation is intended to tell a little of its story. You know everything guided by a treadmill that takes you through images, music and lights. You travel back in time and get a close look at how difficult and dangerous it was to build this station.
Don't let the rush of being in the snow take away the chance to follow a little more closely the history and people who are remembered and honored for the construction of this incredible station.
What to do at the top of the Continent
In addition to the Alpine Sensation mentioned above, in Jungfrau you will find other diverse activities within the same building.
The main and most touristic one is the sphinx observatory. An elevator takes you 117 meters above the station. Before reaching the elevators that take you to the Sphinx, you go through a room with 360º video images of the place itself, giving you a spoiler of what you will see when you go up.
The observatory offers panoramic views of the mountains, both from the terrace and from inside, with its panoramic windows. There you really feel in your skin what it all represents.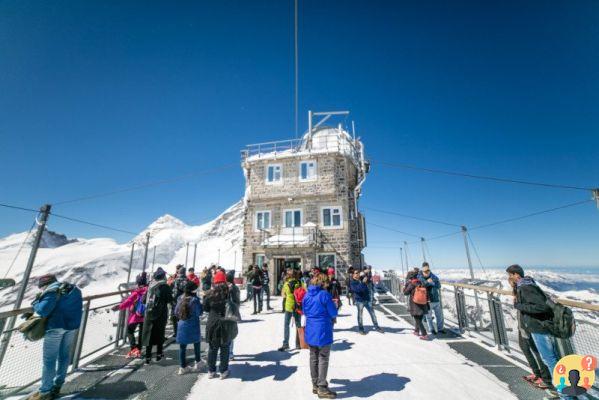 Another attraction is the Ice Palace. They are paths through the ice preserved to this day. In addition, it has sculptures and an ice bar.
Still inside the building you will find five restaurants, with incredible views of the Alps, some shops and also a place called Lindt Swiss Chocolate Heaven. I don't think I need to say much, but it's a store with one of the best chocolates in the world, where they also teach you about the history of chocolate and how it's made.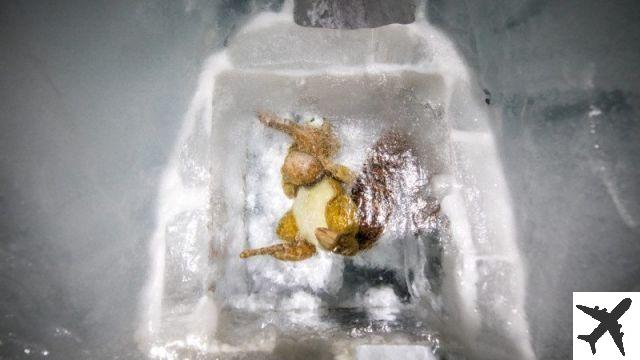 Once outside, you can go play in the snow and enjoy the view, which also includes the glacier. Grosser Aletsch Glacier.
During the summer you can go skiing and snowboarding too, but these activities are not included in the ticket.
It is possible to walk through the snow even in about an hour to the Mönchsjoch cabin (a cabin in a high part of the mountain that offers you a different view of the mountains), but for that the weather needs to be good and you need suitable clothes. A good snow boot from Columbia is essential, for example, apart from the thermal coat and even gloves, scarf and hat.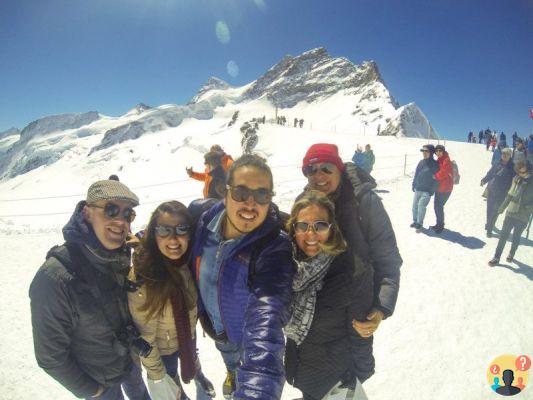 How to get to the top of Europe
The starting point is the Interlaken Ost station. From there you will travel on the Bernese Oberland Railway. It is possible to take two train options, one that goes through Lauterbrunnen and the other that goes through Grindelwald, I ended up going through Lauterbrunnen. Arriving at one of these two stations, you take another train on the Wengernalp Railway.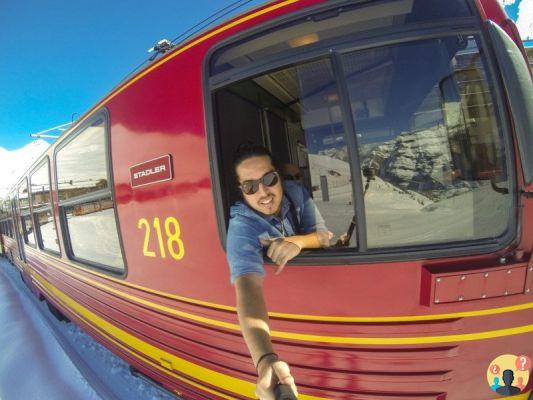 This last train will take you to Kleine Scheidegg, a station with a wonderful view of things to come. From there you take another train that will take you to the final station. Jungfrau Railway that takes you straight to the top of Europe, Jungfraujoch.
That is, in total there are three trains that you take on a trip lasting a little over two hours.
Pricing
Now let's talk about the boring part that no one likes: the value of the tickets.
As is to be expected, tickets are very expensive. However, I am of the opinion that if you have the money in your pocket, spend it. It's a once-in-a-lifetime experience, worth every penny and you can't be there every day.
One way price is CHF 102,20 (about 356 Reais) per person, and round trip costs 204,40 CHF (about 713 Reais). This traveling second class.
If you are staying in Lauterbrunnen or Grindelwald the price is a little cheaper, it's 184 CHF (about 643 Reais) from Grindelwald and 183,60 CHF from Lauterbrunnen, both return tickets.
These prices are valid until December 10, 2016, after that date there may be some kind of readjustment.
Those traveling in large groups can also get special prices, for that visit the Jungfrau website by clicking here.
Another option for those who want to explore the region is the Jungfrau Travel Pass. The card gives you 3-6 days of unlimited travel around the Jungfrau region, but unfortunately it doesn't go all the way to the top of Europe. It is only for those looking for activities in the region. The price varies according to the number of days you choose, but starts at 180 CHF (630 Reais) for 3 days and goes up to 255 CHF (890 Reais) for 6 days.
Reaching the top of Jungfrau is a dream for many and I was blessed by the opportunity. I thank the backpacking and also to Switzerland tourism.
Diego Imai traveled at the invitation of Tourism Switzerland.
Switzerland travel insurance
Having travel insurance for Switzerland is a requirement to enter the country, which is part of the Schengen Treaty and requires medical and hospital coverage of at least €30 for travelers. In addition to being mandatory, insurance is a great way to ensure a smoother trip. Also enjoy our Insurance Promo discount coupon - SEE PRICES
Read More
Where to Stay in Interlaken – Hotel Krebs
Skydiving at Interlaken – Everything you need to know
Switzerland Itinerary – 10 Best Tours
What to Do in Switzerland – 4 Must-See Sights
What to do in Switzerland – 7-Day Itinerary
Flight to Switzerland – What it's like to fly with Swiss Air
Travel Insurance in Switzerland – How to Find the Right One
Traveling by Train in Switzerland – Everything you need to know
What to do in Basel – 9 Essential Tips
Where to Stay in Basel – Hotel Schweizerhof
Itinerary in Bern – 10 Tips on What to Do
Where to Stay in Bern – Hotel Alpenblick
Travel Insurance Europe – Complete Guide on How to Hire
What to Do in Montreux – 10 Must-See Sightseeing on the Swiss Riviera
Where to Stay in Montreux – Tralala Hotel
What to Do in Lausanne – 10 Must-See Things
Where to Stay in Lausanne – Hotel Alpha Palmiers
What to do in Zurich – Complete Itinerary
Where to Stay in Zurich – B2 Boutique Hotel + Spa
Plan your trip:
Get started now by booking your hotel in Switzerland on Booking.com
Save time and money searching for the best Travel Insurance with the Seguros Promo comparator! Extra 5% off with coupon: FORTRAVELOVERS
Compare the best prices to rent a car from over 100 rental companies with Rentcars! (Pay in up to 12X! Pay in reais, without IOF)
Leave España with Unlimited 4G Internet!