Travel to Zurich by Swiss Air it is an experience worth the excitement. The company is the only one that has direct flights from São Paulo to the largest Swiss city.
A Swiss Air is Switzerland's largest and main airline, covering 102 destinations in 46 countries worldwide, departing from Zurich or Geneva. It has a fleet of 95 aircraft and transports 16 million people every year.
Traveling to Zurich with Swiss Air It seemed super exciting right away. I always had the impression that flying with Swiss was something a little more special than flying with other companies I've flown before. Swiss is famous for the quality of service provided.
It's great to know that Swiss makes daily direct flights from Sao Paulo to Zurich. As the trip lasts 11 hours, a stop ends up making the trip even more tiring. It also operates codeshare flights from Belo Horizonte, Brasília, Curitiba, Florianópolis, Porto Alegre and Rio de Janeiro in cooperation with TAM Linhas Aéreas.
#ParaNãoForget: Have you bought your travel insurance yet?
Get your discounted plan using the coupon FORTRAVELOVERS (5% off).
Click here and enjoy!
Check in
As soon as I arrived to check in, I was quickly attended to and the service was great. I had to carry one of my suitcases to another conveyor belt, as it was a suitcase on the back, with loose handles. According to the attendant, it would be risky to put her on the mat at the check-in counter.
I asked for a window seat but unfortunately it was not possible as the flight was full. To compensate, I was offered a seat with more legroom, which helps me a lot as I'm 1,85m tall. So don't do like me, book your seat in advance by Internet, don't risk it!
In order not to be harmed by late check-in, it is best to secure your seat at home. Just access the website.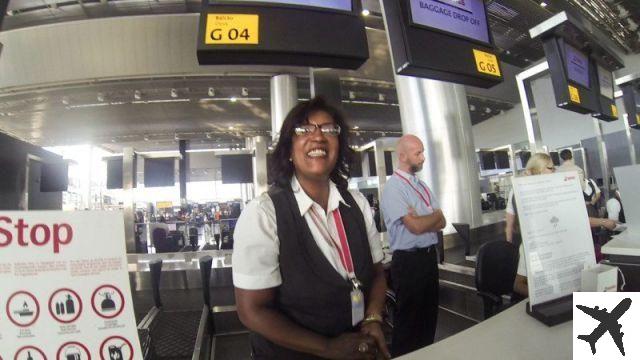 Check-in opens 23 hours before your flight, so that's plenty of time if you prefer to process the process early. Online Check-in also allows you, in addition to choosing a seat on the plane, to go directly with your hand luggage to the boarding gate.
Another option for check-in is the SWISS application, with which you can also book flights and modify reservations, receive your boarding pass to board without papers and check arrival and departure times. It is available for both iPhones and Androids.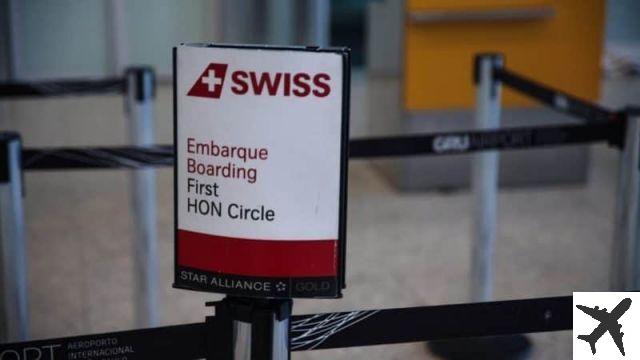 Aircraft
The aircraft that made the flight between São Paulo and Zurich was a Airbus A340-300. It has 219 seats divided into 2-4-2 for the most part. The upgrade I received was for the rear of the aircraft where the seats were divided into 2-3-2 with more legroom. In the armchair there was a blanket, earphone and pillow.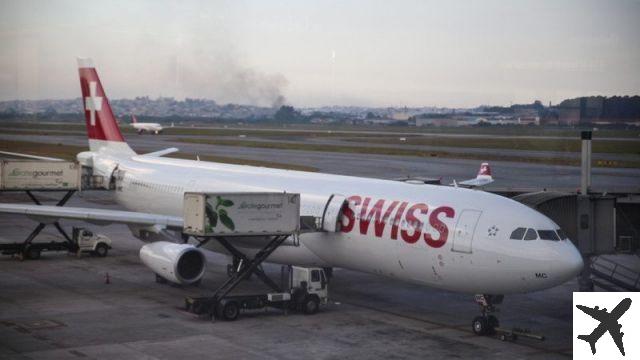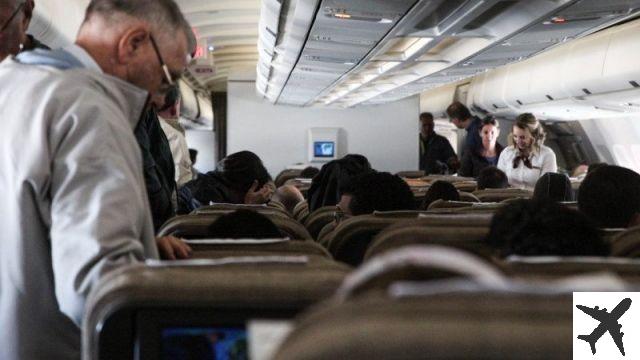 entertainment on board
Entertainment is something I'm always excited to explore on long flights. At Swiss television did not excite, but neither did it disappoint. The monitor was old and the control those attached to the arm of the chair.
In the program, a great list of old and new movies, lots of music and a part with series that left something to be desired. Curious and cool was the fact of having in the list of movies, all the movies of the 007 saga. Swiss updates the menu every month to always bring news. I ended up watching one of the Oscar nominated films, Leonardo DiCaprio's 'The Revenant', so my experience was super satisfying.
Another part that I always like to keep track of during long trips is the map that shows the position of the aircraft on the travel path and all the information such as travel time, distance to destination, temperature, speed, etc. This service worked very well.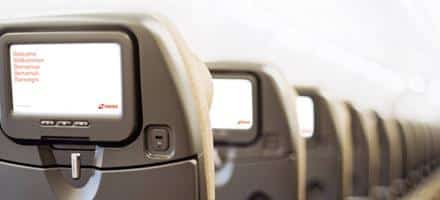 Meals
as in all flight longer, the menu offers two options of hot dishes, one of which is always a vegetarian option. I love plane food and it's always my favorite part of the flight.
I had to choose between "Chicken or Pasta", and I ended up opting for chicken. A small portion of seasoned salad, with cubes of cheese and a slice of tomato. Butter and pasteurized cheese along with a small bread, and then the main one was chicken in a tomato-based sauce with rice and strips of carrots. For dessert something like a chocolate muffin. Special menus can be ordered up to 24 hours before departure.
Two hours before arrival, breakfast was served, simple and delicious, with juice, yogurt, bread, cheese and butter.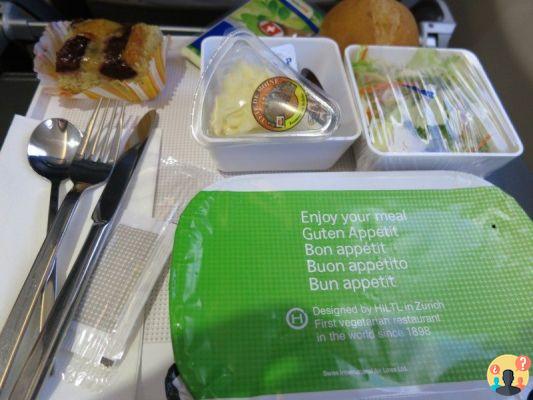 Swiss chocolate
We were even offered a treat as the trip drew to a close, a small Swiss chocolate to give you a taste of what you will be able to explore a lot once you arrive in the country.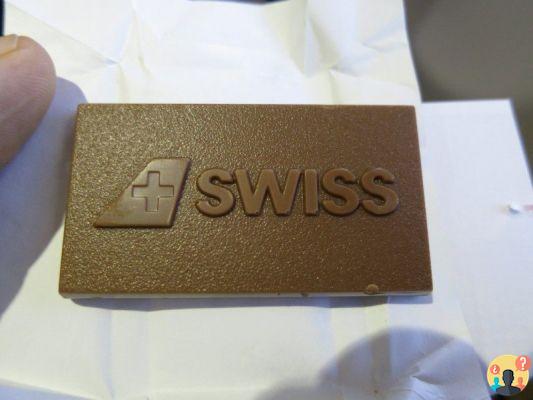 Miles
I have a frequent flyer card Miles & More, Swiss is part of Lufthansa group and is a member of Star Alliance (the largest airline group in the world). It was through the card that I was offered a seat with more legroom, as well as being able to accumulate points.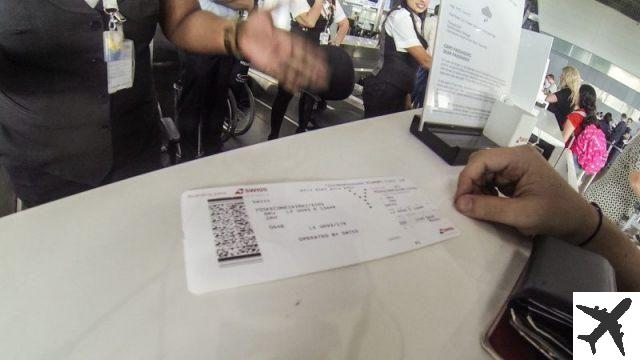 And the final note for Swiss Air is…
A Swiss Air it was from start to finish good experience, I confess that I expected a little more simply because it was Swiss Air, this little more did not happen simply because the aircraft was older, I confess that I expected something newer and more modern.
That doesn't put them behind any other experience I've had, the service is impeccable and for the service they deserve a 10. I flew from economic class, and I had a super nice trip. The flight is direct and I was super satisfied with the experience.
My final grade is 8.0.
Diego Imai traveled at the invitation of Tourism Switzerland.
Switzerland Travel Insurance
Having travel insurance for Switzerland is a requirement to enter the country, which is part of the Schengen Treaty and requires medical and hospital coverage of at least €30 for travelers. In addition to being mandatory, insurance is a great way to ensure a smoother trip. Also enjoy our Insurance Promo discount coupon. - SEE PRICES
Read too
What it's like to fly Royal Air Maroc
What is it like to fly with British Airways
What is it like to fly on Air Canada
Read more about Switzerland:
Switzerland Itinerary – 10 Best Tours
What to do in Switzerland – 7-Day Itinerary
What to Do in Switzerland – 4 Must-See Sights
Travel Insurance in Switzerland – How to Find the Right One
Traveling by Train in Switzerland – Everything you need to know
What to do in Basel – 9 Essential Tips
Where to Stay in Basel – Hotel Schweizerhof
Itinerary in Bern – 10 Tips on What to Do
Where to Stay in Bern – Hotel Alpenblick
Travel Insurance Europe – Complete Guide on How to Hire
What to Do in Montreux – 10 Must-See Sightseeing on the Swiss Riviera
Where to Stay in Montreux – Tralala Hotel
How to Get to Jungfrau – Discover the Swiss Alps in Interlaken
Where to Stay in Interlaken – Hotel Krebs
Skydiving at Interlaken – Everything you need to know
What to Do in Lausanne – 10 Must-See Things
Where to Stay in Lausanne – Hotel Alpha Palmiers
What to do in Zurich – Complete Itinerary
Where to Stay in Zurich – B2 Boutique Hotel + Spa
Plan your trip:
Get started now by booking your hotel in Switzerland on Booking.com
Save time and money searching for the best Travel Insurance with the Seguros Promo comparator! Extra 5% off with coupon: FORTRAVELOVERS
Compare the best prices to rent a car from over 100 rental companies with Rentcars! (Pay in up to 12X! Pay in reais, without IOF)
Leave España with Unlimited 4G Internet!