Summary
Consignment from your hotel or apartment rental
Luggage lockers in Milan: how much does it cost?
Milan station luggage lockers
- Central Milan
- Milan Porta Garibaldi
Instructions for Milan airports
- Malpensa Airport
- Linate Airport
- Bergamo Airport
Milan bus station instructions
- Lampugnano
- San Donato
Instructions for museums and tourist places
- Place du Dôme
- Sforza Castle
Shopping centre lockers
- Galleria Vittorio Emanuele II
- City Life Shopping District
Vacationing in the fashion capital? Discover Milan's luggage lockers that will make it easy!
Milan is a city not to be missed by fashion enthusiasts, but not only! In addition to the luxury boutiques, Milan is full of points of interest such as the famous Duomo di Milano, the Santa Maria delle Grazie Convent and the Gothic Cathedral. If you come to discover this highly cultural city, you will probably come with one or even several suitcases. Even if it is impossible to do without them during a trip, suitcases are often very bulky. But don't worry, there are plenty of luggage lockers in Milan that will allow you to visit freely.
To help you feel lighter during your stay in the capital of fashion, For Travel Lovers has prepared a small guide to luggage lockers in Milan.
Consignment from your hotel or apartment rental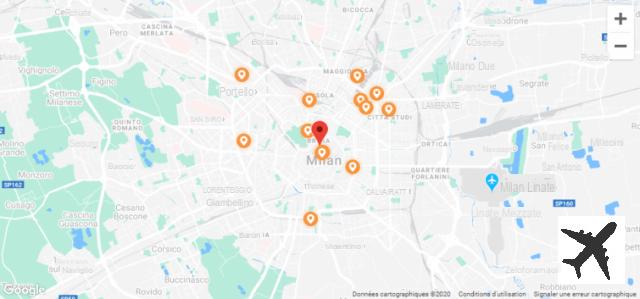 If you are coming to Milan for several days, you should have rented a room in a hotel, a youth hostel or an apartment. Most hotels and hostels in Milan offer luggage lockers. Nothing is less safe for rental apartments. It often depends on the owner of the premises who may or may not allow you to leave your bags and suitcases in your apartment in Milan. We advise you to check with him/her before making your reservation. If this is not possible, there are other alternatives for finding luggage lockers in Milan.
Find a luggage locker in Milan
Luggage lockers in Milan: how much does it cost?
| Platform | 1 hour | 3 hours. | 24 hours | extra day | Insurance | Book |
| --- | --- | --- | --- | --- | --- | --- |
| | – | – | 6€ | 6€ | 1 000€ | See instructions |
It is quite possible that you will need to find luggage lockers in the Lombard capital. If this is the case, Nannybag could be of use to you. Their numerous luggage lockers, located near train stations or monuments, will allow you to visit Milan while leaving your luggage in a safe place.
To do so, go to their website and book one of the luggage lockers in Milan. Once there, you will need to show your ID and you can leave your belongings. For only 6€ a day, your suitcase is safe. In addition to offering you low prices for luggage lockers in Milan, Nannybag guarantees your suitcase up to 1000€. If anything happens during your visits, you will be compensated in case of loss, theft or even damage to your belongings.
Milan train station lockers
Central Milan
Milano Centrale is the main railway station of the capital of Lombardy. Located in the city centre, in Piazza Duca d'Aosta, Milano Centrale station welcomes every year no less than 120 million passengers. Trains arriving at Milano Centrale station come from all over Italy, but also from several European cities. If you have to pass through Milano Centrale station, you can leave your bags and suitcases there. Luggage lockers are available on the second floor of Milano Centrale station.
For the first five hours, the price is €3.80 per piece of luggage. Between the sixth and the twelfth hour there is an extra charge of 1€ per hour. And from the thirteenth hour onwards, the supplement is fifty cents. Please note, however, that the deposit of your belongings cannot exceed five days. Moreover, suitcases weighing more than twenty kilos are not allowed. The left-luggage office in Milano Centrale is open from 6 a.m. to midnight.
Milan Porta Garibaldi
Milan's Porta Garibaldi railway station is the second largest in the city. It is mainly a regional station, but it also serves several Italian and European cities, including the Gare de Lyon in Paris. If you travel to Milan by train, you will probably land at this station.
It is possible to leave your bags and suitcases at the Milan Porta Garibaldi station. There are several self-service lockers so that you can travel hands-free.
Instructions at Milan airports
Malpensa Airport
Located 45 kilometres north of Milan, Malpensa Airport is the main airport of the fashion capital. If you land at Malpensa Airport, you can leave your bags and suitcases there. Milan Malpensa Airport's baggage drop-off service is located at the arrivals level of terminal T1. It is open every day between 6am and 10pm. For a small suitcase, the daily rate for the deposit is €3.50. For large suitcases, 4€ for 24 hours. If you leave your suitcases less than 24 hours, you will be charged the full rate.
Find a luggage locker in Milan
Linate Airport
Linate airport is Milan's second airport. It is also called Enrico Forlanini. Very close to the centre of Milan, it is mainly a "city airport". For this reason, Linate airport only handles short or medium distances. It is a small airport with only two runways; one dedicated to commercial traffic and another for passenger transport.
There is a luggage locker at Milan Linate airport. It is open every day between 6.30 a.m. and 9.30 p.m. Depending on the size of your suitcase, the price varies between €4.50 and €5 per day.
Bergamo Airport
Bergamo airport is located 45 kilometers northeast of the city of Milan. The airport mainly welcomes low-cost airlines such as RyanAir and Air Italy. In terms of volume, it is the most important airport for low-cost airlines.
You can leave your bags and suitcases at Milan Bergamo airport between 8am and 11.30pm. Next to the arrivals, in the parking area, there is a small building containing the luggage lockers of Bergamo Airport. The cost of luggage deposit is 5€ per day per piece of luggage.
Read also: Where to sleep near Bergamo airport?
Milan bus station instructions
Lampugnano
Ten kilometres northwest of Milan's city centre, the Lampugnano bus station is the most important in Milan. If you wish to travel to another Italian or even European city by bus, you will most likely pass through there. To leave your bags and suitcases near the Milan Lampugnano train station, use Nannybag.
San Donato
The San Donato bus station is located 11 kilometres south-east of Milan. From this station you can travel anywhere in Italy. Find luggage lockers near the Milan San Donato station thanks to Nannybag. For only 5€ per day, your belongings are perfectly safe in one of the partner shops or restaurants. On top of that, all luggage is guaranteed up to 1500€ in case of damage.
Instructions for museums and tourist places
Place du Dôme
Piazza del Duomo is the historic heart of the fashion capital. This is where the most emblematic places of the city are located. So when you visit Milan, you're bound to pass through this must-see square. Many luggage lockers are located close to Piazza del Duomo in Milan.
Sforza Castle
The Sforza Castle is close to the city centre. Here you can admire Michelangelo's last work in the Art Museum. And all around the castle there is a large park where you can enjoy a breath of fresh air in the middle of the city.
You can leave your bags at the Sforza Castle in Milan. The luggage locker is located right next to the ticket office. However, these are only handbags or backpacks, not large suitcases.
Find a luggage locker in Milan
Shopping centre lockers
Galleria Vittorio Emanuele II
The fashion capital is home to many luxury boutiques. Most of them are located in the Vittorio Emanuele II Gallery. You can enjoy a shopping session to admire the architectural beauty of the gallery. And if you want to take a hands-free stroll, don't hesitate to look for luggage lockers near the Galleria Vittorio Emanuele II with Nannybag.
City Life Shopping District
The city life shopping district is the largest shopping centre in Italy. More than just a shopping centre, it is a real shopping district. It's time to warm up your credit card. To make the most of it, you can leave your bags and suitcases in the luggage lockers of Milan's City Life Shopping District.