If you are looking for how to spend New Year's Eve in Lisbon, what to do, where to go, how the transportation works and other tips, this post is for you!
Lisbon is perhaps one of the most diverse cities in the world. One of the reasons for this phenomenon is the variety of nationalities present in the Portuguese capital, which is a place that has attracted the attention of tourists.
All this mix of peoples and cultures guarantees the existence of a multitude of events for all types of public throughout the year. The New Year in Lisbon could not be different and the date has programs for all people, prices and tastes. It has everything to please anyone planning a trip to Lisbon.
From the liveliest parties to the quietest concerts, from the fastest to the most sophisticated restaurants, from the traditional Portuguese cuisine to the most modern and exotic cuisines.... Take a look at what you will find there1
Tips to enjoy New Year's Eve in Lisbon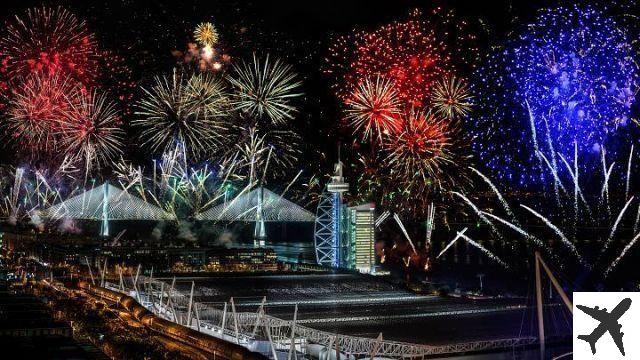 To make the most of New Year's Eve in Lisbon, planning ahead is important, as some of the most popular parties and restaurants may sell tickets in advance.
It is important to define the type of program you want for New Year's Eve and the budget available, thus making it much easier to decide on the right program.
Program prices vary widely. They range from free programs to programs that cost hundreds of euros and involve a luxurious and refined atmosphere. Because of all this diversity, there is sure to be the right atmosphere for every type of audience.
What New Year's Eve in Lisbon is like
Most Portuguese still choose to spend New Year's Eve with their families. The more traditional ones dine at home, while some choose to book in restaurants so as not to have to work on the last day of the year.
Some restaurants prefer not to open for New Year's Eve dinner; others, on the other hand, prepare special menus for New Year's Eve and require prior reservation. You pay a fixed price and you get everything: appetizer, main course, dessert, drink...
As traveling to Lisbon is becoming more and more common during the New Year's vacations, many tourists also spend New Year's Eve in the city, opting for traditional Lisbon dinners and parties or even for the great free fireworks show that can be seen from Praça do Comércio , on the banks of the Tagus River.
Search for hotel options in Lisbon here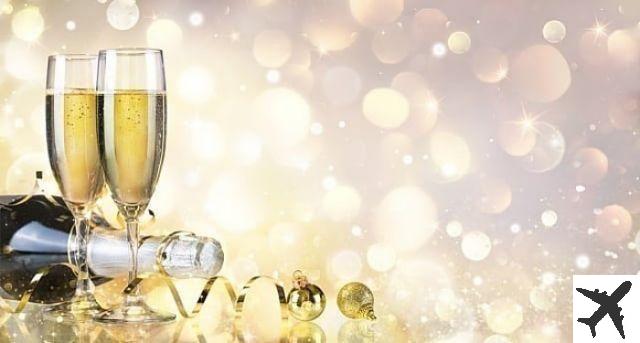 Where to spend New Year's Eve in Lisbon
Here are some options for you to spend New Year's Eve in Lisbon:


Terreiro do Paço
The most traditional New Year's Eve celebration in Lisbon takes place in Terreiro do Paço, with a great fireworks show celebrating the change of the year. Every year, the Lisbon City Hall prepares a free party that involves lots of music and entertainment for a large audience.
If you want guaranteed fun and don't want to spend money, this is the ideal place!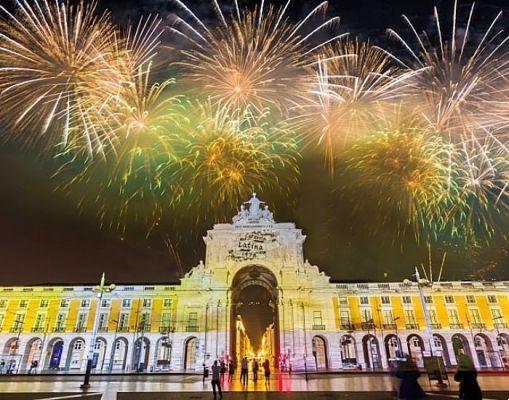 Ministerium 2020
Another well-known party in Lisbon is Ministerium NYE 2020, which starts at 11:59 pm on 31/12, with various attractions that are divided into two stages.
The celebration takes place at the Ministerium Club, located in Praça do Comércio, in Lisbon.
Royal Palace
Price: from 30€ for regular tickets up to 125€ for tickets with dinner included.
The party at the Royal Palace is one of the most popular in the Portuguese capital. Currently, the celebration is held at the Carlos Lopes Pavilion and features music throughout the night to celebrate New Year's Eve. For the most excited, it will certainly be an excellent choice.


New Year's Eve on the Tagus River aboard the Opera Boat
Another option for the most innovative is the New Year's Eve in Lisbon aboard a cruise on the Tagus River.
The Navio Ópera offers this experience, with a full dinner menu (with starters, main courses, desserts and drinks included), live music and fireworks view directly from the Tagus River.
Embarkation will take place at 7:30 pm and disembarkation around 2:XNUMX am.


New Year's Eve at the Casino do Estoril
For those who don't mind leaving the center of Lisbon, the Casino do Estoril promises an unforgettable night, with gala dinner and musical performances until mid-morning.
The package includes welcome drinks, dinner, champagne, dinner and shows.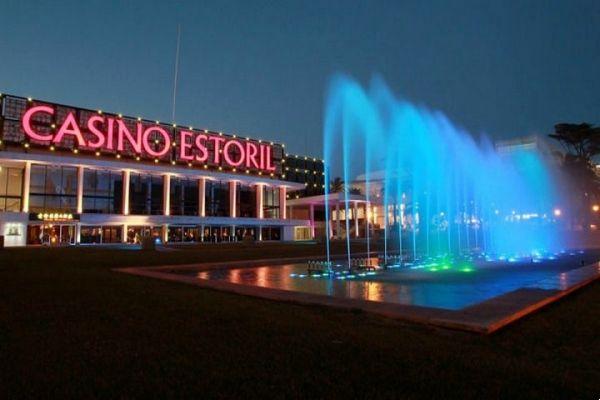 The Greatest Showman
This show, which takes place at the Corinthia Hotel, guarantees a mystical and stylish New Year's Eve for the most daring.
The Greatest Showman" party is accompanied by an impeccable dinner, served among choreographies, musical performances, acrobatics and a fantastic show. Undoubtedly, an unforgettable New Year's Eve in Lisbon for those who want to live a unique experience.
Restaurants open on New Year's Eve in Lisbon
Most restaurants are available during New Year's Eve in Lisbon. As the demand in the city grows every day, businesses prefer to take advantage of the date to offer dinner menus of the most varied types.
Portuguese people usually opt for traditional cuisine to celebrate New Year's Eve, and there are traditional restaurants from the most refined to the cheapest.
Here are some New Year's Eve restaurant options that include New Year's Eve menus that are a hit with locals and those traveling to Lisbon.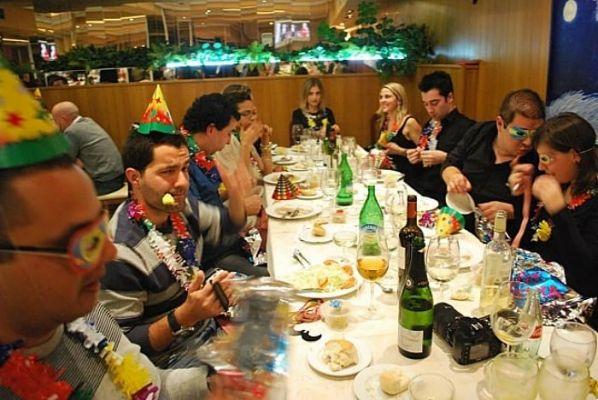 1) Azul e Branco Restaurant
Address: AV. Duque de Loulé, 81, Lisbon.
New Year's Eve dinner price: Average price 50€ per person.
The restaurant belongs to the H-10 hotel chain. It has an elegant and airy decoration, with huge windows overlooking the city of Lisbon.
The restaurant's space is characterized by elegant and sophisticated decoration, enriched by the light provided by the large windows overlooking Lisbon. The highlight of the restaurant is the Mediterranean cuisine, mixing famous flavors.
2) Restaurant Salón Río
Address: Rua do Cais das Naus, 21, Lisbon.
New Year's Eve dinner price: 295 € per person.
The restaurant is part of the luxurious Myriad Hotel and has traditional Portuguese cuisine with some intercultural touches.
It also has a beautiful terrace, overlooking the Tagus River estuary, and promises to please even the most refined palates towards the end of the year, with an exceptional menu.
3) Optimista Restaurant
Address: Rua da Boavista, 86, Lisbon.
New Year's Eve dinner price: 110 € per person.
The Optimista restaurant has a modern cuisine that combines with its relaxed atmosphere. It bets on slightly daring flavors and guarantees a pleasant taste combination for all tastes, in a mix between the classic and the new.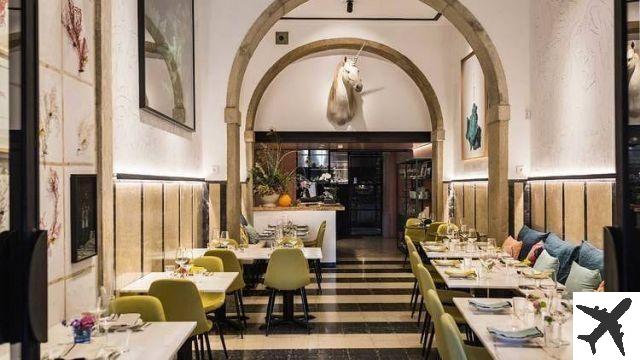 4) Sacramento Restaurant in Chiado
Address: Calçada do Sacramento, 40 Lisbon.
New Year's Eve dinner price: 150 € per person.
It is an atmosphere of traditional Portuguese food, with a decoration to match the dishes. With a warm decoration, it has all the typical dishes. Very frequented by tourists who go to Lisbon in search of the famous Portuguese dishes.
5) Restaurante O Ato
Address: Largo do Regedor, 17, Lisbon.
New Year's Eve dinner price: 120 € per person.
It has a modern atmosphere for the appreciation of traditional cuisine. Refined and with outstanding flavors, it has a spacious and airy atmosphere with impeccable service from the staff.
6) Mar ao Carmo Restaurant.
Address: Largo do Carmo, 21, Lisbon.
New Year's Eve dinner price: 90 € per person.
Located in Chiado, the restaurant Mar ao Carmo is highly recommended for seafood lovers. Seafood always fresh, prepared in an elegant space. Here, the ingredients are always of good quality and certainly make the experience unforgettable.
7) La Paparrucha Restaurant
Address: Rua Dom Pedro V, 18, Lisbon.
New Year's Eve dinner price: 65 € per person.
As Lisbon is a city with a very diverse public, La Paparrucha restaurant is dedicated to Argentine cuisine. Therefore, it specializes in grilled meats and offers customers a beautiful view of the historic part of Lisbon.
Besides the typical cuisine, the restaurant also has other dishes ranging from pasta to fish, satisfying all tastes and allowing people to gather in groups for New Year's Eve.
8) Luz Restaurant - Iberostar Selection Lisboa
Address: Rua Castilho, 64, Lisbon.
New Year's Eve dinner price: 190 € per person.
The Iberostar Selection is a sophisticated restaurant where you can taste the best of traditional Portuguese cuisine. For the New Year's Eve menu they promise to go for a diversified and, at the same time, elegant menu.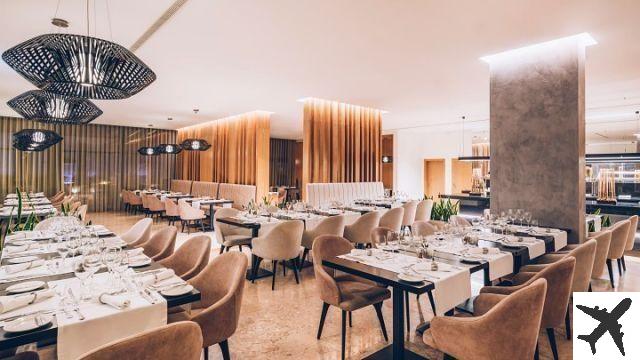 9) Sommelier Lisboa Restaurant
Address: Rua do Telhal, 59, Lisbon.
New Year's Eve dinner price: 180 € per person.
The atmosphere is very refined and bets on a sophisticated cuisine, with delicate flavors. It has a very varied menu and always bet on the elegance of the dishes, so that customers can taste them first with the view.
Public transport in Lisbon on 31/12 and 01/01
Public transport in Lisbon is the most recommended option for New Year's Eve. As some streets are closed to traffic, car circulation may be affected and overnight parking throughout the city is scarce.
In general, the Lisbon Metro usually runs all night on New Year's Eve. It will be open all night, however, Terreiro do Paço station usually closes around 23:31 on 12/XNUMX.
Buses also run in large numbers on 12/31 to ensure that people can reach their destinations.
On January 1, the operation of public transport is also usually normal throughout the day.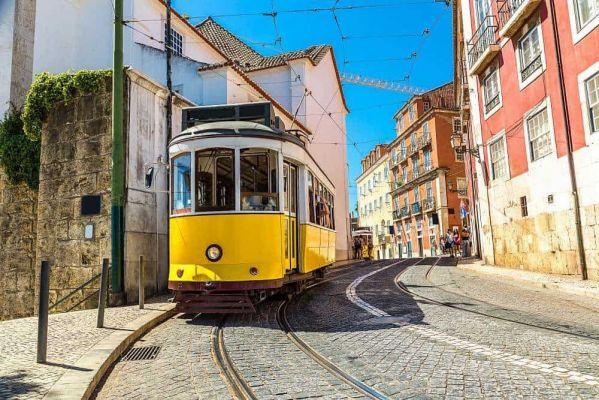 Photo: Declev Reynier
What to do on January 1st in Lisbon
Lisbon is a beautiful city in itself, with historical monuments and the famous Tagus River. Therefore, any outdoor stroll through the streets of Lisbon can be very pleasant on the first day of the year.
Still, for people who prefer to visit some special place, many attractions also operate on this day, as the movement in the city is great.
In addition, there are outdoor attractions, such as the famous Miradores de Lisboa that are always available to the public. Listed below are some of the places to visit after New Year's Eve.
Lisbon Zoo
Price: Children 14,5€, Adults 22€.
Address: Marechal Humberto Delgado Square, Lisbon.
The zoo has a wide variety of animal attractions and promises entertainment for people of all ages. It also has scheduled shows, such as a beautiful dolphin show.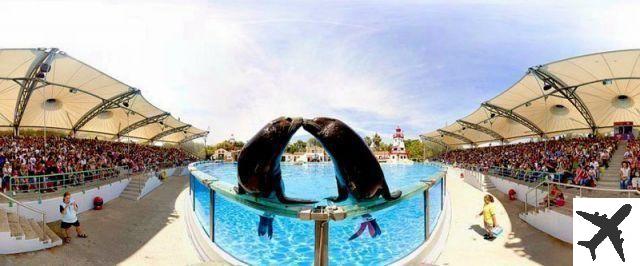 Time Out Market
Address: AV. 24 de Julho do 49, Lisbon.
The Time Out Market is an excellent plan for those who like to appreciate different cultures and gastronomies.
It consists of a large market with dozens of restaurants of all kinds, aimed at people from all over the world. There it is possible to find people of the most diverse nationalities and exotic dishes as well as traditional Portuguese cuisine, signed by renowned chefs.
Pillar 7 of the 25th of April Bridge
Price: 6 €.
Address: 25 de Abril Bridge, Lisbon.
This attraction has an incredible view of the city of Lisbon and the Tagus River, 80 meters high, with optical illusions for visitors and will be open on January 1.
Certainly, the Lisbon New Year's Eve program will be able to please the most different tastes and entertainment is always guaranteed, providing good memories and memories of the new year in one of the most beloved cities in the world.