Did you know that the Moroccan desert hides its own Hollywood, full of attractions? Discover what to do in Ouarzazate.
Ouarzazate, which in the language of the North African peoples Berbers means "no noise" or "no fuss", is the largest city in the world. Moroccan Sahara, known as "the gate of the desert".
The city impresses not only for its constructions, but also for a very curious fact: it is known as the desert hollywood, concentrating some of the most famous studios in the region, some of which are open to visitors.
Do you want to see the scenarios up close? Ali Baba and the 40 Thieves, Gladiator, Asterix and Obelix: Cleopatra Quest, Lawrence of Arabia, Cleopatra, among other classic and recent films? then you need to visit Ouarzazate!
Save money on travel insurance!
use the coupon DICASDEVIAGEM5 and pay in boleto to take off 10% discount.
Click here and enjoy!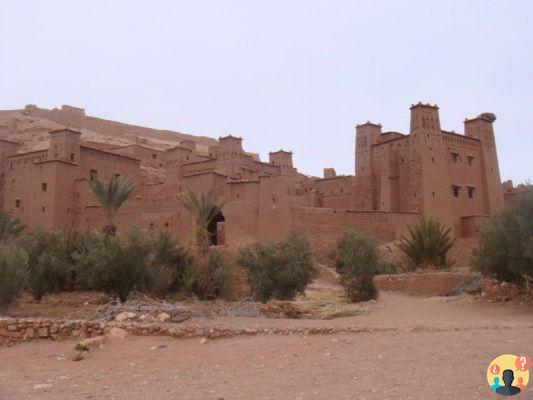 What to do in Ouarzazate?
Lovers and those curious about cinema cannot fail to meet the two greatest Ouarzazate studios:
O Atlas and o CLA - Dino de Laurentis Cinecitta Studios
No Atlas, located 7km from Ouarzazate, focus on film collections such as The return of the mummy and several others with themes related to the desert. The storage and maintenance conditions of the sets could be better, but, in any case, it is already possible to have a feeling of the productions and to feel on a film set. Entrance to the Atlas costs 50 Dirhams, the local currency.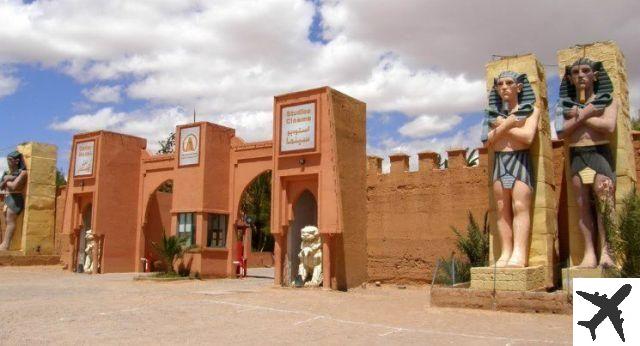 Another option that is equally worthwhile for those looking things to do in Ouarzazate is the visit to the CLA studio, where in addition to classic films such as Ali Baba and the 40 Thieves (this one was also filmed in Atlas), some scenes of Game of Thrones.
The CLA facilities generally appear to be in better condition than the Atlas facilities, but both are worth a visit. Admission to the CLA costs 40 Dirhams and further information can be obtained on the website www.cla-studios.com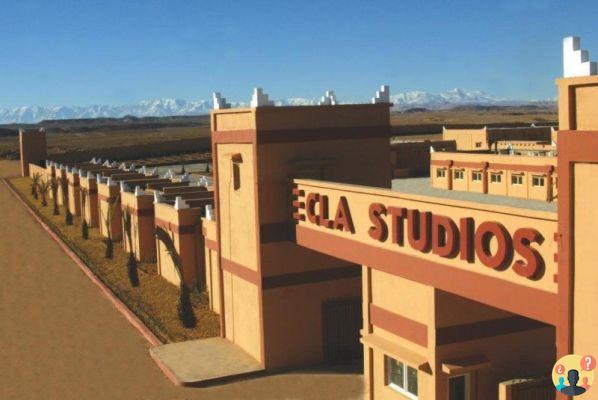 Kasbah de Taourirt e Kazar of Ait Benhaddou
More Ouarzazate It's not just movies! The city is home to two attractions that alone are worth a visit: the Kasbah de Taourirt and the Kazar of Ait Benhaddou.
Kasbah is the name of the typical fortified construction of the Berber people, used to allow the local population to take shelter from wars, sandstorms and any other possible threat. Some of these constructions have survived over the centuries and in Ouarzazate is considered to be the best preserved in the Moroccothe Kasbah de Taourirt.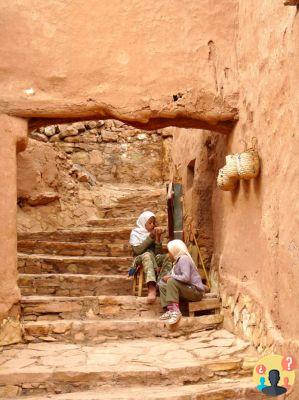 How could it not be otherwise desert hollywood, also the Kazbah it has been used as a location for several films, so don't be surprised if you recognize its facade!
Already one Kazar it is usually larger than a Kasbah, approaching the size of a fortified village. The Kazar of Aït Benhaddou is considered by UNESCO as one of the best examples of this type of construction still in existence and is worth a visit.
Its façade is extremely well preserved, immediately attracting the attention of visitors. If you are a fan of the series Game of Thrones, perhaps you recognize the facade of the cities of Yunkai e will repent when looking at him.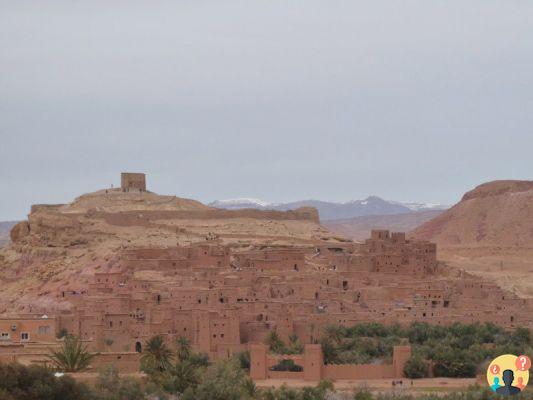 How to visit Ouarzazate?
The city is just over 200 km from Marrakech.
There are several agencies that offer a day tour from Marrakech. Also for those who are going to the famous dunes of Merzouga, on the border of Morocco to Argelia, a visit to the city is usually offered.
I planned my one-week trip around the country with Morocco Key Travel agency and I found the service offered very good: they propose the itinerary, which can be modified according to your preferences, and they take care of booking hotels, restaurants, transport, guides, everything according to your budget… I recommend it!
So, he got excited about the idea of ​​getting into the sets of some of his favorite movies and series and liked our tips on things to do in Ouarzazate? How about now planning your next vacation in Morocco?
Morocco travel insurance
Buying travel insurance for Morocco is an excellent way to ensure a smooth trip and avoid worries. Having the assistance of insurance gives you the peace you need to enjoy your destination and know that you have support if you need it. Also enjoy our Insurance Promo discount coupon. - SEE PRICES
Read More
Morocco Tour – 6 Places to Visit
Complete Guide to Marrakech, Morocco – Everything You Need to Know
Why Visit Marrakech – 7 Reasons to Visit
Where to Stay in Marrakech – Mandarin Oriental Marrakech
Rabat Tour – What to do and where to stay
Where to Stay in Medina, Marrakech – La Sultana Marrakech
Casablanca Tour – Everything you need to know
What it's like to fly Royal Air Maroc
International Travel Insurance – Is it worth it?
How and Where to Buy Travel Insurance – Learn Step by Step
Plan your trip:
Get started now by booking your hotel in Morocco on Booking.com
Save time and money searching for the best Travel Insurance with the Seguros Promo comparator! 5% extra discount with the coupon: TRAVEL TIPS5
Compare the best prices to rent a car from over 100 rental companies with Rentcars! (Pay in up to 12X! Pay in reais, without IOF)
Get out of Brazil with Unlimited 4G Internet!