The best place in the Caribbean is here!
There is a magical place, a little paradise of baby blue water where nature finds peace. Where the sea has seven colors and the green has more life. A little known place that maintains an aspect of untouched nature.
This place is called Providence, an island belonging to Colombia and isolated in the Caribbean Sea, 72 km from San Andrés.
In this post you will read:
The best place in the Caribbean is here!
How to get to Providencia Island
How many days to stay on Providence Island
Documentation
International Yellow Fever Vaccination Certificate
Weather on Providence Island
What currency to take
Where to stay in Providencia

Inn Enilda
Hotel Sirius
See the best accommodation deals in Providencia

Things to do on Providence Island
Colombia travel insurance
Read More
Won't forget about travel insurance, huh?
Get the best discounted plans using the coupon FORTRAVELOVERS (5% off).
Click here and enjoy!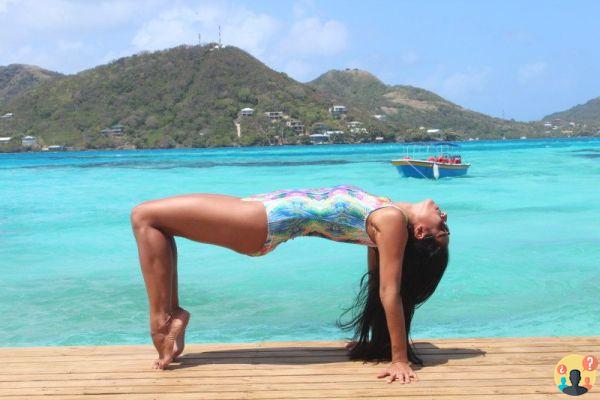 Declared by UNESCO as Natural Biosphere Reserve, the island enchants everyone with its most varied shades of blue.
It is a fascinating place, an exclusive paradise where beaches they are almost deserted, a rarity these days.
Providence It is a refuge for all who seek tranquility and contact with nature. Here, luxury gives way to simplicity, comfort gives way to rusticity and hustle gives way to peace.
A place to forget about time and let life happen, now, without thinking about the past, without worrying about the future, simply living in the present. Let nature surprise you.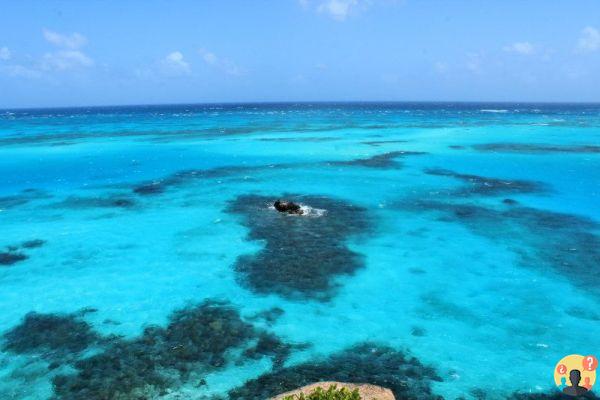 How to get to Providencia Island
First you have to fly to San Andres, Colombia. Avianca and Copa operate flights from España to Colombia. THE Avianca with a connection in Bogotá and the Copa in Panama City.
From San Andrés, you can reach Providencia by catamaran or by plane.
The catamaran trip lasts 3 hours, but the trip is not very pleasant due to the sway of the sea that makes many people feel sick.
The most recommended is to go by plane, a smooth journey that takes less than 30 minutes. Satena airline operates this route, but there are only two flights a day and only 15 passengers per plane, so guarantee your tickets in advance.
How many days to stay on Providence Island
The ideal is to spend at least 3 full days on the island and if go You can stay for 5 or 6 days.
Documentation
Colombia does not require passport, only ID issued less than 10 years old. Just pay attention to the connection location. Copa makes a connection in Panama and in this case you will need a passport, even if you do not leave the airport.
International Yellow Fever Vaccination Certificate
A Colombia is one of the countries that requires the international certificate of vaccination against yellow fever, however I was never asked. It is worth issuing the certificate as soon as possible and being free of this worry. The certificate is valid for 10 years. For this, get vaccinated at any health post and take your vaccination card and identity to one of the call centers.
Weather on Providence Island
The weather in Providencia is hot and humid, with temperatures between 25° and 30°C. It rains more between April and May and October and November.
What currency to take
The currency used is the Colombian peso. There are no exchange offices on the island, just two ATMs where you can withdraw in local currency. Bring Colombian pesos as some places do not accept credit cards.
Where to stay in Providencia
Providencia doesn't have many accommodation options. I recommend two very nice places with good value for money, Inn Enilda e Hotel Sirius.
Inn Enilda
A Inn Enilda It is very cozy, large rooms with air conditioning, hot shower. Breakfast is very varied and delicious. The highlight goes to Enilda's service. Super friendly, she gives you all the tips for you to enjoy Providencia in the best possible way.
Hotel Sirius
O Hotel Sirius stay on the beach South Beach, one of the main beaches in Providencia. The rooms are large, with air conditioning and a balcony facing the sea. The hotel has a diving agency that takes you to do the famous shark dive.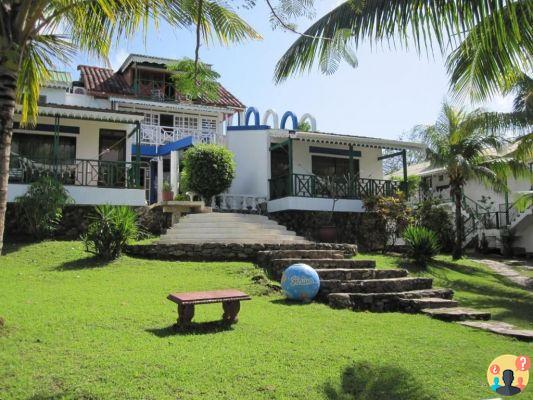 See the best accommodation deals in Providencia
Things to do on Providence Island
The most charming place in Providencia is Crab Cay (or Crab Cay), an island surrounded by clear waters with incredible blue. The island is quite small, with a wooden pier, some benches and a drinks and ceviche shop.
There is a fee of 14.500 COP to enter the island.
Walking along a small trail, you reach the top of the island, from where you have a 360 degree view of Providencia. The view is simply spectacular.
The place is wonderful, great for swimming, snorkeling and seeing lots of fish and turtles. It is possible to go all around the island by snorkeling.
It is a place to relax and spend hours enjoying the view.
to get to Crab Cay, you can hire a speedboat or if you feel like you can go paddling in a kayak. The tour back to the island by speedboat stops at Crab Cay too, but if you can, go on your own and stay until you can't anymore.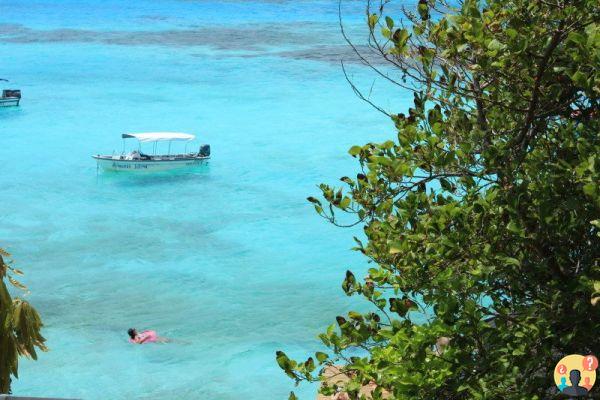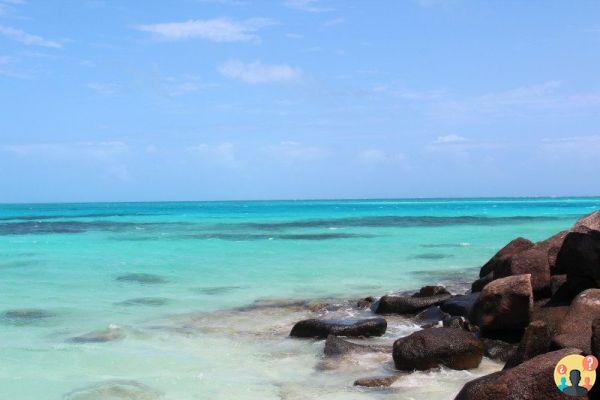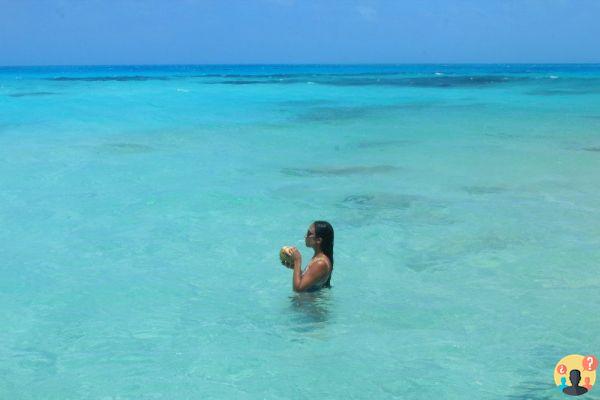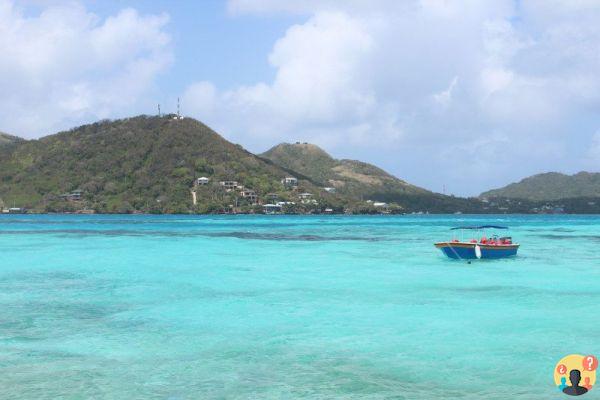 Colombia travel insurance
Taking out travel insurance for Colombia is an excellent way to ensure a smooth trip and avoid worries. Having the assistance of insurance gives you the peace you need to enjoy your destination and know that you have support if you need it. Also enjoy our Insurance Promo discount coupon. - SEE PRICES
Read More
All about Jamaica – Caribbean Paradise
Caribbean Virgin Islands – Discover the US Virgin Island
Saint Martin – All about this Caribbean Paradise
Caribbean Islands – 7 Islands You Must Know
Tips about San Andres, Colombia – Everything you need to know
Things to do in Costa Rica – 3 Amazing Beaches
What to do in Pavones – Complete City Guide
What to do in Cerro Negro, Nicaragua – Skibunda on the Volcano
Guatemala Tour – What You Need to Know
Complete Guide to Guatemala – Everything to Plan your Trip
Where to Ficar in Guatemala – Las Lagunas Boutique Hotel
Where to Stay at Lake Atitlán – Hotel Casa Palopó
Things to do in Belize – Caye Caulker Guide
Things to do in San Blas, Panama – Complete Itinerary
What to do in Panama City – 1 Day Itinerary
International Travel Insurance – Is it worth it?
How and Where to Buy Travel Insurance – Step by Step