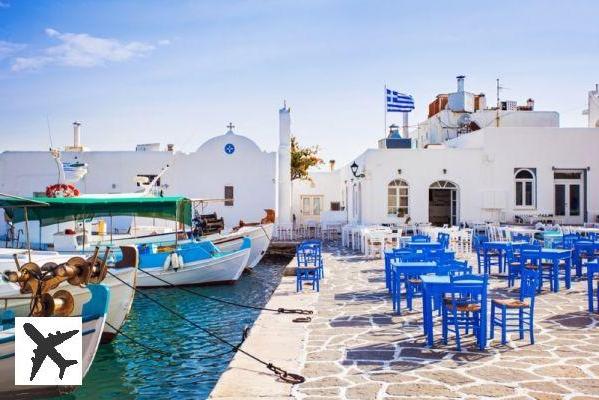 Summary
What to eat in Paros?
The best restaurants in Parikiá
The best restaurants in Náoussa
The best restaurants in Lèfkès
Aliki's best restaurants
Good to know
Are you planning to go to the Cyclades and discover Paros? Don't leave the island without having tasted the delicious Greek or European cuisine! We have selected some of the best restaurants on the island for you!
Heart of the Cyclades, Paros is one of the largest islands of the Aegean archipelago. Destination nature, Paros is also a cultural destination. Between small ports, museums, mills, chapels and monasteries, the island will seduce you. However, you will only be truly conquered when your palate has succumbed to the Greek flavours. For the less adventurous, you will find addresses of Italian, Asian or French restaurants.
Looking for a restaurant in Paros? Prepare your taste buds!
Also to be read :
the 6 must-do things to do in Paros
The 18 best places to go out in Paros
How to get to Santorini by ferry from Paros?
What to eat in Paros?
Before looking at the island's must-see addresses, it would be good to know what the local cuisine is made of. You have probably heard about the Cretan diet? Greek cuisine, and more broadly Mediterranean cuisine, uses the same codes: vegetables, fruit, fish, olive oil and herbs (basil, thyme, oregano, mint, etc.).
The aperitif
As a general rule, tradition dictates that the meal begins with mezzes or mezzes, accompanied by a glass of ouzo, the local aniseed-flavoured alcohol. These small dishes serve as an aperitif.
Salads
Salads are a must in Greek cuisine. They consist of all types of seasonal raw vegetables: tomatoes, cucumbers, artichokes, broccoli, lentils, onions, etc.
Fish and seafood
On a trip to Paros, it will be hard to miss a dish of seafood! Plan to come across one of the main ingredients on your plate: octopus, lobster, crayfish, mussels, shrimp and a whole range of grilled or baked fish.
Meat and poultry
Despite the presence of the sea, you can eat meat or poultry dishes in Paros, especially in Lefkès. You will not be able to miss the famous moussaka (meat and eggplant dish) or the no less famous gyros. This Greek sandwich consists of pita bread, meat (most often chicken, lamb or pork), onions, tomatoes and tzatziki sauce).
Vegetables
Vegetables are rarely absent to accompany your dishes. Eggplant, zucchini, onions, tomatoes and artichokes are popular! Accompanied or not by feta cheese and garnished with a drizzle of olive oil, their flavour is inimitable.
Desserts
Finally, eating in Paros also means finishing your meal, as in other Greek restaurants, with a dessert based on honey, nuts, fruit, seeds and/or spices.
Drinks
In order to bring out the flavours, there is an important choice of wines. For the aperitif, it's ouzo!
The best restaurants in Parikiá
Parikiá is not just a port. It is at the same time the most important city of the island, but also a lively place full of small restaurants and nice bars.
Food's World
Eating in Paros without trying a pita? Impossible! The Food's World is a must to taste the best pitas on the island. The establishment is located on the port.
Address: Prompona, 844 00, Parikia.
Katerina Restaurant (or Taverna Katerina)
We have found the pearl of restaurants in Paros! Family tavern, pleasant setting by the sea, warm welcome, typical cuisine, reasonable prices: everything is there!
Address: seafront, Parikia.
Apostolis Ouzeri
If you are looking for authenticity, come and eat in this small restaurant in Parikia. You will taste tasty typical dishes, surrounded by locals. Like most of the establishments on the island, the dishes served are cooked with seafood.
Address: Parikia's seafront.
The Little Green Rocket
Are you tired of Mediterranean flavours in general and Greek flavours in particular? Discover this restaurant which offers a refined Asian-inspired cuisine.
Address: Christoi Konstavtopoiloi, Parikia.
The best restaurants in Náoussa
Open Garden
Do you want to eat quality products in a simple setting, bathed in a calm and pleasant atmosphere? Test this address which will place you in the hands of a warm and professional team, serving a refined family cuisine! An additional advantage: the value for money is there for you!
Address: downtown Naoussa.
Soso
This small restaurant of Greek cuisine is an institution in Naoussa. The menu is original, the dishes are delicious and the service impeccable. Travellers discovering this place for the first time are sure to come back soon! Book in advance!
Address: Downtown, 844 01, Naoussa.
Bistro Cafe Friends
A flawless Italian restaurant that combines a friendly setting, tasty cuisine and impeccable service.
Address: Old centre of Naoussa, not far from the Soso.
Mediterraneo
Fancy fish, seafood and typical Greek cuisine, all with a breathtaking view of the sea? You've come to the right place! Let yourself be tempted by a moussaka, shrimp pasta, grilled octopus or souvlaki, accompanied by a good local rosé. Icing on the cake: the service is top-notch!
Address: Seafront, Marina, 844 01, Naoussa.
Sigi Ihthios
Eating in Paros, and more precisely in Naoussa, means not being afraid of a nice plate of fish! A new address that will seduce more than one, the Sigi Ihthios is a restaurant that mainly serves seafood. The setting is more cosy, but the atmosphere remains warm. Linguines are to be recommended. The only downside is that the quality/price ratio is not always justified.
Address: Limanaki, 844 01, Naoussa.
Ydroussa Restaurant
A small, unpretentious restaurant hidden in the alleys of Naoussa, the Ydroussa Restaurant offers traditional cuisine and Italian dishes. The service is correct and the quality of the dishes is there. Contrary to many establishments that are sometimes overwhelmed by the influx of tourists during the high season, the team knows how to remain friendly and welcomes customers as they should. A rare fact nowadays! Let's hope it lasts!
Address: downtown Naoussa.
Siparos
The Siparos Restaurant is an address of choice: superb setting, tasty and refined cuisine, warm welcome and unforgettable sunset! However, happiness has a price. If you want to eat quality cuisine in Paros, you can't have it all!
Address: facing the sea, on the road to Stefano Beach, west of Naoussa.
Yemeni Wine Restaurant
This establishment marks by its authenticity. Between traditional cuisine and old-fashioned surroundings, you will be charmed by this singular atmosphere. The Yemeni Wine Restaurant remains a sure value. Therefore, it is preferable to make a reservation.
Address: near the port of Naoussa.
Pizza Slice
Are you looking for a pizzeria to eat in Paros? Pizza Slice is the ideal restaurant for small budgets and travellers tired of Greek cuisine. You will enjoy very good pizzas, served quickly, for a very affordable price.
Address: downtown Naoussa.
Restaurant Emanuel
Special mention for this restaurant which offers a fine cuisine, served with professionalism, in a soothing setting. Would you like to take a break from the hustle and bustle of Naoussa for a while, without leaving your home base? This address is for you! Start by discovering the lounge area, before settling down in the patio and savouring this moment of pleasure! If the prices may put off some people, they are quite justified.
Address: downtown Naoussa.
The best restaurants in Lèfkès
Agnadio Restaurant (moussaka)
Opinions are divided concerning this establishment. The moussaka is reputed to be delicious. If you are looking for good fish dishes, go on your way. In a way, it seems logical since the restaurant is not located on the seaside! Prefer meat or vegetarian dishes.
Address: downtown Lefkès.
Aranto Restaurant
Difficult to know what to choose when you discover the menu of l'Aranto! Each dish of this Mediterranean cuisine makes you salivate. Not to be overlooked, the restaurant offers a breathtaking view of the surrounding hills! Eating in Paros means combining an incredible setting with quality cuisine.
Address: Epar.Od.Parikias-Marpissas, Lefkès.
Aliki's best restaurants
Thalassamou
This restaurant is definitely an address to note. The sea products are of an incomparable freshness, the atmosphere is warm, the dishes are tastefully presented and the setting is extraordinary. Come and eat in Paros with your feet in the water!
Address: at the extreme east of Piso Aliki beach.
The Balcony
As at the Thalassamou, you can enjoy fish or seafood dishes on the waterfront, on the small pier located a stone's throw from the restaurant. Moussaka, shrimps, squid, fried fish: you are in the Cyclades!
Address: near the port of Aliki.
Good to know
- Whichever restaurant you turn to for dining in Paros, it is recommended that you make a reservation if you are coming to spend a few days on the island during the high season.
- The addresses given were appreciated. It is not excluded that the owners or the staff of the establishments change, impacting the quality of the dishes or the service.
Looking for restaurants in Paros? You have found them! Enjoy your meal!