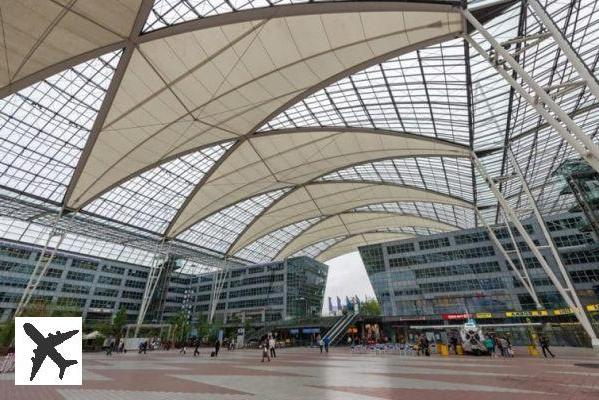 Summary
Is Munich Airport open at night?
Hotels to stay at near Munich Airport
- Nap Cabs
- Hilton Munich Airport
- Novotel Munich Airport
- NH München Airport
- Brandmayerhof
In which city to sleep near Munich airport?
- Hallbergmoos
- Freising
- Ismaning
- Gärtnerplatz and Kunstareal
Where to park at Munich airport?
Do you have a transit or a planned trip to Munich? Here are our tips on where to stay near Munich Airport!
Is your landing at Munich Franz-Josef-Strauss Airport too late to reach the city thirty-five kilometres away? Would you like to sleep close to the airport so that you don't have to travel too far too early? Are you just passing through and your journey will require you to sleep near the airport?
Many accommodation options are available to you at this airport, named best European airport 2019 and seventh in the world by Skytrax.
Also read :
In which district to stay in Munich?
Transfer from Munich Airport to the centre of Munich
Cheap parking in Munich: Where to park in Munich?
Is Munich Airport open at night?
Munich's Franz-Josef-Strauss Airport never closes. It consists of two terminals which are separated by the Munich Airport Center. Here you will find numerous shops and information services. Therefore, you can go shopping, have fun on your way to the casino, or even take a shower.
In addition, two restaurants are open 24 hours a day for your meals. Also, you can enjoy a drink in a genuine Bavarian brasserie while taking advantage of the free and unlimited Wifi.
If you simply wish to rest and the lack of comfort does not bother you, the seats in the waiting areas of Terminal 2 have no armrests. You will therefore be able to lie down according to the available seats. For greater comfort, you can also go to the indicated rest areas, with reclining seats and footrests.
Hotels to stay at near Munich Airport
Find a hotel near Munich Airport
Resting, lying on a bench for an hour or two is doable. However, for a longer stopover, you may find yourself stiff before you even arrive at your destination.
You therefore need to find a real bed, with comfortable mattresses and pillows. There are two choices for this inside the airport, and many more outside. And the best in this case is a nearby establishment to sleep near the airport.
Nevertheless, hotel rates fluctuate according to the periods and the crowds. So don't hesitate to use a booking site to compare prices.
Nap Cabs
Terminal 2 has the advantage of rather spacious resting cabins, with bed, desk, air conditioning and internet access. There are twelve of them, spread over four areas of the terminal. Rates are per hour (two hours minimum) and vary according to the schedule (10 or 15 €/hour). In self-service, the Nap Cabs only accept credit cards and you can even book online.
Hilton Munich Airport
Located between terminals 1 and 2, the airport's Hilton Hotel is quickly accessible from the baggage claim area.
From classic rooms to family suites, the hotel features 551 air-conditioned rooms, 22 meeting rooms and 2 restaurants. In addition, you can also enjoy the swimming pool. Do you have a long daytime stopover and wish to sleep close to the airport rather than visiting Munich and its surroundings? Then a "day service" is possible from 9 a.m. to 6 p.m.
Novotel Munich Airport
Located at the entrance to the airport area, the Novotel can be reached by taking bus 635, at a cost of €1.40 per person. Departures are every 20 minutes.
The Novotel has a bar, restaurant, gym and sauna. In addition, the rooms are air-conditioned and you will find meeting rooms and a fully equipped computer area.
NH München Airport
Still only 5 minutes away, this 4-star hotel is ideal for sleeping close to the airport. This time you can reach the hotel by taking the Airport Shuttle Bus to the east. The rate for this shuttle bus is €5 per person. There is a departure every 30 minutes, from 3:30 to 12:30.
Soundproofed rooms, gym, massage parlour, outdoor terrace, restaurant and bar make up this establishment.
Brandmayerhof
This guest house, located in the village of Niederding, does not offer a direct shuttle service. Nevertheless, it is the best rated accommodation on a famous online booking site for sleeping near the airport. In addition, the bus 512 is located nearby, is more reasonably priced and runs through the airport.
In the quiet Bavarian countryside, you can enjoy the rich breakfast offered by the hotel. In addition, its rooms are modern and very comfortable. In the evening, however, think about dinner before arriving in the village. Indeed, you will not find a restaurant open after 6 pm.
In which city to sleep near Munich airport?
Franz-Josef-Strauss Airport is located 35 kilometres from the Bavarian capital Munich. The latter is well served by public transport and taxi services. Depending on traffic conditions, it will take you between 30 minutes and an hour to get there.
There are numerous hotels in the villages around the airport and all the way to Munich.
Hallbergmoos
Hallbergmoos is the first city between the airport and Munich and offers about ten good quality hotels. The most? The city is less than ten minutes away by car.
Freising
Just north of the airport, this city of 47,000 inhabitants has many cultural interests. You can find the oldest brewery in the world in this village. The brewery is still in operation and it is here that the famous Weihenstephan beer is produced.
In addition, the town is also famous for its religious and historical character. You will find its cathedral, a diocesan museum where you can admire numerous artefacts, and a spectacular library.
Finally, for your overnight stay, a dozen hotel establishments will be able to welcome you.

Find an Airbnb at Freising
Ismaning
Closer to Munich than to the airport, you can reach this city of about 16,000 inhabitants by road. In addition, you can also travel by rail via the S-Banh, whose line 8 connects the airport and Munich.
Here you can enjoy green spaces and sports areas to relax and let off steam.

Find an Airbnb at Ismaning
Gärtnerplatz and Kunstareal
Gärtnerplatz is not a city, but a square in Munich. The district in which it is located is considered to be the trendiest place in the city. As the centre is almost completely pedestrianized and full of forbidden directions, we recommend taking the underground, bus or tram. They are frequent and criss-cross the city and its surroundings.
Not far away is the Kunstareal, the district dedicated to art. You can find works by Cézanne, Van Gogh and Raphael in the many museums and art galleries. For a breath of fresh air, you will also be close to one of the largest city parks in the world, the Englishcher Garten. In fact, it is larger than Central Park in New York. So don't hesitate to make a relaxing and attractive visit in this place.
Where to park at Munich airport?
Munich Airport has plenty of paid parking spaces available, for durations ranging from sixty minutes to three weeks. In addition, there is even a high-end car park as close as possible to the terminals.