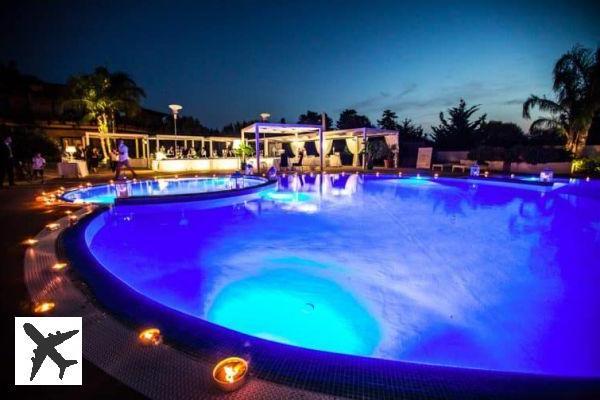 Summary
Is Palermo airport open at night?
Hotels where to sleep near Palermo airport
- Villetta a mare
- Villa Modus Vivendi
- Residence Villa Rosa dei Venti
- Magaggiari Hotel Resort ****
- Palm Beach Hotel ***
In which city to stay near Palermo airport?
- Cinisi
- Terrasini
Where to park at the airport in Palermo?
Are you planning to stay in Palermo, Sicily? Here are our tips on where to stay near Palermo airport!
Are you landing at Palermo Falcone-Borsellino airport? Is your arrival late? You take off early in the morning and are looking for a place to sleep close to the Palermo airport? Choose to stay in a hotel close to the airport to gain sleep or avoid any inconvenience on the road!
The airport can also be difficult to reach by public transport from the city centre. Your flight may also be delayed or cancelled. Palermo Falcone-Borsellino airport, also known as Punta Raisi, is located 35 kilometres west of the city, so it may be wise to sleep nearby. Here's our mini-guide to find out where to sleep near Palermo airport.
Also read :
The 9 must-do things to do in Palermo
In which neighborhood to stay in Palermo?
Airbnb Palermo: the best Airbnb rentals in Palermo
Is Palermo airport open at night?
Palermo airport is one of the busiest airports in Italy and ranks seventh in terms of passenger traffic. The latter continues to grow every year, necessitating the implementation of various facilities and services. However, Falcone-Borsellino Airport has only one passenger terminal and it is not possible to sleep in the airport. The airport closes at night when there are no more flights.
Among the free services offered by the airport, you can count on free wifi access. Available in the boarding area, it is very practical when you are waiting for your return flight, but will not allow you to contact a driver or hotel once you arrive in the arrivals hall. For all these reasons, it may be a good idea to find accommodation nearby, as it will save you a lot of hassle.
Hotels to sleep in near Palermo airport
To find a place to sleep near Palermo airport, you can opt for the city of Cinisi, the municipality in which the airport is located. You can book your hotel night in advance online. The budget for a hotel or bed and breakfast starts at €35 per night for two people, and is around €140 for accommodation in a 4-star hotel. Here is a selection of some establishments where you can stay near Palermo airport.
Villetta a mare
Located in Cinisi, the Villetta a mare holiday home is about one kilometre from the airport. Its location is really ideal to get to the Punta Raisi terminal, less than 15 minutes on foot! An airport shuttle service is also available at an additional cost. The average price for two people is €46 per night.
As for the villa, it is air-conditioned, has a garden and a barbecue. The reception is well known, the sea is nearby. You can even admire beautiful sunsets.
Villa Modus Vivendi
Also in Cinisi, about 25 kilometres from Palermo and less than 5 kilometres from the airport, Villa Modus Vivendi also offers a shuttle service to and from Palermo airport.
Villa Modus Vivendi features a 24-hour reception, Wi-Fi internet access, and free private parking. The average price per night is €40, and to make sure you don't miss out on anything, you can relax in the garden with swimming pool or watch TV in each of the rooms. Each apartment of the gîte also includes a dining area and a kitchen.
Residence Villa Rosa dei Venti
Residence Villa Rosa dei Venti is only 10 minutes by car from the airport and has free parking and an airport shuttle service. This is a very convenient option for late arrivals or early morning departures.
The apartments and rooms of Residence Villa Rosa dei Venti have wifi connection, a garden and a swimming pool are also waiting for you, in addition to a charming welcome and some pastries for breakfast. The value for money is considered excellent by visitors who have rated the residence on the booking sites. The price is about 35 € per night for two.
Magaggiari Hotel Resort ****
Hotel Magaggiari is located in Cinisi, 5 kilometers from the airport and 20 minutes by car from the city of Palermo. From the airport you can take a private shuttle bus that will take you to the hotel complex in 15 minutes.
Nestled in a huge park, this 4-star hotel features an outdoor swimming pool and tennis court. All of the rooms at the Magaggiari are equipped with high standard amenities. The hotel's restaurant is open in the evening until 11pm, which is convenient if you arrive late. The base rate for a double room is €135 on average.
Palm Beach Hotel ***
If you want to combine proximity to the airport with a holiday destination, the Palm Beach Hotel is ideal, as the international airport is just a 10-minute drive away. A shuttle service is available at an additional cost.
Located on Cinisi beach, the hotel is also 4 km from the Bioparco di Sicilia zoo in Carini and overlooks the Gulf of Castellammare. The hotel offers free parking and air-conditioned rooms, some of which have sea views. Travellers appreciate the location of this accommodation and its value for money. The room costs approximately €56 per night.
In which city to stay near Palermo airport?
Cinisi
Cinisi is a small seaside town located in the eastern part of the Gulf of Castellammare, in the valley of the Furi stream. The international airport of Palermo is located on the territory of the municipality. It is therefore possible to get there by bus, car or even on foot.
The rocky coast and the beaches make it a popular destination for tourists in summer. Cinisi is also famous for its carnival with papier-mâché floats. A Benedictine monastery and several churches are also worth a visit. Cinisi is therefore an excellent option to sleep close to Palermo airport.
Terrasini
Terrasini is a city bordering the airport and therefore accessible by bus or car in less than 20 minutes.
The hotels closest to Palermo airport can be full. You may also wish to find a city for your stay that combines the attractions of a seaside resort with the proximity of the airport. The city of Terrasini offers this advantage: it is located just after Cinisi, facing the sea. It is a small and quiet seaside town that comes alive in summer to welcome the people of Palermo to its beaches. Cinisi and Terrasini are very close to each other, so the airport is easily accessible from both towns. Terrasini is an excellent alternative, offering water sports and hiking, nature reserves, museums, good restaurants and bars. The small marina offers a very pleasant sunset. There is a good choice of accommodation at all prices. Moreover, the town is on the road to the peninsula of San Vito lo Capo, one of the most beautiful places in Sicily!
Where to park at the airport in Palermo?
The airport itself offers travellers three parking options:
Parking at P2: the largest of the car parks, located just in front of the terminal,
At P1 Lunga Sosta: smaller and further away,
Or to the low-cost P3: smaller and more distant too, but the most interesting if you want to leave your car for a long time.
You can reach the terminal on foot or via a free shuttle service.
Other car parks outside the airport also await you on site. This is the case of ParkinGO Palermo. Open all year round, it is safe and economical. It also offers a car wash and valet parking service.
Also read :
Cheap parking in Palermo: where to park in Palermo?
Transfer between Palermo airport and the centre