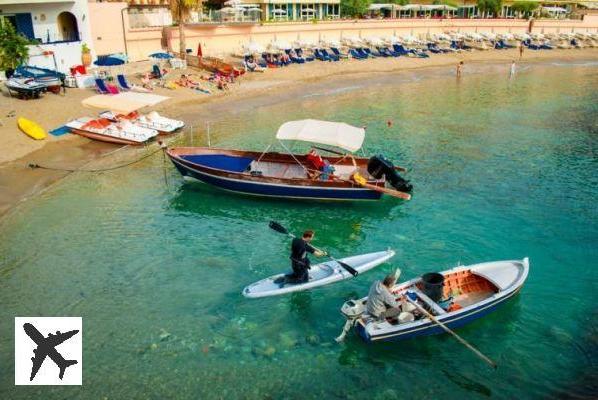 Summary
1. hiking
2. Guided donkey ride
3. Boat excursion
4. Canyoning
5. sea kayaking
6. Tandem paraglider
7. ATV
8. Scuba Diving
9. Caving
Do you dream of crazy activities and grandiose landscapes? Then here is a selection of the best outdoor activities to do in Sicily.
The name Sicily alone invites to travel and makes you dream, not without reason. Because its exceptional setting is a great playground for all the outdoor activities to be done in Sicily. You will find a raw and wild nature, unspoilt landscapes and above all volcanoes! Indeed, Etna, Stromboli and Vulcano offer you the ideal setting for all kinds of thrills.
Surrounded by the Mediterranean and Tyrrhenian Seas, lined with black or white sandy beaches, full of steep mountains and volcanoes, Sicily is made up of nothing but grandiose landscapes. For a few days or a few weeks, let yourself be embarked and follow the guide! Here are the best outdoor activities to do in Sicily.
Also read :
The 17 must-do things to do in Sicily
The 14 most beautiful villages of Sicily
Sicily in Motorhome: tips, areas, itineraries
1. Hiking
There are some landscapes that you can't fail to explore on foot, in order to better understand and experience them. This is the case of Sicily and, above all, the slopes of Mount Etna! That's why hiking is really the outdoor activity to do in Sicily.
Indeed, Sicily offers a very wide range of possibilities for day or longer walks, in autonomy or in refuges. You will be able to walk on ancient lava flows, admire the sunset at the top of Etna... And even, why not, witness an eruption! Etna is indeed one of the most active volcanoes in the world!
2. Guided donkey ride
If you are looking for an outdoor activity to do in Sicily with your family, then donkey trekking is your solution. Indeed, contact with animals completely changes your perception of the landscape. You will rediscover the most beautiful volcano in Europe at a new pace and from a new angle... Letting yourself be lulled by the step of your donkey, you can listen to your guide tell you Sicilian legends or talk to you about the surrounding nature.
And this is an outdoor activity to do in Sicily that is accessible to children and the elderly alike! So you will be able to share this timeless moment between grandchildren and grandparents without any problem. Sweet shared memories guaranteed!
3. Boat excursion
But Sicily is not just Etna, the mountain and its steep slopes. For the island is also turned towards the blue waves of the Tyrrhenian and Mediterranean Seas. Thus, about 30 kilometres from its coasts is the archipelago of the Aeolian Islands. One of the best outdoor activities to do in Sicily is therefore to go on a day trip to discover them. Moreover, they are registered with Unesco.
Starting from Taormina, you will visit the islands of Panarea, but also and above all, Stromboli. You will then have the opportunity to see its crater "Sciara del Fuoco" spouting its jets of fire into the sky. As you disembark on each island, you can discover its narrow streets on foot and even swim on the famous black lava sand beaches of Stromboli! An outdoor activity to do in Sicily, which is very atypical in fact...
4. Canyoning
When it is hot, it can be interesting to find an outdoor activity to do in Sicily to cool down. You will then have the opportunity to practice canyoning (also called "body rafting" in some parts of Sicily). One of the best spots on the island is in the Alcantara Gorge. In fact, for 48 kilometres, this river has carved out the layers of lava from the eruptions of Etna. The gorges can then reach a depth of twenty-five metres in places and be between two and four metres wide.
You will evolve in an astonishing landscape, made of unusual and astonishing shapes, almost bewitching. Hiking in the water, jumping waterfalls, natural slides, swimming... During the few kilometres of this outdoor activity to be done in Sicily, you will be transported elsewhere but above all, you will be in the cool because... The water is at 10°C!
5. Sea Kayaking
Sea kayaking is an outdoor activity to do in Sicily and has become more and more popular in recent years. It is a kayak specially designed for sea trips, usually along the coast. If you are looking for a sport that will give you a feeling of calm and freedom, don't hesitate to try the adventure.
In Sicily, there are many spots to practice sea kayaking. You can discover volcanic caves, tour the Aeolian Islands and much more. Enjoy differently the landscapes created by the volcanoes while respecting the environment. Because sea kayaking is an outdoor activity to be done in Sicily quite ecological, since you move by the force of your arms.
6. Tandem paraglider
Tandem paragliding is an outdoor activity to do in Sicily for lovers of intense sensations. You will fly like a bird over many characteristic places of Sicily. For example, a few hundred meters below your feet you will be able to see the bay of Castelluzo, the Aeolian Islands, Taormina, Mount Tauro and the coasts of Sicily.
Surrounded by air and wind, you will feel a feeling of power and freedom that is difficult to describe. You will fly over grandiose and magical landscapes. Tandem paragliding is therefore an outdoor activity to do in Sicily if you want to take your eyes full and leave with memories in your head.
7. ATV
Let's get back on land and get away from the sea. The next outdoor activity to do in Sicily is mountain biking. Indeed, the landscape seems to have been designed for that! Because Sicily is a land sculpted by numerous and regular volcanic eruptions. So there are steep mountains, lava flows, deep valleys, forests, a bit of scrubland and garrigue... In short, the ideal playground for adrenalin-loving cyclists!
You can hurtle down the slopes at top speed and take your time to admire the landscape on the ascents. And cycling will allow you to insert yourself into the landscape in a different way. In short, if you love mountains, forests, wide open spaces and thrills, mountain biking is the outdoor activity in Sicily for you!
8. Scuba Diving
Scuba diving is really one of the best outdoor activities to do in Sicily! Indeed, the archipelago has a fascinating and preserved underwater world. Underwater caves, coral of all colours, secret beaches... Discover the Bay of the Sirens, the Blue Cave and the Isola Bella nature reserve.
Snorkeling or scuba diving, it will be up to you to choose to discover the sea bed and its extraordinary biodiversity. And if you've never done it before, don't worry. Because this outdoor activity to be done in Sicily is supervised so that everything happens safely. So you can enjoy it with your family, with children or teenagers.
9. Caving
Caving is an original outdoor activity to do in Sicily ... But it is reserved for those who do not suffer from claustrophobia. In fact, equipped with harnesses and headlamps, you will walk through cooled lava tubes for several hundred meters. Guided by an expert, you will then have the impression of melting into the bowels of the earth.
Caving on the slopes of Mount Etna can be very impressive! Can you imagine yourself in the place where a lava flow once spread? Going down in steep casings? Sneaking through narrow galleries? Thrills and adrenaline guaranteed!