A day of play and relaxation by the pool is a great idea during a trip to Florida. Check out everything about the SeaWorld group's Aquatica Orlando Park.
From the more extreme attractions to the quieter ones, Aquatica Orlando is the right choice to take children, who can play quietly while adults have fun too. The park's structure is incredible – many even consider it very similar to Fortaleza's Beach Park.
Aquatica is part of the SeaWorld Parks group and opened in 2008. It is themed around the Pacific Ocean, inspired by coastal beaches in Australia and New Zealand, with many native mascots there, such as the kiwi, kookaburra and takahe birds, and Commerson's Dolphins.
In addition to being a very nice option to spend the day, it is one of the cheapest parks in the group (which also covers the SeaWorldthe Discovery Cove in Orlando and the Busch gardens in Tampa).
So, ready to have fun and get wet? So pack your swimsuits and read on to find out everything you need to know to enjoy everything at Aquatica.
In this post you will read:
How to get to Aquatica Orlando
Aquatica Orlando attractions
Restaurants at Aquatica Orlando
Other facilities at Aquatica Orlando
Tickets for Aquatica in Orlando
Where to stay when you go to Aquatica in Orlando
Tips to get the most out of Aquatica Orlando
FAQ
Read more Florida tips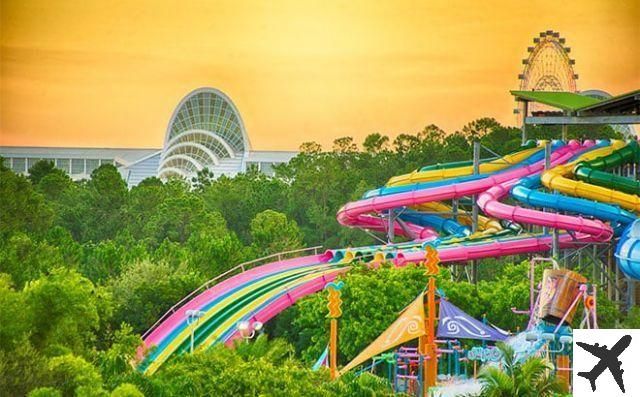 How to get to Aquatica Orlando
Aquatica Orlando is located on International Drive, right across from SeaWorld Park – literally across the street – and getting there is pretty easy.
If you are in downtown Orlando, you will drive along Interstate I-4 Westbound, keeping to the left and following signs to SeaWorld. Then take Exit 72 onto Highway 528 and head to Exit 1 towards International Drive where the park is. The journey takes less than half an hour.
From Orlando International Airport to Aquatica the way is even faster. Take Highway 528 to the International Drive exit. Follow directions to SeaWorld keeping left, and you'll be there in less than 20 minutes. For this, renting a car in Orlando is a great tip.
Aquatica Orlando attractions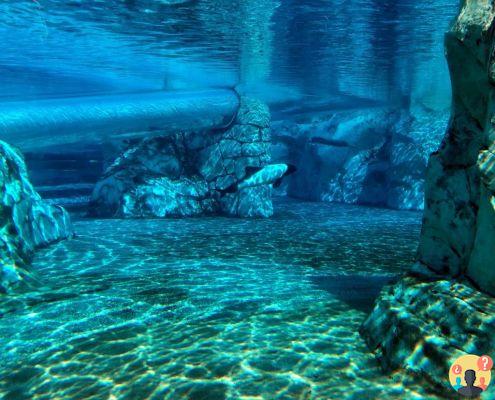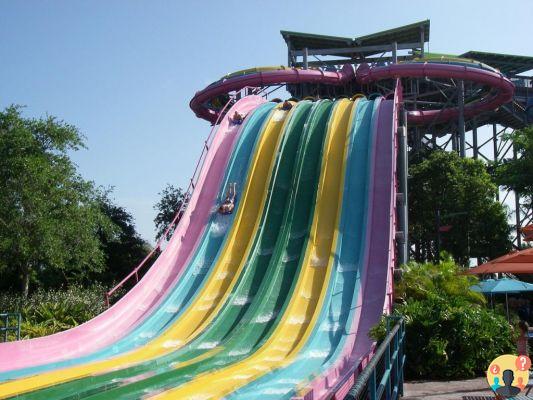 Orlando's Aquatica Park has options for all ages. Children and adults can have fun playing on the super high water slides, swimming in the wave pools or relaxing on the buoys in water courses with controlled currents.
The park's infrastructure is complete and well maintained, with sun loungers scattered around the toys, and it even has an artificial beach with sand.
Check out the main toys to choose which ones you are going to venture into:
Water slides without buoy
Reef Plunge – The newest opening of Aquatica is an enclosed water slide, which passes through an aquarium with commerson dolphins, leopard sharks, sardines, among other marine animals. However, as it is fast, it is not possible to see the animals very well – a good excuse to go there again and again.
Minimum height: 1,07 m
Racer level – This attraction is a racing competition. Everyone goes down the toboggans at the same time, they go through tunnels that rotate and go down in different positions. A stopwatch marks the speeds to see who won.
Minimum height: 1,07 m
Ihu's Breakaway Falls – Going up 126 steps, at 24 meters high are four super fast water slides. In three of them, the descent is through a capsule where the floor opens for the person to fall. Make no mistake, it is one of the most radical.
Minimum height: 1,22 m
water slides with buoy
Riptide Race – The course is 200 meters in a curved tube, with open and closed parts, and is the first dueling waterslide in Florida. The buoys can hold up to two people.
KareKare Curl – This attraction mimics the sensation of surfing in perfect conditions, with participants on a float on a platform that mimics a giant wave.
Minimum height: 1,22 m
Ray Rush – A toy to participate in a group, with buoys that support three or four people, and go down through slides and a completely open part.
Minimum height: 1,07 m
Tassie's Twisters – This attraction has slides on the right and on the left, in which you go down a buoy and run in an open part, until you land on a second toboggan that leads straight into a pool.
Minimum Height: Persons under 1,22 m must wear a life jacket on this attraction
Family Way – This water slide has four curvy and very fast tunnels, one of each color. Up to two people can descend on the same buoy.
Minimum Height: Persons under 1,22 m must wear a life jacket on this attraction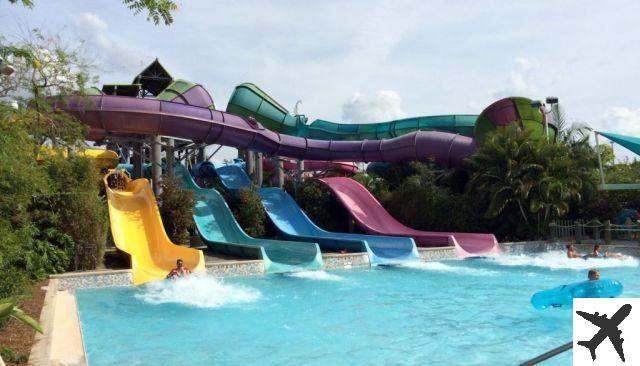 Sauce Rock – Similar to the Whanau Way, the waterslides are very fast, and the difference is that on the descent you end up veering in some parts of the route, slipping forwards and backwards.
Minimum height: 1,22 m
Walhalla Wave – This toboggan is for the whole family. A boat for several people that slides through several curves, turns and tunnels, with water jets along the way that leads to a swimming pool.
Minimum height: 1,07 m
artificial beaches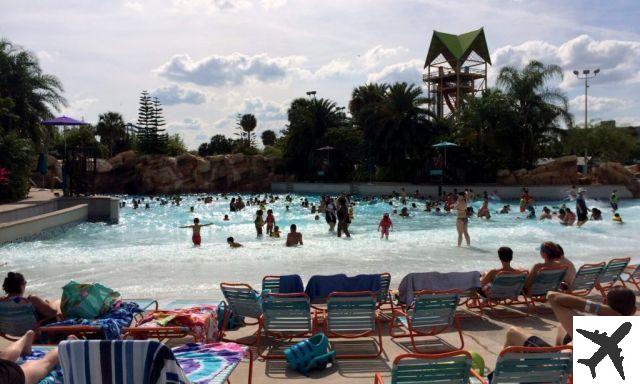 Cutback Cove – Constant wave pool, with artificial beach space full of sun loungers right in front.
No minimum height.
Big Surf Shores – Next to Cutback Cove, in front of the same artificial beach space, there is a wave pool programmed by a times, which vary between slower or faster.
No minimum height.
water courses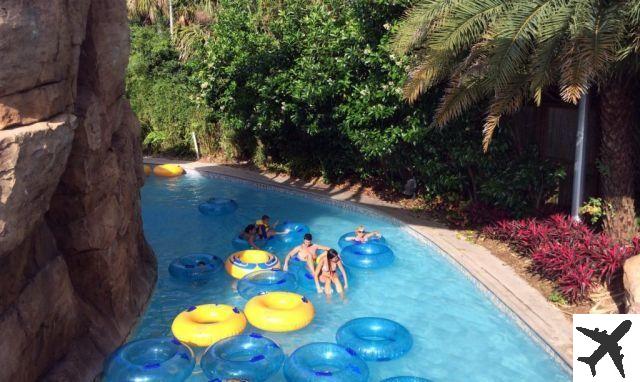 Roa's Rapids – This course is 457 meters long, with water jets, and a fast current. You can wear a life jacket to relax and go with the flow, but you cannot use buoys on this attraction.
Minimum Height: Persons under 1,30 m must wear a life jacket on this attraction
Loggerhead Lane – On a slower route, this watercourse is perfect to go by float and rest a little while going along the path until you reach an area where there is an aquarium with several species of fish.
Minimum Height: Persons under 1,22 m must wear a life jacket on this attraction
For kids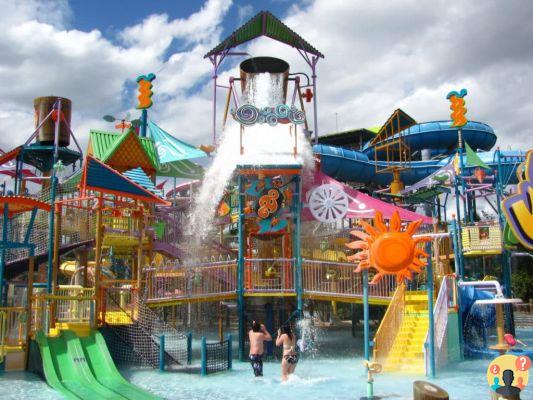 Walkabout Waters – Pool space with a large toy structure, super colorful and playful, full of stairs, bridges, water jets and slides. Children under 6 years old must play accompanied by a responsible adult.
No minimum height.
Kata's Kookaburra Cove – Another quieter pool area, with small slides to amuse the children, and fun-shaped water jets.
No minimum height.
Restaurants at Aquatica Orlando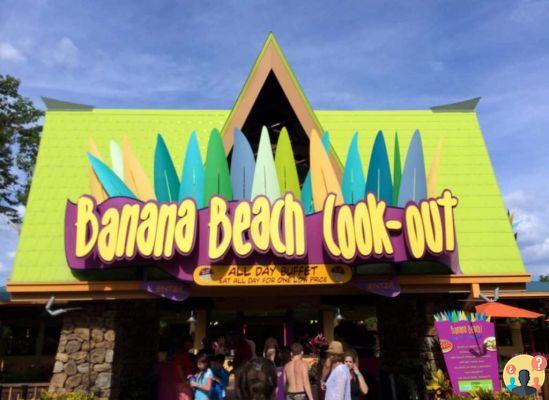 At Aquatica Orlando there are three dining options. O Waterstone Grill it is buffet style and serves sandwiches, hamburgers, chicken portions, salads, desserts, as well as cold beer and coke.
O Mango Market is more geared towards quick snacks such as snacks, fruit, sandwiches, fries, hot dogs, ice cream and bottled drinks.
O Banana Beach Cook-Out also serves buffet, with options of barbecue, pizza, wraps, salads and soft drinks.
There is a complete meal plan in the park called All Day Dining Deal, which gives free access to eat all you want in the on-site restaurants, every hour, throughout the day, for a fixed fee. Prices range from $20 to $35 per child or adult, respectively.
The great advantage of this plan is the bracelet, which indicates the hiring. So you don't have to worry about your wallet while you're in a bathing suit and wet?
Aquatica Orlando also allows the entry of small coolers with water and small portions of ready-to-eat foods, such as cookies and baby foods. Larger packages are not allowed (they can only be consumed in the reserved picnic areas, next to the parking lot).
Other facilities at Aquatica Orlando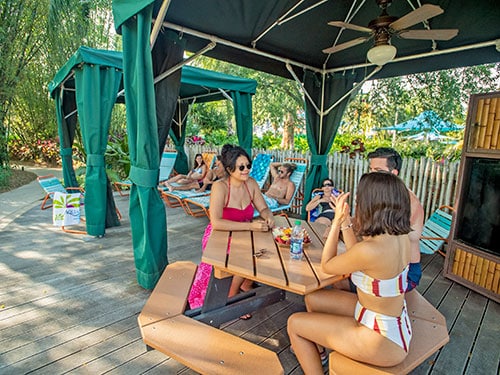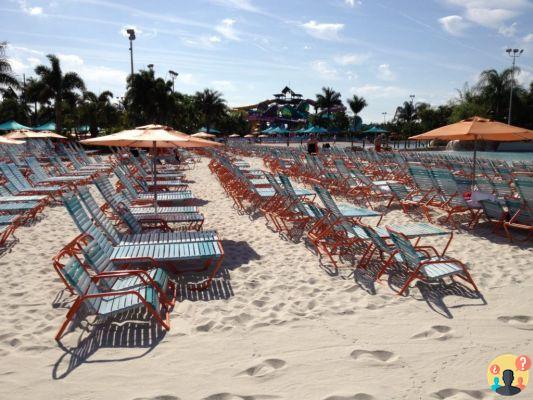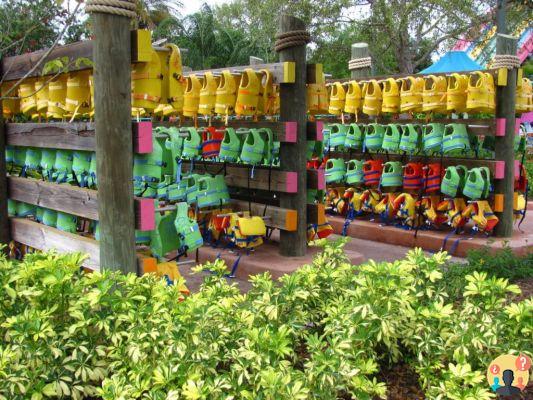 For those who go with children or a large group to Aquatica Orlando, the park offers several facilities to make the day, in addition to being fun, more comfortable.
As cabanas are one of those amenities. For a price that can vary from 89 to 199 dollars, you can rent an exclusive one for your family. Reservations can be made upon arrival at the park or through the website (recommended in busy seasons).
The spaces are covered and have a closet, lounger, minibar, water, towels, and service to order food. Those who rent the cabin also guarantee 20% off purchases in the park. If you are in a couple, it is worth considering the Premium Seating Lounges, which cost $29 and can accommodate up to two adults.
If you don't want to spend on rent, no problem. Throughout the park there are free chairs and sun loungers. To store valuables, rent lockers for $7 or $11, depending on size (+$10 security deposit, returned later).
Towels are available for rent for $2 per day (+2 deposit) and life jackets of all sizes are available for use at no extra cost. You will also find dryer cabins around the park, with air jets to remove excess water after the pool (they cost 5 dollars and are for the whole family).
Tickets for Aquatica in Orlando

Aquatica in Orlando is one of the most affordable parks in the SeaWorld group. Tickets start at $40 per person on the website, while at the park box office they start at $70 per person.
There is a refund policy for tickets purchased through the official website if there is an imminent risk of a hurricane or tropical storm in the area – which is more common in September in Florida.
A good tip for those who are going to visit more than one Sea World group park is to buy the ticket combos.
Combo prices are:
2 days: from $105 (varies with season)
3 days: from 120 dollars (varies with the season
Unlimited pass for 14 days: from 190 dollars and parking in all parks included in the price
SeaWorld, Aquatica, Busch Gardens Tampa and Adventure Island are the parks in the promotional combo – only Discovery Cove is not part, for which tickets must be purchased separately.
Where to stay when you go to Aquatica in Orlando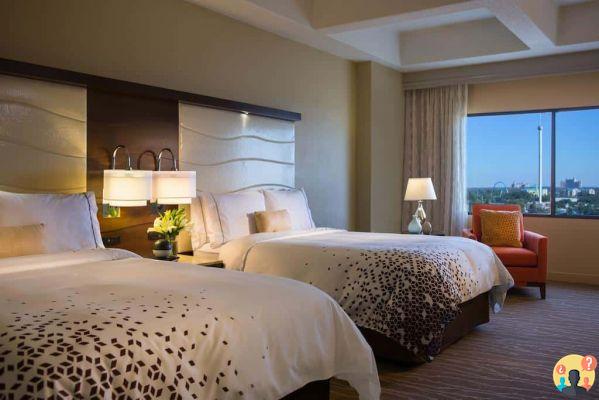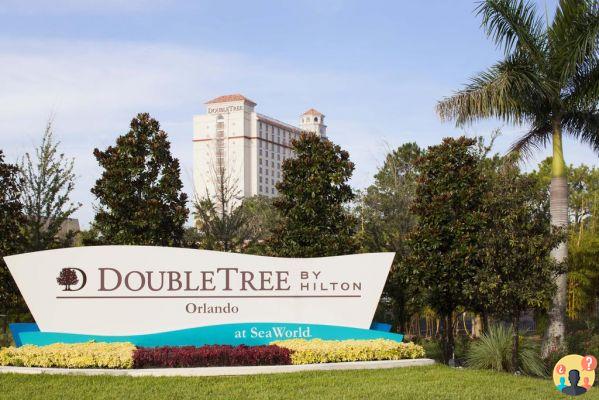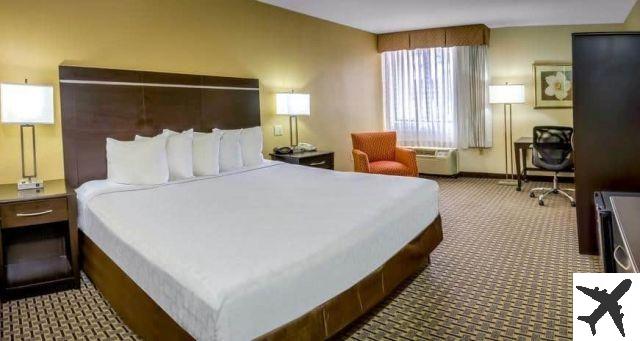 Aquatica Orlando is on the same avenue as SeaWorld, on International Drive in Orlando, and to stay closer to the parks, the best option is to choose accommodation in the surroundings.
Among the hotels belonging to the SeaWorld group, we highlight some good options such as the Renaissance Orlando at Seaworld and the DoubleTree By Hilton Orlando at SeaWorld, as close as possible to Aquatica. Yet another option is the Fairfield Inn and Suites Orlando at SeaWorld, closer to the whale park.
If you're looking for something more economical, Midpointe Hotel by Rosen Hotels & Resorts or Days Inn by Wyndham Orlando Conv. Center/International Dr can also be a good bet.
Now, if the trip is in a group, the holiday homes Orlando Resort Rentals at Universal Boulevard are highly recommended – in addition to being good value for money, dividing the price by the group is very inviting.
Tips to get the most out of Aquatica Orlando
1) Be aware of the times to enter Aquatica in Orlando
The Park is open daily from 10 am to 17 pm. But when in doubt, check official website the opening hours of the day you go.
Get there early to enjoy the park, especially during the summer vacation in the US – from June to August – or on holidays, as the park fills up and may even close if the visitor limit is reached.
2) Ensure unlimited internet while traveling
Did you know that it's getting easier – and cheaper – to have unlimited internet throughout your trip?
Just ask for an international cell phone chip through AmericaChip. We always use and love it. They send a SIM card to your address in España, you insert it in your cell phone when you arrive at your destination and you have unlimited internet throughout the trip.
#StayHip: Save on car GPS rentals and use GoogleMaps and Waze with your unlimited internet.
3) Orlando Travel Insurance is ESSENTIAL
Buying travel insurance for Orlando is an excellent way to ensure a smooth trip and avoid worries. Having the assistance of insurance gives you the peace you need to enjoy your destination and know that you have support if you need it. Also enjoy our Insurance Promo discount coupon. - SEE PRICES
#StayHip: Save 10% on your travel insurance. use the coupon FORTRAVELOVERS to get 5% off and pay with boleto to guarantee an additional 5% OFF.
4) Extra Aquatica Tips
Parking is $13 all day
The Cashless Wristband is a wristband linked to your credit card that makes shopping at the park easy – so you don't have to worry about your wallet
Quick Queue and Quick Queue Unlimited are the skip-the-line benefits of SeaWorld parks (Unlimited has unlimited use, and the other is only once per attraction), for prices from 19 to 29 dollars
It's a good idea to wear water shoes on the day you go to the park, as you cannot wear flip-flops at some attractions.
Bring your own towels (or those from the hotel) to save a little
Do the math to see if the All Day Dining Deal plan is really worth it – as the park closes at night, you'll be dining out, and it may be worth buying the meals separately.
Aquatica is a network with other units, in Texas (San Antonio) and California (Chula Vista) – if you go to these areas of the USA, it is worth looking for the other parks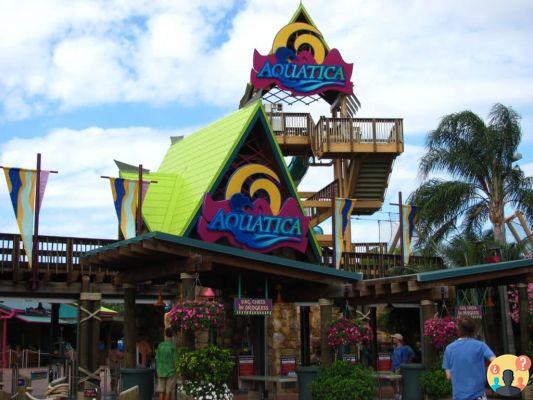 FAQ
Where is Aquatica Orlando?
Aquatica Park is located on International Drive in Orlando right across from Sea World Park. Learn more about attractions at Aquatica Park in Orlando.
How to get to Aquatica Orlando?
Take Highway 528 to Exit 1 towards International Drive. The best option to get to Aquatica is to rent a car. Make your quote here.
What to do at Aquatica?
Orlando's Aquatica has options for all ages: water slides, artificial pools, wave pools, lounge chairs. Check out all the attractions at Aquatica Orlando.
What are Aquatica's hours of operation in Orlando?
The park is open daily from 10 am to 17 pm. Learn all about Orlando's Aquatica Park.
Where to buy tickets for the
Aquatic Orlando?
You can purchase your tickets with several package options and prices on the park's website. Check out details about Aquatica attractions in Orlando.
How much does the entry cost
Aquatic Orlando?
Aquatica tickets start at US$40 per person, but there is also the possibility of combos with other Sea World Group parks. See all about Aquatica Orlando.
Where to stay in Orlando when going to Aquatica?
Good value hotels are the DoubleTree By Hilton and the Fairfield Inn and Suites. A cheap hotel option is the Days Inn by Wyndham Orlando and for those traveling with a family, Orlando Resort Rentals and Maggic Village Resort are recommended.
Read more Florida tips
SeaWorld Orlando – Complete Park Guide
Busch Gardens Tampa – Best Attractions and Tips to Enjoy
Discovery Cove – What it's like to visit Florida's exotic park
Orlando Travel Insurance – Which is the best?
Orlando Hotels – 12 amazing options near the parks
Orlando car rental – Find out how it works
St Petersburg Florida and Clearwater – Everything to Do and Where to Stay
Adventure Coast – Florida's Green Adventure Route
Daytona Beach, Florida – When to go, what to do and where to stay
Sebring – Guide to what to do, where to eat and where to stay
What to do in Orlando besides Disney – Travel Tips
Universal Studios Orlando Guide
Tips for Universal Orlando Parks
Magic Village Resort – The ideal place for you to stay in Orlando
Car Rental USA – The Guide to Secure the Best Deals
Magic Kingdom Disney – Itinerary and Best Attractions to Know
Animal Kingdom – Tips to Make the Most of the Park
Disney Springs – Best Shops, Restaurants and Tips to Enjoy
Epcot – Tips for Making the Most of Disney Park
Star Wars Disney Park – See all about Galaxy's Edge
Disney Parks Around the World – The Complete Guide
What to do in Miami – The Complete Guide to the Best Attractions
Travel Insurance for the United States Good and Cheap