If you are planning to visit New York and want to know what to do there, don't forget to book at least one day to explore Brooklyn, discovering the neighborhoods of Williamsburg and Dumbo!
What to do in Brooklyn, NYC, is a question that has entered the city's tourist scene. Feeling the cool and vibrant atmosphere, with several cultural, gastronomic and tourist options, in addition to getting away from the traditional tours of New York, you'll still have unmissable views of the Manhattan skyline!
The Travel Tips team made this tour with the company Dig New York! Cris, the friendliest and coolest Brazilian guide ever, met us at the hotel and from there we went to the super itinerary of what to do in Brooklyn NY, prepared by her. We took the subway to Brooklyn Bridge station and walked across it, enjoying every detail.
#ParaNãoForget: Have you bought your travel insurance yet?
Get your discounted plan using the coupon FORTRAVELOVERS (5% off).
Click here and enjoy!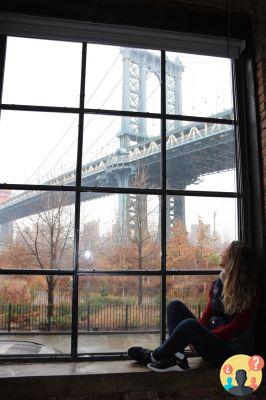 Window of a hidden art gallery that Cris took us for this beautiful photo!
Things to do in Brooklyn NY: Getting there
The weather was rainy but it didn't affect anything, it was even good because there was almost no one crossing (rare since the estimate is 1,5 million tourists a year!) and we were able to take pictures of the practically empty bridge. Cris told us several curiosities about the history of the bridge and even took beautiful pictures: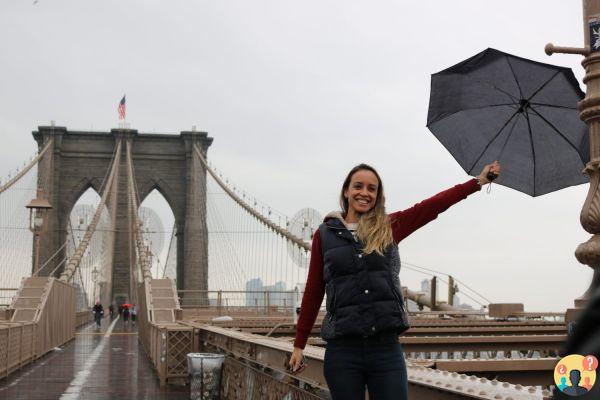 Brooklyn Bridge practically empty on a rainy day. Photo by: DigNy
The Neighborhoods of Brooklyn NY: Dumbo
On the other side of the bridge, we started to explore the neighborhood of Dumbo (acronym for Down Under the Manhattan Bridge Overpass), where you can find some of the most renowned art galleries, restaurants, shops and bookstores in the city.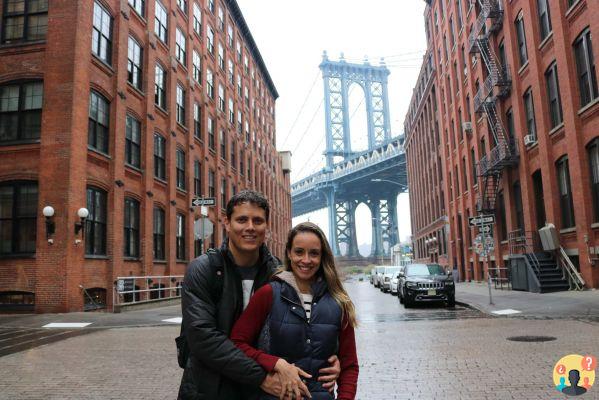 Water and Washington St – Manhattan Bridge view
Among several nice shops, we know the Jacques Torres chocolate factory. The visit is really worth it: the hot chocolate is wonderful and you can try one of the best cookies in town for free?
From there we went to the Brooklyn Bridge Park, which is along the water, right under the Brooklyn Bridge: the park is divided by piers, there is a bike path, sports courts, events, a large picnic area, a gastronomic fair, a carousel, an ice cream factory, in other words: it has an attraction for a whole day, especially in summer.
The tour of Dumbo ended on a high note with lunch at Grimaldi's pizzeria: Delicious pizza, reasonably priced and cozy atmosphere. Legend has it that it was Frank Sinatra's favorite pizza, for that alone it's worth a visit.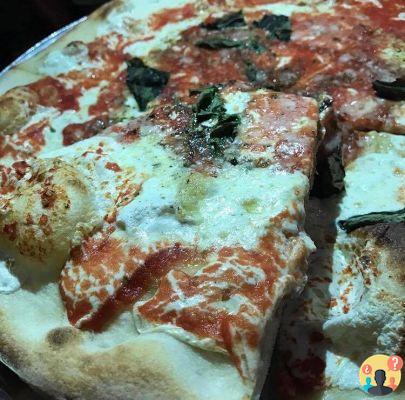 Want to see more NY delights like this pizza from Grimald's and other places in Spain and around the world? Follow us on IG: @comilando!
Brooklyn Neighborhoods: Williamsburg
From there we went to Williamsburg. For a long time, tourists came to Brooklyn just to see the Manhattan skyline, no more. What to do in Brooklyn is now a survey among everyone visiting New York. Williamsburg has become the neighborhood of the moment, the darling among the hipsters. It is an impressively revitalized neighborhood and has established itself as cool for the alternative.
We started the tour at East River Park, a small and charming park by the river on the east side of Manhattan.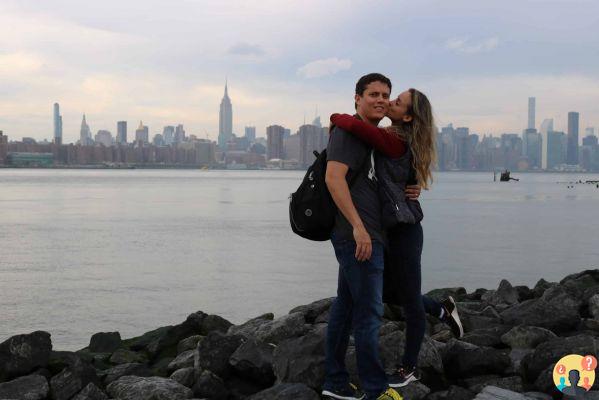 East River Park, with the Manhattan skyline in the background – Photo: DigNy
The neighborhood is also known for its street art murals and attracts tourists for it.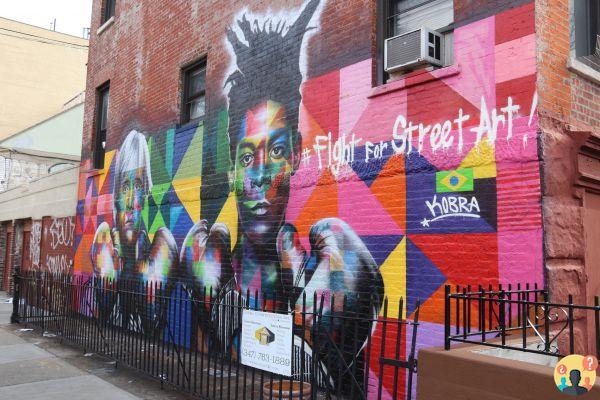 Kobra Mural, one of the many street art murals on the streets of Williamsburg
Insider Tips:
If you like chocolates, don't miss the store. Mast Brothers. There is also a chocolate factory there and you can see the manufacturing process through a glass. Highlight for the beautiful and creative labels of chocolates, always with new collections.
From there we went to the rooftop of the brand new William Vale hotel. The view is unique and sensational, and the best, with few tourists vying for space for photos. This is one of the advantages of taking a guided tour with residents of the city: Cris took us to a place with an incredible view and that only those who really know the neighborhood will go, as it is not a popular tourist spot.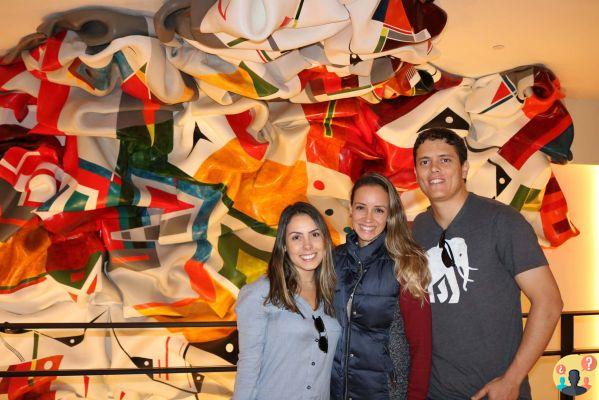 William Vale hotel lobby with Cris, Brazilian guide from Dig New York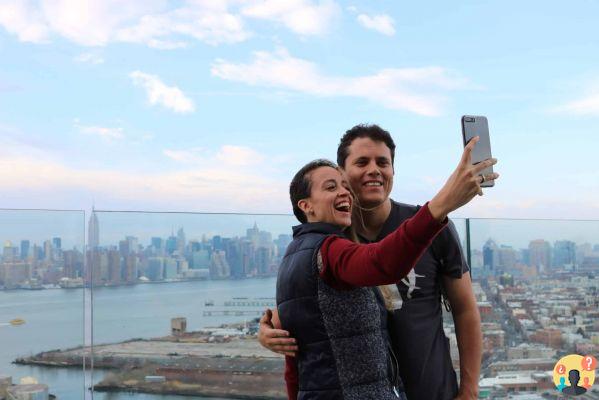 Rooftop do Hotel William Vale – Photo: Dig New York
And finally, a beer…
We end the tour with a guided tour of the Brooklyn Brewery. Very interesting for those who like beer and want to taste the drink straight from the factory, knowing the entire manufacturing process.
Tip: the guided tour is in English only and they speak a lot and fast, so if your English isn't so good, you probably don't understand everything, but it's still worth the visit to taste the beers, see the machines running at full speed steam, and still take a souvenir cup. You need to book the guided tour and pay in advance here.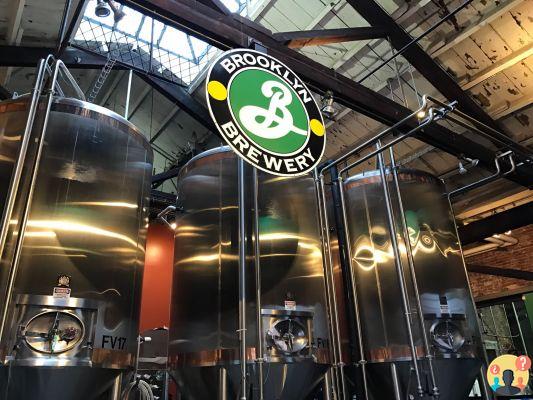 Cervejaria Brooklyn Brewery
What's up? She felt like spending a day exploring the Brooklyn NY? So enjoy our tips and then tell me what you think of the tour. Oh, and if you really want to explore NY with those who know the subject, click here.
Dig New York takes care not only of itineraries and tours, but also of local experiences in New York, photo shoots, weddings and vow renewals in NYC, shopping advice, relocation, etc…
Already know what to do in Brooklyn NY? Comment here!
Read More
What to do in New York – Complete Guide
1-Day New York Itinerary – How to Make the Most of it
What to Do at Night in New York – Discover the Best Rooftops
Car Rental in the USA – How to Hire
Where to Stay in New York – Best Options in Each Region
Asiate Restaurant in New York – Know everything about this place
5 Restaurants in New York – Best Nominations
Empire State Building – How Does Visitation Work?
5 Museums in New York – Cultural Tour
National 11/XNUMX Memorial and Museum – How it works
5 Art Programs – Get Off the Obvious Script in New York
New Year's Eve in the Big Apple – How to Spend New Year's Eve in New York
Aladdin on Broadway – How to Get Discount Tickets
The Lion King Broadway – All About the Musical and Ticket Purchase
Travel Insurance in New York – How to Buy
Plan your trip:
Get started now by booking your New York hotel on Booking.com
Save time and money searching for the best Travel Insurance with the Seguros Promo comparator! Extra 5% off with coupon: FORTRAVELOVERS
Want to find cheap tickets? Find flights to New York with discounts of up to 35% every day at Promo Tickets!
Compare the best prices to rent a car from over 100 rental companies with Rentcars! (Pay in up to 12X! Pay in reais, without IOF)
Leave España with America Chip Unlimited 4G Internet