One of the best cities in the world for quality of life, sustainability and cultural diversity, Vancouver has attractions for different types of travelers. Check out what to do in Vancouver.
What to do in Vancouver is one of the first questions for anyone visiting the city. Whether you are a traveler interested in nature, technology, sports, gastronomy, family travel, shopping or culture.
Vancouver It's a city that has a little bit of everything., in one of the most diverse cities in North America. It is the most American city outside the United States, with more than 183 Americans living there. It also has the highest density of Asians, with 47% of the population coming from the East.
Vancouver is not just a mix of cultures and origins. On the contrary, the city enchants for its natural beauty, abundance of fauna – as a natural habitat for whales half an hour from the city center. Flora – with immaculate parks and endless pine forests.
Also in the urban center, with a modern city, an example in sustainability, a technology hub and the third largest production center and film sets in North America – behind Hollywood and NYC.
In this post you will see:
When to go and how long to stay in Vancouver?
Sights in Vancouver that you need to know

Capilano Suspension Bridge
Vancouver Whale Watch
FlyOver Canada
Grouse Mountain Resorts
Stanley Park
Vancouver Aquarium
VanDusen Botanical Garden
Queen Elizabeth Park e Bloedel Conservatory
Vancouver Art Gallery
Sea to Sky Gondola
Granville Island

Where to stay in Vancouver
Vancouver travel insurance
Read More
When to go and how long to stay in Vancouver?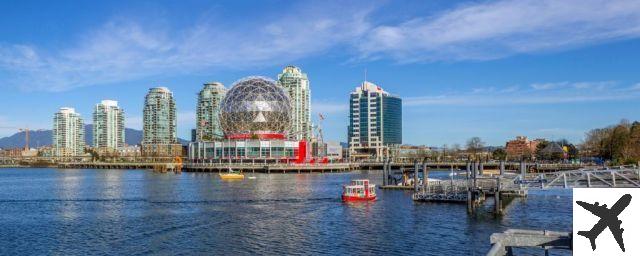 It is possible to spend months in Vancouver and still be enchanted by everything the city has to offer. However, it is better to enjoy this season in the summer, between the May to September.
In October, the temperature starts to drop and the rains start and don't stop until March. A week in the city is enough to see the main attractions – but taking a exchange in canada and staying for a few more months is also a great idea.
>> Read more all the tips in our post Exchange Canada – How to choose which city to go to?
Sights in Vancouver that you need to know
Capilano Suspension Bridge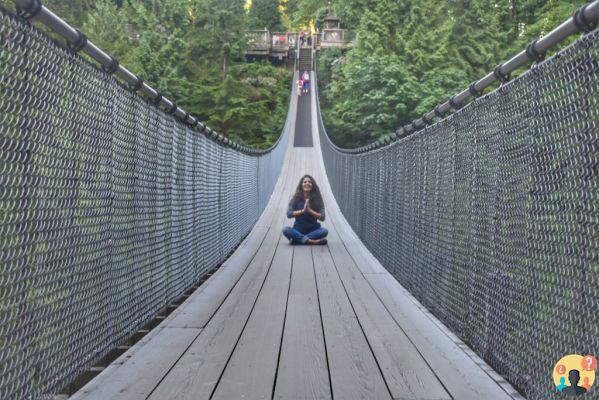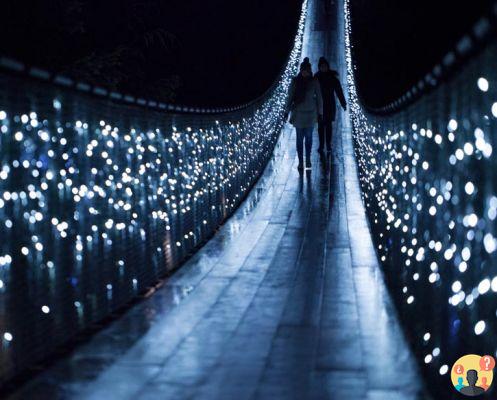 Vancouver's most essential outing is visiting the park Capilano Suspension Bridge. Less than a 15-minute drive from Downtown, the park is one of the most stunning in the area.
With the right to a 137 meter bridge suspended at 70 meters high, a suspended glass platform and tree climbing. If you go after 17pm, in the summer, you still get 30% off your ticket and you can still enjoy the park as in the photo – without anyone!
Adult tickets cost around 53 Canadian dollars. Children from 6 to 12 years old pay 30 Canadian dollars and children under 6 years old have free admission. Check the values ​​here on the website.
Vancouver Whale Watch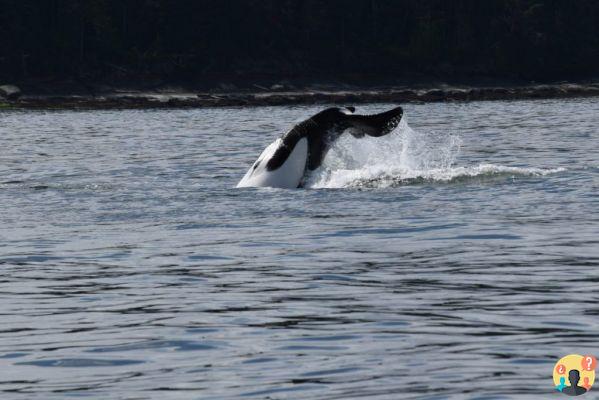 It sounds like bullshit, but it's not: you can see orcas and humpback whales just a few minutes by boat from Vancouver. Their natural habitat is on Vancouver Island, near the city. The whale season there runs from April to October.
Tours take visitors to see whales in the wild with a 90% certainty that it will be possible to see them. It is still possible to see other animals, such as sea lions and seals.
A Vancouver Whale Watch departs from Richmond, which is a half-hour drive from Vancouver. With transportation included from Downtown, for one of life's most fascinating experiences.
The tour lasts between 3 to 5 hours and admission starts at 145 Canadian dollars. See more information here on the website.
FlyOver Canada
O FlyOver is a simulator that goes through the entire natural landscape of Canada. It is one of the newest attractions in Vancouver and a good choice for those with children.
The tour is quick, lasts 25 minutes, and is well worth it for families. I'm sure the kids will like it.
Tickets cost between 27 and 35 Canadian dollars and children (up to 12 years old) have a discount of 10 Canadian dollars. See more information on the website here.
Grouse Mountain Resorts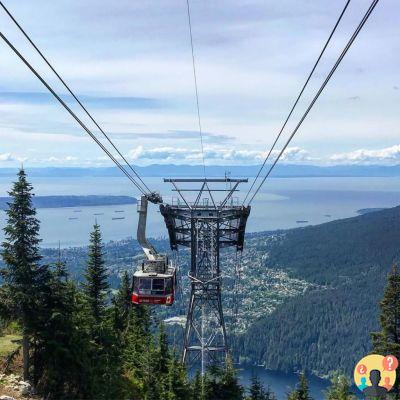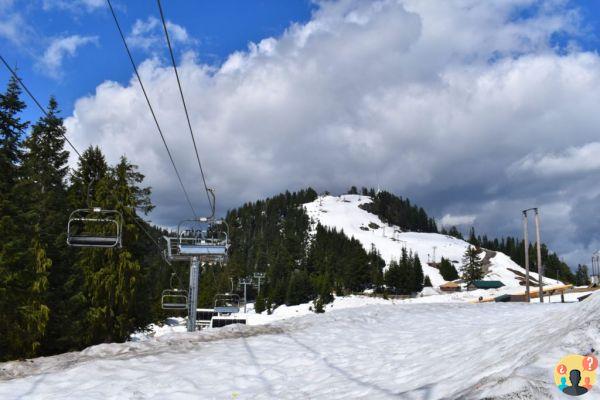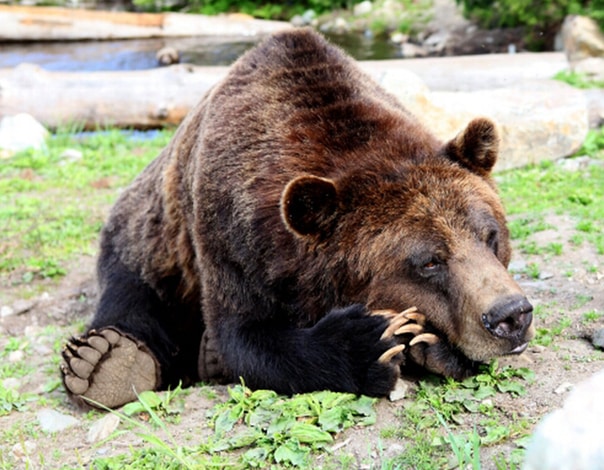 A Grouse mountain it has the best view of the city of Vancouver – in addition to a great ski resort in the winter and several attractions in the summer.
Climbing to the top of Grouse Mountain is a worthwhile program. There are several attractions. It has mountain zipline, skiing, snowboarding, 360° views from the top of a wind tower, hiking, trails, dining, wildlife sanctuary and much more.
Stanley Park
Rent a bike and go for a ride Stanley Park is a must-see in Vancouver. There are 10 km with panoramic views of the Coals Harbours, from Lion's Gate Bridge, and still passing through the park's beaches and stunning landscapes.
Spokes Bicycle Rentals is the best place to rent a bike, as it is strategically located at the beginning of the bike path and at the end of it as well. #StayTip!
Below the region Coals Harbours, one of the most beautiful views of the city.
Vancouver Aquarium
O Vancouver Aquarium It's not just any aquarium. He has a fundamental role in the conservation of regional marine life, working on several projects for the maintenance of the environment.
The aquarium is a lesson in sustainability and ecology, a real must for lovers of the sea and marine life. It's a great tour tip for families and adults.
Adult tickets cost 38 Canadian dollars and children under 3 years old are free. See more information here on the website.
VanDusen Botanical Garden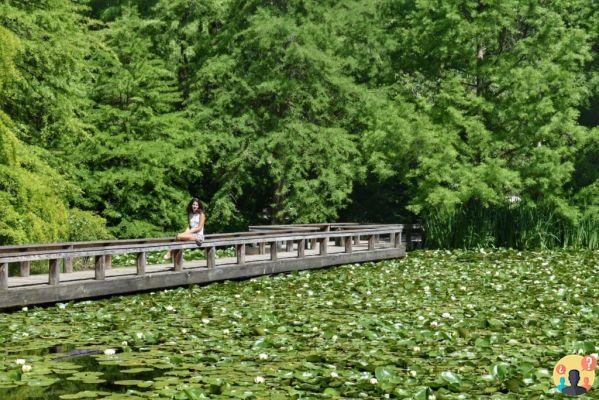 O VanDusen Botanical Garden it is an oasis of gardening and flora in the middle of Vancouver.
This city's botanical garden is wonderful, with green settings, labyrinths of plants and well-kept gardens. Worth the trip, to relax and enjoy the city in a different way.
Ticket prices change depending on the season. See the website here for more information.
Queen Elizabeth Park e Bloedel Conservatory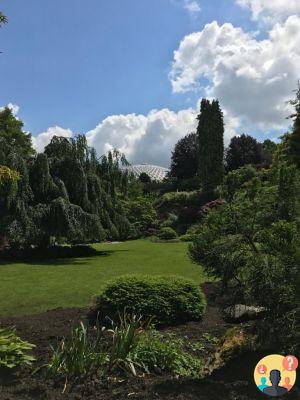 O Queen Elizabeth Park It is the tallest park in the city of Vancouver. Consequently, it has quite a view of the city and North Vancouver. The gardens, named after the queen, are impeccable – Of course! Admission is free and it is a very nice tour to do.
And still inside Queen Elizabeth Park is the Bloedel Conservatory, a greenhouse with a recreated tropical forest, with birds from different parts of the world. Ticket prices change depending on the season. See the website for more information.
Vancouver Art Gallery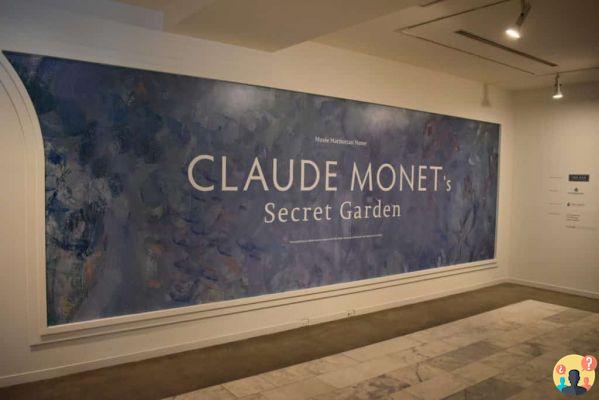 It's worth taking a look at the schedule of the Vancouver Art Gallery's traveling exhibitions. The gallery hosts several mobile exhibitions and also has other permanent ones.
Sea to Sky Gondola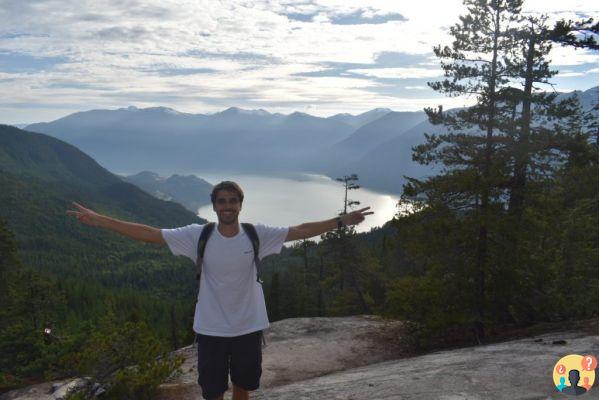 The Sea to Sky Gondola is located in Squamish, a city a 50-minute drive from Vancouver. The tour is worth it from the road, since to get there you have to take the Sea to Sky Highway – one of the most beautiful roads in the world.
Click Here and rent your car with Rent Cars, the only one that lets you pay in real, without IOF and you can even split it up to 12 times. It is worth it!
The view from the Sea To Sky Gondola is impressive and a must-see for anyone looking for things to do in Vancouver.
>> We told you a little more about the Sea to Sky Highway in the post What to do in Whistler, Canada – 6 Must-See Tips
Granville Island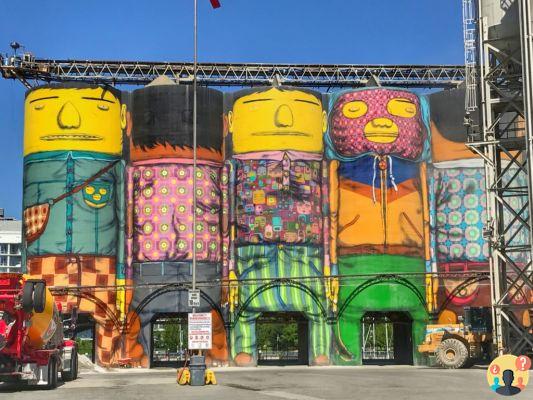 On Granville Island is the Granville Market, the main market in the city of Vancouver. It's a great place to stroll, have lunch and enjoy an afternoon among the shops in a funky industrial setting.
Be sure to see the installation of 'Os Gêmeos' there.
Where to stay in Vancouver
The Vancouver Center this is where the best accommodation options are. Staying in Downtown is synonymous with doing everything on foot or with public transport and it still has the best stores, malls and restaurants on the side and is just a few blocks from the Stanley Park.
However, accommodation in Downtown can be a little expensive for those who are going to stay there for a long time, so it is worth resorting to other alternatives to save money.
Don't stay in Chinatown, mainly at Hastings St. This is a dangerous part of the city, with a lot of drug addicts (it's like Cracolândia in the city).
O Blue Horizon Hotel is a good option, has fair prices for Downtown and still has a view of the sea.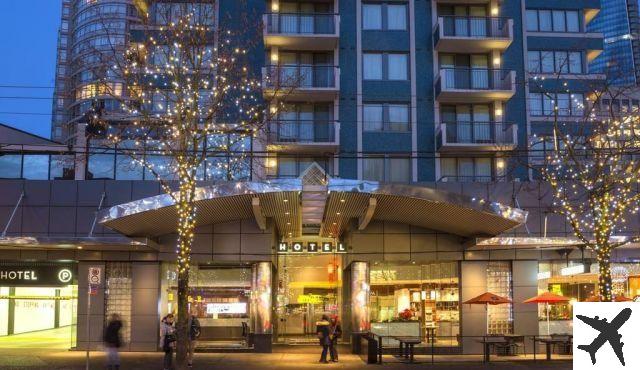 Already know what to do in Vancouver? Comment here!
Vancouver travel insurance
Taking out travel insurance for Vancouver is an excellent way to ensure a smooth trip and avoid worries. Having the assistance of insurance gives you the peace you need to enjoy your destination and know that you have support if you need it. Also enjoy our Insurance Promo discount coupon. - SEE PRICES
Read More
What It's Like to Fly on Air Canada
Seen for or Canada – How does it work?
Exchange in Canada – How to Choose Which City to Go to
How does the Ikon Pass work? – Everything you need to know
Complete Guide to Vancouver, Canada – What YOU NEED to Know
Things to Do in Vancouver – Amazing Natural Destinations
Where to Shop in Vancouver – McArthurGlen Designer Outlet
Fairmont Pacific Rim hotel in Vancouver – Our Review
Canadian Lakes – 6 Worthwhile Destinations
What to Do in Whistler, Canada – 6 Must-See Tips
British Columbia Wine Route – Where to Go
Northern Lights in Canada – Where to Watch
Natal Canadense – Capilano Suspension Bridge Park
International Travel Insurance – Worth Buying
5 Problems That Can Be Solved With Travel Insurance