In January of this year, my boyfriend and I took a 17-day trip to Peru due to a wedding of friends. Our itinerary included the fantastic Machu Picchu and other attractions related to the Inca culture, but also other less explored destinations in the country. Among the latter, we include the dazzling trails in the Huaraz region and the surprising and little known Ausangate. And we come to a conclusion: Peru, your beautiful!
Haven't taken out your travel insurance yet?
How about buying at a discount? use the coupon FORTRAVELOVERS and get 5% off.
Click here and check it out!
In this post you will see:
Machu Picchu
Ausangate
Huaraz
Peru travel insurance
Machu Picchu
It's impossible to talk about what to do in peru without starting with the most famous attraction in the country, right? As we had a script with a limited duration, we decided to explore the Peruvian postcard in a tiring way, but that was enough for us: back and forth.
To get to Machu Picchu you have to go through a few steps. First, we left Cusco around 3 am, then we took the trem Peru Rail at 5 and we arrive at Cheap flights from Aguas Calientes, from where the bus to Machu Picchu leaves, just before 8 am. As our return train was only at the end of the day, we had all day to enjoy the citadel.
Tickets can be purchased directly from Machu Picchu through the internet on the Peruvian government website, but our visit would be in early 2016 and tickets were being held. Every day I entered the site and nothing, an anguish. As the trip approached, I decided to request the purchase of the Machu Picchu + Huayna Picchu ticket and transport directly to our hotel, the Picol Hostal.
The total charged was US$ 245 per person, a very small difference from what it would have been if I had done everything remotely and with one advantage: I would only have to pay when I arrived at Cusco, so I was able to pay in cash and save on the IOF on the card. In addition to the perrengue of waiting for the government to make tickets available – which it only did on January 1, by the way!
upon arriving at Cheap flights from Aguas Calientes a person calls you by your name or the name of your group/guide and takes you to the bus that goes up to Machu Picchu. The guides are usually up there so that a person who visits without planning has no problem, there is always a guide left offering their services and at a very reasonable price.
Speaking of prices, get ready because Cheap flights from Aguas Calientes it is more expensive than Cusco, at least the restaurants and shops we saw. And I personally wouldn't stay there, it's expensive and there's nothing to do.
O Historic Sanctuary of Machu Picchu It's exactly as I imagined it, no more, no less. It's fascinating, with a lot of energy. It is impossible not to admire the ingenuity of the Inca people, it is very impressive. Legend has it that the "lost city" was used as a resort by the Inca emperor Pacachuti #aiqueselvagem. Hearing the stories and theories and seeing the whole scenario there is something out of this world, you can understand the fame of the place!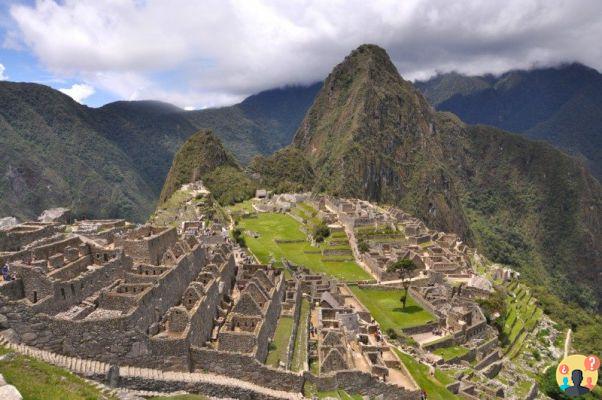 Ausangate
This region a few hours from Cusco is still not much explored by Brazilian travelers but offers spectacular views. You know when you see something and say "I need to know"? It was like that for me, love at first sight. And if you're thinking about what to do in peru, #ficaadica.
As not everything is flowers, although trekking in the region lasts from 5 to 9 days and we only had one day to go, I had to settle for a "sampling" of the stunning beauty of Ausangate and its "colorful mountain". The fantastic thing is that because it is less known, in addition to being the only tourists there, the feeling was that we were doing something really authentic, there were only the few Quechua families in the village and nature.
We left Cusco around 3 am, after almost 4 hours by car we arrived at the village where we had breakfast and started the trail. There were more or less 7 hours of trail (round trip) reaching more than 5 thousand meters of altitude. As we arrived very early there was a lot of snow in the mountains and throughout the day the snow melted and it felt like we were somewhere else, it was really cool to see the contrast.
I'm not going to fool anyone by saying it's a quiet trail, because it's not. The final kilometer is to die for, very tiring with the climb, but it was worth every ounce of sweat!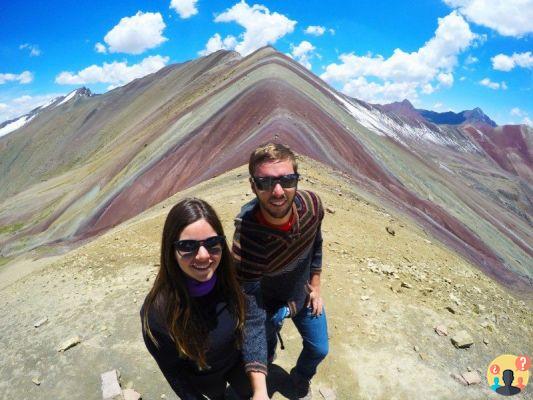 Huaraz
Huaraz is the starting point of several trails, the city itself does not offer much, but the view of the Cordillera Blanca and National park huascaran compensate. For lovers of nature and wonderful views, it is essential to include the region in your itinerary. what to do in peru. We visited: Vale de Llaca, Laguna Parón, Laguna Chrup, and the famous Laguna 69.
O Vale of Llaca It is a great acclimatization option as it is considered a trail of easy to medium difficulty at approximately 4.500 meters of altitude. With a lagoon of the same name and a view of the Ranrapalca Glacier, the walk of just over an hour does not require much effort and presents a very beautiful panorama!
Laguna Parón was undoubtedly mine favorite trail – mainly because it can be fully accessed by car, hahaha Brinks! I loved Laguna Parón because it is simply breathtaking, a very beautiful turquoise blue, it made me think of the pictures I see of Canadian lakes.
With an altitude of 4.200 meters and access by car, it is also suitable for acclimatization. There is a little trail around the lagoon, super light and fun to do. Is it good to arrive early to avoid meeting other tourists?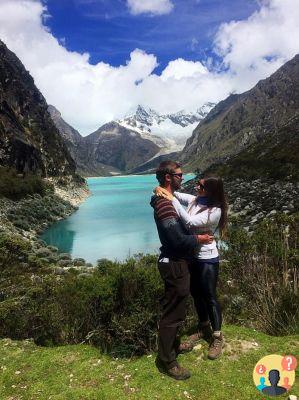 Already Laguna Chrup It was another challenge in my trail life. Considered medium to difficult, this trail features climbing along its route. Guys, I had never climbed in my life and to make matters worse it was raining, so I slipped a lot! Of course it wasn't anything like rappelling, but I was happy to be with an experienced guide who helped me with rope and calmed me down psychologically.
It was an incredible feeling to arrive at the Laguna with its emerald green waters, even with bad weather you could see how beautiful it is. Without a doubt I will come back and preferably at a better time (January, as well as December and February, is the rainy season).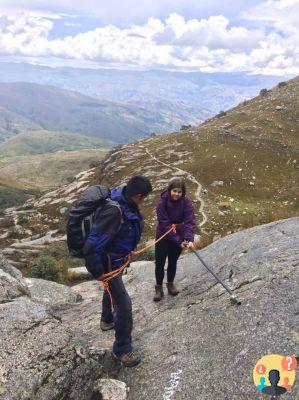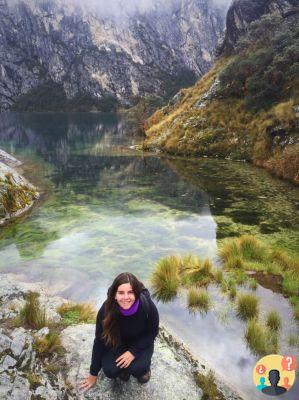 Finally, on our last day in Huaraz we went to the famous 69 Lagoon, the way there is very beautiful, passing through the Callejon de Huyahuash, the Llanganuco Valley and the Chinancocha lake.
I already knew about the (great) difficulty of trail but I thought it would be more peaceful after having done the "colorful mountain" of Ausangate and the others. It wasn't hahaha #cricri. The feeling I had is that I walked and walked and walked and never arrived.
It is almost 14 km round trip at 4600 meters of altitude, but the truth is that it seems much longer: when I was returning a tourist asked me if I was close and when I said "not exactly" she replied "I am muriendo" hahaha # truestory
In addition to an excellent story of overcoming, the 69 Lagoon it's really spectacular. Surrounded by "nevados" and with a water color that depends on the sun and rain – in the months of "our" winter it becomes fluorescent – ​​end your stay in Huaraz with this trail is to close with a golden key.
It's even better to leave it for last, both for reasons of acclimatization and effort, but also because we leave the best for last, right? I only recommend arriving very early because throughout the day many tourists, even groups, arrive. We were lucky and were literally the first to arrive ?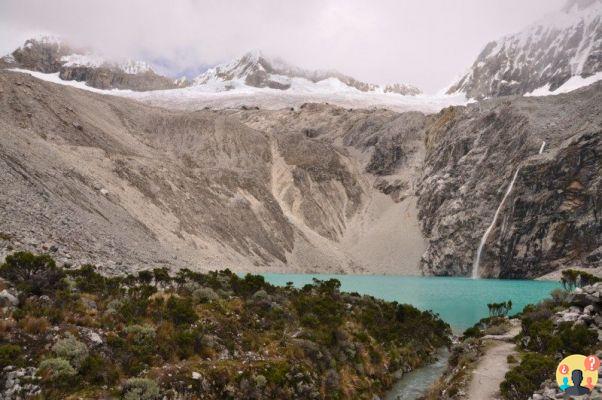 And then you already know what to do in peru?
Peru travel insurance
Buying travel insurance for Peru is an excellent way to ensure a smooth trip and avoid worries. Having the assistance of insurance gives you the peace you need to enjoy your destination and know that you have support if you need it. Also enjoy our Insurance Promo discount coupon. - SEE PRICES