Eating in Peru is practically synonymous with eating well. Check out our recommendations for the best restaurants in the capital and guarantee a trip with unforgettable flavors in Lima.
Peruvian cuisine is one of the most prestigious in the world. The country is rich in history and culture, but its unique flavors are undoubtedly one of its highlights. Because of this, choosing where to eat in Lima – Peru can be a big challenge – it is difficult to decide which restaurants to leave out of the itinerary.
In this guide we indicate some of the best restaurants in the capital of Peru for you to discover. Eating well in Lima is practically a rule, and with these recommendations you are sure to be well served. ?
It may not be possible to visit all these restaurants in a single trip, but you will want to come back, I assure you! So, save this list for your next trips to the country of ceviche, and take the opportunity to try typical dishes signed by other chefs.
Have you already purchased your travel insurance?
Save on the best plans with the coupon FORTRAVELOVERS.
Click here and check it out!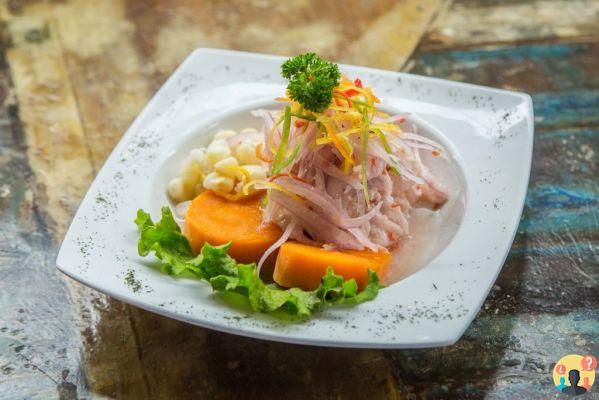 to peruvian gastronomy
Typical meals
award-winning restaurants
Ceviche in Lima
Eat bem na peruvian capital
where to eat cheap
traditional restaurants
Other options
list of restaurants
to peruvian gastronomy
Peru is the gastronomic capital of South America, with varied ingredients that have been inherited from pre-Columbian times. There are various types of potato (more than 2.000 types of tubers), corn and seafood. Fish is one of the great stars of Peruvian cuisine, whose main symbol is ceviche.
Traditional Peruvian dishes, in addition to ceviche, are lomo saltado, cuy (guinea pig), alpaca meat, ají de gallina, tacu tacu, sigh a la limeña, chicha morada and the famous pisco sour drink. In the best restaurants to eat in Lima you can try these, in addition to other typical delicacies.
Lima has a good number of restaurants in the world's top 50 list. Mistura – the largest gastronomic fair in Latin America, also takes place in the city. Local cuisine is influenced by other regions such as Africa, Asia and Spain, with variations between regions of Peru itself. You can already tell that food there is really good, right?
>> See also the best neighborhoods Where to stay in Lima
What to eat in Lima – Typical foods
If you were confused by the different names of Peruvian dishes, rest assured that we will clear everything up. O Ceviche, the country's most famous dish, is well known in Spain. Made with fish (or other seafood) marinated in lemon, it has onions and pepper – a delight that you must try after choosing where to eat in Lima.
Lomo saltado consists of strips of steak served with rice, potatoes, pepper and onions. Tacu tacu is a dish that mixes rice, beans, pepper and garlic, very typical of Peru. Another delicacy you will find there is cuy, guinea pig meat, which is quite common in the country, as well as alpaca and llama meat.
Ají de gallina is a food considered more homemade, with shredded chicken cooked with yellow peppers and other seasonings, served with olives and boiled egg on potato slices.
Chicha morada is a very refreshing non-alcoholic drink made from purple corn. Pisco sour is a typical drink of the country, easily found in several restaurants and bars. And to close, the sigh a la limeña is a dessert made with white manjar, beaten egg yolk and port wine meringue that is worth trying.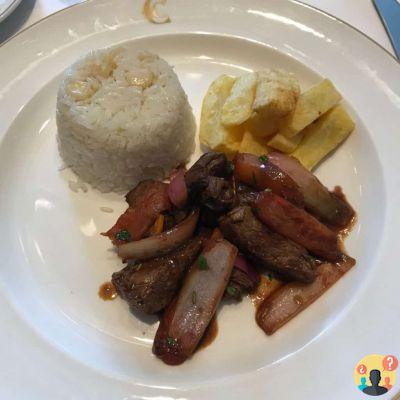 Award-winning restaurants where to eat in Lima
Lima is a reference in haute cuisine, being the main culinary destination in South America. In the city there are many renowned restaurants, which are on the list of the best in the world by The Restaurant magazine. Awarded with Michelin stars, they are great to satisfy even the most demanding palates.
If you are one of those and prioritize a sophisticated restaurant, you can bet on Central, Maido ou Astrid and Gaston Casa Moreyra, restaurants with a constant presence in the list of the 50 best in the world. There are other great gastronomic offerings to eat in Lima, Peru, but these are worth mentioning.
>> Are you going on a gastronomic tour of Lima? Check out our recommendations for the best hotels in Lima
Central
O Central It is one of the most popular in the Lima gastronomic scene today. Quite disputed, to dine there you will have to book in advance. Chef Virgílio Martínez signs the dishes of the tasting menu that varies from 8 to 17 stages. Each visit to the restaurant is unique, made with fresh ingredients from different regions of Peru.
The gastronomic experience follows the altitude of the Peruvian territory. As the dishes are served, with themes of soil, sea and mountains. Everything is prepared with exotic and fresh ingredients.
To dine there, you will pay a minimum of 90 dollars per person.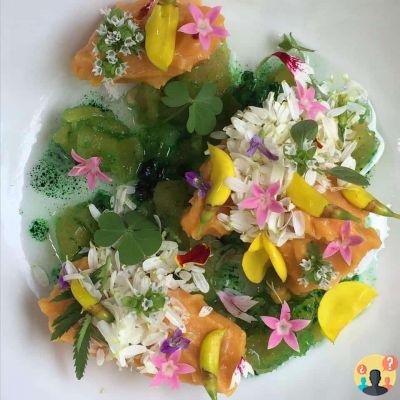 Maido Restaurant
O Maido is a Nikkei restaurant in Lima, which combines Japanese and Peruvian cuisine with perfection. It is considered the best oriental food in the city, and ranks among the best restaurants in the world. As is common in the options of where to eat in Lima, you can opt for the tasting menu or order an à la carte dish.
Chef Micha, nicknamed Mitsuharu Tsumura, signs the dishes that range from typical flavors of the country to fully Japanese options. Located in Miraflores, the average price of a dinner at this restaurant is 120 dollars per person.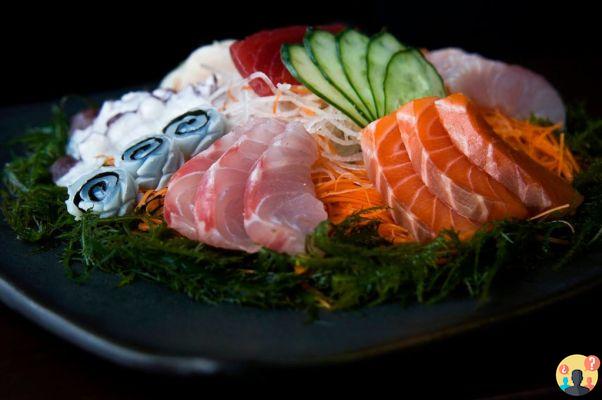 Astrid & Gaston Casa Moreyra
Gastón Acurio is one of those responsible for highlighting Peruvian cuisine in the world and one of the great gastronomic stars of today. O Astrid & Gaston Casa Moreyra, is one of the restaurants commanded by him, being his most refined home.
The tasting dinner is highly recommended but it is extensive – it lasts about four hours. But the experience of tasting different flavors of the restaurant is worth it! To dine on the menu of steps at Astrid & Gastón you will pay around 120 dollars. And don't forget to make your reservation in advance.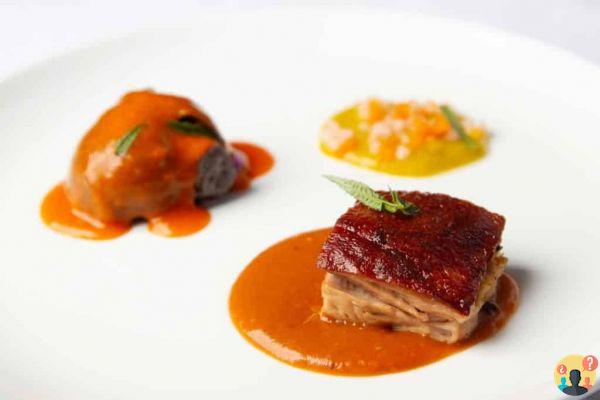 Don't forget Travel Insurance!
Avoid inconvenience and be prepared for unforeseen events. You never know if your suitcase is going to get lost, if you're going to catch a cold, etc., right? Hire yours now Promo insurance and be covered!
Where to eat Ceviche in Lima
Going to Lima and not eating the most typical Peruvian dish is having an incomplete trip. If you want to know where to eat a good ceviche in Lima, check out our recommendations with the best cebicherias in the city.
O La Mar is one of the restaurants of renowned chef Gastón Acúrio, which has units all over the world – including one in São Paulo. If you've already tasted one of his dishes in São Paulo, you'll like the Lima version even more. There the fish is even fresher, received daily by the kitchen, in addition to the atmosphere being more relaxed.
La Mar is open for lunch only, is located in Miraflores and opens between 12:17 and 20:XNUMX, to ensure that the dishes are really fresh. The price is also attractive – you can eat well there, including drinks, for about XNUMX dollars.
O Rana sings It's in the Barranco neighborhood and there's always a line to get in. The place has a very characteristic style, with wooden tables, flags on the ceiling and walls full of comics. The offer of dishes is large, all very tasty – especially the ceviche! Worth a try – it costs about 10 dollars (or 35 soles).
The dock It is a very traditional and typical Peruvian restaurant. In a simpler environment (even plastic chairs), local residents gather there looking for a good lunch on a working day. The portion of ceviche is simply delicious, as well as well served. It is enough for two people to eat quietly, for a price of 10 dollars.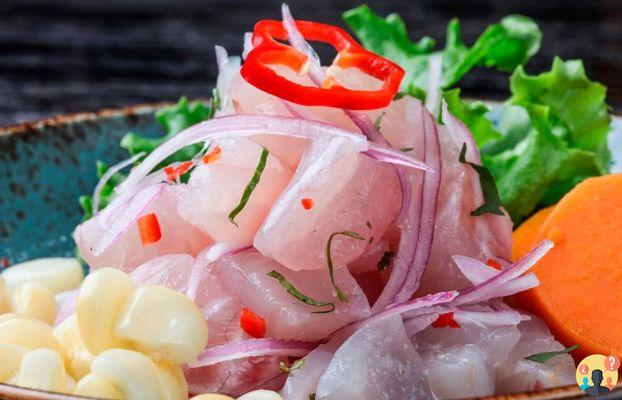 Where to eat well in Lima
Choosing where to eat in Lima to eat well is not very difficult. In addition to those already mentioned, there is a wide variety of very good restaurants that are worth a visit. A great choice is Tanta, by the also renowned Gastón Acurio, but cheaper than Astrid & Gastón. The menu at the place is very diverse, ranging from breakfast to dinner.
Yet another option is the Osso. Chef Renzo Garibaldi's restaurant is a meat house, with artisanal dishes of steaks, sausages, hamburgers and more. It also works as a butcher shop. To dine there, you need to make a reservation, but the good side is that there are Osso in two addresses in Lima – to facilitate the offer of places ?
Capital Fish is a very tasty seafood restaurant to eat in Lima, Peru. The name of the place is a play on the term "deadly sins", which characterizes the decoration of the environment. It's a good tip for those who like fish and shellfish. The ceviche is also delicious.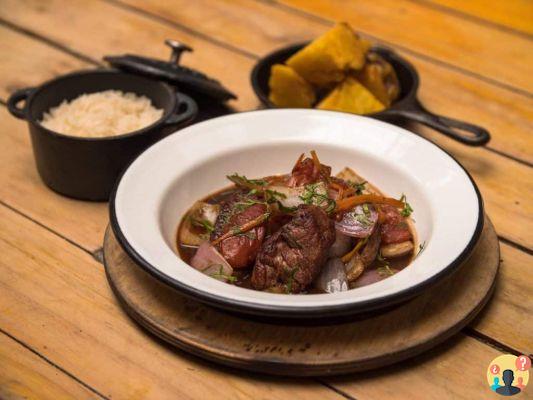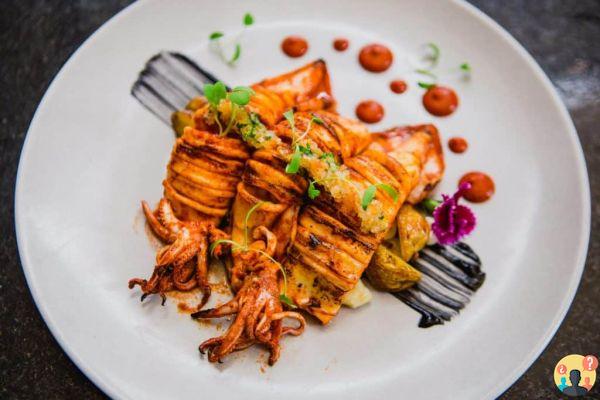 Where to eat in Lima cheap
Eating cheap in Lima is as possible as eating well. After all, when you are in one of the gastronomic capitals of the world, there is a very good chance of getting it right when choosing a restaurant. A more affordable and very good option is the Beam, which serves Peruvian-Asian food with a distinctly spicy seasoning.
O The Struggle Sangucheria Criolla serves delicious sandwiches, different from the ordinary. It's a great option for a snack in the afternoon, when you're hungry between tours. Already an account cebicheria is the Ronald's Ceviche, a little away from the tourist centers but in an easy-to-find address – if you have time, it's worth a try.
For delicious ice cream at the end of the day, head to BLUE: the ice cream of the barrio, with several traditional flavors made daily on site. Now, if your request is a cup of coffee, the Puku Puku Cafe it is a very suitable place. The products used are organic, made right there, and the snacks are also very good.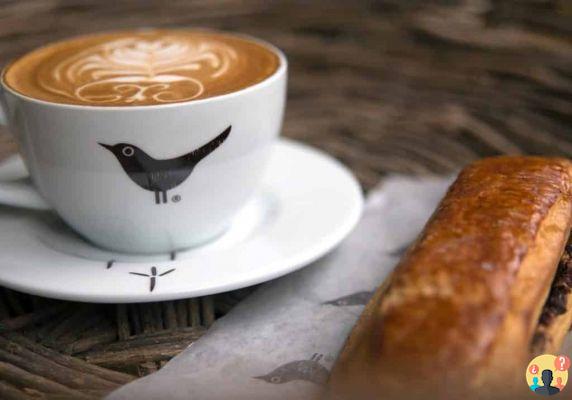 Where to eat in Lima, Peru – Traditional restaurants
O The Nautical Rose is a traditional restaurant in Lima, located very close to the Larcomar mall, on the pier that extends into the sea. It works during lunch and dinner. Its main highlight is the view (besides the dishes, of course), so is it worth asking for a table by the window?
The market is one of the tips on where to eat in Lima Peru that always appear on the itineraries of those traveling to the Peruvian capital, so it is quite popular. Signed by renowned chef Rafael Osterling, the food is delicious, the restaurant cozy and the service very friendly.
O Parrot is the iconic restaurant Country Club Lima Hotel. It is the best hotel in the city, frequented by locals and tourists, in addition to serving very good dishes of Peruvian or international cuisine.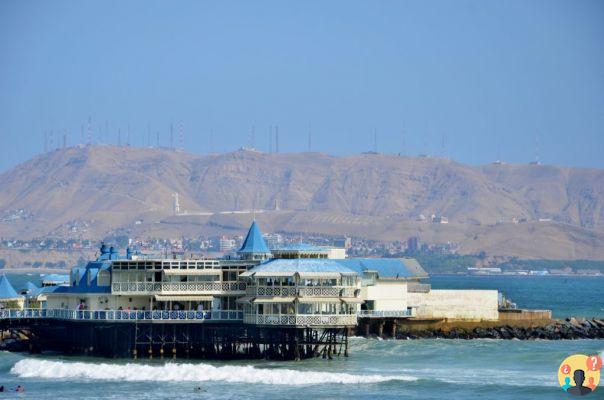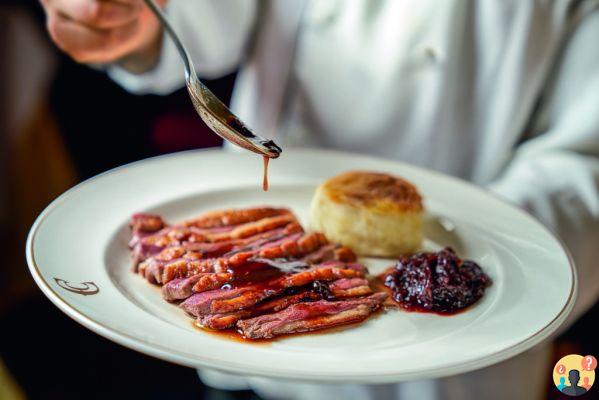 Other options for where to eat in Lima
For those looking for where to eat in Lima Peru and want a healthier dish, Nank it's a great recommendation. The restaurant serves delicious organic dishes with locally grown spices. The service is excellent and the environment is also super sustainable.
Next to the ruins of Huaca Pucllana there is a great restaurant of the same name. With a privileged view of the pyramids, dining there is a great program to do in Lima. The food is also very good. But, being a tourist attraction, it gets quite crowded, so it's worth booking a place in advance.
O Isolina Peruvian Bar is a restaurant in the Barranco neighborhood that serves criollo dishes, but with modern touches. It is a very homemade Peruvian food, neat and super tasty, for very fair prices.
>> Also read our tips on Things to do in Lima – For those who stay from 1 to 5 days in the city.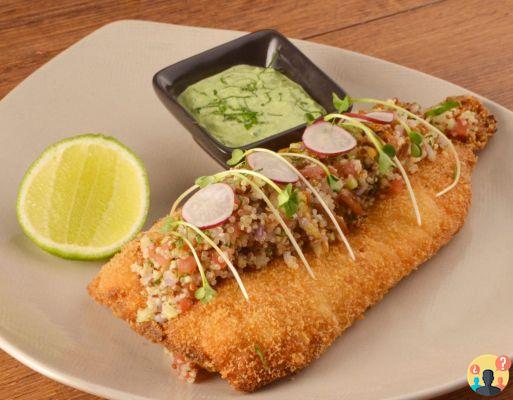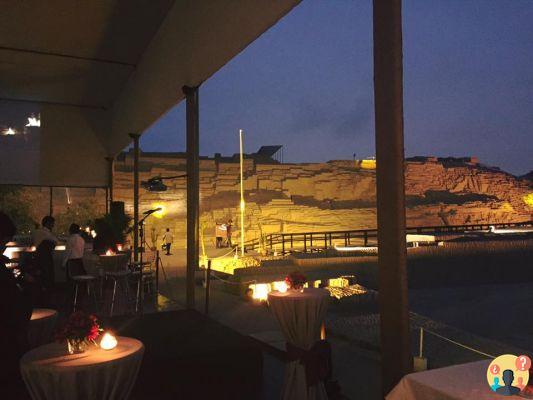 List of restaurants to eat in Lima
The list below summarizes all the restaurants listed by us in this guide. Build your gastronomic itinerary where to eat in Lima, Peru, and enjoy!
Central
Maido
Astrid & Gaston
La Mar
Rana sings
The dock
Tanta
Osso
Capital Fish
Beam
The Struggle Sangucheria Criolla
Ronald's Ceviche
BLUE: the ice cream of the barrio
Puku Puku Cafe
The Nautical Rose
The market
Parrot
Nank
Huaca Pucllana
Isolina Peruvian Bar
Did you like our recommendations? Do you know a restaurant that cannot be left out of the list of places to eat in Lima? Tell us in the comments!
WHAT YOU NEED TO KNOW BEFORE GOING TO o Peru
Are you full of things to think about and still have to plan your entire trip? Or you've seen it all, but you're feeling that familiar "Have I forgotten something?" So calm down, we'll help you with some items you can't forget before boarding. Come on?
1) Have you already purchased your airline ticket?
Where to buy: PROMO TICKETS
Looking for a good deal and flight prices? When buying tickets to Lima, it is worth taking a look at the Passages Promo website. It is quite common to find cheaper and better flight options than other sites. We always use and is it worth it?
2) Have you booked your hosting?
Where to buy: BOOKING.COM
If you haven't booked your stay, the tip is to compare hotels, hostels and inns through Booking.com. This is the largest hotel booking platform in the world, ensuring a safe experience and great accommodation deals.
#StayHip: Keep an eye out for 'Smart Deals', which only last for one day. Some amazing hotels offer great discounts using this badge on the platform. If you find a good deal, is it worth closing?
3) Lima travel insurance
hire a travel insurance for Lima it's a great way to ensure a smooth trip and avoid worries. Having the assistance of insurance gives you the peace you need to enjoy your destination and know that you have support if you need it. Also enjoy our Insurance Promo discount coupon. - SEE PRICES
4) How to have unlimited internet while traveling
Where to Buy: AMERICA CHIP
Did you know that it's getting easier – and cheaper – to have unlimited internet throughout your trip?
Just ask for an international cell phone chip through AMERICA CHIP. We always use and love it! They send a SIM card to your address in España, you insert it in your cell phone when you arrive at your destination and you have unlimited internet throughout the trip.
#StayHip: Save on car GPS rental and use GoogleMaps and Waze with your unlimited internet?
5) Rent cars at the best prices
Where to rent: RENTCARS
We really like RentCars to find the cars we use on our travels. It is the only one in Spain that compares the best rental companies in the world, but lets you pay in reais, without IOF. In addition, it is also the only one that lets you pay in 12 interest-free installments. It is worth it!
#Here's a tip: Try to find cars with full car and third party insurance coverage. Thus, you avoid inopportune surprises when picking up the car.
Also, be very smart when closing with other car rental comparisons. That's because prices are usually charged in dollars and close with your card. If the dollar goes up, the price of your car rental goes up too.
Read too
Where to stay in Lima – The Best Neighborhoods in the City
Honeymoon in Lima – 7 tips for the perfect trip
Luxury Hotels in Lima – The 8 Best in the City
What to do in Lima – Tips for those visiting the city from 1 to 5 days
Plan your trip:
Get started now by booking your hotel in Peru through Booking.com
Want to find cheap tickets? Find flights with discounts of up to 35% every day at Passages Promo!
Save time and money searching for the best Travel Insurance with the Seguros Promo comparator! Extra 5% off with coupon: FORTRAVELOVERS
Compare the best prices to rent a car from over 100 rental companies with Rentcars! (Pay in up to 12X! Pay in reais, without IOF)
Leave España with Unlimited 4G Internet!