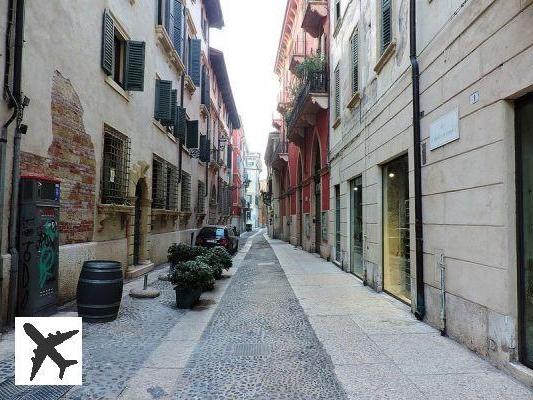 If you come to Verona by car or if you rent one, it is important to know where the cheap car parks are in Verona and where to park.
Situated near Venice in the Veneto region, Verona is a city of undeniable charm. To get there, a car is the best option. Especially if you have embarked on a road trip in the heart of Northern Italy.
Whether you come to Verona for a day or for several days, the question of parking is bound to arise if you come by car. Where to park in Verona? What are the best car parks? Where can I find cheap parking in Verona?
With this guide, we will show you the best options for parking in Verona!
Parking in Verona: parking on the street for a fee
Access and car traffic in the historic centre is limited in terms of hours and users. This is the Limited Traffic Zone (LTZ): cameras and electronic passageways are used to control the access of unauthorised vehicles. If you have booked a hotel in the ZTL, contact them so that they can help you check in your vehicle in advance. Otherwise you risk a heavy fine.
Street parking is possible with payment outside the historic centre. However, this is not the best option. Most paid parking spaces have a maximum of 2 hours of parking for a minimum charge of €1 per hour.
For more information on paid street parking in Verona (parking meters, prices, application...), visit the AMT website (available in French and English).
Cheap parking in Verona: parking on the street for free
If you don't want to pay for parking in Verona, a second option is to park your car outside the paid parking areas and then take public transport to the city centre. This is risky for your vehicle and also a considerable distance from the centre.
Fortunately, there are better ways to park in Verona: paid car parks close to the historic centre or some free car parks.
Cheap parking in Verona: the best paid car parks in Verona
Another solution for parking in Verona is to choose a paid car park close to the historic centre. You will be able to easily access the Old Town, while avoiding the inconvenience of parking on the street: paying for a too short period, or free, but being extremely far from the centre!
We have selected 3 car parks in Verona to park you cheaply for a day:
The Cittadella car park
The Parking Centro (ex Gasometro) is located at the following address: Via Campo Marzo. It has 439 spaces. The rate is the same as for the Cittadella car park (1€/H and 10€/D).
Parking Arena is located at the following address: Via M. Bentegodi, 8, with 870 spaces. This car park is more expensive than the two previous ones: 2€/hour and 17€/day.
These three car parks in Verona are open 24 hours a day. They are all located on the edge of the historic centre and the ZTL. They represent the best options for accessing the Old City at the best price.
Parking in Verona in a free car park
A little further away from the historic centre, not far from the stadium, you will find an excellent car park in Verona for free parking: the Parking Piazzale Guardini. Located on Via Domenico Morelli, you will need to take the bus to get to the Old Town. It takes a maximum of 20-25 minutes by public transport.
Despite its remoteness, this car park is still the best option for parking in Verona: it is free and you can park for as long as you like. If you are staying in Verona for more than a day, we recommend it.