Do you dream of visiting Lake Tahoe, the famous North American lake? We made a complete guide with everything you need to know before visiting the place. Check out!
Lake Tahoe is a stunningly colored lake, located at an altitude of 1897 meters, in an area known as the High Sierra – the mountain range of the US state. It is one of the most sought after and incredible natural destinations in the United States.
The color of the lake is blue, with different shades that vary according to the light. Because it is super deep, it never freezes, not even in the harsh winter that is in the region.
The lake is right on the border between the states of California and Nevada. The landscape that unites the blue of the water with the surrounding coniferous forest surprises travelers from all over the world.
Lake Tahoe has diverse attractions for all seasons of the year, and is a charming destination, which appears more and more on travel itineraries in the westernmost part of the United States – especially among mountain lovers.
Are you planning to fulfill your dream of going there? Check out our complete guide to everything about Lake Tahoe!
Won't forget about travel insurance, huh?
Get the best discounted plans using the coupon FORTRAVELOVERS (5% off).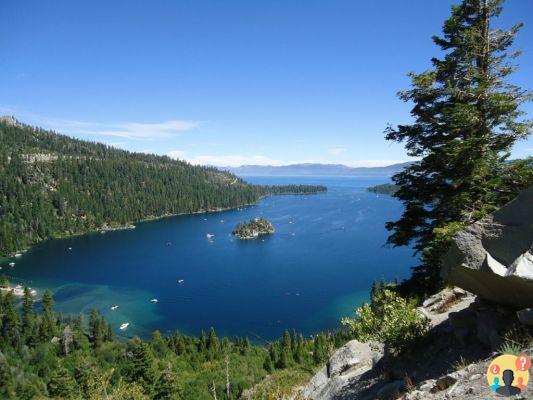 Where is
Directions
When to go
Things to Do

North Lake Tahoe
South lake tahoe

Where to eat
Where to stay
Curiosities and tips
What you need to know before you go
Where is Lake Tahoe
Lake Tahoe is located on the border between California and Nevada, in the Sierra Nevada mountain range. In the Californian part, the territory takes a piece of the counties of Placer and El Dorado, in the region known as Gold Country.
In Nevada, Lake Tahoe is less touristy and, therefore, promotes a more slow-paced mountain atmosphere, quite different from urban centers – and from the very south of the lake, which is busier and more crowded.
>> Read more about the historic part of California known as the Gold Country
How to get to Lake Tahoe
The main cities around Lake Tahoe are San Francisco, Sacramento, Reno and Carson City. To go to the alpine lake, the recommendation is to rent a car in one of these cities.
There are other alternatives, such as closing a guided tour in one of these cities and taking the tour transport. There are US domestic flights to Reno-Tahoe Airport, which may be an option. However, the cost is high and you would miss seeing all the scenery along the way.
Having a car on a trip to Lake Tahoe is practically essential, given the freedom you have to explore the place. So you can go around the lake, stop where you are interested, organize your itinerary as you want, and have the best experience possible.
>> See all the information you need about Car Rental USA – The Guide to Secure the Best Deals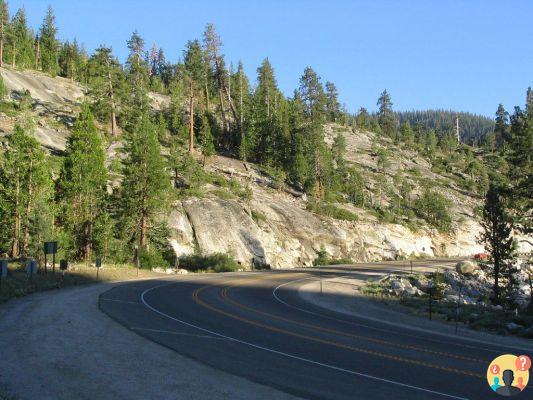 Haven't rented a car for your trip yet?
Guarantee the best price, without IOF, and pay in up to 12 interest-free installments at RentCars.
When to go to Lake Tahoe
Around Lake Tahoe California (and Nevada too, lol) there are year-round options. It all really depends on what you are going to see and do in the lake apino region. The summer there is hot, but mild by Brazilian standards, while the winter is quite harsh.
We've put together a guide to Lake Tahoe during both climates to help you choose when to go there. So you already know what you will find in each season. ?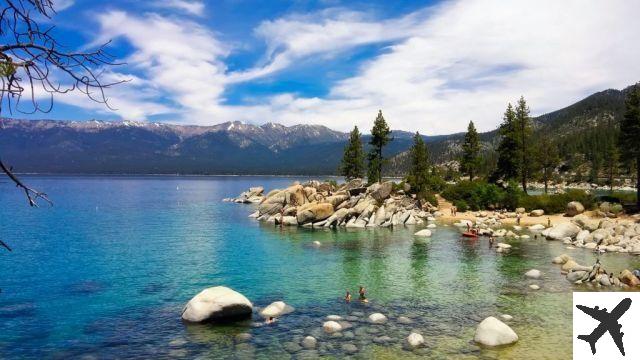 Lake Tahoe for Winter
Winter (December to March) in the mountains is very cold, with temperatures ranging around zero and humid weather. There is a lot of snow at this time, which makes it the ideal destination for winter sports lovers.
There are several ski resorts in Lake Tahoe, some being Alpine Meadows, Squaw Valley and Northstar in the north, and Heavenly, Sierra-at-Tahoe and Kirkwood in the south. For those who go to the lake in winter, skiing is a must.
In Tahoe City (in the north) is the Winter Sports Park, the perfect place for those who want to splash out on the snow doing activities other than skiing. You can ride a bike, walk, slide on buoys, and finally have a good coffee or hot chocolate to replenish your energy.
Other activities to do in Lake Tahoe during the winter season can include a visit to the Olympic Museum, gambling at the South End casinos, riding a gondola at Heavenly Station, relaxing at Lighthouse SPA, enjoying incredible views at Emerald Bay or Zephyr Cove, and much more. .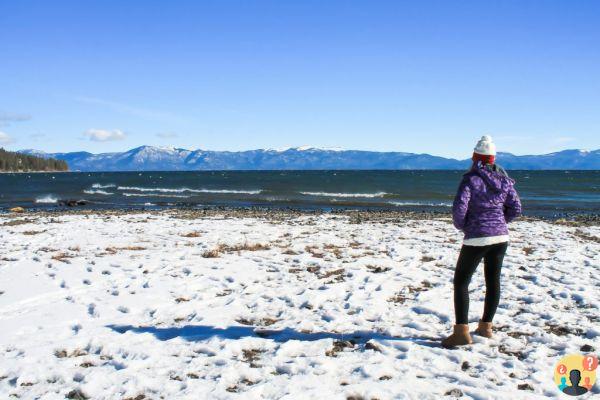 Lake Tahoe in Summer
In the summer (June to September) the main activity of the place is to stroll outdoors, enjoying the exuberant nature of Lake Tahoe and surroundings. During the season, the climate is mild, hovering around 24 ºC, and hardly exceeding 30 ºC.
The best option for summer days at the lake is to enjoy the water (super cold). A good thing is to go on a catamaran ride, go kayaking, enjoy the calm to practice stand up paddle, or simply enjoy a day on the sand of the freshwater beaches.
In addition to the lake, on land Lake Tahoe also has its charms. Take advantage of the warmer weather to hike and explore the region. Discover waterfalls and viewpoints with breathtaking views. Play mini golf with the family, and be sure to take in the scenery from the gondola ride.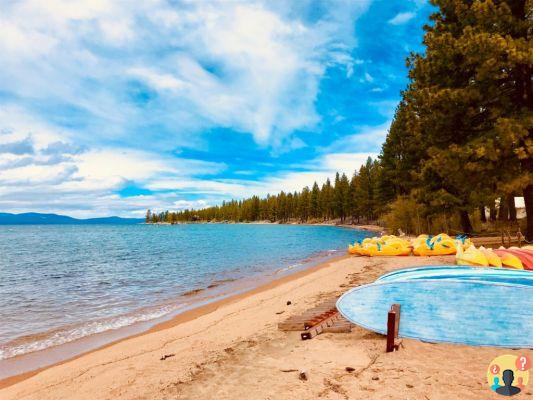 Mid season at Lake Tahoe
Lake Tahoe tours are not very different during the seasons. What really changes is the landscape, depending on the season you visit. Mid seasons can be good season choices to go there, as the place is usually less crowded, especially in autumn (end of September to November)
During autumn the cold is not so intense, but temperatures can still be quite low. On the other hand, the autumn colored leaves and the characteristic climate make the landscape even more beautiful – and guarantee beautiful souvenir photos.
In spring (mid-March through June), the weather can be pretty crazy at Lake Tahoe. Temperatures are not stable, and it is possible to get blizzards or very mild weather with a few days of difference. But worth the visit for the mix of experiences.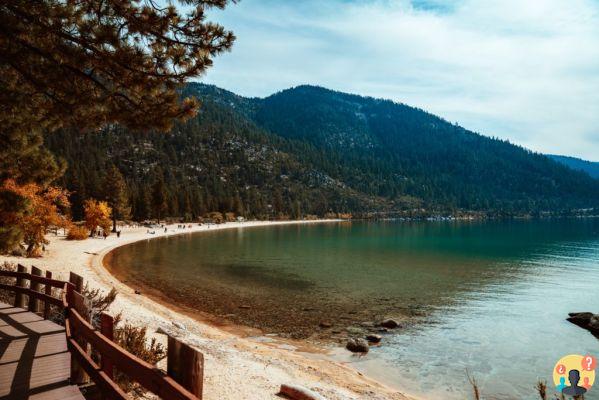 What to do in Lake Tahoe
Lake Tahoe, in addition to being quite deep, is also immense in length and breadth. A complete lap around the lake, for example, is about 115 km, and would take more than two hours – that's if you resist and don't stop once along the way.
Around the entire lake there are several attractions for you to enjoy. Therefore, it is interesting to set up travel logistics by dividing the destination between North Lake Tahoe and South Lake Tahoe – the northern and southern parts, respectively.
You can choose just one area to visit, depending on what you want to do there, or combine the two. Below we give you some suggestions for you to choose what to do in the two parts of the lake ?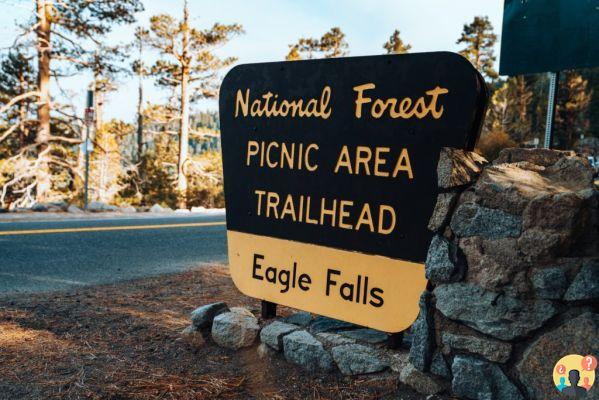 North Lake Tahoe
The so-called North Lake Tahoe is a more natural side, with much of the lake in the state of Nevada. It is less touristy and provides a more peaceful and rustic experience for visitors. For those looking to relax in the mountains, in a climate far from urban, it is the ideal area.
The best thing to do in the northern part is to enjoy nature. Take advantage of hiking to admire the snow-filled landscape, skiing in Squaw Valley, Alpine Meadows, Diamond Peak or Northstar, or taking a ride in charming Truckee.
Historic city in the region, Truckee has plenty of options to enjoy, from good gastronomic options, shops, to art galleries. From there, access to Donner Lake is very close. Another interesting city is Tahoe City, with a pier overlooking the lake, Commons Beach and great restaurants.
Also visit Incline Village, the largest village in the Nevada part of Lake Tahoe, and Crystal Bay, where in addition to the beach there are casinos. Other tips are to enjoy King's Beach and Tahoe Vista. Sand Harbor beach is another must-see, especially if you go in the summer.
South lake tahoe
South Lake Tahoe is busier and takes up much of the Californian area of ​​the lake. This area has more activities and, consequently, visitors. There is a good offer of casinos (it is even known as the Las Vegas of the mountain), as well as a young and vibrant nightlife scene.
In addition to plenty of hiking trails around the lake, you can enjoy freshwater beaches such as Pope Beach and DL Bliss/Lester Beach. Zephyr Cove is also a highly recommended area to visit, with crystal clear waters that make for great boat trips.
Emerald Bay is one of the most must-see parts of all of Lake Tahoe. It is located in Emerald Bay State Park, which encompasses the bay and the surrounding area. There, there is a good beach, an island, the Eagle Falls waterfall and a castle, Vikingsholm – which receives visitors from May to September.
Finally, if you are there in winter, be sure to enjoy the ski slopes on the south side. The small town of Heavenly Village has one of the most famous resorts for winter sports on the lake, as well as a good structure with many shops, lodging options, and even a movie theater.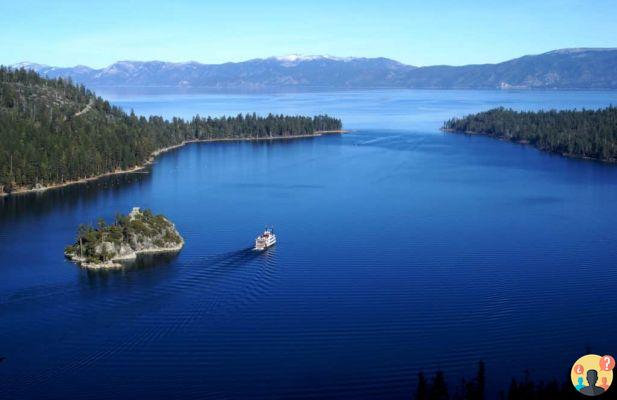 Shops in Heavenly Village
Where to eat in Lake Tahoe
There are restaurants for all tastes in Lake Tahoe, offering a wide variety of international cuisines. You can eat Mexican dishes at Azul Latin Kitchen, Jalisco Grill or Chimayó, Italian at Pianeta and Scusa Italian, good pizza at Base Camp Pizza Co. Among other options.
Variety of places for a hearty breakfast is not lacking there. Bet on The Red Huf Cafe or Heidi's Pancake House to start your day. If you want brunch, Sprouts or Squeeze In are great choices.
An afternoon coffee goes well at Cafe Zenon, how about a snack at the Blue Angels Cafe or Macduff's Pub? If you're looking for something different, The Loft has dinner with a magic show, and the Six Peaks Grille has an incredible view.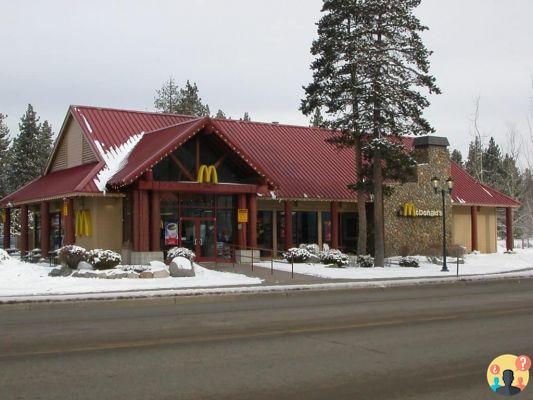 Where to stay in Lake Tahoe
There are good options to stay around Lake Tahoe California and Nevada. A good idea is to split your trip to stay in two places, both to the north, where the tip is to choose a lodge or cabin, and to the south of the lake, where you can stay in a good hotel.
Where to stay in South Lake Tahoe
O Econo Lodge Inn & Suites Heavenly ($) is in a great location in the Village Area and has great prices and an amazing structure, including breakfast. O Black Jack Inn ($) is a typical American motel with a good location and attractive prices but without breakfast.
O Hotel Azure ($$) has large rooms with a kitchen and fireplace, as well as a common area with a pool, bowling alley, gym and bicycles available at no extra cost. O Station House Inn ($$) is excellent value for money, with good structure, plenty of space and some rooms with hydromassage.
O Lake Tahoe Resort Hotel ($$) is good for families, with inviting rates, and the The Coachman Hotel ($$) is a good option for kids – they even offer marshmallows to roast over the fire.
Those looking for something more sophisticated will be delighted with the Edgewood Tahoe Resort ($$$).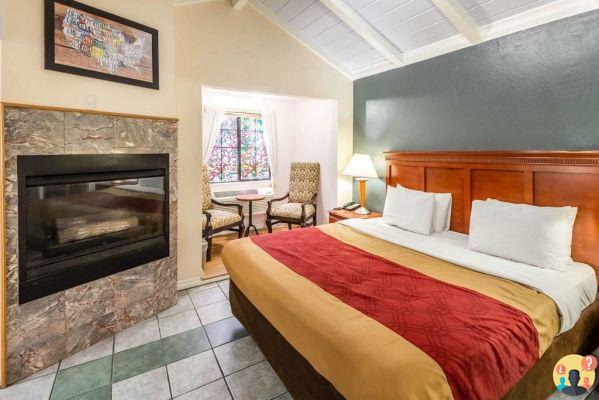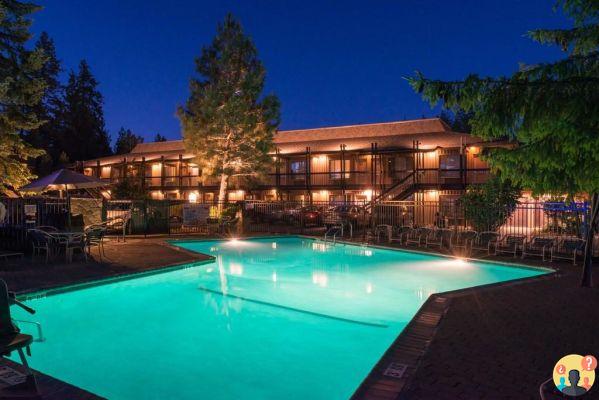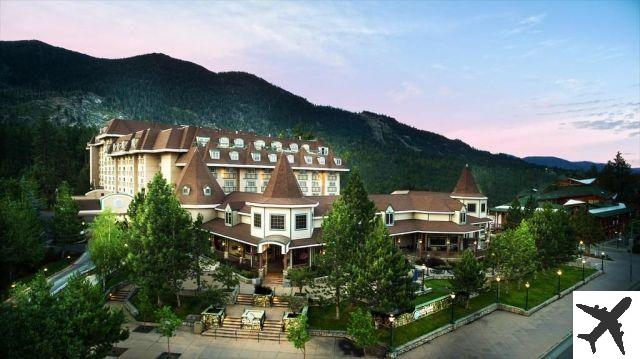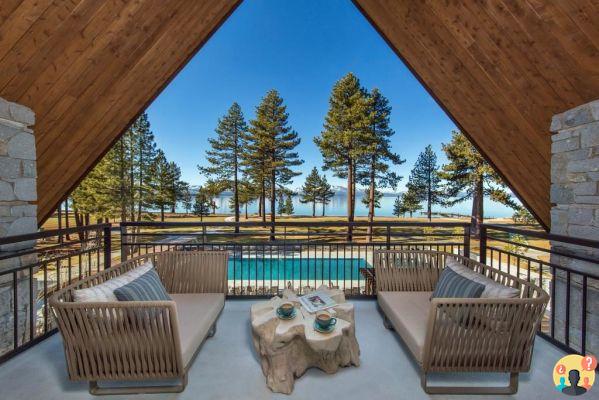 Where to stay in North Lake Tahoe
Why are you looking for something cheap in North Lake Tahoe? Redlight Historic Bunk ($) is a simple, well-rated hostel with a shared kitchen. option of shared or private room.
If you are looking for a resort with all the perks, some options with good value for money are the Hyatt Regency Lake Tahoe Resort ($$$) and the Sunnyside Resort and Lodge ($$$).
The American motel style accommodations, which are great, have the Tahoe Vistana Inn ($$), o Super 8 by Wyndham Carson City ($$) and the Days Inn by Wyndham Carson City ($), all with breakfast included.
If you are traveling with family or friends, a good option is to stay in vacation homes, they have a complete kitchen, laundry area, Wi-Fi and garage, you will feel at home.
A Owl's Nest ($$) has capacity for up to 8 people with a pool and is 6 minutes from Tahoe City. already the Rustic Coziness ($$) has capacity for up to 5 people overlooking the lake.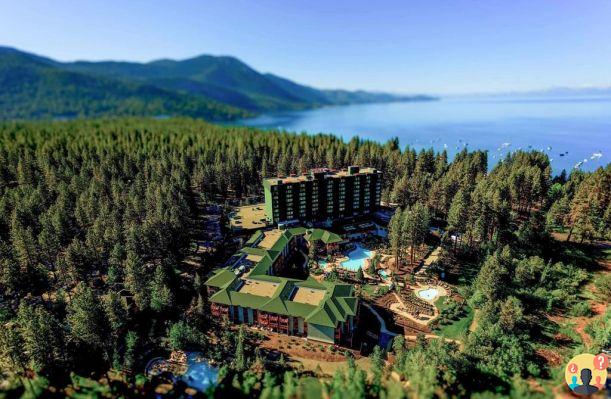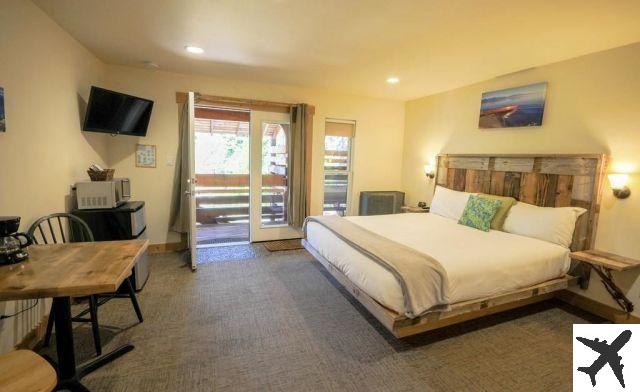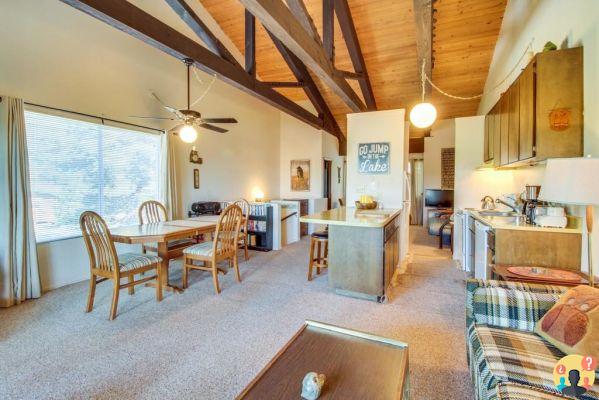 Want to see all Lake Tahoe California / Nevada hotel options on your travel dates?
Accommodations there are very popular and the sooner you book, the cheaper you pay for the night at Booking.com. See more details by clicking on the map prices:
Lake Tahoe facts and tips
It is one of the purest lakes in the world, with a purity rate close to 100%.
It is the 2nd deepest lake in the USA, the 3rd in North America and the 11th deepest in the world.
Snow burns, so it's important to always wear sunscreen, especially in higher areas. Don't forget sunglasses
The weather there can be very bipolar, especially in spring. So, wear layered clothes that protect you and can be taken off to store in your backpack?
Lake Tahoe is super pet-friendly, so if you plan to travel with your dog, this is the ideal place.
When hiking, make sure you know your way around. Care for your safety so you don't get lost in the forest!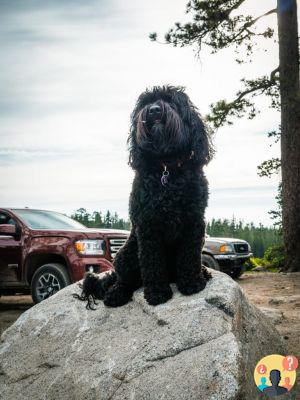 What You Need to Know Before Going to Lake Tahoe California
Are you full of things to think about and still have to plan your entire trip? Or you've seen it all, but you're feeling that familiar "maybe I've forgotten something?" So calm down, we'll help you with some items you can't forget before boarding. Come on?
1) Have you already purchased your airline ticket?
Where to buy: PROMO TICKETS
Looking for a good deal and flight prices? When buying tickets to California, it is worth taking a look at the website Promo Tickets. It is quite common to find cheaper and better flight options than on other sites. We always use and is it worth it?
2) Have you booked your hosting?
Where to buy: BOOKING.COM
If you haven't booked your stay, the tip is to compare hotels, hostels and inns through Booking.com. This is the largest hotel booking platform in the world, ensuring a safe experience and great accommodation deals.
#StayHip: Keep an eye out for 'Smart Deals', which only last for one day. Some amazing hotels offer great discounts using this badge on the platform. If you find a good deal, is it worth closing?
3) California travel insurance
Buying travel insurance for California is an excellent way to ensure a smooth trip and avoid worries. Having the assistance of insurance gives you the peace you need to enjoy your destination and know that you have support if you need it. Also enjoy our Insurance Promo discount coupon. - SEE PRICES
4) How to have unlimited internet while traveling
Where to buy: America Chip
Did you know that it's getting easier – and cheaper – to have unlimited internet throughout your trip?
Just ask for an international cell phone chip at AMERICA CHIP. We always use and love it! They send a SIM card to your address in España, you insert it in your cell phone when you arrive at your destination and you have unlimited internet throughout the trip.
#StayHip:Save on car GPS rental and use GoogleMaps and Waze with your unlimited internet?
5) Rent cars at the best prices
Where to rent: RENTCARS
We really like RentCars to find the cars we use on our travels. It is the only one in Spain that compares the best rental companies in the world, but lets you pay in reais, without IOF. In addition, it is also the only one that lets you pay in 12 interest-free installments. It is worth it!
#Here's a tip: Try to find cars with full car and third party insurance coverage. Thus, you avoid inopportune surprises when picking up the car.
Read More
Tuolumne – Guide to the Wild West County in the USA
Gold Country – Learn EVERYTHING about the California Region
What to do in Los Angeles – 1 to 4 Day Itinerary
Car Rental Los Angeles – Check Everything In This Guide
Los Angeles Travel Insurance – How to Find a Good and Cheap
Things to do in San Francisco – 22 Attractions
Where to Stay in San Francisco – The Best Regions
Where to Eat in San Francisco
Car Rental San Francisco – How to Get Discounts
San Francisco Travel Insurance – Is it worth it?
What to Do in Las Vegas – 9 Best Tips to Enjoy
Where to Stay in Las Vegas – Hotels We Love and Recommend
Cirque Du Soleil in Las Vegas – Which Show to Choose?
Las Vegas Casinos – Top 10 to List
Travel Insurance in Las Vegas – How to Find the Right One
Full Tour of the Grand Canyon – Most Famous Park in the USA
The Wave, Arizona – Everything You Need to Know Before You Go
Bryce Canyon National Park, Utah – Complete Guide
Zion National Park – Complete Tour
Travel Insurance for the United States – Is It Mandatory?