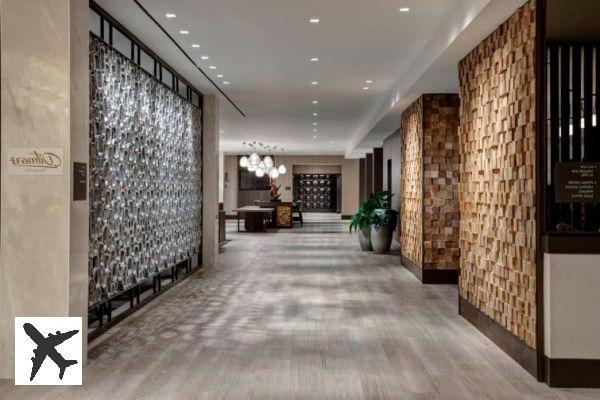 Summary
Is LaGuardia Airport open at night?
Hotels where to sleep near LaGuardia Airport.
- New York Airport LaGuardia Marriott
- Hampton Inn LaGuardia Airport
- LaGuardia Plaza Hotel
- Aloft New York LaGuardia Airport
In which city to stay near La Guardia Airport?
- Southampton
- Long Beach
- Queens Village
- Manhattan
Where to park at LaGuardia Airport?
Do you have a transit or a planned trip to LaGuardia? Here are our tips on where to stay at La Guardia Airport!
Late landing or early morning take-off at New York's LaGuardia Airport? Do you want to rest and be as close to the airport as possible? Avoid getting stuck in possible traffic jams? Are you just passing through, with a short or long stopover? There are many reasons why you may need to sleep near New York LaGuardia Airport.
Located in Queens, one of the five boroughs that make up New York City, LaGuardia Airport is only eight miles from downtown Manhattan. It is the smallest of New York's three airports, but it is still very busy. Designed for domestic flights, there is no immigration or customs office. It does, however, receive some international flights from four Canadian cities: Toronto, Montreal, Ottawa and Halifax. But also from the Bahamas, Bermuda and the island of Aruba. Consequently, administrative and customs procedures must be completed from these countries before departure.
Also read :
What neighborhood do you live in in New York City?
Transfer between JFK Airport and New York City
Transportation in New York: how to get around in New York?
Luggage locker in New York: where to leave your bags and suitcases?
Is LaGuardia Airport open at night?
New York's LaGuardia Airport is not continuously open. Its terminals close from 11:00 p.m. to 4:00 a.m. and the reception area is not very welcoming. A jumble of seats with armrests, more or less clean, outdated facilities, faulty bathrooms. LaGuardia Airport is not at the same level as its traffic, despite renovations underway and planned until 2022. There are also many homeless people and squatters present at night to sleep on the tables of the two food courts.
Fortunately, during opening hours, the Lounge areas of five companies will be able to welcome you. Nevertheless, this service will be charged if you are in possession of an economy class ticket.
Good to know: There are four terminals, represented by the letters A, B, C and D. You will be able to reach your departure area via a free shuttle bus. Linked to your flight schedule, there is no need to board the first shuttle that comes along. Indeed, you will be told which shuttle corresponds to your flight. The easiest way to reach the different areas of interest in New York from LaGuardia is by road. Taking the subway will be the cheapest way, however, it is also the most complicated, as the first station is located twenty minutes walk from the airport. Taxi, bus, van shared with other travellers or rental cars are therefore recommended.
Hotels to sleep in near LaGuardia airport.
As you will have understood, only the most daring will try to spend the night in the airport. Nevertheless, common sense will normally encourage you to find a hotel room. Even if there are none at the airport, you will easily find one around the airport grounds. However, the prices vary according to the time of the year and the number of people in the airport. So a piece of advice, consider using a booking site to compare prices.
New York Airport LaGuardia Marriott
The Marriott Hotel is located in front of Terminal C and has 2 restaurants. You will also find a 24-hour fitness room, high-speed internet access and meeting rooms. In addition, a free 24-hour shuttle bus is available on request.
Hampton Inn LaGuardia Airport
The Hampton Inn is just a five-minute drive from the airport.
You will have access to free hot coffee available 24 hours a day, as well as a business centre. Wi-Fi, gym and swimming pool, shuttle service, laundry and dry cleaning are just some of the many services on offer.
LaGuardia Plaza Hotel
The only hotel in the area with a heated swimming pool, the Plaza Hotel welcomes you at all times. Fitness centre, jacuzzi, restaurants, business centre equipped with computers, fax and photocopiers. You can almost live in this hotel without ever having to leave.
Shuttles to the airport, the subway and the Queens Center Mall are available at certain times.
Aloft New York LaGuardia Airport
The Aloft is located near a subway station, allowing you to reach many places in New York City. It is less equipped than previous hotels. Nevertheless, it still has a business center and a bar with an outdoor terrace, among other things.
In which city to stay near La Guardia Airport?
Sleeping near New York LaGuardia Airport is quite simple, as it is located in a very dense area. Therefore, it will be easy for you to sleep in one of the cities that make up New York. However, if you have a long stopover, you might want to explore some neighborhoods. Or you may want to explore less urbanized areas without having to hurry. So here are a few ideas of where you can stay, either in a hotel or on an Airbnb.
Southampton
Located an hour and a half drive from LaGuardia Airport - New York, Southampton is one of the two communities that make up the Hamptons. It is a resort area popular with the American elite. Southampton and the surrounding area offer a wide range of sightseeing opportunities. Shinnecock Indian Reserve, vineyards, pumpkin fields, golf clubs, beach walks with views of the rich properties. The choice of activities is wide.
Long Beach
Less than an hour's drive from the airport, why not go for a walk on the beach? Long Beach is ideal for a stroll between flights. Restaurants, bars, the most festive will be able to enjoy "bottomless" brunches, with alcohol at will in the morning. For those who want to be more quiet, you can go to the nearby more natural beach that is Jones Beach State Park.
Queens Village
With an estimated population of almost 2.3 million in 2018, Queens Village has different neighbourhoods for all possible social classes. Although there are still some of the poorest neighbourhoods in New York City, the middle class is the most represented. Hotels are mainly located in the more affluent neighborhoods. Nevertheless, you can visit movie studios, museums, or attend hip-hop concerts in Queens Bridge.
The airport being located in this district, it is logically the most convenient place to sleep near the LaGuardia airport.
Manhattan
The economic and financial heart of the Big Apple (as New York is known), life in Manhattan is hectic. Visit the many skyscrapers, sports activities or visit the zoo in Central Park. Broadway musicals, museums and art galleries in profusion, you'll have no trouble staying in the many hotels in this borough.
Where to park at LaGuardia Airport?
LaGuardia Airport has six car parks. The cost of parking will depend on the duration and distance from the airport. It ranges from $4 for an hour to $39 per day. Several private companies also offer their parking lots or garages in the immediate vicinity of the airport.