Discover one of the oldest deserts in the world, fall in love with the red dunes of Sossusvlei, venture into extreme sports in Swakopmund and be amazed by the wildlife of Etosha.
A Namíbia it is a country with surreal landscapes and exuberant wildlife, known as a land of contrasts. From North to South, the country surprises with its untouched nature and enormous cultural diversity.
One of the biggest countries in Africa, but also one of the least populated in the world. There are only 2,1 million inhabitants across the country. Its capital, and the largest city in Namibia, is Windhoek with just 230.000 inhabitants.
The official language is English, and the native language is Afrikaans.
The country has strong German influence due to colonization by Germany in 1884. Between 1917 and 1990 it was administered by the South Africa, becoming independent on March 21, 1990.
Have you already purchased your travel insurance?
Click here and hire your plan at a discount. Paying in boleto you guarantee 5% off, and you can get 10% off with the coupon FORTRAVELOVERS.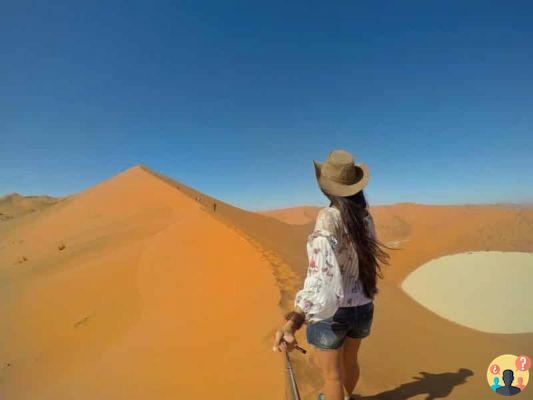 How to get to Namibia
Hosea Kutako, which is capital Windhoek, is the main airport in namibia, located right in the center of the country. The airport has daily flights to South Africa and Botswana. With this, the destination can be easily fitted into a script by the Africa.
The country also has a good network of charter flights to the main tourist spots in the Namíbia, like Sossusvlei, Swakopmund and Etosha.
When to go to Namibia
The high season runs from July to October, when animal observation is best and temperatures are a little milder. However, it is possible to visit Namibia all year round.
weather in Namibia
O namibia climate varies by region of the country. In the desert the climate is hot and dry and temperatures reach 40 degrees during the day and drop well at night.
The coast, on the other hand, has a cooler climate and is quite windy. And in the north it rains a little between October and December, with some storms between January and April.
Currency
The country's currency is Namibian dollar (NAD). Credit cards are easily accepted and there are many ATMs at various points.
Visas and Vaccinations for Namibia
No visa is required to enter the Namíbia, only passport with at least 6 months validity. You must have the International Certificate of Vaccination against yellow fever.
What is the best way to do Tourism in Namibia
attractions in Namibia they are very far from each other and it takes planning to know everything.
The cheapest way to travel is by land. You can hire a tour with an agency or rent a vehicle adapted for camping and do it on your own. There are private tour options as well.
I chose to take the tour with the Chameleon Safaris, which is located inside the Chameleon Backpackers hostel, where we stayed in Windhoek. I highly recommend. Very professional and attentive staff, drivers and guides are very careful and kind, I really enjoyed the experience.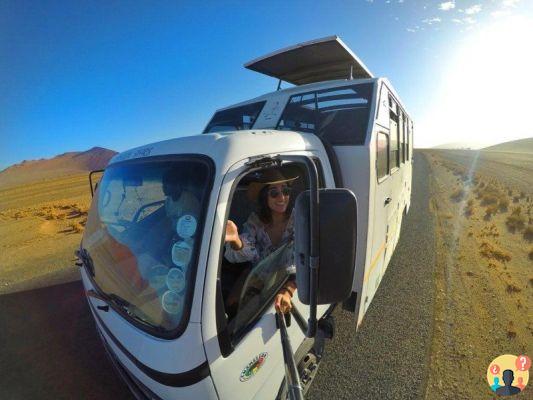 The tour is done in an adapted truck and a driver and a guide accompany the group. They are also responsible for preparing all meals for the trip, coffee, lunch and dinner, which are included in the package.
There is the option of taking the tour camping or staying in hotels. I chose to stay in hotels and it was great. The hotels we stayed in were all excellent, with a pool and very comfortable chalets.
I spent 10 days doing tourism in namibia. I spent 2 days in Windhoek, got to know the capital and did volunteer work. Then I did a 4 day tour that went through Swakopmund and Sossusvlei and then a 3 day safari in Etosha.
Main attractions in Namibia:
Windhoek
Windhoek is the administrative and legislative center of Namíbia and does not have many attractions compared to other regions of the country.
The center can be visited on foot, passing by some points such as the Christus Kirche church, the National Museum of Namibia and the Handicraft Center.
Chameleon Backpacker offers Free Walking Tour every day at 9 am.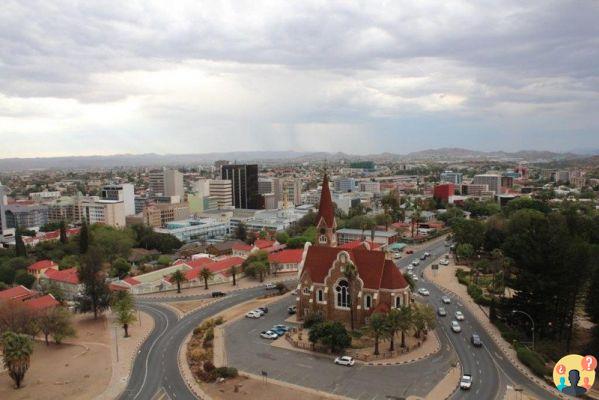 Volunteer work
In Windhoek it is possible to do a day volunteer work called Soup Kitchen, promoted by the NGO Home of Good Hope.
The work consists of helping to serve lunch to children on the outskirts of Windhoek. The project feeds around 600 children a day.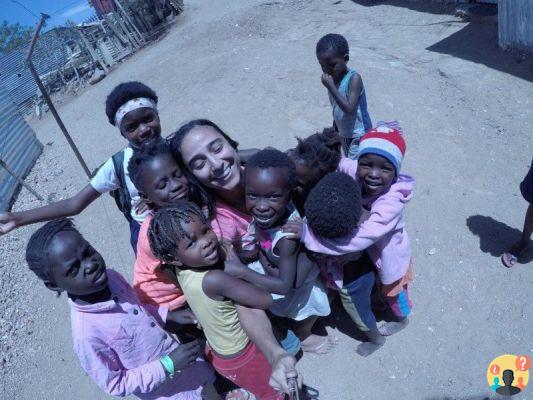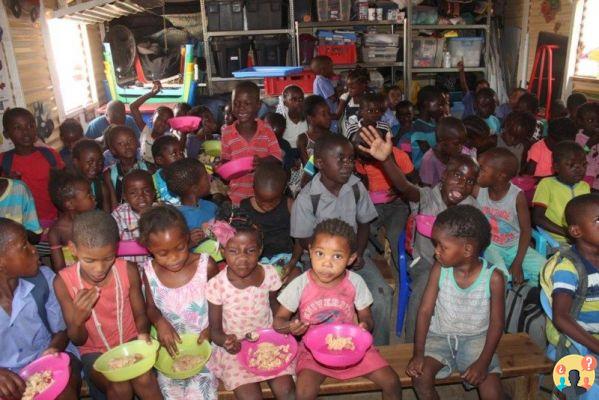 Sossusvlei
Sossusvlei is the main tourist attraction in Namíbia, with its endless orange-red sand dunes. The scenery is surreal and one of the best times to visit the park is at sunrise to observe the change of colors that the sunlight causes on the dunes.
It is also a must to climb the "Big Daddy", the largest dune in the world, with 380 meters high. The view from the top is fantastic.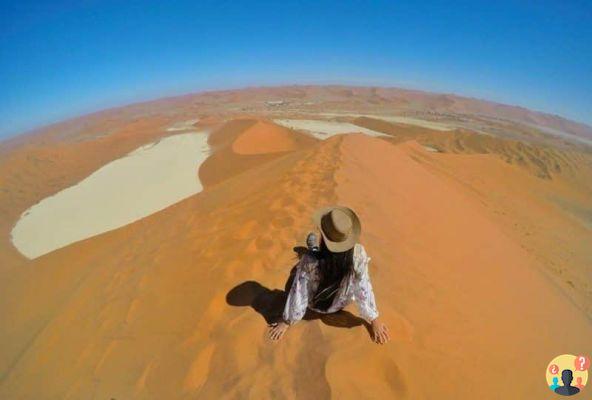 deadadvlei
Deadvlei is a huge white plain in the middle of the dunes of Sossusvlei. The area is completely lifeless and what stands out are the dry trunks of the Acacias that died there.
The color contrast of this place is something surprising. The blue of the sky, the orange of the dunes, the white of the ground and the black of Acacia form a very interesting landscape.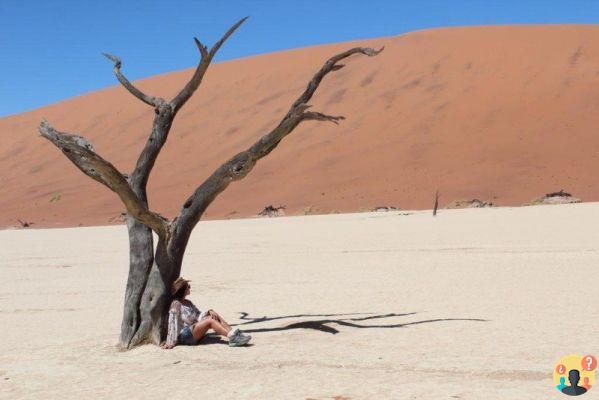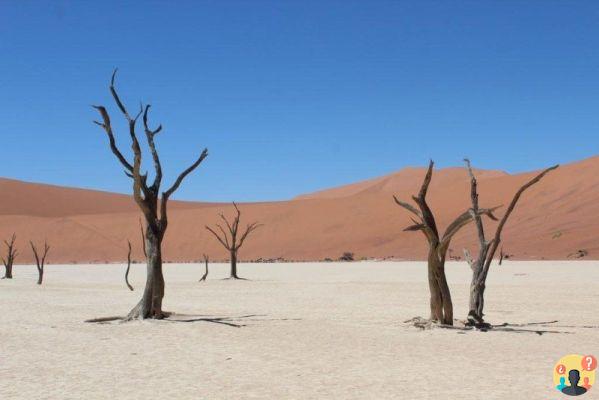 Solitaire
Solitaire is a small village on the way to Sossusvlei. The place only has a shop, a bakery, a gas station and a hotel, but it is a mandatory stop during the trip to Sossusvlei.
The place looks like those old west towns, with car bodies, cacti. It is worth trying the famous apple pie sold there.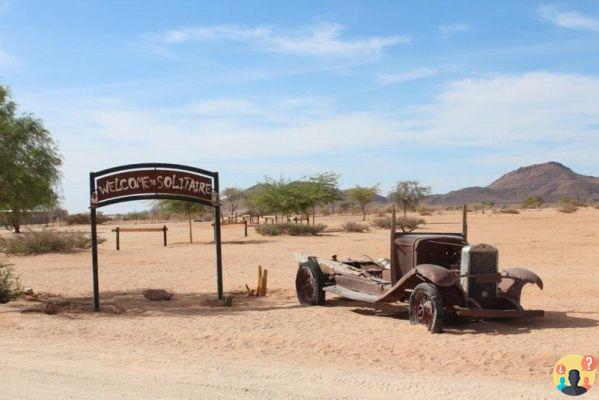 Swakopmund
Swakopmund is the extreme sports capital in Namibia. There are several options of activities offered. It is possible to Skydive and have a sensational view of the desert, surf the sand dunes with the Sandboard, go on bike or quad bike tours, etc.
The city is on the coast of Namíbia, bathed by the Atlantic Ocean. The buildings are in German style, the streets are wide and clean and the climate is quite different from other regions. The temperature is much lower and very windy.
The main attractions are strolling along the Skeleton Coast, with its ships beached close to the coast and seeing the thousands of Flamingos in nearby Walvis Bay.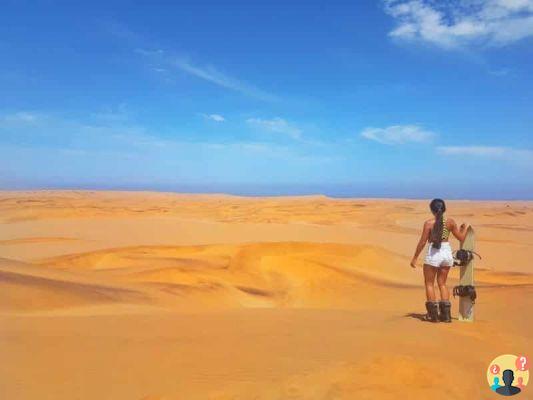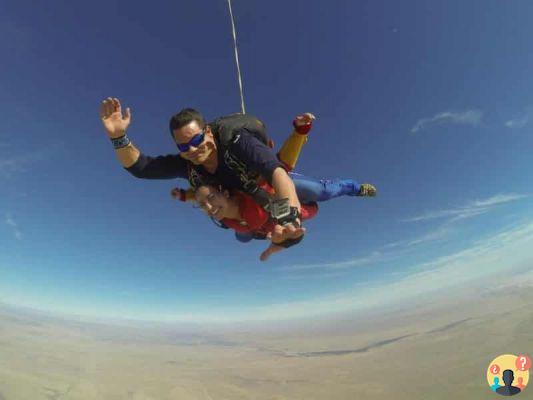 Etosha
O Etosha National Park It is one of the largest natural reserves in the Africa and shelters many species of animals that live freely in their natural habitat without interference from man.
In Etosha it is possible to find the Big Five, the name of the group of the five most difficult wild mammals to be hunted by man. They are: lion, elephant, rhino, buffalo and leopard.
The park has several accommodation options, from camping to luxurious chalets and is open from sunrise to sunset.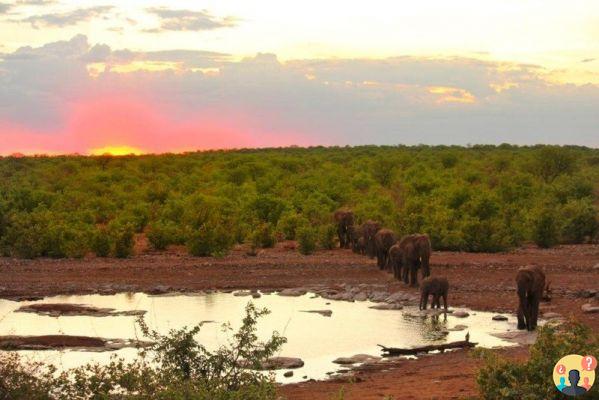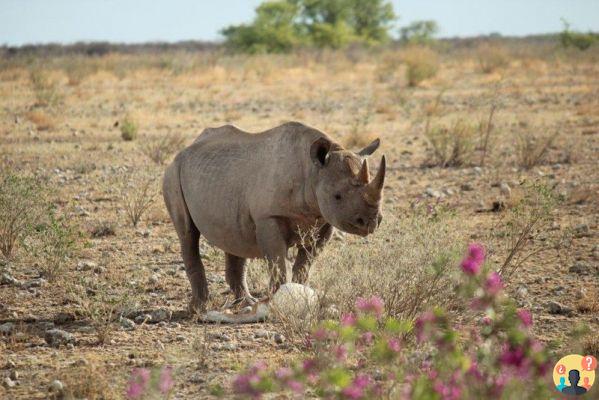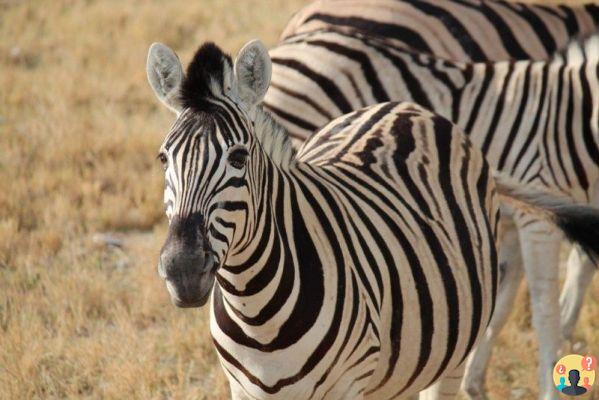 Where to stay
A great lodging option in Windhoek, the capital of the country, is Chameleon Backpackers. The hostel is very well located, just a few meters from the main attractions of the city.
The common area is very large, with a pool, bar, games area. Rooms are comfortable and the hostel includes breakfast.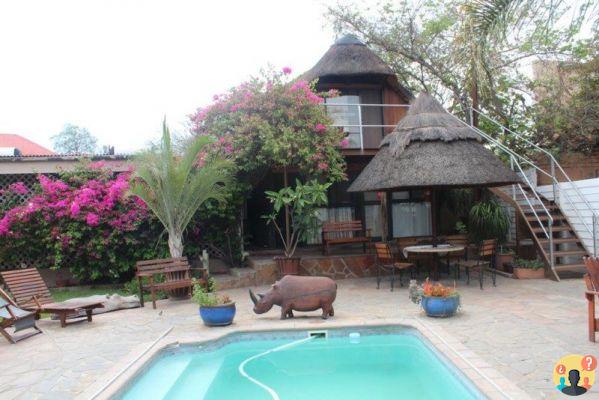 We opted for the incredible Desert Camp, a hotel with a wonderful view of the mountains and a delicious pool to cool off in the desert heat.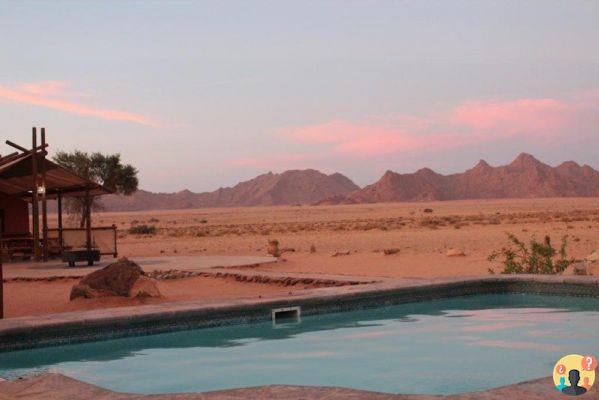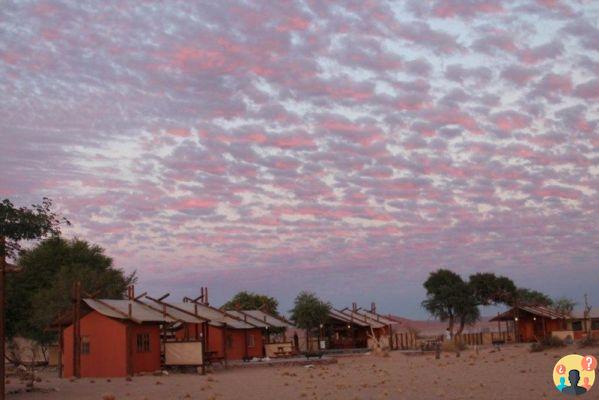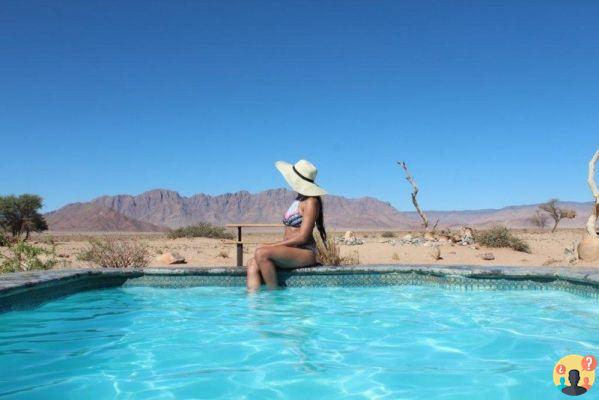 We stayed at the luxurious Etosha Village, a charming hotel in the midst of nature and with first-class cuisine.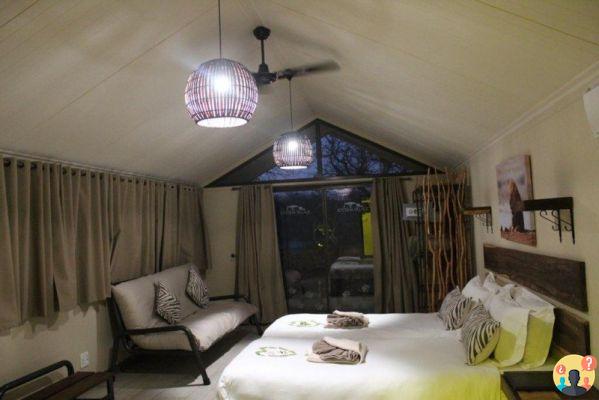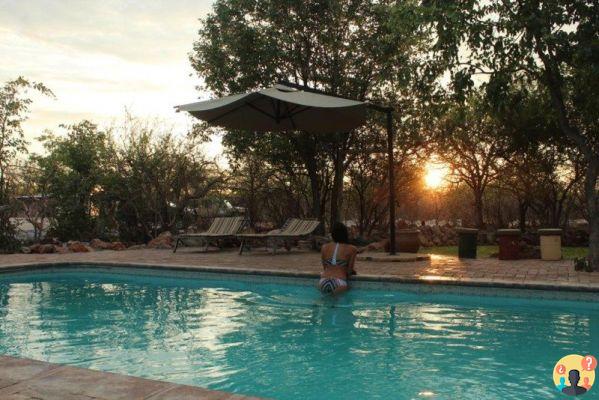 A Namíbia is an amazing country, where it is possible to find an extraordinary wild life amidst the inhospitable desert. It is worth living this experience in Africa and be enchanted by the beauties of this incredible country.
already decided to put the tourism in namibia on your travel list? Comment here!
WHAT YOU NEED TO KNOW BEFORE GOING TO Africa
Are you full of things to think about and still have to plan your entire trip? Or you've seen it all, but you're feeling that familiar "maybe I've forgotten something?" So calm down, we'll help you with some items you can't forget before boarding. Come on?
Have you already purchased your air ticket?
Where to buy: PROMO TICKETS
Looking for a good deal and flight prices? When buying tickets to Africa, it is worth taking a look at the Passages Promo website. It is quite common to find cheaper and better flight options than on other sites. We always use and is it worth it?
Have you already booked your accommodation?
Where to buy: BOOKING.COM
If you haven't booked your stay, the tip is to compare hotels, hostels and inns through Booking.com. This is the largest hotel booking platform in the world, ensuring a safe experience and great accommodation deals.
#StayHip: Keep an eye out for 'Smart Deals', which only last for one day. Some amazing hotels offer great discounts using this badge on the platform. If you find a good deal, is it worth closing?
Travel Insurance is ESSENTIAL
Where to buy: INSURANCE PROMO
Have you ever thought about having to pay medical expenses or having to shell out fortunes for setbacks on the trip? We already know of several cases of people who have gone through this.
Although travel insurance is not mandatory to enter Africa, hiring a plan is highly recommended. Travel Insurance is cheap and a necessary investment to get rid of bigger problems that can happen during the holidays.
To find good travel insurance, compare prices and coverage on Promo insurance.
#StayHip: Save 10% on your travel insurance. Use the FORTRAVELOVERS coupon to get a 5% discount and pay with boleto to guarantee an additional 5% OFF.
How to have unlimited internet while traveling
Where to Buy: AMERICA CHIP
Did you know that it's getting easier – and cheaper – to have unlimited internet throughout your trip?
Just ask for an international cell phone chip at America Chip. We always use and love it! They send a SIM card to your address in España, you insert it in your cell phone when you arrive at your destination and you have unlimited internet throughout the trip.
#StayHip: Save on car GPS rental and use GoogleMaps and Waze with your unlimited internet?
Rent cars at the best prices
Where to rent: RENTCARS
We really like RentCars to find the cars we use on our travels. It is the only one in Spain that compares the best rental companies in the world, but lets you pay in reais, without IOF. In addition, it is also the only one that lets you pay in 12 interest-free installments. It is worth it!
#Here's a tip: Try to find cars with full car and third party insurance coverage. Thus, you avoid inopportune surprises when picking up the car.
Also, be very smart when closing with other car rental comparisons. That's because prices are usually charged in dollars and close with your card. If the dollar goes up, the price of your car rental goes up too.
Read More
Things to Do in Africa – Visit Victoria Falls
Safari in the Serengeti, Tanzania – All you need to know
Things to do in South Africa – Garden Route
Where to Stay at Serenti – Four Seasons Safari Lodge
What to Do in Serengeti, Tanzania – Hot Air Balloon Safari
Trip to Zanzibar – A Hidden Paradise in Tanzania
Piscina do Diabo – The Most Insane Natural Pool in the World
Things to do in Ethiopia – Discover OMO Valley
Safari in South Africa – Kruger National Park
What to Do on a Stopover in Johannesburg – Ever thought of Safari?
International Travel Insurance – Is it worth it?
What to do in Cairo, Egypt – 5-Day Itinerary
10 Tips for Sightseeing in Cairo
Plan your trip:
Get started now by booking your hotel in Namibia on Booking.com
Save time and money searching for the best Travel Insurance with the Seguros Promo comparator! Extra 5% off with coupon: FORTRAVELOVERS
Compare the best prices to rent a car from over 100 rental companies with Rentcars! (Pay in up to 12X! Pay in reais, without IOF)
Leave España with Unlimited 4G Internet!