The German luxury motorhome manufacturer Vario Mobil has designed a top-of-the-range model with all the latest state-of-the-art technology.
The Vario Alkoven 1200 on Mercedes-Benz Actros is a real gem. With its grand hotel standard and integrated garage, it should appeal to all those who love to travel. The spacious Vario Mobil is the size of a bedroom. It is 10.5 metres long and 2.30 metres wide. Very comfortable, it has all the comforts of a superb hotel.
Equipped with many facilities, it has a large garage very useful to have your car with you at all times. For even more comfort, it is equipped with an insulating and heating double floor as well as four fixed beds. An elegant leather living room equipped with everything you need, with integrated television and satellite dish, will make this motorhome the ideal home. The latest innovation is the lounge, which can be adjusted in size thanks to slide-out technology.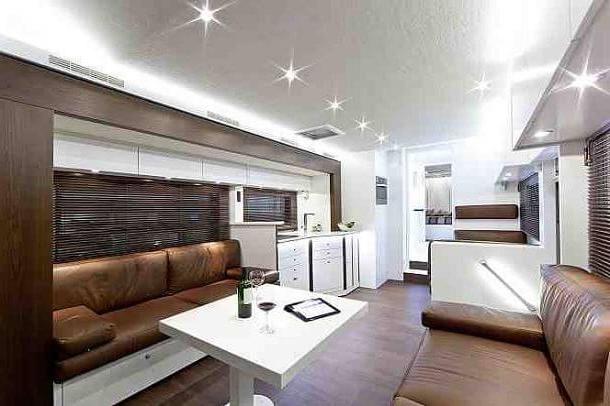 However, this luxury motorhome is not suitable for every wallet, as the price is around 550,000 euros.
For smaller budgets, travel is not necessarily a luxury, as shown by the example of Karol Lewandowski and Aleksandra Ślusarczyk, a young Polish couple who have been travelling around the world for 6 years in a van bought in Australia. They spend only 8 dollars a day.