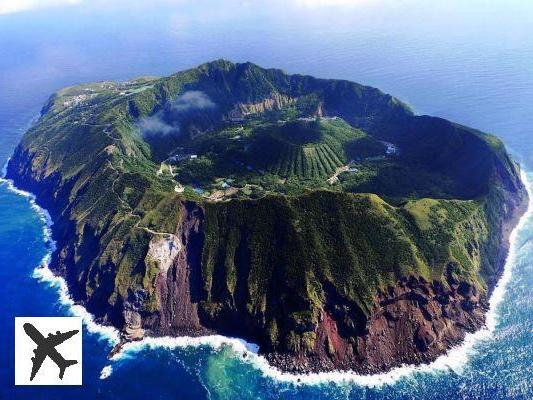 Summary
In the footsteps of the volcanic island of Aoga in Japan
What's behind Aogashima in Japan?
How to get there
- How?
- How? When?
To sleep there
- On the spot
To eat there
What budget should you plan to visit Aogashima, Japan?
To take in my backpack
What I can discover in the region
Looking for an unusual destination? Pack your bag and set off on an adventure to Aogashima, the blue Japanese island!
The Japanese volcanic island of Aoga or Aogashima, in the Izu Archipelago, is more than 350 kilometres south of Tokyo in the Philippine Sea. Although the island is officially part of Tokyo Prefecture, the atmosphere and landscape are radically different. Still few visitors venture there, and yet this volcano island in the middle of the ocean is a true natural and wild gem. With its steep cliffs, which hide a second crater and flourishing tropical vegetation, Aogashima is the dream destination for all nature lovers and explorers at heart.
Meet its inhabitants, who have chosen to live on the crater of a still active volcano, soak up the calm and mysterious atmosphere of this incredible place, and let yourself be guided by its hiking trails that will take you from one point of view to another!
In the footsteps of the volcanic island of Aoga in Japan
Aogashima, which translates as "the blue island" in Japanese, is what we call a stratovolcano that was formed by the accumulation of successive lava flows. The peculiarity of this island is that it takes the form of a still active crater, which itself contains in a caldera a second crater, called Maruyama! Aogashima, whose surface area does not exceed 6 km2 and whose highest point rises 430 meters above the sea, is also home to the smallest village in Japan, Aogashima-mura.
But it is even crazier to imagine that nearly 200 people currently live on this island in Hachijo sub-prefecture, Japan. In other words, on a still active volcano, classified "C" by the Japan Meteorological Agency, and therefore considered dangerous. The last eruption of the volcano, in 1785, killed half of the inhabitants at that time. But fifty years after this tragedy, Japanese people decided to settle there again.
The crater is at the heart of Aogashima but also of the daily life of its inhabitants! Indeed, the latter, who mainly use the natural resources of their isolated island, heat and cook thanks to the geothermal energy of the volcano. In addition to exploring an island of wild and lush nature, you will have the opportunity to discover an unusual way of life.
What's behind Aogashima in Japan?
Two days are enough to explore this small island full of surprises:
Aogashima is covered with nature, with abundant flora and fauna, and has several hiking trails. To enjoy a breathtaking view, go to the Oyamatenbo Park Observatory from where you can admire the Maruyama Crater in the caldera, the ocean and, if you are lucky, a beautiful starry sky.
Although the inhabitants are few in number, they still have their own specialities. These include shochu, an alcoholic drink made from malt and sweet potatoes, shimadare, a red pepper sauce that accompanies sashimi, and hingya salt, a very high quality salt.
The geothermal sauna or the local onsen
After a day of sightseeing, you can relax in the geothermal sauna, located in the centre of the island. There you will find a sauna, a public bath and hot water showers from the volcano's crater. You will also have access to a geothermal steam cooker to cook your meals, if necessary.
The first inhabitants of the island practiced shamanism and the story goes that one day the son of the village chief threw himself into the sea after murdering 11 people. The inhabitants of the time then erected a shrine in his name, on his grave, so as not to attract his wrath. Since then, it has been possible to visit this shamanic shrine.
How to get there
How?
The only way to reach Aogashima is to go through Hachijojima, a neighboring island some 80 kilometers away. Hachijojima is accessible by boat or plane from Tokyo. The boat trip ofabout 10 hours(€93 per person on average), via the islands of Miyakejima and Mikurajima, is done at night from Takeshiba pier, while the flight( about€70 per person) from Haneda airport takes only 50 minutes. To ensure you get the best prices, consider using a flight comparator such as Skyscanner and get there well in advance.
Then, you can take the Izu Shoto Kaihatsu river shuttle between Hachijojima and Aogashima. This boat trip takes about 3 hours and costs about 22 € per adult and 11 € per child.
Alternatively, it is also possible to reach Aogashima by helicopter from Hachijojima, for a 20-minute ride with the Ai-land Shuttle Company. In this case, prior reservation is required. The price of one round trip is about 95 € per adult (over 12 years old) and 65 € per child (3 to 11 years old) with a 5 kg luggage. Beyond that, it will cost a little less than 2 € per additional kilo.
Warning: Who says islands, says bad weather that can affect crossings and flights! You will therefore have to adapt to the vagaries of the weather to come and leave the island.
When?
Aogashima can be visited all year round, so there are no good or bad times to go there. The climate is humid, but the temperature rarely drops below 8°C (January-February) and climbs to a maximum of 28°C (July-August-September).
Please note: The rainiest months are June, September and October.
To sleep there
On the spot
Due to the limited number of inhabitants and visitors on the island, the choice of accommodation on site is very limited. However, Aogashima offers a free camping area (Aogashimamura Camping Ground) with basic and minimal facilities, if you are equipped, or a few guest rooms - called minshuku - such as those in Nakazato or Aogashimaya.
To eat there
In the village, there is only one shop, a post office, a school and a few bars, where you can taste the famous shochu drink.
If you sleep at the campsite, the best thing to do is to bring your own food and heat it with the steam from the volcano, with the pots and pans lent at the entrance of the local onsen. You won't find anything more unusual and authentic!
Otherwise, you can opt for the meals offered by the few minshuku on the island.
What budget should you plan to visit Aogashima, Japan?
The main reason for exploring Aogashima is its wild nature and its special atmosphere. Transportation to get there and back will therefore constitute the biggest part of the budget for this trip. And it is important to note that this cost is not negligible: a little more than 90 € minimum and nearly 190 € maximum, just for the outward journey. That's between 180 € and 380 € for the return trip from Tokyo.
To take in my backpack
While discovering Aogashima, you will spend most of your time outside. So make sure you have with you :
Sunglasses
A hat or a cap
Protection against rain (raincoat, umbrella...)
Sunscreen
A camera to immortalize your most beautiful moments and its breathtaking landscapes
Food and water, unless you plan to eat morning, noon and night in a minshuku.
Camping equipment, if you opt for this solution (free of charge)
Cash.
A bathing suit and a towel
What I can discover in the region
To get to Aogashima from Tokyo, you will have to go through Hachijojima. Its onsen, surfing and diving spots, superb hiking trails and Mount Hachijo-Fuji, which offers a breathtaking view of the ocean, are all reasons why many Japanese and some foreign tourists come to recharge their batteries on this volcanic island in the Philippine Sea. So you might as well take advantage of it!