Have you ever thought about getting married in Las Vegas? Or renew your vows with your loved one? Here you will find all the tips and the best places to get married in Vegas. Throw yourself!
Make a wedding in las vegas it's as easy as in the movies. It's no wonder that in addition to Casinos, neon lights and famous parties, Vegas is also known for weddings. In 2013 alone, there were more than 80 thousand marriages registered there, according to the city's official website. Can you believe?
If you want to get married in Las Vegas, you can get ready for an experience worthy of Hollywood scenes. With the right to cover Elvis Presley and everything! To help you with this celebration, we've created a 5-step guide for you to organize your wedding.
>> Also Read Las Vegas – Complete City Guide
Won't forget about travel insurance, huh?
Get the best discounted plans using the coupon FORTRAVELOVERS (5% off).

Wedding in Las Vegas: The 5 steps to organizing the ceremony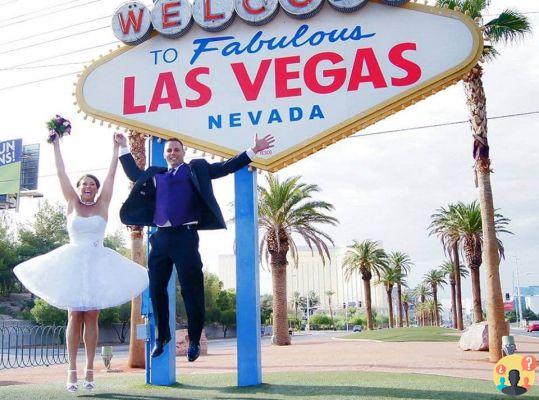 Step 1: The prerequisites for having a wedding in Las Vegas
Very, very easy. That's what it's like to get married in Vegas. No blood tests, no waiting period. The only problem is if you are already married (which is not cool, folks!) or if you try to marry a family member (for love, right). It is worth mentioning, that both things are totally illegal as well.
If you are over 18 years old and are within the legality conditions described above (rs), you can apply to get married there. To obtain a marriage license in Clark County (where Las Vegas is), you must appear in person with the Department of Marriages, either downtown or at one of the outlying offices.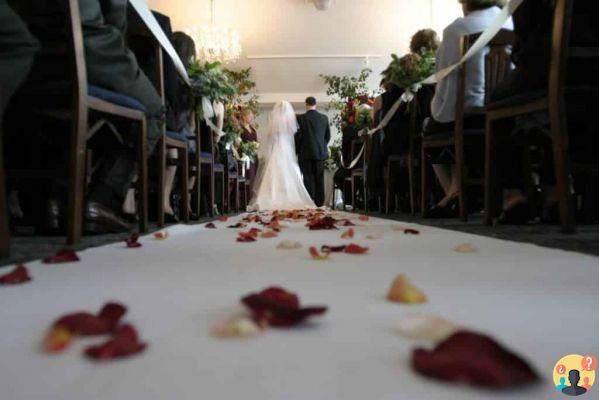 In addition, the application must include two unrelated persons who are at least 18 years of age. Documents proving your name and age will be required.
So don't forget to bring your passport. Have you ever been married but divorced? Okay, if that's the case, you can get married in Vegas. However, you must bring a document that proves the separation as well.
Step 2: Discover what a Las Vegas wedding is really like
I went to see a wedding at Graceland Chapel, run there to see the challenge number 5 on our Youtube channel Travel Tips.
Step 3: Go to bureaucratic planning
To make all marriage legal in the US, it is necessary to go through a bureaucratic part. It's quick and easy, so don't worry.
Tip for those who want to save time: Speed ​​up the online wedding pre-registration process (click here and follow the instructions). You will receive a number to take to the Department of Marriages, along with your passport.
If you pre-register online, you will still skip the queue and be served at "Express Window". After you sign up, your reference number will remain active in the system for 60 days in case you need some time to think things through.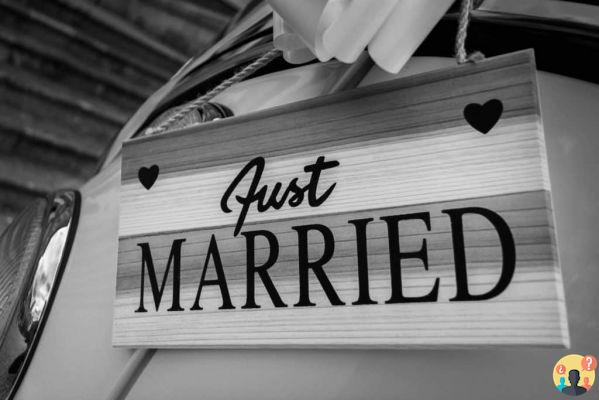 How much does it cost to get married in Las Vegas?
The Vegas Marriage License costs $77. It can be paid by cash, credit card (with a 2% service charge plus $1,25 for credit card transactions totaling $79,79). For foreigners who marry in Vegas and want to officiate in their country of origin, it is also worth getting a certified copy of the marriage certificate from the county registry office ($15) and proof from the Nevada Department of State ($20).
Clark County Marriage Bureau
Address: 201 E. Clark Ave. Las Vegas, NV 89101
Phone: (702) 671-0600
Opening hours: From 8 am to midnight, open every day of the year, including holidays.
Step 4: Documents ready? Choose the best location for the ceremony
Once that's done, choose one of the countless chapels and venues spread across the city to host your Las Vegas wedding. Most weddings take place at the popular Little White Wedding Chapel, which offers a variety of package options, with varying and even affordable prices.
There are simpler packages, and of course you have the option of having a singer imitating Elvis Presley, one of the most popular attractions at Vegas weddings. Check out their official website, click here.
There are other options where to get married in Las Vegas: Graceland Wedding Chapel, Little White Church of the West, Viva Las Vegas Wedding Chapel among others.
If you want to spend a lot and marry in luxury and glamour. There are wedding options at casino hotels, such as Bellagio Chapel, Wynn Wedding Chapel, Caesars Palace.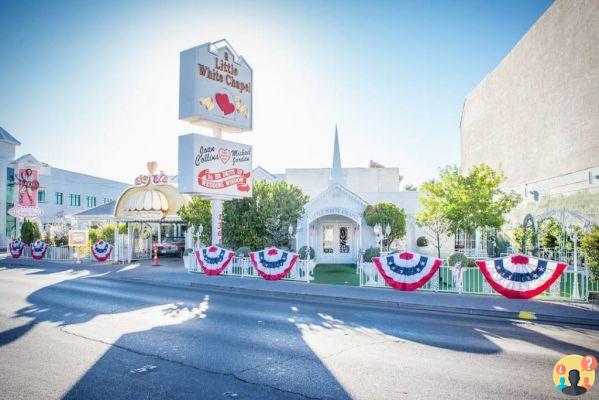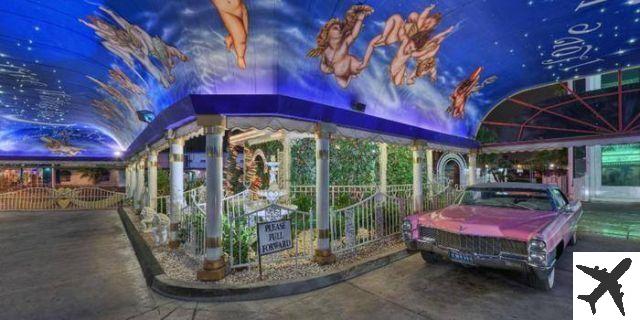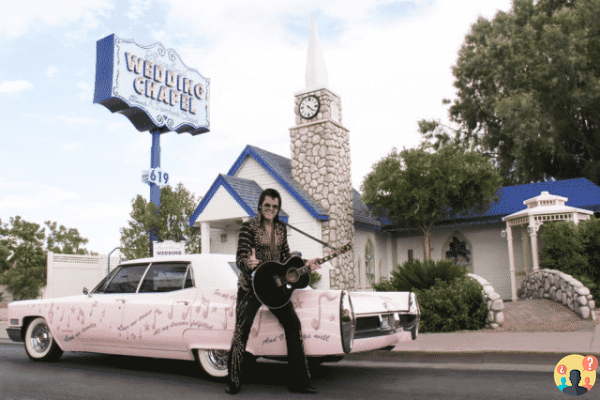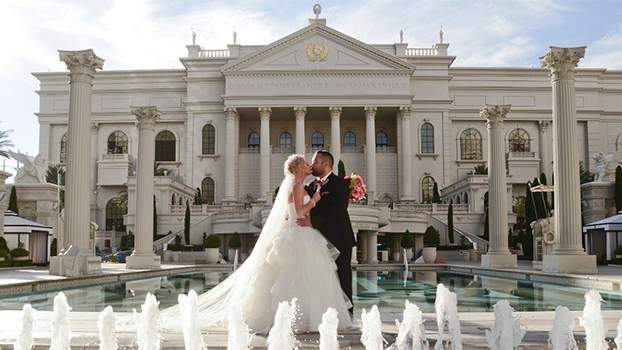 Step 5: Choose a great location for your wedding night
The amazing thing about Las Vegas is that you can "travel" to different places in the world without leaving the city's main avenue, The Strip. For a romantic wedding night, choose from the most incredible casino hotels in the city.
If you want a night in Venice, it is worth investing to spend a night in the majestic The Venetian. The 5 star is one of the main hotels in Las Vegas and offers packages for romantic nights there.
CLICK HERE TO BOOK YOUR WEDDING NIGHT AT THE VENETIAN!
Another hotel worth visiting for your wedding night is the Caesars Palace, one of the sets of the movie "If You Drink, Don't Marry". But since you're married, at least have a good wedding night, lol!
If you still have doubts, see more tips in our post Where to stay in Las Vegas: hotels we love and recommend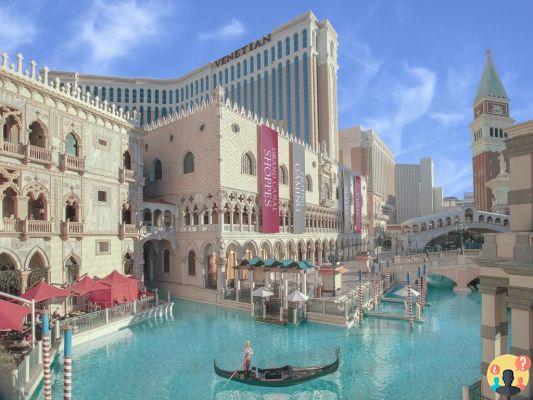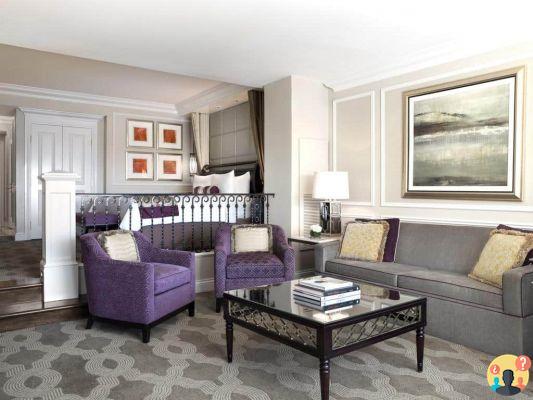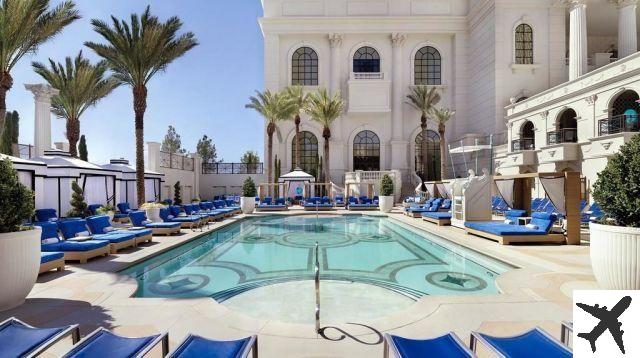 In addition, you can see the Deals of the Day on Booking.com who always have good deals. We show them below. The important thing is if you find an offer you like, book now! Because it only lasts today.
And after enjoying the wedding so much, Las Vegas offers LOTS of entertainment, shows, bars, clubs to enjoy the honeymoon. Find all the tips in our post What to do in Las Vegas: The 9 best tips to enjoy the city.
And there's more, we tell you all the shows of Cirque du Soleil that happen in the city Cirque Du Soleil in Las Vegas: Which show to choose? You can also include in your itinerary the Las Vegas surroundings, in a comprehensive guide to Grand Canyon: The Complete Guide to America's Most Famous Park
More tips for you…
Las Vegas Travel Insurance
Taking out travel insurance for Las Vegas is an excellent way to ensure a smooth trip and avoid worries. Having the assistance of insurance gives you the peace you need to enjoy your destination and know that you have support if you need it. Also enjoy our Insurance Promo discount coupon. - SEE PRICES
Receive a SIM card at your home in España and use unlimited Internet in the US
We discovered one of the best solutions for you not to spend hours of travel in telephone stores in the country, speaking an unknown language to get a SIM card. This is one of the tips we love to give our readers: a America Chip.
Write it down: The company sends an international Chip to your home in Spain. When you're on the plane, just change your Brazilian SIM card for this international one.
You will arrive in the United States with unlimited internet, using your cell phone at will, as you use in España.
Arriving in the United States, you can use it all day, anywhere. You'll save on GPS rentals, Skype credits, and you'll still be able to use social networks, Google, or search for anything on the internet all day. In addition, you can still call your home to send travel news as many times as you want via WhatsApp or Facetime.
Do you already know how to have your wedding in Las Vegas? Comment here!
Plan your trip:
Get started now by booking your Las Vegas hotel on Booking.com
Save time and money searching for the best Travel Insurance with the Seguros Promo comparator! Extra 5% off with coupon: FORTRAVELOVERS
Compare the best prices to rent a car from over 100 rental companies with Rentcars! (Pay in up to 12X! Pay in reais, without IOF)
Want to find cheap tickets? Find flights with discounts of up to 35% every day at Passages Promo!
Leave España with Unlimited 4G Internet from America Chip!
Read more:
What to do in Las Vegas: The 9 best tips to enjoy the city
Las Vegas Landmarks: The 5 attractions you need to know
Las Vegas Shows: The must-see shows in the city
Cirque Du Soleil in Las Vegas: Which show to choose?
Grand Canyon: The Complete Guide to America's Most Famous Park
Bryce Canyon National Park, Utah: The Complete Guide
Zion National Park: Everything you need to know before you go
Car Hire in Las Vegas – Guide With The Best Deals