During my 9 days of travel I did 6 tours through Atacama, in Chile, 5 of which were closed with the agency Inca Coya, although they were not all performed by her.
In this post you will see:
Atacama tour schedule

Other tours that deserve your attention

Atacama Tours – 6 must-see attractions

Astronomical Tour
red stones
Gêiseres del Tatio
Valle de la Luna
Salar de Tara
Puritama hot springs

Travel insurance for Atacama
Atacama tour schedule
1 Day: Arrival in San Pedro de Atacama and Astronomical Tour of SPACE OBS agency, which costs $20.000 Chilean pesos (US$30) and lasts around 2:30.
2 Day: Tour by Altiplânicas Lagoons, Piedras Rojas, Laguna Tuyacto, and Laguna Chaxa. Not all agencies do the tour to Piedras Rojas, and it is important to check if even those that do include Laguna Tuyacto, as this is not always the case. On average, this tour starts at $50.000 Chilean pesos and lasts all day (7:30am-16:30pm).
3 Day: tour in the morning at Geysers del Tatio and afternoon tour to Valle de la Luna, which on average costs $10.000 Chilean pesos and lasts approximately 4h (16pm-20pm).
4 Day: tour through Salar de Tara, on average costs $45.000 Chilean pesos and lasts all day (8am-17pm).
5 Day: We went out for a walk Salar de Uyuni, in Bolivia. We did the tour with the agency South star, and it cost $115.000 Chilean pesos for the 4 days and 3 nights tour, but the return is in the morning of the 4th day. I'll leave the experience in Bolivia for a next post, ok?
8 Day: We return to San Pedro just before 12:XNUMX and we took the tour of the Puritama hot springs in the afternoon, which costs an average of $12.000 Chilean pesos and lasts 3h30 (14:17-30:XNUMX).
9 Day: Transfer to Calama airport and return to Spain ?
NB: The quoted values ​​refer to the prices charged by the agencies, not including, therefore, the entrance price to some attractions!
Other tours that deserve your attention
In addition, there are other tours that we did not do in Atacama, such as:
1) Laguna Cejar and Ojos del Salar – held in the afternoons, usually around 15:16 or XNUMX:XNUMX. Laguna Cejar has a high concentration of salt, which makes whoever is in it float.
We didn't do this tour for a few specific reasons: we already know the Dead Sea in Israel, so floating there wasn't something that specifically interested us; the water of the Laguna is very cold and as it is cold in Atacama, I personally would not enjoy it; and, above all, it is a VERY expensive tour, around $30.000 Chilean pesos, as the entrance fee is higher than the amount charged by the agencies to take you there.
2) Rainbow Valley – performed in the mornings. We didn't do it for lack of time, it was for the next trip!
3) Pukara of Quitor – it's a bike ride and, as I don't know how to walk, it's for the next life! haha ha
4) Lascar Volcano – takes at least 1 full day to climb.
5) Death Valley – this tour is normally done next to Valle de la Luna in the afternoon and it was our only problem of the trip – the tour we did just passed through Valle de la Muerte, we didn't visit it.
Atacama Tours – 6 must-see attractions
Astronomical Tour
To do the tour it is necessary to book in advance and an important tip is to fit it at the beginning of your trip as it depends on visibility, which gives you room to reschedule it if necessary.
Our tour was done in French and started at 21 pm, but at 20:50 pm it is necessary to take a minibus in downtown San Pedro that takes the group to the observatory. For just over 2 hours you are outside the astronomer Alain Maury, where he explains theories about the origin of the universe, shows constellations, stars and gives a real lesson.
As it is held outdoors, it is quite cold and it is important to be well dressed. Columbia coats are great tips, and even prioritize your thermal comfort, because the cold of the Atacama Desert is no joke.
There are several telescopes available for observation and Alain explains what they show us. At the end of the visit he still invites everyone to have hot chocolate, coffee or tea inside his house while we wait for the minibus back to San Pedro.
red stones
(approximately 4.000m altitude) Of all of them, this was the tour I most wanted to do! I had seen pictures of Laguna Tuyacto and Salar de Aguas Calientes, where the Piedras Rojas are located, and I just fell in love! Even before arriving in Chile I already knew that it would be my favorite day of the entire trip.
Inca Coya picked us up punctually at 7:30 am and we went, in a group of 8 people (3 Brazilians and 5 French), to our first stop: breakfast ?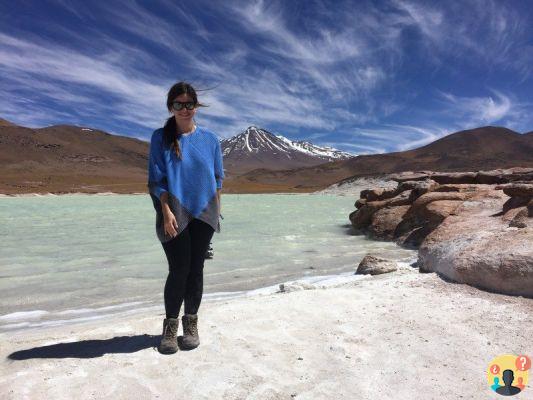 We had a surprise right away: the guide Mariana speaks fluent Portuguese as she has already spent a season in España. Both she and the driver Sebastian were super friendly and helpful and, in addition to Portuguese and Spanish, they also speak very good English.
We had breakfast at the restaurant Bartholomew's Cookery, and it was the typical breakfast we saw in the region: coffee, tea, juice, avocado paste, bread and cheese. Simple but good. Then we leave for Piedras Rojas and Laguna Tuyacto, located in the Salar de Aguas Calientes.
Guys, don't underestimate Atacama, it's a desert but it's very windy and cold! On this tour I managed to stay calm with a wool poncho (!), but I had the 2 basic pants haha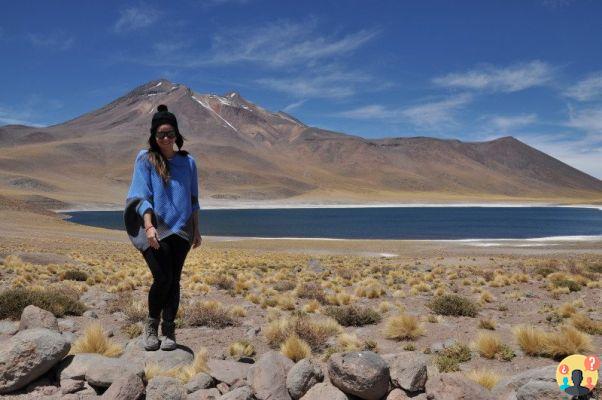 After this show we went to Miscanti and Miñiques Lagoons at 4.200m altitude, also known as Altiplanic Lagoons. It's hard not to lose your breath with this look, huh? The colors of these lagoons are absolutely indescribable. Unlike most attractions in the area, there is a bathroom available for tourists and although it doesn't have a toilet (it's a bucket!) it's very clean and has toilet paper.
We returned after the lagoons to the Cocinería Bartolomé restaurant for lunch and took the opportunity to discover the village of Socaire. Our lunch was basically juice, meat, rice, purple potatoes (I've never had them before!) and vegetables. I found it very peaceful, and we had the whole restaurant practically to ourselves, in addition to serving for a "pee stop".
Finally, at the end of the day we went to Chaxa Lagoon, which is also a Salar and has the highest concentration of lithium in the world (although the Salar de Uyuni is more abundant, the concentration of lithium is low). There we saw some flamingos, but not many, it was kind of disappointing, it's really nothing special, but of course being included in the package, why not visit right? ?
We still see the Toconao village, which is a kind of oasis in the desert and where there is the only production of Atacameño wine (but according to our guide, they are not very good hahah)
Gêiseres del Tatio
(approximately 4.300m altitude) This tour was also carried out with IncaCoya, including driver Sebástian and guide Mariana. The tour starts around 4:30 am when you are picked up from your hotel.
It is important to point out that due to the altitude it is important NOT to have breakfast, we were instructed to only eat at breakfast time offered on the tour already in the geysers. About the altitude, well I think it varies from person to person, I didn't feel sick or had a headache at any time in Chile.
I didn't chew coca leaf (I tried it and it was horrible), the only thing I did was eat the Coca-Cola candies that are sold in Souvenir shops on Calle Caracoles for 1 Chilean pesos, but actually I ate it because I thought it was really good. who say that as for the coke itself, they are very weak haha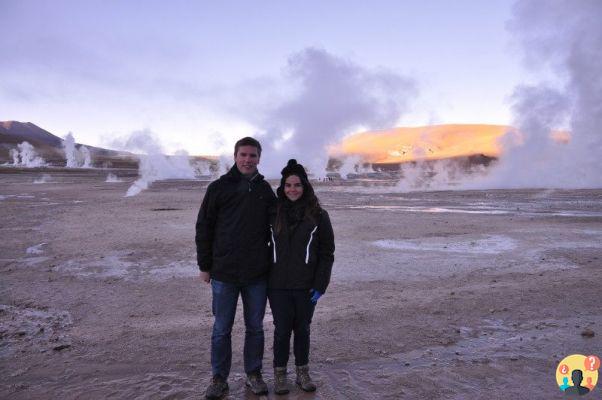 the tour of geysers it's super interesting, at least I already knew that it's not a tour to see a beautiful landscape, but different. There are several craters on the ground with water that comes from the earth's subsoil and with volcanic activities they 'erupt' and emit steam.
The water reaches 85 degrees Celsius and that is why it is important to keep a certain distance and respect the safety "barriers" placed around the craters. There, surrounded by geysers, we had breakfast in a group of 8 people again (this time I am Brazilian, 5 French and 2 British).
From there we went to geyser hot springs and, as you can imagine, I didn't go in haha ​​My boyfriend came in and complained a lot: they say the water is warm, around 30-35 degrees but in fact the thermal is big, which makes it difficult to retain heat, just in the left corner where the water comes out which is a little warmer.
It sounds silly, but people are -9 Celsius outside, my hands were freezing all the time and I had 2 pants, 1 t-shirt, 1 fleece and 1 2-layer ski jacket, in addition to a hat and glove, plus a doll. snow, impossible!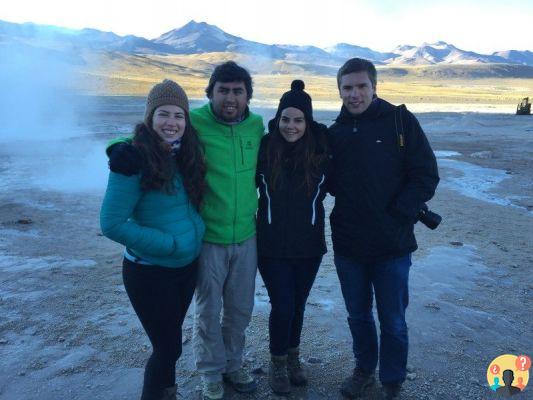 While we were in Terma (Gui inside and I was outside taking a picture) something very sad happened: a Belgian lady went to take a picture and went through the safety barrier of a geyser… to try to take it off more easily, they ended up taking her clothes off and leaving the skin together.
She was urgently taken straight to Calama to be transferred to the burn hospital in Santiago and because of that the Geysers were closed for 5 days for investigations. During our visit, guide Mariana warned us numerous times about the danger of falling into a crater and stressed the importance of respecting barriers.
It sounds silly, but when you're a tourist, you unintentionally end up putting yourself in risky situations, thinking you're invulnerable, but you're not, right?
After this sad episode we went back to San Pedro and we made some stops on the way to take pictures of the foxes, rabbits (actually it's a cousin of the rabbit that I forgot the name lol) and we visited the village of Machuca, where there are many llamas and skewers of their meat.
Valle de la Luna
(2.400 m altitude) The Valle de la Luna is one of the main attractions of Atacama, and it is where the most famous sunset in the region is: Coyote Stone. Due to the "low" altitude compared to the other tours, it is recommended to do it at the beginning of the trip for acclimatization reasons, but we ended up doing it in another order due to the limitations of our itinerary.
Before sunset, we visited the Tres Marias, 3 volcanic rocks that have the profile of people praying; The Great Dune, from where you have an incredible view of the Valle but it is ESSENTIAL to have a windbreaker and the Sal caves, where we find saline crystals that can be lit from the inside with the flashlight / cell phone light.
This was the first tour we didn't do with Inca Coya, we were allocated to Tatais agency of a hostel with the same name.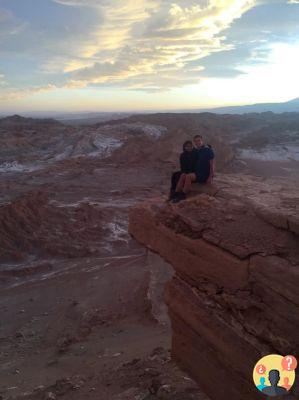 We were picked up in front of an agency around 16:30 pm and the driver was also the guide, Juan. The van was simpler and poorly maintained, Topic style, and fuller: we were a group of 12 people, most of them Chileans. Our guide was very nice and knew a lot about the area, he knew how to tell us details about geology and how to prepare a super cocktail of Pisco sour with cookies!
In general we don't care if the van is bad (the door for example had problems opening and closing) or being full, but we had a serious problem: we closed the package that includes Valle de la Luna and the death Valley, and this Tatais tour only made the Valle de la Luna; we just passed through Valle de la Muerte, which Juan explained that the landscape is quite similar to Valle de la Luna but instead of "salt" on the rocks, with this more whitish appearance, Valle de la Muerte is more towards red .
That's even why it bears the original name of "Valley of Mars", discovered by a Belgian, but due to a translation error, Mars became Muerte!! Anyway, we were upset but at least in fact Valle de la Luna is the most important and unmissable, we told Ricardo da Inca Coya what happened and he was very sorry for what happened and tried to compensate by allocating us to a top agency for the Salar from Tara.
Salar de Tara
(approximately 4.400m altitude) We were allocated by Inca Coya for the IncaNorth agency, considered the best agency for this tour. In fact, the tour was done with Jorge, owner of IncaNorth, who is simply the region's greatest specialist in the Salar de Tara.
He is a former Chilean Air Force pilot and knows the Salar like NOBODY! We did the tour in a kind of bus, super comfortable, and we were just 5 people… it was amazing!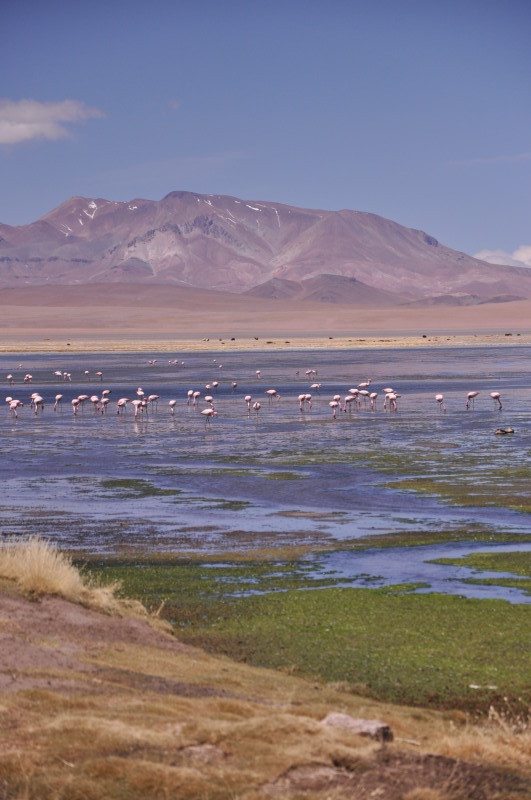 I think, after Piedras Rojas, this was my favorite tour. O Salar de Tara it is wonderful, from the Monges de la Pakana to the Cathedral of Tara (which is an immense set of rocks) and the lagoons… surreal, and without a doubt it was in the Salar de Tara where we saw the most flamingos in Chile!! Unmissable! Go well dressed because after the geysers it was the coldest place we've been in Chile, seriously!
One tip is to bet on Columbia 3 in 1 jackets to ensure you stay warm.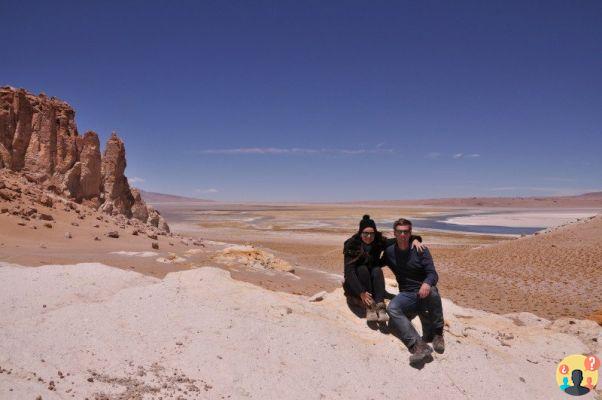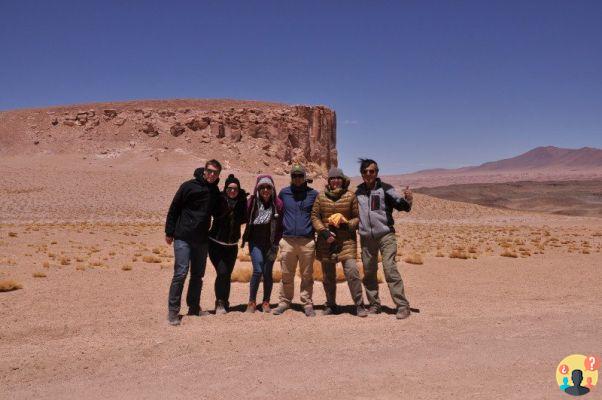 Now on this tour, more than any other, it's important to choose a good agency: for you to have an idea, Jorge stopped twice in the middle of the desert on the way back to rescue other cars that "stuck" on the way.
One was a private vehicle (guys, don't rent a car and think it's going to be easy to walk in the middle of the desert you don't know, huge, without ANYTHING, with rocks and sand) and another by Maxim Agency. We were amazed that the Maxim driver didn't even know how to change a tire, nor how to solve a simple engine problem.
As we helped them, one of the tourists in Maxim's group told us that this was the second problem with the car that day, and then the driver still drove off like a madman. Note Zero!
Puritama hot springs
(approximately 3.400m altitude) On the way back from the tour to Uyuni Salt Flats we decided to close our trip with a more relaxed tour, the Termas de Puritama. they belong to Hotel Explore (that mega expensive all-inclusive) and are located in the middle of a canyon.
There are 8 hot springs available after a 15-20 minute descent and the water is very warm (the "upper" hot springs are warmer but also fuller).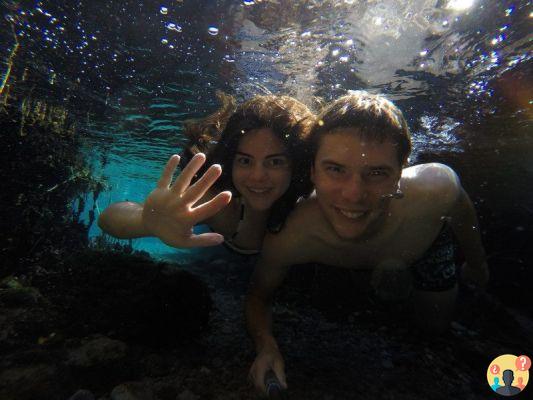 It's all very clean and well taken care of. This tour is not a tour, there are no great explanations, just a transfer. So it doesn't matter who you do this tour with, we were allocated by Inca Coya for the Kaulles tourism agency, and everything was ok, the van was also simple but we had no problem.
The hot springs are a delight and the staff are very friendly, they even gave Gui and me a lift on the way back (it was great not having to go uphill, people haha). Do we close our trip with a golden key?
Anyway, the Inca Coya offered a 14% discount for the tour package, and the total value per person (without entrance fees to the parks) was: 139.070 Chilean pesos or approximately R$ 775,00.
I hope this post can help you in choosing and organizing tours?
Travel insurance for Atacama
Taking out travel insurance for Atacama is an excellent way to ensure a smooth trip and avoid worries. Having the assistance of insurance gives you the peace you need to enjoy your destination and know that you have support if you need it. Also enjoy our Insurance Promo discount coupon. - SEE PRICES